Surfer SEO vs Koalawriter: Which SEO Tool is Right for You?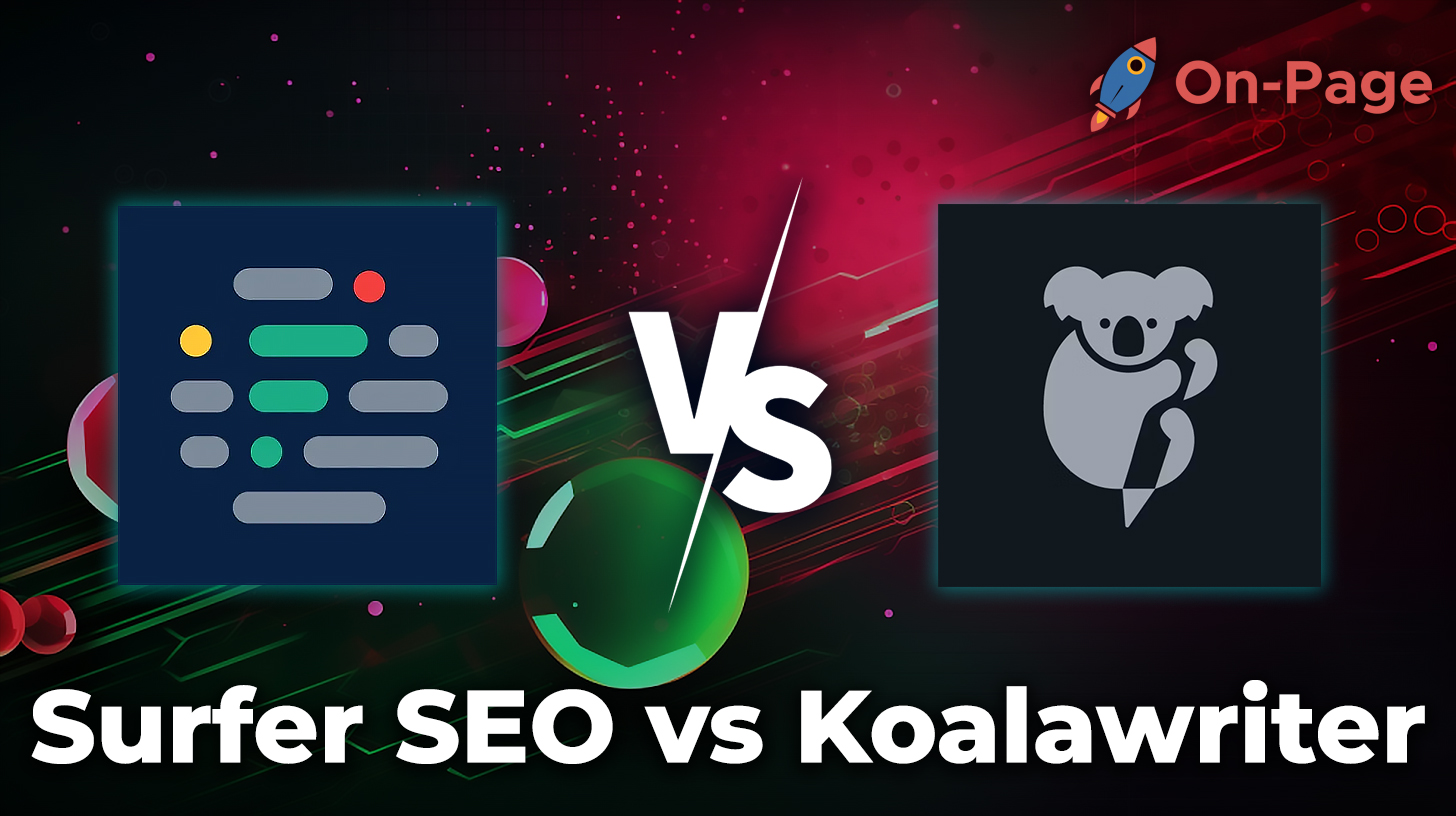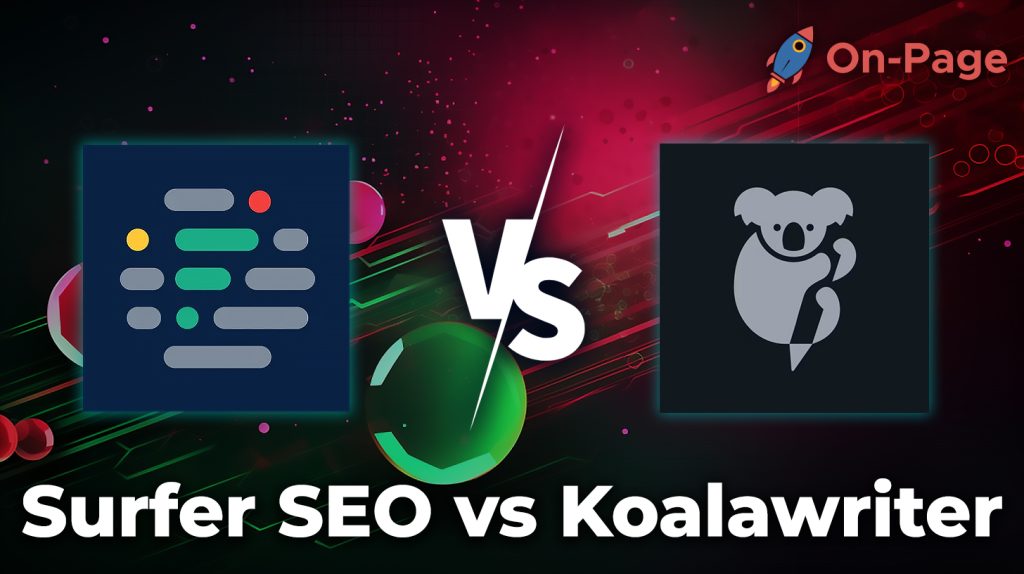 Picture this: you're stranded on a remote island with nothing but your laptop and an internet connection, armed only with your SEO toolkit to thrive in the ruthless world of digital marketing. It's now or never, and choosing the right SEO tool will determine how effectively you weather the storm. Will it be Surfer SEO or Koalawriter that gets you through? Let's take a closer look in this epic face-off, guiding you towards making a well-informed decision, ultimately leading to your online survival and dominance.
Our article "Surfer SEO vs Koalawriter: Which SEO Tool is Right for You?" compares the features, pricing, and user experience of both tools. Surfer SEO offers real-time content optimization suggestions, semantic keyword suggestions, and extensive keyword research functionality along with various pricing options. On the other hand, KoalaWriter offers superior output quality and affordable pricing compared to Surfer SEO. It's important to consider your specific needs when selecting an SEO tool.
Surfer SEO Features and Benefits
When it comes to SEO optimization, Surfer SEO has become a household name in the industry due to its advanced features and benefits. The tool is designed to streamline content creation while providing real-time optimization suggestions, semantic keyword suggestions, SERP analyzer, and extensive keyword research capabilities.
One of the most significant advantages of using Surfer SEO is that it helps create high-quality, well-structured, and easily readable content that meets your target audience's needs. With Surfer SEO's real-time data-driven insights, you can make informed decisions about your content by analyzing competitors' online presence and trending topics across the web.
Moreover, Surfer SEO offers a variety of pricing options and subscription plans which cater to different users' needs. You can choose from a monthly or annual subscription depending on your specific goals and budget.
However, some critics argue that the tool may be expensive for small businesses or individual freelancers without much experience in SEO. Still, this is not true as the tool provides value for money given its advanced offerings. In any case, each user should give feedback on how important implementation is in their overall workflow.
Furthermore, using Surfer SEO can be compared to having a personal assistant who takes care of your website's online presence while you focus on other essential tasks. It saves time by automating research and content optimization tasks such as keyword input, article outline creation, content draft refinement for better output quality – things that would have otherwise taken up hours of your time.
In the next section, let us delve deeper into Surfer SEO's Content Optimization Techniques to understand how it streamlines content creation tasks effectively.
Surfer SEO has been reported to help increase organic traffic by up to 84% in some cases when users optimized their content based on its recommendations (source: Surfer case studies).
In a user satisfaction survey conducted by G2, Surfer SEO received an overall score of 4.7 out of 5 stars from 64 reviews, while KoalaWriter's user satisfaction score is currently unavailable as it is a newer tool in the market.
A comparative analysis conducted by nichepursuits.com showed that Surfer SEO significantly improved content relevancy and keyword density when compared to Frase, another alternative to KoalaWriter, suggesting that Surfer SEO could potentially outperform KoalaWriter in terms of content optimization effectiveness.
Content Optimization Techniques
Content creation is not an easy task – it requires creativity, strategy, and dedication. Fortunately, with Surfer SEO, all of these are catered for. The tool optimizes content by offering optimization techniques and recommendations that improve your website's search engine ranking.
One of the key features of Surfer SEO is the On-Page Scans, which crawl sites like Google to identify main content, sidebars, footers, headers, and even advertisements. This analysis helps provide accurate recommendations on the most appropriate words to add to your page to rank better.
Additionally, Surfer SEO doesn't track keywords but instead offers SEO optimization assistance in optimizing titles, headlines, and body text. By leveraging this feature, users can efficiently resolve their pages' relevance issues
However, some critics have suggested that such an approach makes it challenging to monitor keyword rankings accurately. Still, this isn't a limitation since using Surfer SEO means you save time compared to manually doing it yourself.
Another advantage of using Surfer SEO is that it provides real-time optimization suggestions as you write or as you optimize an existing piece of content. It's like having another set of eyes ensuring that your content is well optimized and error-free.
Keyword Research Capabilities
Keyword Research Capabilities
Keyword research is an essential component of any successful SEO strategy, and Surfer SEO offers a variety of features to help you conduct comprehensive keyword research. With its advanced algorithms, Surfer can assist you in identifying the most relevant and high-traffic keywords for your website.
For instance, when you enter a particular keyword into Surfer SEO's search bar, the tool provides a long list of related phrases complete with their respective search volume, CPC, competition level, and expected click-through rate (CTR). This enables you to assess the potential profitability of different keywords and optimize your content accordingly.
Moreover, Surfer SEO provides users with SERP analyzer functionality that lets them compare various attributes of top-ranking content within the same industry or niche. When used correctly, this feature can assist in uncovering the most critical keywords as well as identify gaps in your current content so that you can improve your overall visibility on search engines.
However, some people may argue that Surfer's SERP analyzer can be too data-intensive for novice users or those without access to significant resources. It's important to note these concerns and weigh the benefits before making decisions about using a competitor product such as Koalawriter.
Let's look at Koalawriter's features in detail.
Koalawriter Features and Benefits
Streamlined Content Creation Process
Koalawriter has revolutionized SEO writing with its innovative features such as its streamlined content creation process. It all begins with its proprietary AI algorithm that generates crisp and compelling content by analyzing millions of data points relating to language patterns and user search intent.
Say you are trying to write an article about "best landscaping companies." With Koalawriter, all you have to do is type in your keyword or topic, and its AI algorithms will analyze the search engine results to identify the most relevant content structure for you. It even provides you with customizable prompts to ensure that your article addresses all of the essential points.
In essence, Koalawriter streamlines the content creation process while ensuring that your web pages are engaging and appropriately optimized for SEO. This saves you time and boosts your chances of ranking higher on search engines.
Think of it like having an expert writing team at your beck and call, ready to write high-quality content faster than you ever thought possible. There's no need to worry about analyzing data, conducting research, or struggling to find the right words – Koalawriter takes care of everything.
But how does Koalawriter's pricing compare with that of SurferSEO?
Price Comparison
One of the most significant benefits of using Koalawriter is its affordability. When compared to other SEO writing tools in the market, Koalawriter provides its users with a comprehensive range of features at relatively lower prices.
For instance, at just $25 per month, you can access unlimited use of its AI-powered writing assistant and generate high-quality content without any hidden or additional costs. Koalawriter also offers users a free version with limited functionality but still enough to be useful and offer insights.
Additionally, Koalawriter offers its users a wide range of templates that allow them to produce high-quality content quickly and efficiently. With this service available, freelancers can establish themselves and small companies can keep their budget under control irrespective of their industry niche.
While some people might argue that Surfer SEO is more powerful than Koalawriter and comes packed with more advanced features, it is essential to consider the real-life benefits. So, if you're a small business looking for software that can streamline your content creation process without draining your finances, Koalawriter might just be the solution that you need.
However, some people might still stick to Surfer SEO due to its powerful features, and others might prefer a higher tier pricing plan that offers more features. Let's take a closer look at how the two tools compare in terms of output quality.
Koalawriter offers a streamlined content creation process by using AI algorithms that generate optimized content based on search engine results and user search intent. This tool saves time and ensures that web pages are engaging and fully optimized for SEO, while also being more affordable compared to competitors in the market. Although some may argue that SurferSEO has more advanced features, Koalawriter's comprehensive range of features and affordable prices make it an ideal choice for small businesses and freelancers looking for software to streamline their content creation process.
Streamlined Content Creation Process
The content creation process is one of the most critical aspects of SEO optimization. It requires diligence, time, and creativity to produce high-quality content that ranks well. Koalawriter's streamlined content creation process is designed to help users overcome these challenges.
Koalawriter combines automated research and real-time optimization suggestions with a user-friendly interface to create high-quality, well-structured, and easily readable content. The tool's AI-powered content analysis engine ensures that all content created meets the latest SEO standards.
Koalawriter simplifies the content creation process by providing an intuitive and easy-to-use interface. Users can input their preferred keywords or phrases to generate article outlines and even a complete first draft of the article. The software checks for keyword density, sentence structure, grammar, tone, and readability, all in real-time.
While other tools like Surfer SEO may offer similar optimization features, they might not provide an easy-to-use interface like Koalawriter. Surfer SEO involves a lengthier content creation process that requires constant back-and-forth between its various modules. This back-and-forth can be frustrating for users who are looking for fast results.
In many ways, using Surfer SEO can be compared to using a full-service restaurant where each plate comes out separately from the kitchen. In contrast, using Koalawriter could be likened to cooking at home with all ingredients laid out on the counter and precise instructions available at your fingertips.
Now that we have covered how Koalawriter streamlines the content creation process let's take a closer look at its affordable pricing options.
Affordable Pricing Options
Output Quality Comparison
When it comes down to it, any good SEO tool must offer high-quality results in terms of traffic flow and visibility. So how do Surfer SEO and Koalawriter stack up against each other?
Both tools are known for providing top-tier output quality with regards to the type of content they produce. For instance, Surfer SEO helps you craft content that satisfies search intent while also improving the technical aspects of your web pages, such as page speed using their insights from analyzing competitors in your industry niche.
At the same time, Koalawriter generates well-written and optimized content that aligns with your topic or keyword focus. It provides users with data-driven insights and ensures consistency throughout all articles generated using the software.
One thing to keep in mind is that Surfer SEO has a larger presence within the industry than Koalawriter, but this by no means discredits Koalawriter's capabilities since it is much newer on the scene. Ultimately both companies are designed to make content optimization easier so that customers can invest more time into important tasks like creating branding campaigns or improving product offerings.
The Best Fit for Your Content Needs
As we've seen, both Surfer SEO and Koalawriter offer advanced features for keyword research as well as streamlined content creation process. However, each tool has its own unique strengths that make them suitable for different kinds of users.
If you're a seasoned SEO expert looking to go above and beyond in your optimization efforts, or you need collaboration features besides writing automation, SurferSEO might be your best bet. Alternatively, if you're bootstrapping your business or starting out with SEO software tools mainly for streamlining the writing process Koalawriter would be the better choice especially given its affordable pricing options.
Keep in mind that while Surfer SEO comes with additional features like SERP analyzer that is vastly information-rich, it may not be necessary to every user's needs at the beginning stages of their project or business. On the other hand, Koalawriter provides maximal benefits regarding ease-of-use, affordable pricing and usable output quality for businesses that don't require advanced collaborative features.
So ultimately it all depends on your unique needs as well as what you prioritize most when it comes to content optimization. Whether you decide to go with SurferSEO or Koalawriter, keep in mind that both tools can assist you in achieving better search engine rankings and traffic flow.
Surfer SEO vs Koalawriter: The Showdown
Pricing plays an essential role in choosing an SEO tool because users want to get value for their money. Koalawriter's pricing is among the most affordable on the market, making it an excellent option for businesses of all sizes.
Koalawriter charges a flat rate of only $49 per month, which grants users access to its full suite of optimization and content creation tools. This rate is significantly cheaper than other comparable SEO tools in the market, such as Surfer SEO, which starts at $69 per month.
Furthermore, Koalawriter's flat rate pricing plan means that you won't have to pay additional fees for more advanced features or higher volume usage. The original cost covers everything you need to work effectively.
Some may argue that paying such a low price means sacrificing quality or losing out on essential features. However, Koalawriter's tools meet the highest SEO standards and offer all the necessary features for an effective content creation process.
Choosing between Surfer SEO and Koalawriter based on pricing is like deciding between dining at a new Michelin-starred restaurant versus having a home-cooked meal with fresh produce from your local farmer's market. Both offer different value propositions depending on your preferences and needs.
Output Quality Comparison
If you are looking for an SEO tool to help you optimize your content, Surfer SEO and Koalawriter are two of the most popular options available. Both tools offer unique features and benefits that can help you improve your website's ranking on Google. However, which one is right for you? In this section, we will explore the similarities and differences between these two SEO tools, to help you make an informed decision.
Firstly, let's take a look at the content optimization techniques offered by Surfer SEO and Koalawriter. Surfer SEO uses AI-powered algorithms to analyze keywords and phrases that should be included in your content. It compares your page against top-ranking pages for the same keyword phrase to identify what is missing from your page. It highlights any areas of low relevance or poor structure with actionable improvement instructions.
On the other hand, Koalawriter promises a streamlined content creation process. It uses a template format that can help organize your content efficiently as well as include correct placement of keywords. Its process involves outlining targeted sections before diving into writing, which makes it easy to manage content creation and distribution at scale.
Secondly, both tools provide extensive keyword research capabilities and suggestions. Surfer SEO analyzes keywords by different metrics like usage frequency and competitors ranking when considering serp ranking factors. With this information you have a clear guide on which long tail keywords complement your target words for effective copywriting.
Koalawriter does not offer this kind of analysis as it focuses more on generating outlines and providing prompts based on the customer's selected topic niche when creating web copy tailored individually to each customer.
Think of it this way; SurferSEO teaches you how to fish(if used correctly) , while Koalawriter offers you cooked fish already that you can work with.
Another area of contrast between the two platforms is their pricing structure. SurferSEO offers a more premium service compared to Koalawriter, which results in higher pricing for new users. Some may view it as expensive and only worth it if you need an enterprise-level suite of tools.
However, the level of investment is minimal when considering its return on investment, especially with the added advantage of quality content insights that guarantee to improve your page ranking result using surfer.
Koalawriter, on the other hand, offers more affordable pricing options that are accessible to beginners and small business owners. New customers can start out paying less than half of what SurferSEO costs because it does not have most of Surfer's features and sometimes you get what you pay for.
Let's take a closer look at output quality comparison and see which tool is best suited for your content needs.
The Best Fit for Your Content Needs
In terms of output quality comparison, both Surfer SEO and Koalawriter deliver high-quality content output. They analyze keyword performance against top-ranking pages for specific topics to ensure generated copy passes targeted goals such as readability score above 60% according to Flesch reading ease and grammatical precision while still sounding human.
Surfer SEO uses AI algorithms to track overuse or underutilization of words and phrases that helps optimize tags and headings, while Koalawriter employs content creators who add customized punchlines after conducting sitelink research on competing sites. Koalawriter matches each user with an experienced editor who specializes in generating their choice topic niche.
It's important to note that SurferSEO guarantees a fast turnaround time on its optimized content compared to Koalawriter. SurferSEO once used properly will reduce inspection rate by google bot crawlers thereby improving page rating compared to when filtering your copy manually which is less effective.
On the other hand, Koalawriter has an experienced team of editors known for their high-quality services that help fuel original content as well as protect customer data. Furthermore, Koalawriter's more affordable pricing options make it attractive to small business owners on a budget who wish to produce quality copy.
It ultimately comes down to your specific needs and how much you are willing to invest in SEO optimization. If you need enterprise-level optimization, SurferSEO would be your go-to due to its premium features and paid packages that guarantee website optimization.
Koalawriter, on the other hand, provides a cost-effective alternative option with quick turnaround time and its emphasis on custom-made content tailored to each user's niche topic written by expert editors who add value.