Comparing Surfer SEO Vs PageOptimizer Pro
Ultimate Guide to Choosing the Right Tool
If you've been doing SEO for a while or you're just newly researching tools, chances are, you've come across Surfer SEO and PageOptimizer Pro (POP) more than once. These tools are some of the most popular products in the SEO industry, and deservedly so. They both include many great functionalities and awesome features for on-page SEO. Surfer SEO is a versatile optimization tool that combines the powers of content creation and SERP analysis to produce optimized pages from scratch. POP is another great tool that uses a specialized algorithm to help users optimize their pages and target Google's top ranks.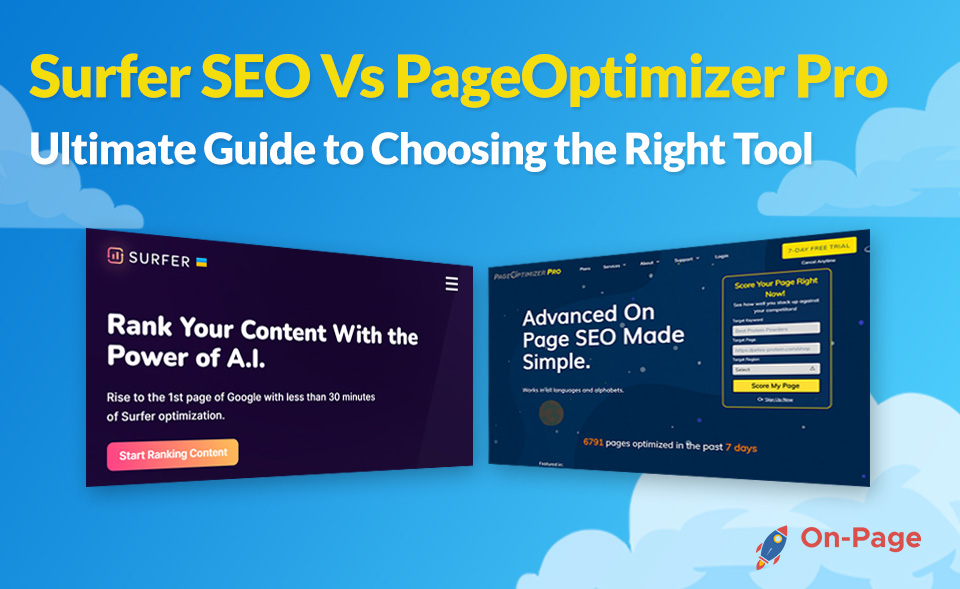 However, most people have a tough time choosing one over the other. The "top ten" SEO tool articles online are super-inconsistent in rating one above the other. They are both great tools but nobody really needs both at the same time.
So, what's the top choice? Let's dissect and compare both tools below.
Top similarities:
Let's see how each tool handles the core requirements of solid on-page SEO.
Keyword Research
Surfer SEO: Surfer has a powerful keyword research feature that takes in a primary term and throws back a list of recommended keywords. This is just like any other keyword research tool out there, but Surfer SEO recently added an exciting new metric known as the SERP similarity. This feature shows how the pages ranking for the primary keyword are also ranking for suggested words on a scale. This metric helps the user determine which suggested keywords are most likely to be useful in the long run.
Surfer SEO's keyword tool also includes the SERP analyzer, one of its most popular features all-round. The analyzer uses a bunch of algorithms to reverse-engineer keywords and shows in-depth analyses of their performances on Google's result pages. It shows everything from keyword density and page speed to average word count per article and title tag character counts. It offers many other metrics including search visibility, backlink breakdown, and page structure. If you know what you're doing with SEO, this is a really cool advantage.
PageOptimizer Pro: POP does not exactly have an independent keyword research tool. There's no robust feature for typing in a primary term and receiving an avalanche of ideas back on how to apply keywords. However, it uses a set of algorithms to generate White Label reports for the user. These include a keyword usage analysis that suggests lots of words related to the primary term of the page, keyword densities, frequencies, and exact placements in the page.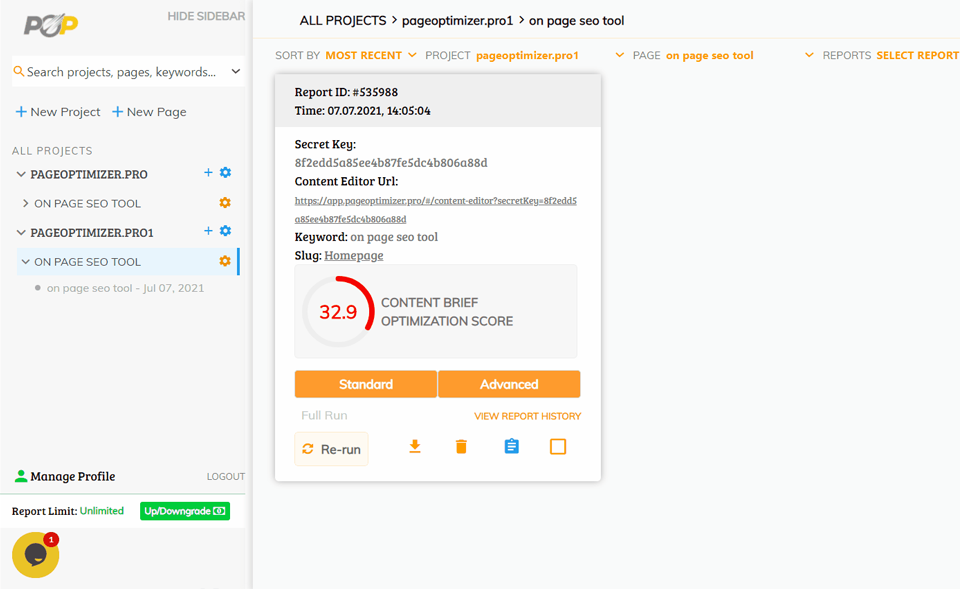 Content Creation
Surfer SEO: Surfer has an in-built content editor that offers suggestions with NLP while a user writes articles from scratch. The content editor has a Brief & Article tool for planning content before writing. Briefing involves pulling relevant topics and headings from Google's highest-ranking related pages and the article outline helps you structure your piece before writing. You can type the outline directly into the left side of the editor while keeping an eye on the real-time changing content score and keywords on the right.
You can enjoy Surfer's content creation abilities away from the platform as a Google Chrome extension which offers suggestions while you write in Google docs. However, this is the only other editor it can integrate with. On a higher level, you can use Surfer reintegration on Jasper.ai to generate SEO-optimized content.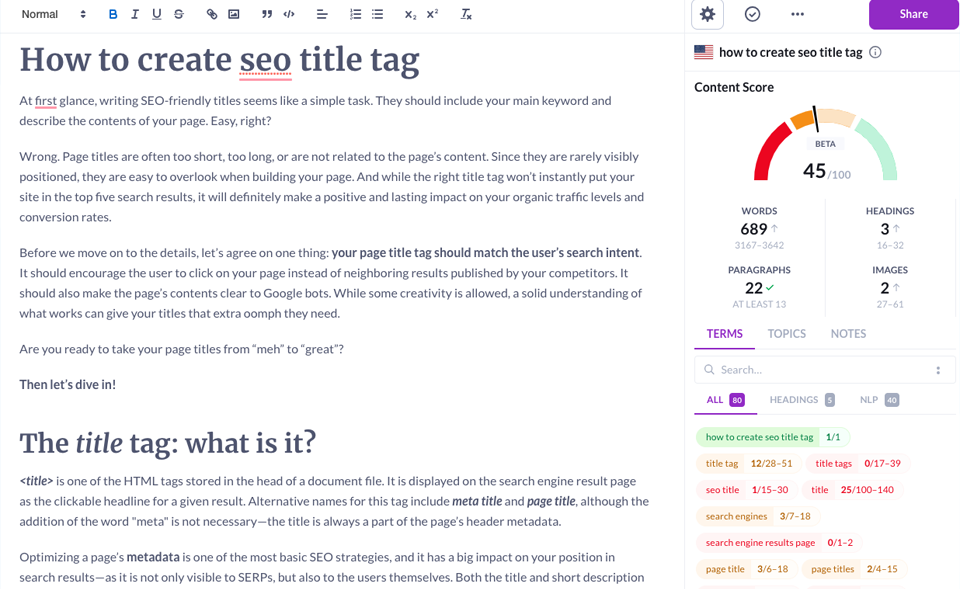 PageOptimizer Pro: POP has a robust live content editor and it provides NLP keyword suggestions based on a pre-selected primary term. POP comes up with really accurate terms and is a great fit for optimizing lots of existing pages and documents. It's also available as a Google Chrome extension to work with docs, but POP offers even more cross-platform flexibility than Surfer. It integrates with Wix, Magento, Oxygen, Elementor, Shopify, and others.
All you have to do is paste your already-written content into the editor and optimize based on the suggestions it pulls up. The only downside is that you cannot create content from scratch with this editor. You'd have to be optimizing a piece that's already written.
Content Optimization
Surfer SEO: Optimizing content with Surfer is another plus from the SERP analyzer, a feature that completes Surfer's status as a correlational SEO tool. A correlational tool analyzes data from Google's top pages to determine the ranking factors in order of relevance. It doesn't just break down keywords but it also analyzes the full page content, supplying metrics and data including highest-ranking content types, content depths, top choice media formats, and most-clicked topics. It performs competitor analysis by allowing you to select your top competitors from a list of 50 and comparing metrics relevant to on-page SEO.
PageOptimizer Pro: POP also includes a powerful correlational SEO algorithm and content optimization is one of its strongest functionalities. When you sign into POP's main interface, you'd have to create a project. To begin the optimization on your chosen page, you'd have to select a keyword and POP offers the options of manually selecting ten competitors or allowing the tool to choose for you. You can only enter a maximum of 10 competitors. While it seems a bit more stressful than Surfer's option of choosing from a list of 50, you'd ensure you're actually checking against solid competitors.
POP scans the entries and provides reports based on keyword usage and densities, word counts, site structure, improvement recommendations, and overall summary.
Site auditing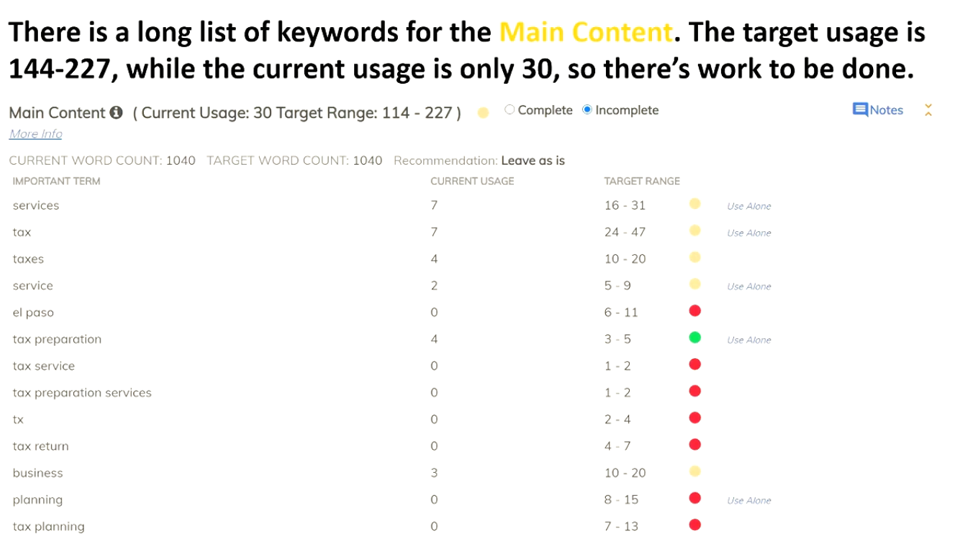 Surfer SEO: Surfer has a great site auditing feature that allows you to optimize old pages for content freshness. It looks for problems and inconsistencies with SEO such as flawed page structures, bad image precisions, broken links, poor meta and title tag choices, and other on-page problems. The site auditing feature in Surfer works like the SERP analyzer by providing an in-depth report of the optimization situation of your website.
You'd have to enter the URL of the page you'd like to audit, the target or primary keyword, select a location, and click "audit". It pulls up information on major metrics including page speed, missing keywords, word counts, headings and meta tags, and improvement recommendations.
PageOptimizer Pro: POP doesn't have a designated audit tool like Surfer SEO. The entire product itself works as one large, multi-pronged audit tool, especially since you can barely do anything from scratch on the interface. It focuses on optimizing already-existing pages and content, taking in links and files to provide reports on errors, broken parts, poorly written content, problematic image and media choices, and suggestions on how to improve the overall page.
Ease-of-use
Surfer SEO: Surfer SEO has a friendly UI and is easy to navigate. Except for the SERP analyzer, it doesn't always throw out chunks of complicated jargon. The UX writing is simplified, the interface is well-sectioned, and you can find your way around the tool in no time.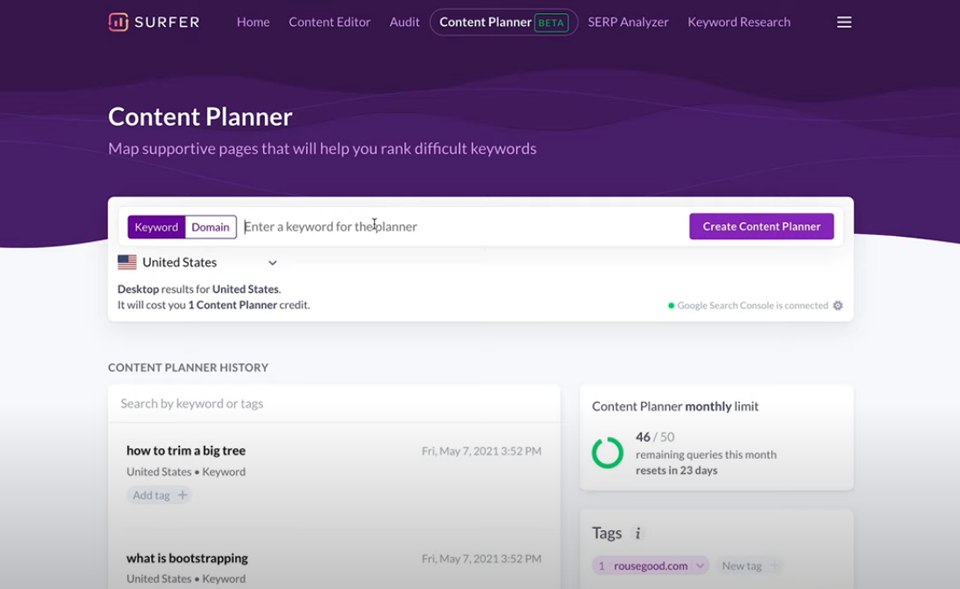 PageOptimizer Pro: POP's interface is a little more complex and slightly less beginner friendly. You'd require a solid background in SEO to understand and navigate the tool easily. It's great for professionals who have been doing SEO for a while, but beginners might want to check out a few tutorials before considering this tool.
However…
What if we told you there's a unique product out there that's even better than the combination of these two? A top recommended choice with the friendliest interface, most advanced google-emulating algorithms, and never-seen-before features that give users an incredible edge over their competitors.
On-page.ai
On-Page is a ground-breaking innovation to the SEO industry that's already out-performing the top dogs, with users recording as high as 1030% increase in traffic and engagement over a few months of consistent optimization. On-page is a highly sophisticated, simple-faced content creation and optimization tool with all the essential functionalities of full-scale on-page SEO. It even includes features to enhance your off-page SEO efforts such as the all-new Predictive Guest-posting tool.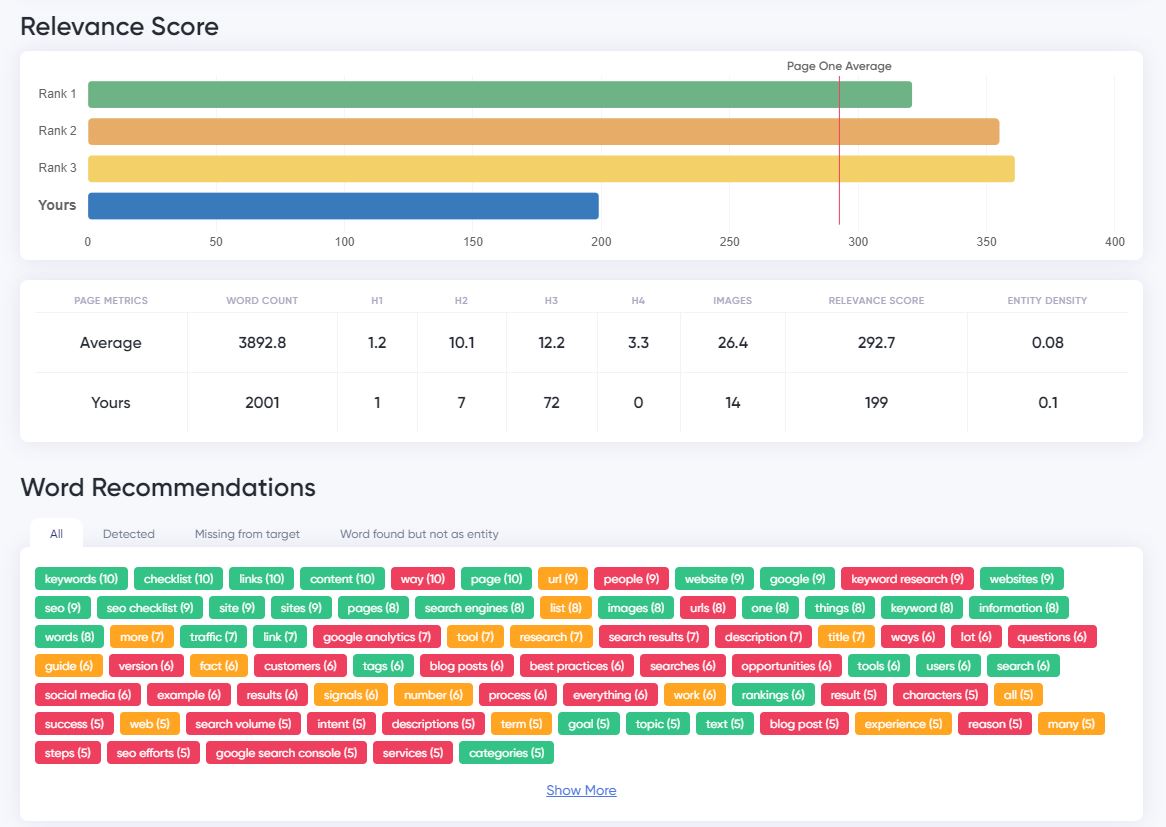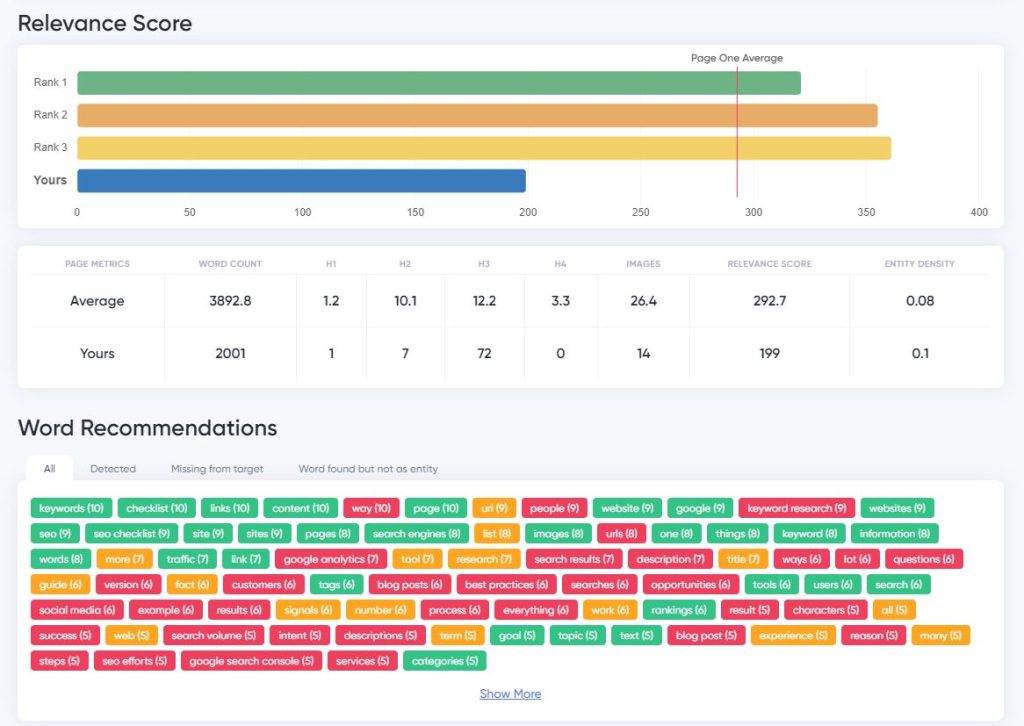 On-page was designed primarily to reverse-engineer and emulate Google's search engine algorithms, figuring out what the bots are rewarding the most for top ranking spots. It's one tool that guarantees real, sustainable results in the long run because it's working exactly in line with what the search engines appreciate.
This tool prioritizes user search intent, content relevance, and content depth, which are Google's top three factors for content-related rewards (or punishments). The Keyword research feature is highly sophisticated and extremely accurate, using Natural Language Processing to prevent irrelevant keywords from popping. All you have to do is enter a primary term, an optional URL, an optional location, and click submit. The tool scans and then supplies an in-depth report with a relevance score relative to the top ranking pages, metrics such as word counts and headings, and recommended keywords separated by color. The report also includes highly related keywords, keyword variations, page classification, and category-specific words. This allows you to optimize to the fullest potential, not just at the page level but also at the category level, an advantage most other SEO tools cannot offer.
On-page.ai also has a super-useful Brief and Outline tool that slashes article and topic research time by at least, 85 percent. All that time spent sifting through Google's SERPs for content and research can be compressed into a few minutes of using On-page's Briefing tool. It offers statistical numbers, top-ranking questions, most-clicked topic ideas, headings, and article structure ideas. You can outline your article in the blank space on the right. It also has an intelligent live content editor for creating optimized content from scratch within the platform's interface.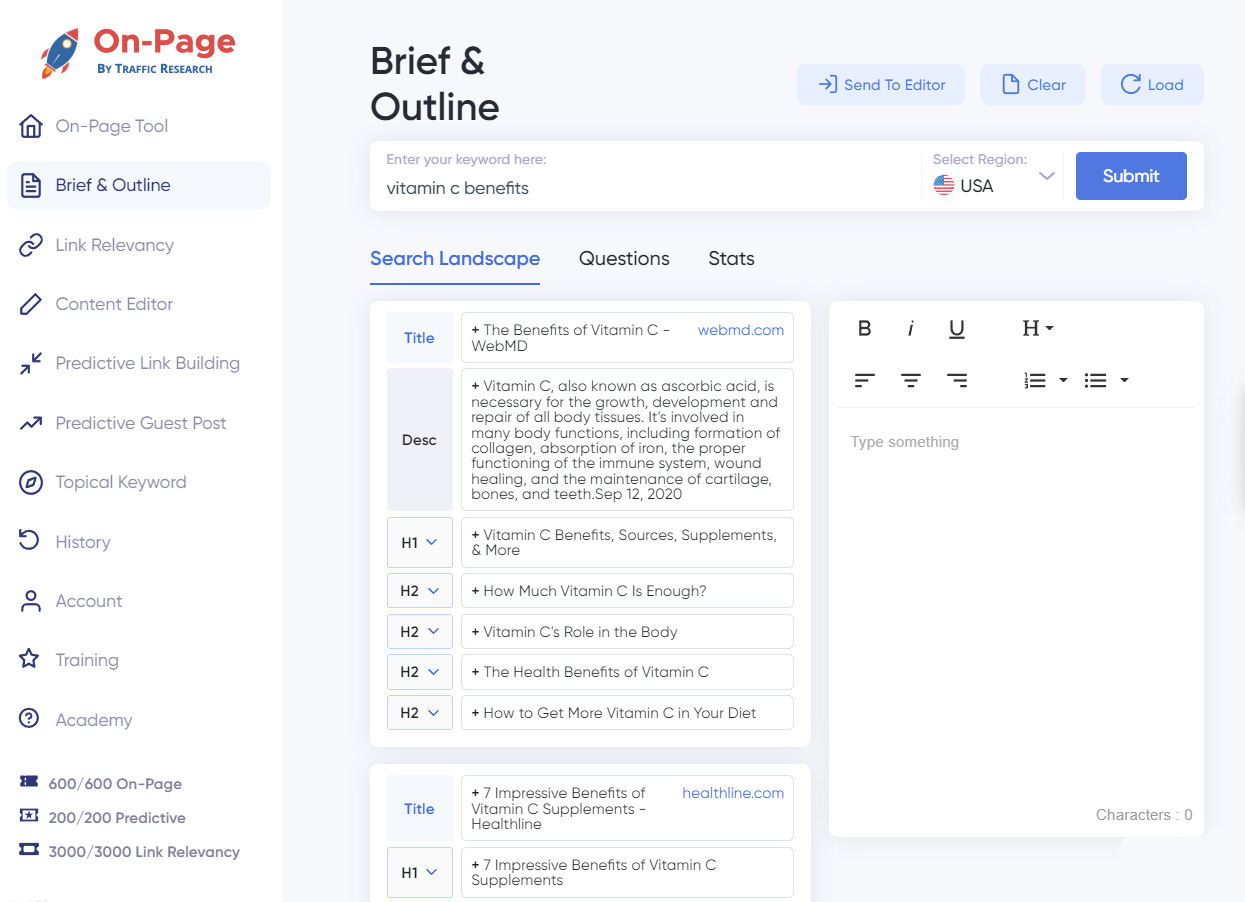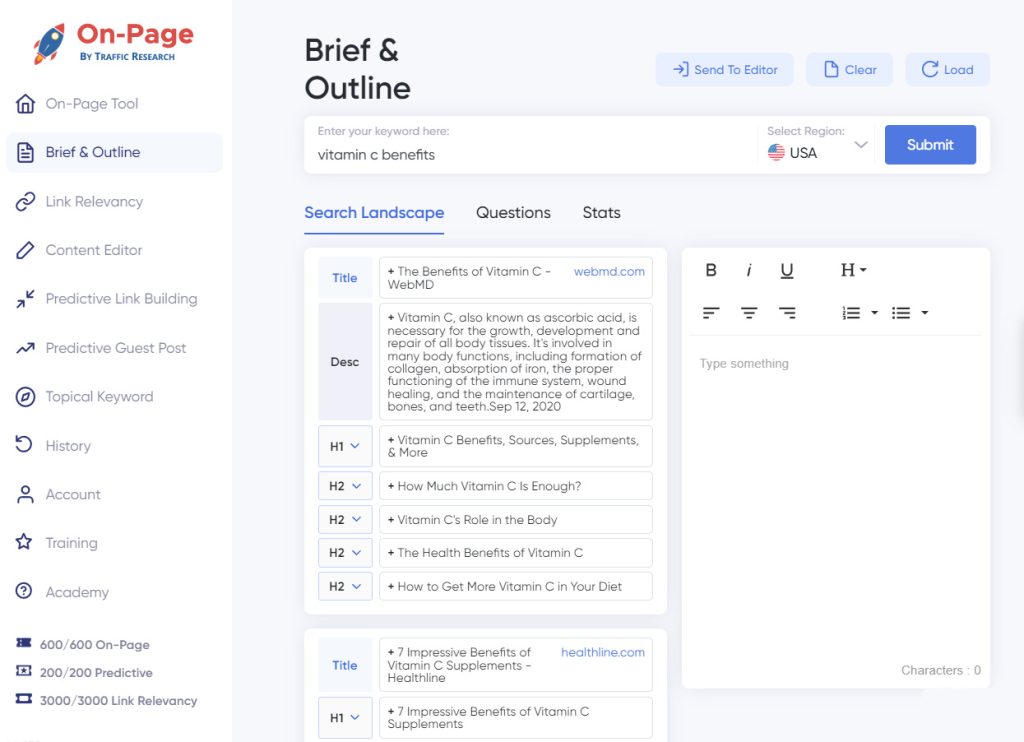 On-page is one of the few comprehensive SEO tools that include powerful features for link building. On-Page's algorithm helps you determine which of your articles to interlink together for stronger connections within your website. It includes a unique Link Relevancy feature that helps you compare live URLs from other websites to your page's URL. With this feature, you can build stronger backlinks with external pages that are highly relevant to your site's content. The Predictive Guest Posting feature is an all-new addition that allows you to create 100% optimized content for off-page SEO and guest posts on other blogs.
On-page.ai has the friendliest and easiest-to-navigate user interface for such a robust tool. You require very little technical knowledge of SEO to enjoy this product. It provides a straightforward process with real results and consistency.
Our top recommendation, finally, is On-page.ai. You can't go wrong with this tool.