Top 5 Alternatives To Frase.io For Content Creation
AI-powered tools for faster writing
Going by Google's major updates in the past decade, the crack-down on shallow, low-quality, low-depth, and poorly focused content has been increasingly more intense on unintentional websites. Normal content writing is simple – heck, just write from your heart and hopefully, someone loves your drift. With SEO content, you'd have to be a lot more intentional, organized, and cautious. Everything goes south if your content provides no relevance to Google's precious users.
Hence, the need for automated content outlining and briefing tools. A push in the right direction to avoid wasted efforts with writing, in simpler terms.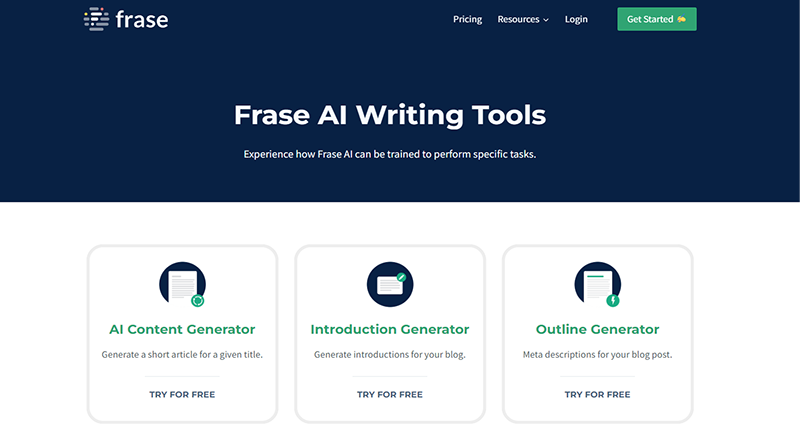 What is Frase.io?
Frase is a super-useful AI-powered content optimization tool that helps writers create optimized content summaries, briefs, and outlines for intended articles. Essentially, it builds the skeleton of the article and helps you fill in the gaps on the go. It utilizes Natural Language Processing, where the algorithm attempts to match searches and suggestions to the appropriate human contexts. Frase also has an in-built content editing tool for optimizing on the fly.
A summary of Frase.io's foremost features:
Frase.io is a really useful tool, no doubt, but today, it's not the Holy Grail of Ai-powered content creation. One major problem with this tool is the inconsistency of keyword and content suggestions – often inaccurate and irrelevant in context. The NLP feature is not as impressive as a robust tool like On-Page.ai would offer. Frase makes optimizing paragraphs extremely daunting because the editor only allows sentence-by-sentence updates. Also, if you're looking for a tool with a straightforward and friendly UI with no complicated jargon, Frase might not make you unhappy.
Let's explore alternatives then, shall we?
Topic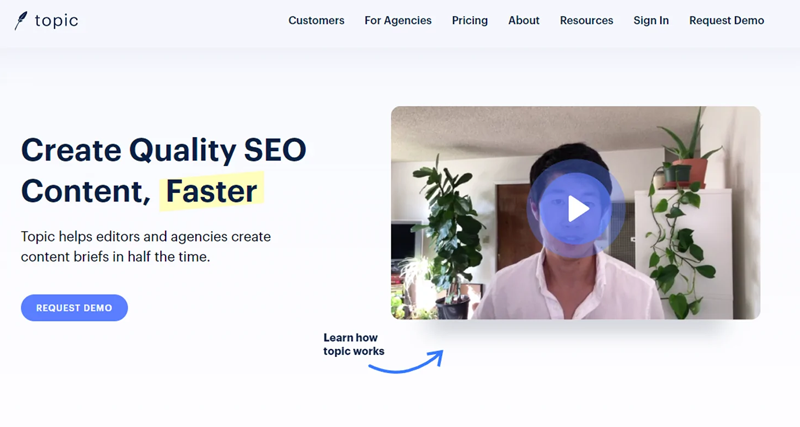 Topic is a simple content creation and optimization tool that helps users curate SEO content outlines. It doesn't exactly feature an AI-powered built-in content editor, but it has a content grading feature where a writer can paste a prepared draft for optimization insights and a final performance score. It has a versatile content research feature, an outline builder, and plugins for Google Docs and WordPress.
Topic has a tab for writing briefs that shows a straightforward overview of the metrics of a chosen keyword. Just enter your preferred term, location, and language preference, and the tool curates a brief showing the content research and competitive analysis reports. The latter features information about the top-ranking websites, their related articles, and automatically grades their content.
Topic's content research tool features a unique idea generator that shows you everything from heading and most-asked questions to high-potential topics and suggested headings. It also shows the recommended word count, recommended grade you should attempt to achieve, and the optimal volume of keywords in the high-ranking articles.
From content research, you can skip to the interactive outline builder to curate the information provided into an outline for dispatch to your writers. When the first draft is finished, you can paste it into the content grader to get an overall optimization score. The more topics covered from your content research suggestions, the higher your content grade. The right-hand tab shows the topics in order of how frequently they are used by other online sources and you can filter according to the ones featured in your article.
Generally, Topic is a super-simple, awesome tool for content creation. However, it's not the most robust tool for advanced content creation and doesn't exactly work with any power-packing AI algorithms. The loading speed and drag-and-drop features in the outline builder are often slow and cumbersome to manage, but the tool certainly features a user-friendly UI.
MarketMuse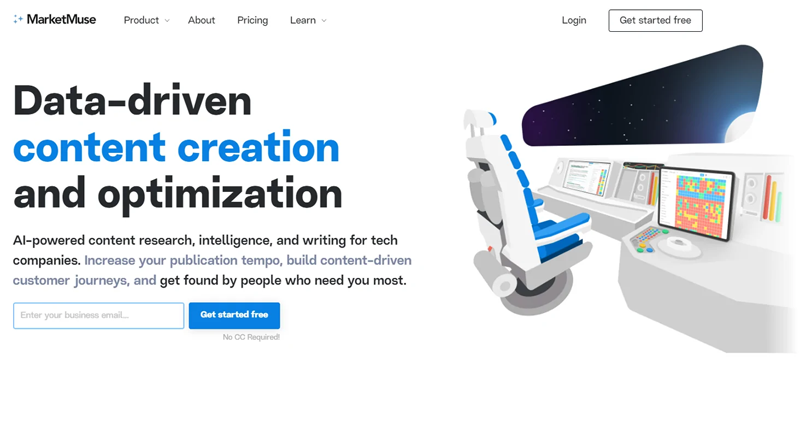 MarketMuse is a powerful AI-embedded research and content outlining tool that's popularly known for saving time spent on sifting through topic ideas. It doesn't exactly have a built-in editor for creative writing, but it features an optimization tool, similar to a content grader for assessment and feedback.
MarketMuse's functionalities are divided into two main parts: The inventory and the applications. The inventory feature is like an auditing tool, taking stock of all the content currently existing on your website including pages, user-favorite and most-searched topics, and supplying reports and optimization plans. This is a really useful feature for improving your already-existing content and solving SEO issues. It also provides an overall optimization to gauge your current performance.
Next is the Applications feature which is divided into five broad categories: Research, Compete, Questions, Connect, and Optimize. The research application is the first step to content planning with MarketMuse. It works as a keyword research tool where you type in your primary term and it returns a list of related terms for inclusion in your article. The Compete feature shows you how content related to your keyword is ranking from other websites. Next is the Questions application where the tool returns a list of frequently asked questions related to your search. This allows you to curate content with meaningful depth. The Connect feature shows you how to interlink your articles. Optimize is the most important application where you paste your finished draft and the software grades your work, highlights certain parts, and offers suggestions for improvement based on the applications' metrics.
One major problem with MarketMuse is the speed of information loading and clunkiness of data. There's always too much going on at any time. Sometimes, the question suggestions are inaccurate and unrelated to the term. There's also this problem of having to input the primary keyword all over again every time you switch between one of the five applications.
Scalenut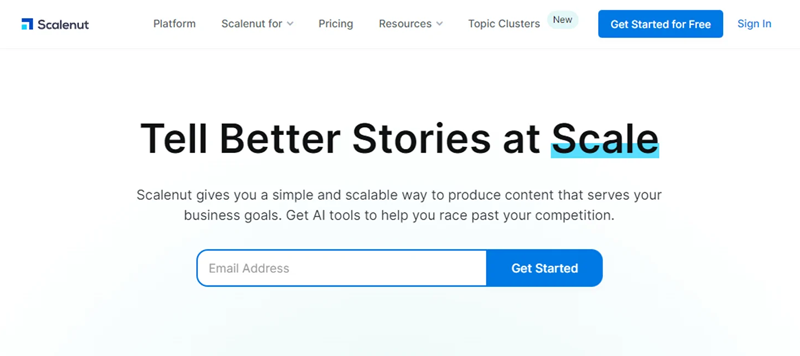 Scalenut is an AI-powered content optimization platform that's particularly famous for supporting extreme long-content SEO writing. It has a great idea generator feature that offers dozens of peculiar templates for all forms of writing. It has a content planning tool powered by an NLP-inclusive algorithm, a built-in content editor, a content evaluation feature, and a "cruise mode" feature that allows users to write blogs in a 5-step process.
When you fire up your Scalenut interface, it offers the option of long-form or short-form writing. Short-form writing displays a myriad of templates such as conclusion paragraphs, customer review responders, social media posts, blog ideas, Google descriptions, video script outlines, and so many others. The templates feature also helps you to generate cool ideas for long-form writing.
Next is the content planner that uses NLP to curate an SEO-focused outline complete with headings, subheadings, and relevant keywords based on competitor analysis. The algorithm researches dozens of articles online and pulls up a suggested outline based on ideas from top performers. Using the built-in editor showing metrics such as word count, content grade, and readability, Scalenut provides an AI assistant that helps you write content directly in the interface, providing feedback and suggesting changes as you write.
Most of these features are replayed in the cruise mode, a new addition to the tool that allows users to breeze through content creation in minutes. You start by adding a short description of your intended post, choosing a catchy title from a list of suggestions, curating an outline by choosing subheadings and topics to cover, selecting the writing points for each heading, and filling in the rest of the sentences for your target word count.
Scalenut has a friendly UI but you'd still need some in-depth learning and tutorials if you're going to enjoy the full benefits. Also, the content editor requires the writer to carry out some pretty major editing on their draft even after optimization.
Clearscope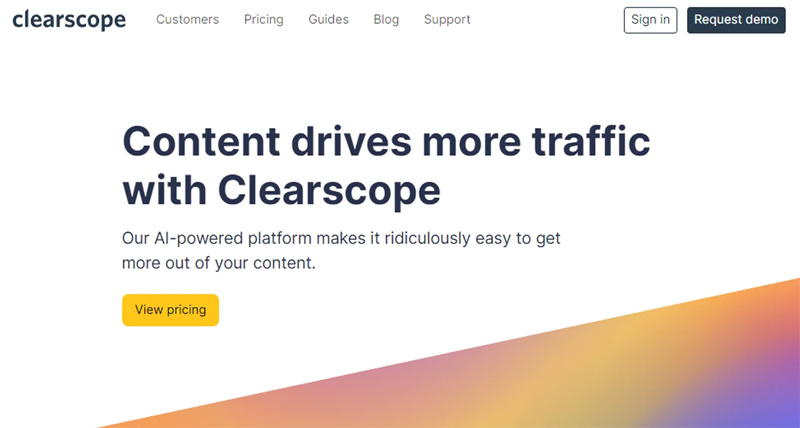 Clearscope is a very popular, sophisticated content optimization software that uses artificial intelligence to help users create great articles. With many robust features and important metrics, it can either be used as an independent platform or as a Google Doc add-on. It has a built-in editor, a reports feature that performs extensive research on keyword opportunities, and lots of other metrics for keeping track of periodic performance.
The first step to creating content with Clearscope is to run a report. After inserting a primary keyword and selecting a few parameters, Clearscope scans the web and returns a list of top articles related to that keyword, showing information such as user search intent, search volumes with lots of filtering options, content types based on the most searched queries, and a few other metrics. You can also run reports for links and receive a breakdown for multiple entries simultaneously.
Clearscope's built-in editor automatically grades your content as you type and updates your readability in real-time according to several indexes. It suggests phrases based on popular headings and online relevance. Also, the optimization grading is available when using Clearscope as a Google Docs add-on, scoring on an alphabet scale with A++ being the highest. Sometimes, the highest grade might be risky because you'd end up over-optimizing your piece. An A+ is often a safer bet.
Clearscope also offers a robust keyword research feature that takes in a primary term and location preferences to supply a list of keywords relevant to your chosen term. It provides useful optimization information such as monthly searches which shows the 30-day interval search volume of keywords, keyword competition, and cost-per-click analysis.
On the flip side, a few issues with Clearscope would be the complexity of navigation and technical jargon. There's way too much going on at any point in time, constantly overloading users with information that might be irrelevant in the grand scheme of writing well-optimized content. Also, some of the word suggestions when using the editor are unrelated to the chosen keyword. Suggested keywords during research might be totally off-point as well. However, for the most part, Clearscope is a useful writing aid.
Finally… Our top recommendation
All the tools discussed above have something in common – they are all research, brief creation, and outline-focused tools. Not all of them have built-in content writing editors and for the ones that actually include AI-powered writing spaces, you'd still have to work with other tools (more money, more time, and more confusion) for the full effect of on-page optimization.
With our top recommended SEO content writing SAAS, you can simply collate all your on-page and off-page optimization activities into one super-charged platform with the friendliest UI we've seen so far.
On-Page.ai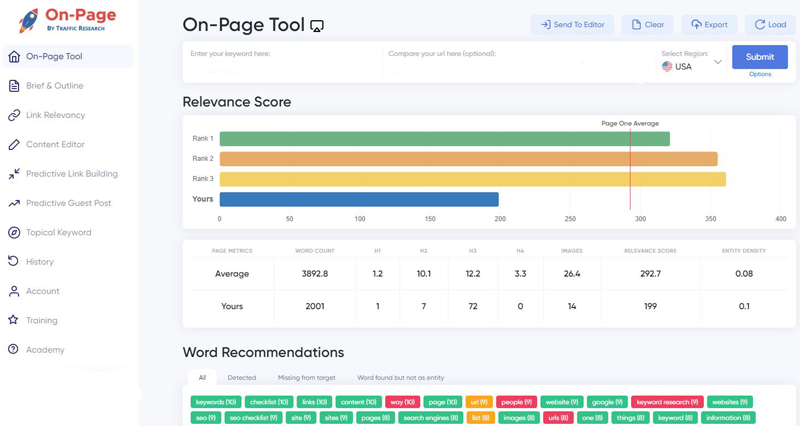 On-Page.ai is a breath of fresh air in the SEO industry – a full-scale, highly sophisticated, AI-powered optimization tool with amazing features for in-depth content creation. It includes outstanding tools for brief and outline creation, keyword research, link relevance checks, topical keyword research, predictive link building, a super-intelligent built-in content editor, and an all-new unique feature known as predictive guest posting. For SEO-focused content creation and optimization, On-Page pulls the full weight of natural language processing and Google algorithm emulation.
Setting up your On-page.ai account takes only a couple of minutes, and when you sign into the main area, the user interface is a simple and aesthetic platform with no complicated jargon and no overload of unnecessary information. Everything you need to hit the ground running can be found on the left-hand side of the dashboard.
The Brief & Outline tool slashes your research and article recon time by at least 80%. All that time spent looking up ideas, topics, questions, queries, and research is chafed down to the bare minimum by this super-brilliant tool. It takes in a keyword or primary term, a selected location, and on clicking "submit", the algorithm returns an extensive and impressive list of headings, subheadings, and topics ideas stacked under the "search landscape" tab. On-Page.ai's algorithm emulates Google's ranking algorithms to decipher the top performers and highest-ranking websites for a particular keyword, and it collates the most profitable topics under the search landscape.
Next is the "Questions" tab, where the most-asked questions about your keyword are sorted according to rank, and the uppermost questions have direct answers underneath. The final tab in the Brief & Outline tool is the "stats" tab, which shows the statistical and research numbers from studies and reports written by other websites on your primary keyword. There's no need to head over to Google to manually search for proof and research numbers on your topic. If they exist, On-page will unearth them for you within seconds. It has a small text area on the side for curating briefs while searching headlines.
Another impressive feature that sets this tool apart is the extensive keyword research tool at the tap of a button. When you click the "on-page tool" tab on the left-hand side, all you have to do is type in your primary term, paste an optional URL for comparison, select your preferred search location, and click submit. The AI-powered algorithm scans the web and comes up with a highly accurate list of related keywords and their optimal volumes, separated by color. It supplies a list of "highly related words" that help to create content for various customer personas. You can also optimize at the category level because On-Page.ai provides a list of category-specific keywords. You get on-target suggested headings, subheadings, and topical authority questions to boost your ranking potential.
On-page.ai features a built-in intelligent editor for directly writing articles within the platform or optimizing already written content. The editor comes up with brilliant suggestions, optimal word arrangement, and topic-related ideas to improve your SEO content.
This unique software has a "link relevance" tool for cross-checking your backlinking efforts, making sure you're connecting to pages that are relevant to your website's category. It features a predictive link-building tool that scans potential links to show their categories and domain relevance. It also has a never-seen-before "predictive guest posting" tool for directly creating fully-optimized content for off-page link building.
On-Page.ai gives you the greatest edge over your competitors because it's not merely a briefing and outline tool. It's the full suite of all SEO deliverables with a lot of robust value packed into one simple-faced platform.
All the tools above are great choices, but…
On-page.ai has all the features needed to create outstanding content and improve your rankings, visibility, traffic, sales, engagement, and readership, all from the same content base. Real value for a price that's not absurdly outrageous. It's definitely worth it.