SEO Copywriting: 6 Super-Charged Tips For Producing Rank-Worthy Content
Rank on Google while selling your product
What is the difference between SEO copywriting and normal copywriting?
Special emphasis on content fleshing.
While both forms of writing are concerned with producing user-relevant copy to engage readers and boost profit for websites, the major difference lies in intentionality. There aren't any core rules for regular content writers to live by: just produce good, readable, and convincing copy with great grammar.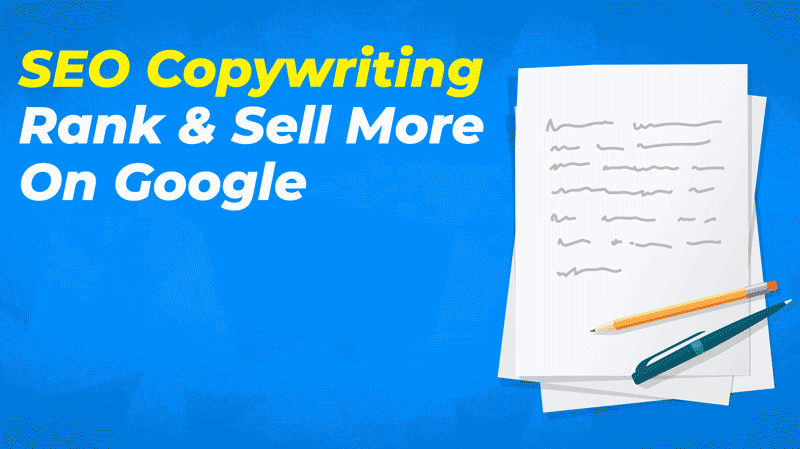 SEO copywriters have it a bit harder…
They're not just writing to sell products or retain readers but to optimize their content to rank high on search engine result pages. Most people only find websites through Google's pages (mostly the first page), and SEO content writers are charged with getting articles ready for the algorithms to crawl and index.
SEO copywriters identify customer personas and search intents, select highly profitable and viable keywords, naturally infuse them into articles at optimal volumes, ensure high content relevance, section articles perfectly, and they still have to convince viewers to spend money somehow.
It's a lot more intense and requires lots of practice and attention to detail.
Why is SEO copywriting important?
You can build one million backlinks to websites with 80-90 scores on domain authority. You can stuff your meta descriptions with the highest ranking keywords in your niche. Heck, you could even optimize your website from the backend codes directly.
However, if your written content and articles are not optimized for the search engines to love, crawl and rank, you'd probably be optimizing backward.
Optimized content is king.
There are no shortcuts to proper on-page SEO if you're looking for real and long-lasting results. Before interlinking and off-page link building, on-page content writing must be decently done.
Four out of Google's eight major algorithm updates in the past decade were specifically intended to penalize poorly optimized content.
Generally, if you want to stand a chance of ranking on Google's foremost pages, SEO copy writing should be a top priority in your website's operations. Other amazing benefits include:
– Visitor retention and low bounce rates
– Increased traffic and sales conversions
– High content value from great research
– Higher response to call-to-actions
– Meeting content demands for your target audience
Writing Guidelines For Great Google Rankings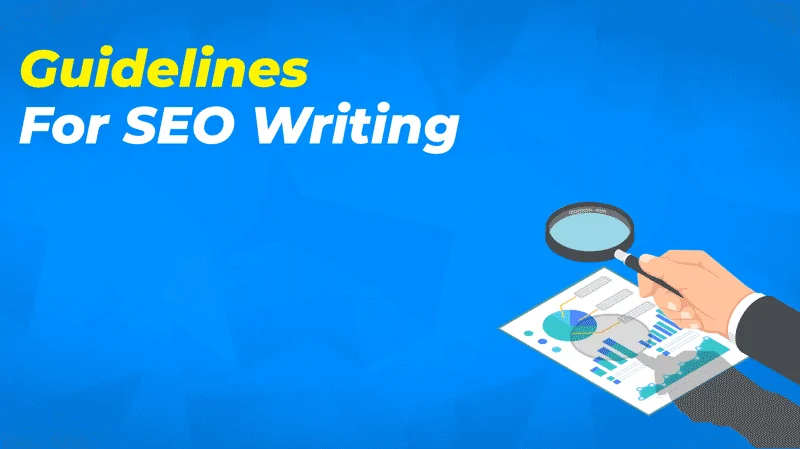 The elements of SEO copywriting are pretty straightforward to understand. Your approach should remain fairly constant for all content types and categories, where the major difference is article lengths for different kinds of publications. Writing intentional SEO content promises great potential for your pages in user ratings and search engines.
How to write a title tag for SEO
What's the one thing that convinces you to read a book or drop it?
That's right. The title.
With SEO, the title doesn't merely convince readers to click on the page, but it also entices the search engine to rank the page. The title tag is an HTML element that embodies the title of the web page.
The main heading of the article and the title of the web page can be two different sentences, encompassed in the <title> and <h1> tags, but most times, it's better for ranking purposes if both are identical.
On your web page, the title tag is shown on the topmost bar, the tabs bar on the browser and it appears entirely when hovered on.
On SERPs, they appear as the blue anchor headlines you click to enter the web page. It's the first step of hierarchy in the entire web page and carries a lot more credit for ranking than most people imagine.
Use your primary keyword in the tag
This is very useful for getting the algorithm to work in your favor. Your primary keyword should be included naturally in the title and the length should optimally fall between 50-60 characters. If it's longer, Google will abridge it when it's indexed.
Use more numbers in your titles
Users and search engines love headlines with numbers. A study by MOZ reports that headlines with numbers incorporated generate 73% more sales.
For instance, if you want to write a food recipe post, you could use:
"5 easy steps to baking the ultimate chocolate cake".
Writing an article about fixing messed-up love lives, your title could be,
"10 ways to re-ignite the spark in your relationship."
Tap into reader psychology and write an attractive headline
This is where search intent comes in. What would readers want from a great article?
Google encourages websites to prioritize user search intent. Try to promise quick and direct problem-solving in your titles – never too salesy, but convincing enough that an impatient information seeker would click and take the time to read. Also, users tend to love headlines with parentheses. This can be a bit tricky to use correctly, but if you find the balance, it makes a lot of difference.
For example, "The top 10 best career options in SEO (2023 updated list)".
How to structure your sub-headings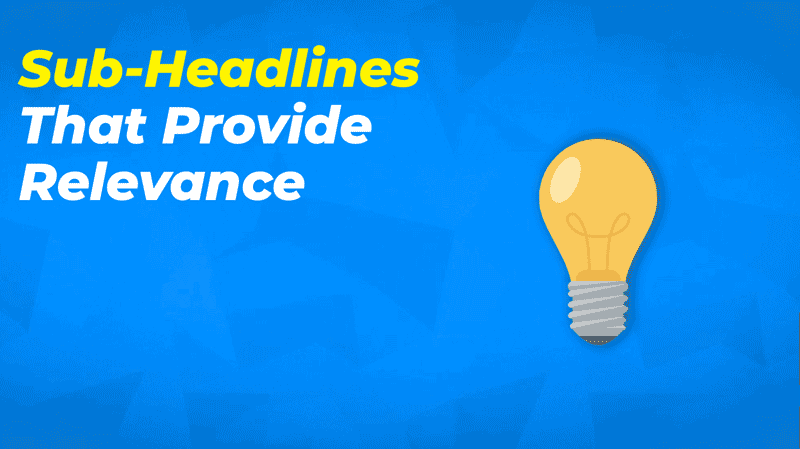 There's a myth that subheadings within an article have no direct impact on SEO and ranking potential. Uhh, lies!
As long as it affects how readers consume content on your pages, it affects SEO by association.
Follow the hierarchy
Content hierarchy is extremely important and the main objective is to improve how readers scan your page. Writing jumbled-up articles with no sections or headings is a one-way ticket to low readership and outstanding bounce rates. Nobody will digest whatever you have written or come back to your website for seconds.
It's important to use the heading tags in a hierarchy as they are used in tables of contents, where <h1> is your article's main title, <h2> are your major section subheadings, <h3> are for smaller breakages within the sections, and so on.
(It's also important to not skip the hierarchies, such as jumping from <h1> to <h3>)
Use highly relevant keywords
For subheadings, you should use recommended keywords words related to your primary term. With an awesome SEO tool like on-page.ai, you can scan your primary term and scroll down to the "highly related words" tab.
These words are super-useful when incorporated into subheadings and they encourage the search engine to crawl your page when users are searching for topics outside the primary keyword.
Do not use all caps in the headings
You can capitalize each word but using uppercase entirely may confuse the algorithm. Use capital letters only where necessary.
Writing The Main Content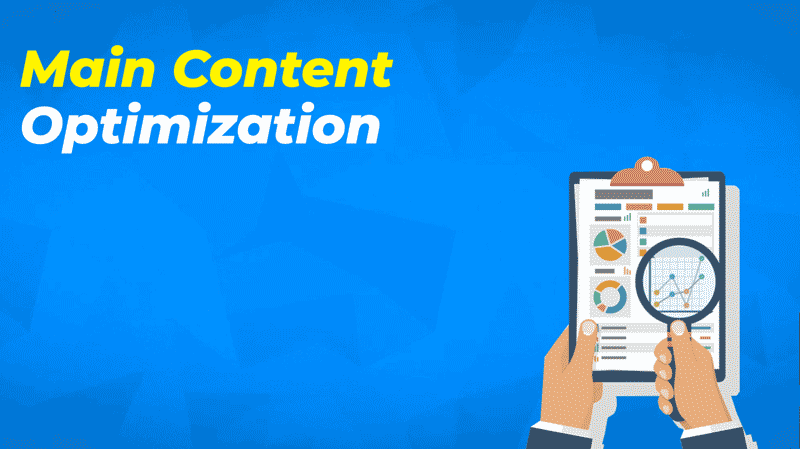 Google's watchword is RELEVANCE. Putting out content that's not relevant to the user search intent will not only leave you un-ranked, but you stand a chance of getting penalized. And Google's penalties are notoriously difficult to wiggle out of.
Answer the main question in the introduction
Whether you're writing a step-by-step article or a complete guide, it's best to summarize the solution to the problem or answer the question at the top. The search engine finds the primary keywords a lot faster and users are more likely to stay and read through if your introduction promises quality ideas
Answer the main question in the introduction
Researching keywords merely from Google's search bar is like, 1990s SEO. It can be helpful, but you're limiting your horizons.
An incredible software tool for keyword research is On-page.ai by Traffic Research. This software has a robust artificial intelligence system that mimics Google's entire algorithm and figures out what the crawler rewards most for every content category.
In simpler terms, it unravels what the algorithm prefers the most. Using a tool like On-page.ai gives you a powerful edge over competitors. It selects only keywords that are highly relevant to your primary term, not making mistakes like tossing out "forex options" for a pet care blog.
All you have to do for keyword research is type in your primary keyword, paste an optional URL for comparison, select your preferred search location, and click submit.
The algorithm scans and comes up with a highly accurate list of related keywords and their optimal volumes. It separates these words by color, where green represents entities present on the page, red means the keywords are missing, and yellow means present but not important. It supplies a list of "highly related words" that help to create content for various customer personas.
You can also optimize at the category level because On-Page.ai provides a list of category-specific keywords. You also get on-target suggested headings, subheadings, and topical authority questions to boost your ranking potential.
If there was ever a top-choice tool for keyword research, this software cuts it really nicely.
Use long-tail keywords
Long-tail keywords are extremely specialized terms that dig deeper into the search engines. You stand a much higher chance of ranking if your written content is optimized with long-tailed keywords. They perform better than shorter term and while they are not very easy to work with, the traffic boost is almost always assured.
For instance, instead of "car engine cleaner", use "ethanol-based non-corrosive liquid car cleaner".
Write lots of facts and case studies
Search engines and human users mostly prefer solid, proven facts over analogies. While the latter could be included at intervals, the former is a top choice for getting users to trust your content and information. Also, you could build case studies with evidence and results if you're trying to sell a product or prove a point.
Use humor and a light-hearted tone
It doesn't matter if your category is super-formal and up-tight like finance, legal, and investments. Writing with a light tone greatly reduces your bounce rate and ensures that at the very least, visitors stay long enough to thoroughly consume your content. Boring content results in clicking and leaving instantly, greatly hurting a site's growth potential.
You can go straight to the point with useful information while sounding cheerful or at least, friendly.
Avoid stuffing keywords
You're not just going to lose your ranking chances but you'd be setting your site up for Google's punishments. Stuffing keywords is an over-optimization black hat SEO technique where a writer inserts an insane number of keywords unnaturally into a page to improve to fool the search engine.
Too bad, the AIs are far too robust and way too smart. You'd end up producing low-quality unreadable content with a high risk of getting flagged.
Make the paragraphs easy to digest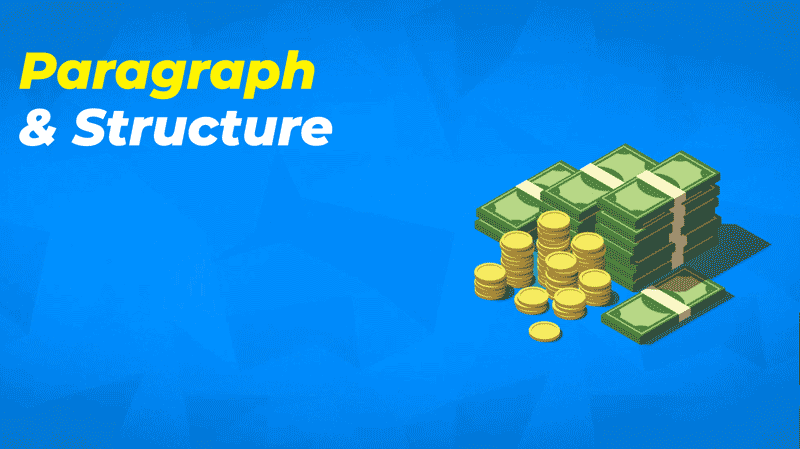 Readers love readability and search engines endorse it.
Jumbled-up paragraphs and congested writing trigger low reader retention because normal people don't enjoy headache-inducing articles.
Focused ideas and content depth
A well-optimized article provides well-sectioned content that thoroughly discusses several related parts of a given topic. Search engines dislike and penalize shallow content. It's important to focus solely on the topic and its components. Writing on several unrelated or loosely related ideas in one piece can confuse the algorithm and throw readers off balance. Get your ideas straight and stay on track with the conversation from start to finish.

Section ideas into subheadings and inner subheadings
A well-optimized article provides well-sectioned content that thoroughly discusses several related parts of a given topic. Search engines dislike and penalize shallow content. It's important to focus solely on the topic and its components. Writing on several unrelated or loosely related ideas in one piece can confuse the algorithm and throw readers off balance.
Get your ideas straight and stay on track with the conversation from start to finish.
Fonts and spacing
Simple fonts, optimal font sizes, and perfect spacing are highly important because they improve readability, and hence, reader retention. Fonts have a strong psychological effect on readers and if they are too tiny, too large, or too decorative, people get innately pissed. Using appropriate font choices encourages visitors to consume your content thoroughly.
If they stick around long enough to gain value from your articles, then they'll most likely take an action. Also, use optimal spaces between words, paragraphs, subheadings, and sections to prevent jumbling up information.
Break up long pieces of text with images
Nobody wants to open a website and feel like they are reading a high-school textbook (which could trigger miserable memories for some of us unpopular kids).
Texts are better set in small chinks, and when headings are not necessary, images do the job nicely. Related or relevant images are amazing visual aids for textual content and they further imprint ideas and information in the reader's mind.
Image alts and captions are a gold mine
When inserting images in the text editor, never turn down an opportunity to use an alt text. Alternative texts are loaded when there's a signal or server delay and images load a bit slower.
Also, they are crawled before the image files themselves and are super-useful for search engines. Use captions to describe your images and attempt to use related keywords in these texts.
Use clear and lightweight images
Page speed is of the most important factors in on-page SEO.
Those two extra seconds could greatly affect your ranking chances, and users hate slow websites on default. While it ensures higher quality, using large image files can slow down a page and hurt your website in the long run. Optimize the image size for speed and clarity.
End your articles with calls-to-action
Most people tend to waste their closing lines by writing stuff like, "We hope you enjoyed reading". The end of the article is crucial to your ranking efforts because you have a great opportunity to get readers to engage further.
A call-to-action is a profitable way to utilize that final briefing. Get your readers to further engage with your site or any other website of your choice by doing something.
Click to read another awesomely titled article. Click to head over to the store and make a purchase. Click to donate. Click to view pricing plans. Click to visit a promising off-page link.
Just write a short, killer conclusion and entice the reader to CLICK TO DO SOMETHING.
What's the best software for an SEO copywriter?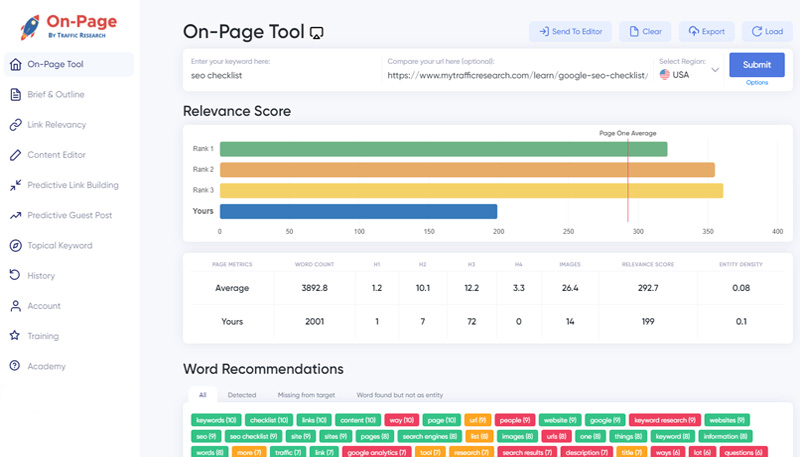 We've reviewed several software tools for creating compelling SEO copy, and we've selected the most standard and power-packing choice for you: On-Page.ai
It has every feature you need to write great copy that's perfectly optimized for users and search engines. It doesn't require you to use separate tools for keyword research, link relevance, and a different text editor.
All essential features are built into one simple and easy-to-navigate interface. On-page.ai is highly sophisticated for advanced SEO without being too complicated and unfriendly to beginners.
The major features we love:
– Robust and highly accurate keyword research tool
– "Brief and outline" feature for article structure
– Built-in intelligent content editor
– Category-level optimization with niche-specific keywords
– Natural language processing on keyword scans to enhance context matching
– Topical keyword search to enhance content depth
– Powerful algorithm mirroring Google's crawlers
– Awesome and simple user interface
Check out On-Page.ai's flexible pricing plans here.
It's worth EVERY penny.