On-Page.ai Helps SEOs Outrank Tech Giants, Build Authority Sites And Work Faster
AI Entity Explorer, Authority Questions & Auto-Optimization
The latest advancements in SEO technology are now live inside On-page.ai and can be accessed by anyone with an active account. If you haven't tried it yet, we recommend signing up for an account here.
Here are some of the new, never before seen, features in the latest version of On-page.
#1 Highly Related Words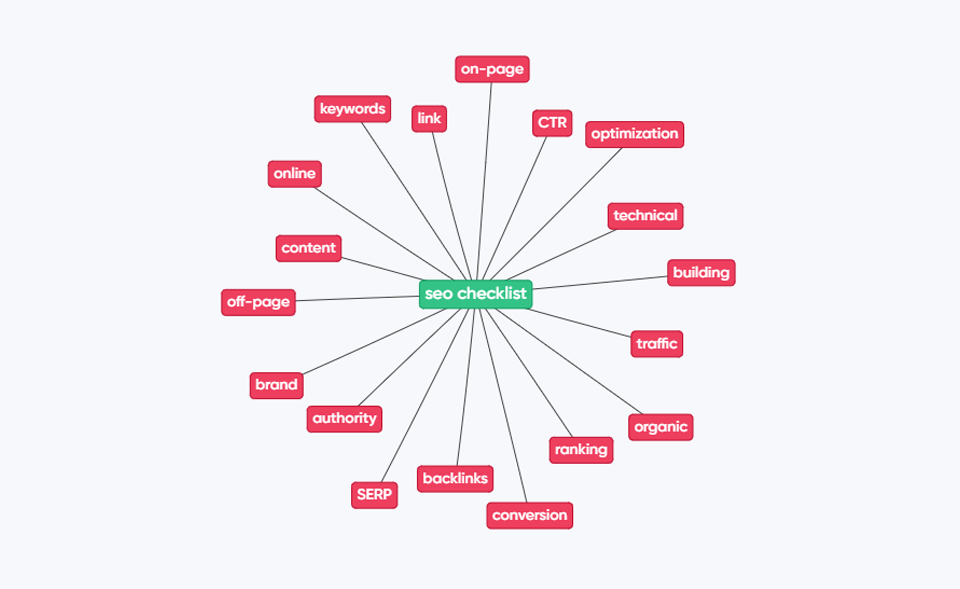 Artificial intelligence is used to rank documents on the web so we built an AI entity explorer to determine the most relevant words. Think of it like looking directly into the AI's brain to determine what it wants to see.
Irrespective of what the competition is doing, you'll receive a list of optimal words to place on a page to increase your relevance for a specific term. These words give you an advantage over your competition and are usually the most important words you can add to a page.
With the additional of this latest feature, On-page.ai helps you optimized based on:
1. The search landscape (by looking at the competitors)
2. The AI brain (NEW: figuring out exactly what the AI wants to see)
3. By categorization (classifying documents into categories and comparing it with the top ranking results)
While most competing optimization solutions only use the search landscape to provide suggestions, On-page.ai helps you optimize on three different levels.
#2 AI Swipe Content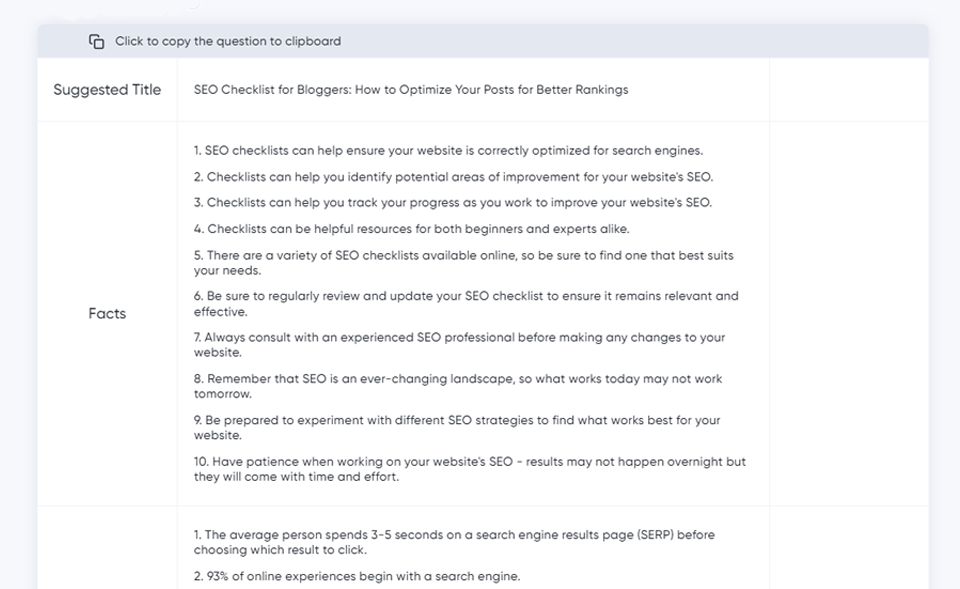 Each keyword searched will be accompanied by AI generated content that you can copy/paste to supplement your existing article. These can include facts, statistics, titles, topical suggestions and more.

* Statistics and facts created by AI generated content may or may not be accurate. It is imperative that you review these manually before including them.
#3 AI Authority Questions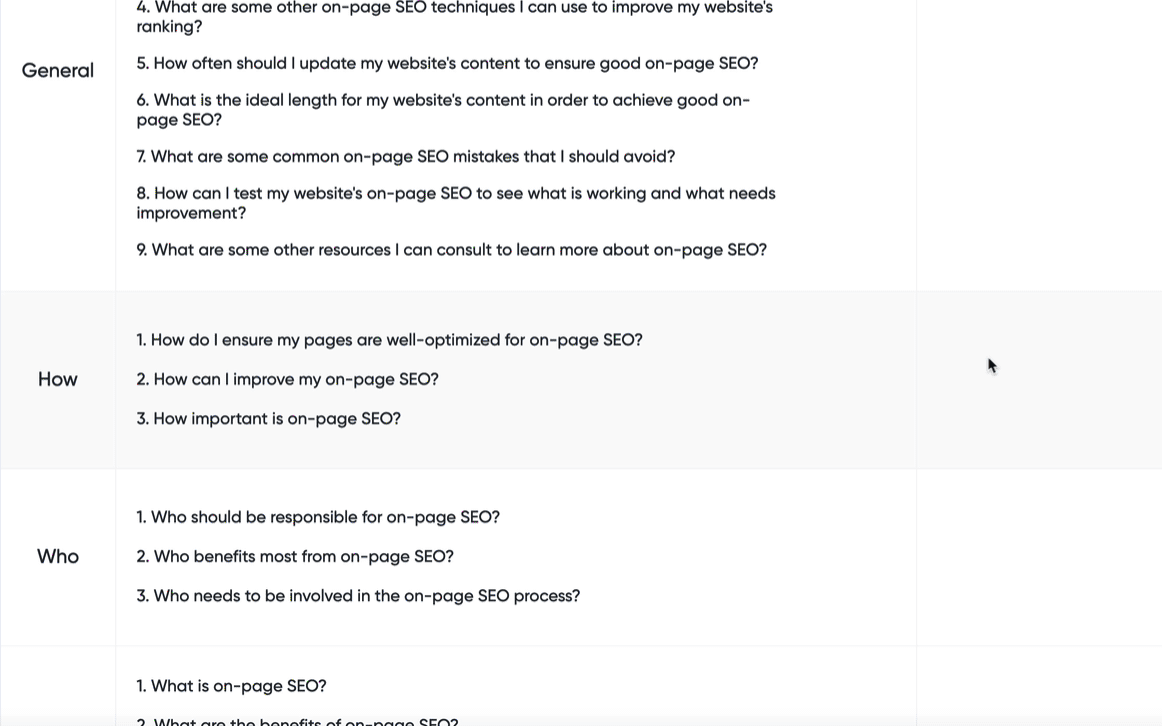 With each search, you will receive authority questions (zero volume search questions) that can help you build authority for your topic. These include general questions and "who", "what", "where" "how" questions about your topic.

These are topically related questions that when answered, help position you as an expert on the subject.
Another new feature is that you can click on the "Answer" button next to any question to receive a unique AI generated answer for your query. Within seconds, you can have a complete series of questions and answers on your subject that can help solidify your position as an authority.
#4 Auto AI Keyword Insert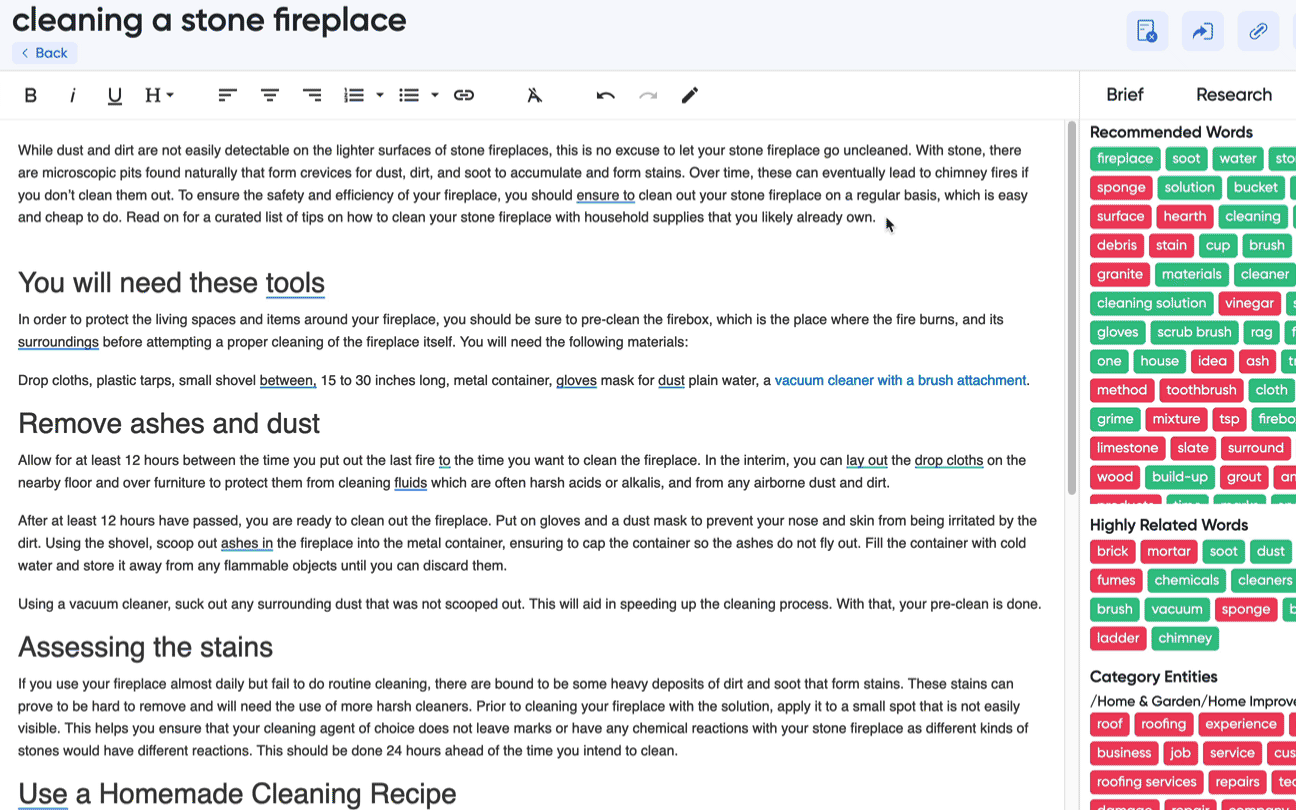 The new content editor features GPT-3 AI writing for all your documents. You can press "tab" or click on the write button to complete any sentence using AI writing.
For example, if you write: "The dog … " and click on tab, it will complete the sentence with some unique statement: "The dog went for a walk."
In addition, the new content editor features AI auto-keyword insertion. When optimizing an article, adding recommended words from the sidebar can be a long tedious task… however now with the new auto-keyword feature, you can click on any word within the sidebar and the AI will auto-generate a sentence for you using that word.
Place the cursor after a relevant sentence, click on a word to insert and the AI will try to figure out a sentence that works with both. The result is that you can now optimize an entire page in seconds rather than hours.
#5 Over-Optimization Protection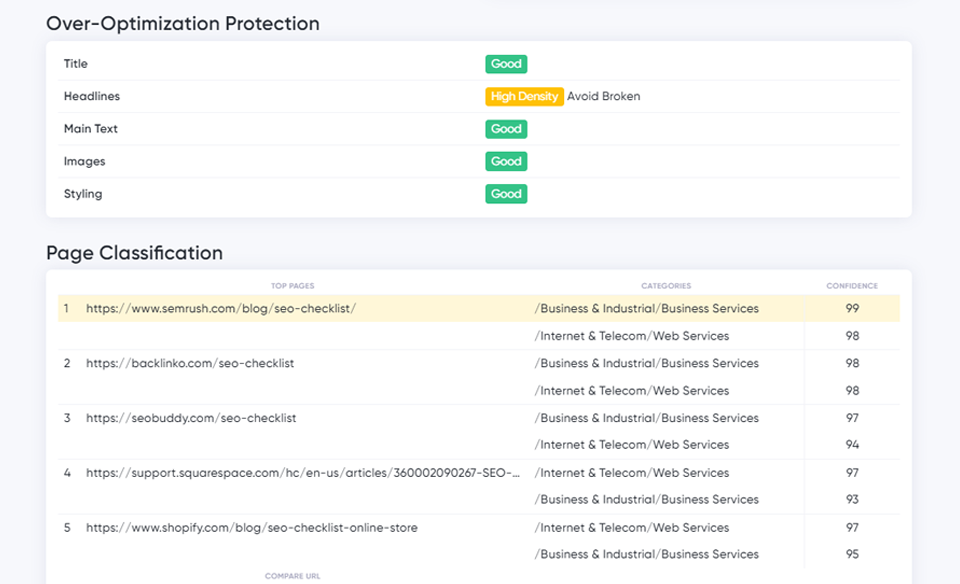 When optimizing a page for Google rankings, it's easy to go too far without noticing. On-page's over-optimization protection feature helps you avoid the most common over-optimizations on your page (such as over-using a word in the sub-headlines) and will provide a warning when it detects abnormal repetition.
This is the best way to keep articles natural and safe on the web.
* Over-optimization protection is designed to function on article pages.
Save Time and Rank Better Today
If you're trying to rank for that challenging keyword, On-page.ai's new set of features will help you accomplish your goals.
Designed from the ground up for SEO agencies and web brands, our new set of exclusive features will help increase your profits while reducing labor expenses (aka it saves you a ton of time!).
The earlier you start, the faster you'll see results.