SEO Software For Agencies That Can Increase Productivity And Google Rankings
The Most Comprehensive List of Tools for Outstanding Results
As a constantly updated field of web work, selecting the most useful and suitable tools for large- scale SEO is a delicate affair.
SEO agencies need to be twice as intentional as individuals when choosing the right software tools for long-term work. You'd probably have divisions within your agency with different roles – not just the core optimization team. Someone has to deal with rank tracking, outreach for link building, client communication, and overall management. Traditionally, some of these tasks could be performed using in-built functions on systems and manual management techniques. Really, the 21st century. We're way past all that drudgery.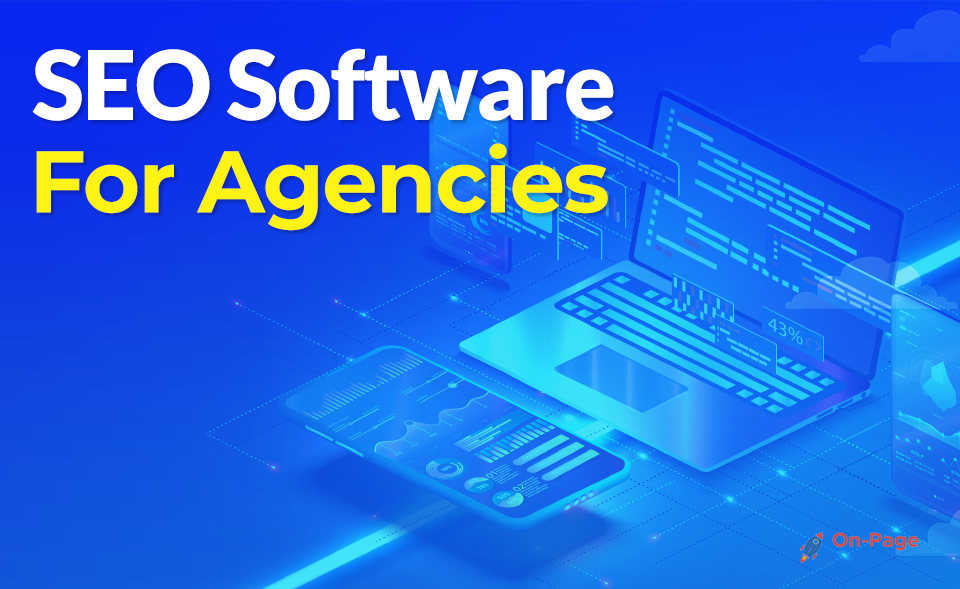 Software tools are designed with one major objective – to make your life and work a whole lot easier. Ease is progress.
Why do SEO agencies need software?
Obviously, because of the amount of work and sub-tasks you'd expect to handle while optimizing for various clients, manual work greatly reduces productivity. Some of the benefits of using SEO software include:
Accuracy and precision: SEO is a toxic endeavor, no doubt. You could spend months working on a page, stuffing keywords everywhere, backlinking and interlinking, and after an entire year, all your efforts would yield only a tiny shift up the SERPs. It's getting tougher to predict the algorithm and isolate the best courses of action, and relying on an excellent software tool for precise recommendations helps prevent wasted efforts.
Saves keyword research time: Instead of manually sifting through search tabs and
consoles for keywords, with no way of knowing which ones are relevant or not, a software tool does the grunt work in minutes.
Link building strategies: Despite Google's relentless updates, link building is still relevant for today's SEO. A great SEO tool should accurately analyze your content category and creates a relevant link-building strategy for you, to avoid building off-page links with unnecessary and irrelevant websites.
Automates client management and billing processes: Any agency working without
software assistance would probably spend more time managing clients than doing any actual SEO work. Project management tools and accounting software are all the shortcuts you need to effectively handle customer relations.
Generally, software tools help agencies maintain a solid measure of control over all their activities, and below, we'd be discussing some of the most helpful and useful tools for agency SEO work. You should stick around enough to discover OUR TOP FOUR CHOICES. These tools cut across the following points:
-General SEO deliverables
-Rank tracking
-Outreach
-Management
Software For Seo Deliverables
All-in-one SEO tools are built to help you provide all aspects of SEO services to your clients, including on-page optimization, keyword research, category optimization, link building, and outreach, content relevance boosting, and fixing broken page and site elements.
SEMrush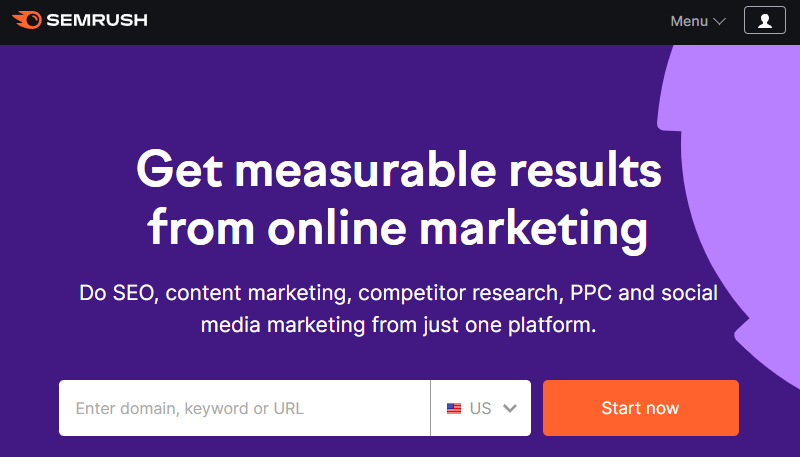 SEMrush is a popular SEO tool that offers great functionalities with full-scale optimization. It's best known for its competitor analysis feature (well, corporate spying). It's also one of the most widely used SEO products in the market and has full-fledged features for content development and lead conversion.
SEMrush has an auditing feature that can crawl through an entire website in minutes and provide a detailed report on your optimization situation. This report features a total relevance score with an overview of warnings, issues, minor notices, an in-depth view of the problems in a separate tab, specific breakdowns of pages crawled, and your total progress report. This is really helpful when managing several websites and you need a hands-on information dump about what you're dealing with.
It has a great competitor analysis feature that gives you a total breakdown of what the competition is doing. It shows their keyword volumes, traffic density, and relevant rank positions. It also offers in-depth views into the competitors' strategies, showing the number of backlinks they've built over the years with organic breakdowns based on country.
SEMrush has an "SEO ideas" tab for recommendations, a versatile keyword tool, and it helps you compare and find useful backlinks on the fly.
Ahrefs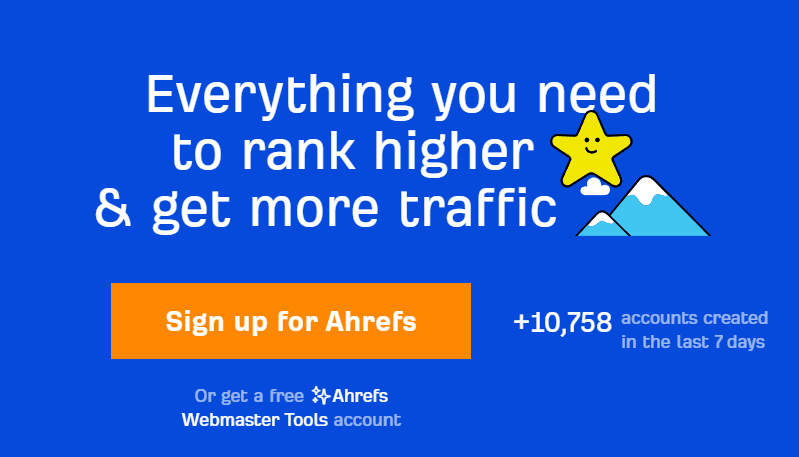 Ahrefs is popularly called the "link database" of the internet. It's a powerful tool for all things link-related, and it also has great features for other SEO needs. Ahrefs is predominantly an information tool and while it won't exactly do the grunt work for you like the more sophisticated options, it offers pretty great insights if you know what to do with them.
Ahrefs was originally built as a backlink checker and while it now includes several awesome features, it's still a major link-focused tool. Using the site explorer feature, it scans all your backlinks and produces reports on link health and recommendations – for spammy or over-optimized links. It also checks the competitors' websites and analyzes the best performing backlinks to provide you with a strategy for page improvement.
It has a keyword scan feature that can help you plan toward producing top-ranking content. The keyword tool is not very robust but for the most part, it serves. It also has a great auditing feature that supplies a report on overall site and page situations.
ScreamingFrog SEO Spider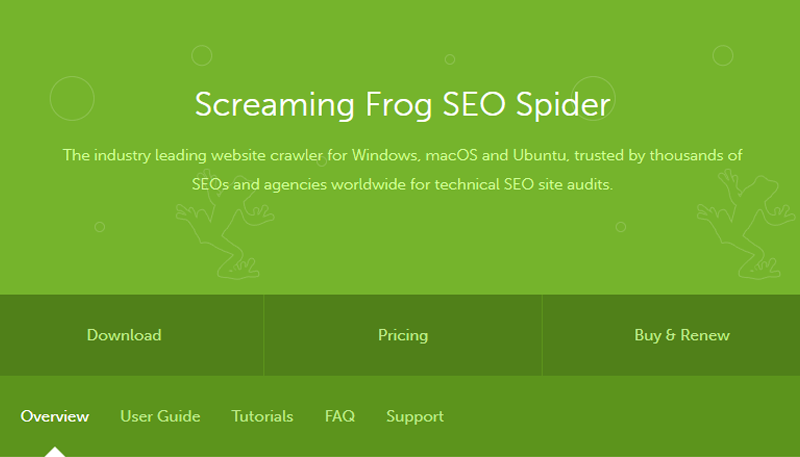 Screaming Frog is a special tool that can integrate with your Google Analytics account and provide advanced details such as how each relevant keyword imprints on a user session. It allows you to see exactly which terms are pulling the most weight in your keyword arsenal.
ScreamingFrog is a great auditing tool with extensive problem-finding abilities to improve your SEO efforts. It's called a "spider" because it does some pretty intensive crawling through a website, performing a full-scale comprehensive audit at the tap of a button. It uncovers all SEO issues such as fault indexing, broken or expired links, poor image precision, text and content irrelevance, and every other important issue that affects your ranking chances. It also offers helpful recommendations for solving these problems.
Screaming Frog is more comprehensive for high-level SEO than Ahrefs, but they share the information focus in common.
On-page.ai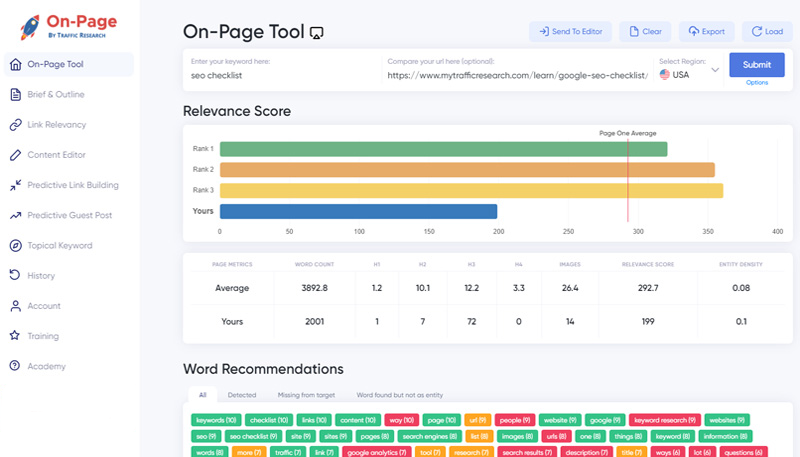 The only SEO SAAS product that can help you achieve as high as a 1030% increase in traffic over a few months.
On-page.ai is a breath of fresh air in the SEO industry, an expert-recommended tool that requires no dramatic SEO knowledge to use its robust functions. This unique software is the only SEO tool out there that solves the optimization problem from the roots by figuring out exactly how Google's algorithm works and the factors directly considered in page ranking. It's a service-focused tool that's designed to make the job incredibly easier for you. With a powerful keyword filtering feature, backlinking strategies, natural language processing in every scan, category optimization, and predictive guest posting, On-page.ai is the one tool that's actually worth every dollar spent.
It was built with a robust artificial intelligence system that offers the biggest edge over competitors who may have been doing SEO and building authority for years. It's often scary going up against old hands in the web business, but the algorithm is constantly changing and On- page.ai takes advantage of this to give you the upper hand – more than any other tool. Google's recent algorithm updates are heavily intent on content relevance – not just keywords and links.
This software's AI emulates every single function of Google's algorithms and works to provide direct recommendations and content-building suggestions that Google approves automatically.
It's like putting out content that immediately passes Google's relevance check. It has the most comprehensive and easy-to-understand on-page tool that shows you a great overview of the statistics of a chosen keyword or term. This view supplies an insightful relevance score, page metrics, keyword recommendations separated by color, keyword variations, category classification, and even words targeted to specific categories. With this tool, you're not just optimizing at the page level but also at the category level. This helps you avoid Google's most common penalties for wrong categorization.
Keywords are entirely geared at boosting visibility and helping your customers convert leads and close profitable sales. On-page.ai has a powerful keyword feature that takes in your most profitable term, an optional URL for comparison, and with the click of a button, it shows you all the necessary keywords required to optimize a page on the fly, with a volume recommendation for each one. The AI and NLP feature ensure that all keyword suggestions are relevant in context to your chosen term.
On-page.ai incorporates a brand new feature known as Predictive Guest Posting, a valuable feature that ensures you post content on other websites that would remain 100% relevant in due time. You can correctly decide the category of your post before it goes up, preventing Google from finding an excuse to flag your post in the wrong category.
It features a unique "link relevancy" tab that helps you build impressive back-linking strategies for your clients. Many websites spend decades stuffing their history with thousands of links, and in reality, only a handful may be relevant to their content. With On-page.ai, you can supply a domain link and compare it against a maximum of 500 links to build a backlinking plan where only related and relevant pages are to be sought out. This tool also helps you correctly interlink the pages within your own website. Many SEO agencies don't bother with internal linking these days, but with Google's current algorithm updates, inter-linking internally is super-useful and this tool makes it a priority.
With On-page.ai, you can optimize content on the go using the built-in intelligent content editor that suggests SEO tricks and algorithm-friendly hacks while you create.
This tool has the most straightforward user interface, despite being built with countless sophisticated features. There's very minimal clutter of unnecessary information and the user experience is a ten out of ten.
Rank Tracking
Rank tracking is an essential SEO practice that allows you to figure out how effective your client's keyword strategy is performing on the search engines. You can obtain insights into how each keyword is ranking on the SERPs compared to competitor domains. These positions are shown for the keywords used, the keywords keeping the competition on top, and the ones not optimized on your client's page.
BrightLocal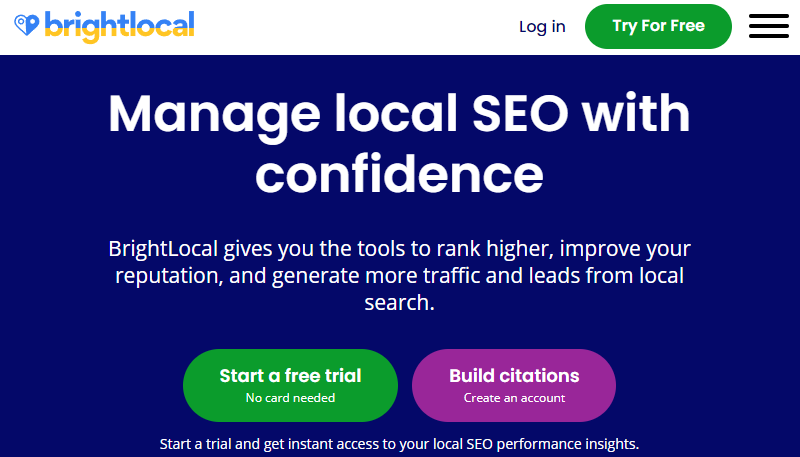 BrightLocal is a powerful all-round tracking tool with a lot of amazing features to gain insights on everything from how keywords are ranking to how your client's business name is listed across the web. It's perfect for businesses that need local patronage within a particular area curve.
The keyword checker shows your website's positions on multiple search engines including Google, Google Mobile, Bing, and even Google Maps (really useful for location-driven businesses). It even shows how you're ranking on Facebook and the history reports allow information comparison from previous dates with the present time stamp.
The citation checker feature identifies where and how much your client's business name and address are mentioned in local online listings. The citation builder is used to build mentions in listings for more visibility. It has a reputation management tool that helps you keep track of user reviews across all major platforms without manually checking each one.
Woorank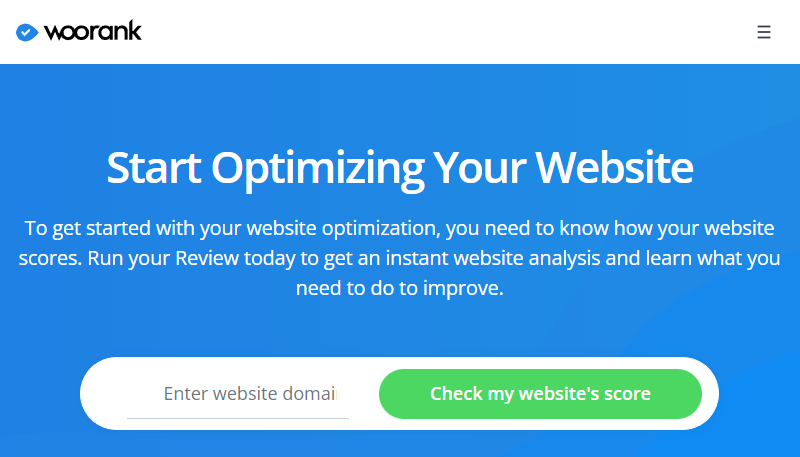 Woorank is a powerful keyword analysis tool with great auditing features for discovering hidden optimization problems on your clients' websites. Woorank's specialized Tracking Tool offers a comprehensive report on the usefulness of each keyword by showing the volume of times the word has been used, your domain's position on the list, and your main competitor's position.
This gives you a hands-on insight into the progress each keyword brings to the website. It also helps you identify fresh keywords for long-term relevance in the market. Woorank allows you to perform location-based searches since you can narrow down your efforts to small counties within cities if your business is heavily localized.
Woorank isn't merely a keyword or tracking tool. It's also a solid auditing and content optimization tool that provides a relevance score and situation report at the end of each site crawl.
Outreach
SEO Outreach involves reaching out to authority websites for your client's links to be shared on their pages, either through articles or simple mentions for the readers. It's the top strategy for building useful backlinks. Outreach to the right authority sites helps businesses build higher domain authority, relevance, credibility, reputation, and visibility online. Doing outreach manually is an extremely time-consuming and exhausting activity, and in the long run, productivity is not always optimal. Many agencies use software to cover large grounds and keep tabs on progress.
Pitchbox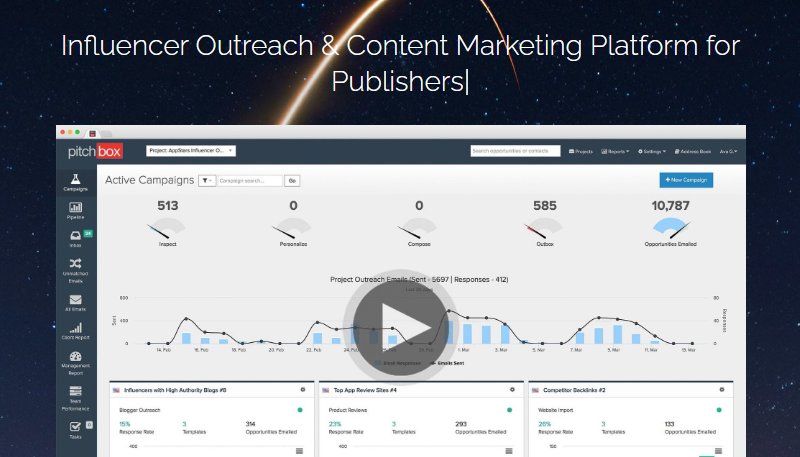 PitchBox is a super-useful platform for creating and managing email campaigns and also identifying the best prospects to reach out to. This tool offers 8 different campaign types depending on the type of outreach that suits your client's SEO needs. You can run a "blogger outreach" to blog owners for feature articles, identify broken backlinks and reach out to the host websites on a connection basis, guest posting on subscriber websites, and product reviews on major and small platforms.
PitchBox has a feature that helps you identify the websites with the highest potential for visibility. It helps you craft convincing and personalized emails for dispatch. PitchBox also has a clever feature that ensures all emails are not sent out at the same time, to prevent Google from flagging your emails as spam. Any number of emails to chosen prospects are sent out periodically, and if a recipient fails to respond in due time, PitchBox automatically sends out a follow-up email.
mailshake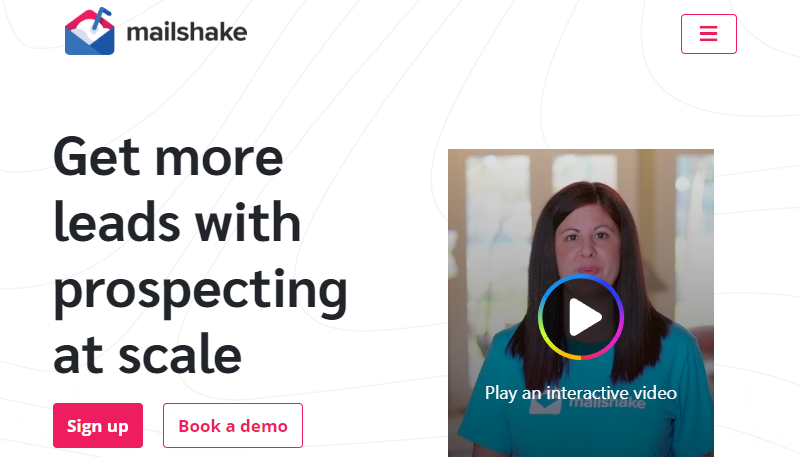 Mailshake is an email automation and sales engagement tool that stands out as the software that gives your emails a "personal touch". You don't have to send the same boring-toned message to everyone. Mailshake helps you reach out to dozens of prospects within minutes using personalized email templates. As with most other email automation tools, the follow-ups are also automatic.
Mailshake provides an extensive and easy-to-understand report of the performance of your emails and how they were received by the prospects. From opens to clicks and eventually replies, you can track every email's performance from your dashboard. You can also figure out which part of the entire process converted the most success for you. This software is integrated with all email service providers and also has a VOIP platform so you can make calls from the interface.
Hunter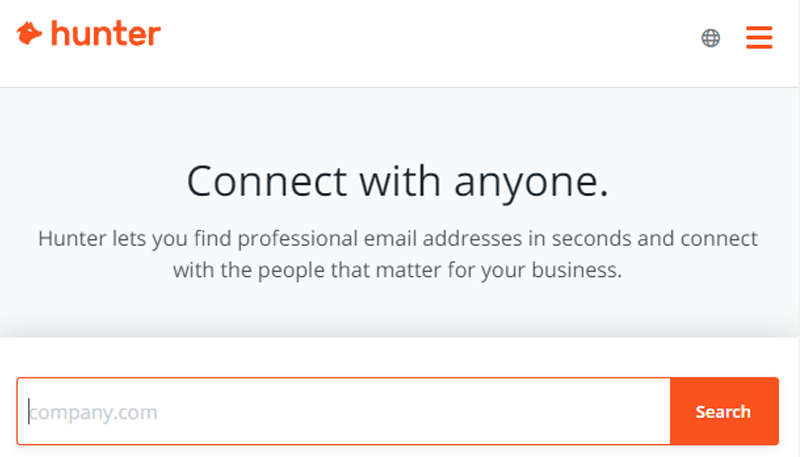 A major time-wasting activity in outreach is finding emails associated with authority websites or blogs. Those "help@" addresses aren't always useful and sometimes, others email addresses provided on the websites may be defunct.
Hunter.io is a special outreach plugin that helps you identify and verify emails connected to prospective websites. It's a Chrome extension and once plugged in, all you have to do is type a domain and the tool will churn all associated emails, separating them into generic and personalized. It helps you determine the most active accounts and the ones most likely to respond.
Of course, Hunter.io also helps you run mass campaigns with bulk emails and follow-ups sent to prospects. The platform offers several helpful cold email templates and integrates with spreadsheets to retrieve stored addresses. This tool has a really simple interface for managing your emails and keeping tabs on how each one is performing.
Management
Maybe other agencies could manage their tasks with paper ledgers and real sticky notes, but if you're running a serious SEO agency, you should sit the manual writing thing out. It's not going to really cut it. From task organization, appointment/meeting scheduling, recurrent payment setups, and customer relations, excellent software products can have it all handled with a few button taps and quick data entries.
Asana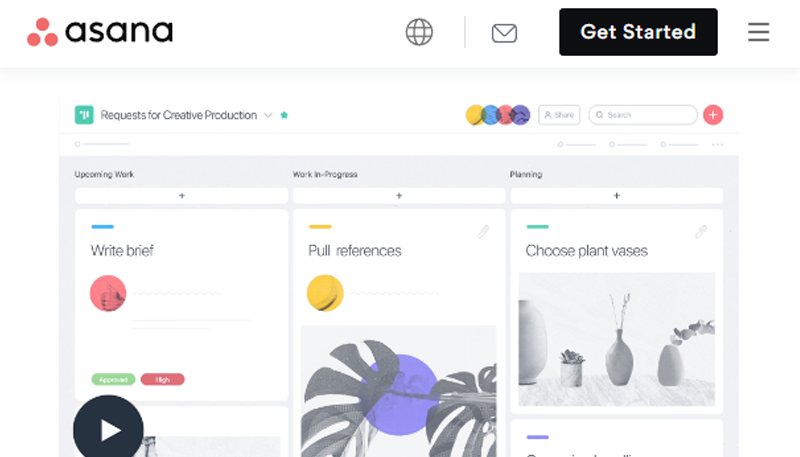 Asana is a flexible and aesthetically designed project management software that lets you do busy work without drowning in confusion. While it doesn't necessarily qualify as a full-scale, all-powerful management beast, it does a pretty good job without the bulky hassle. Its main view interface includes labels and fields for projects, tasks, subtasks, assignees, custom fields, forms, due dates, due times, comments, and statuses.
It has provisions for inter-team communication, reporting, milestone checks, goal setting, guest pages, and admin controls. All these cool features blend into a simple UI with minimal jargon.
Also, nearly all the features are available on the free plan and if you have a small agency, you can use it free forever.
Trello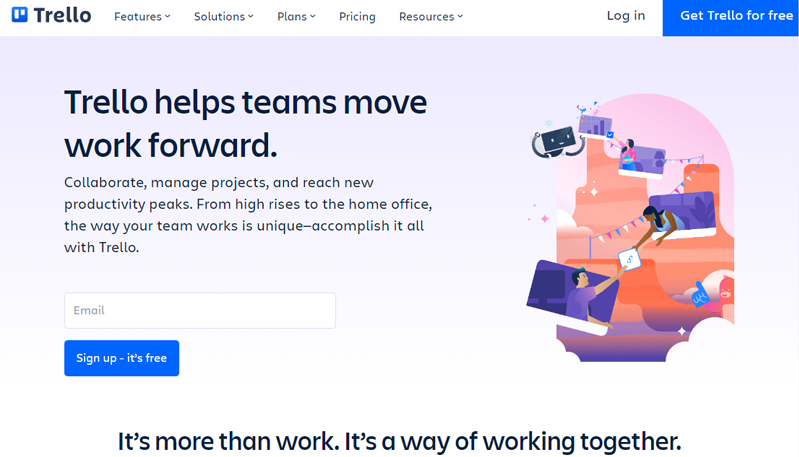 Your digital sticky/yellow notes. Trello is a super-popular, easy-to-use, and extremely adorable project management software.
Adorable, because its colors and Kanban board-style design are intended to make you happy on sight. It has a range of awesome features and it's super-easy to use.
Trello has a board-to-card system where you can separate each client's website into boards and the specific SEO tasks into cards, such as keyword research and backlinking. You can see the "goal stakeholders" or team members involved in each task and it has a range of status updates for recording progress. The dashboard offers a hands-on overview of all cards at a glance, in a simple form. It has great data filters, fast upload for cloud storage, drag-and-drop modifications, private channels for conversation, and simple notifications for updates.
Calendly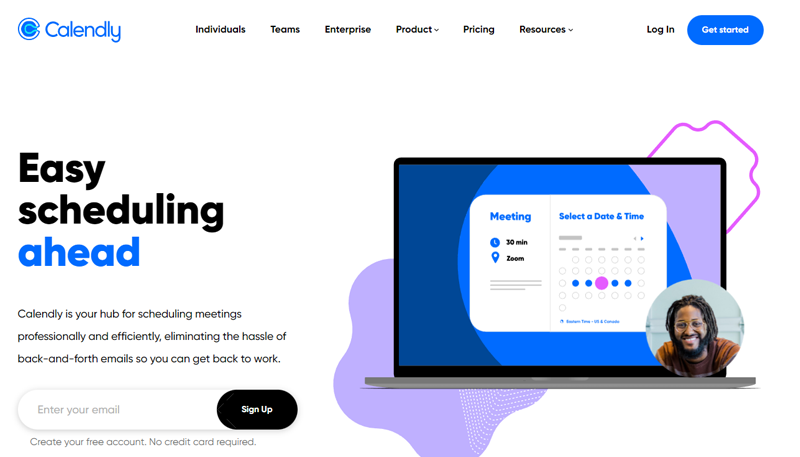 Calendly is currently the most popular SAAS for scheduling and booking – basically a fan favorite. The software was designed to cut out all the dramatic back-and-forth with scheduling appointments or booking meetings with clients. It has many amazing and smart time and location-dynamic features and allows scheduling in one quick circle.
Calendly can be integrated with multiple calendar apps such as Google's and iCloud, and it allows you to create events, add invitees, and set chosen availabilities as options. The invitees will see the available times in their own time zone and they can select their best option. They get a reminder when the meeting is close and that's all. No unnecessary hassle. It can be integrated with so many apps and provides full privacy and exclusivity. It also lets you brand your invitations with your business logo.
Airtables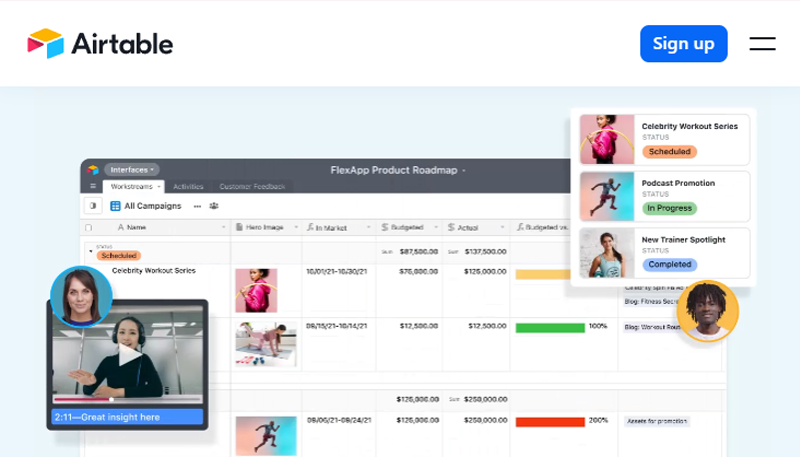 Databases and spreadsheets are pretty boring and for the most part, most people are just terrified by the endless lines and columns.
However, an SEO agency tends to run into avalanches of tasks, groups of tasks, and so much work to archive that sometimes, it's just better to use a database for organization purposes.
Airtables makes database organization cute and fun. It also offers a Kanban view of cards and tasks for one-glance reviews. This software has an aesthetically beautiful interface and lots of easy-to-use features for organizing, storing, sorting, merging, and modifying groups of information. These may include clients' businesses, employee directories', payments, invoices, outreach addresses, and even link sorting. It's designed with tables, rows, boards, and columns, and allows you to create full-fledged information tabs with lots of filters and features.
Google Suite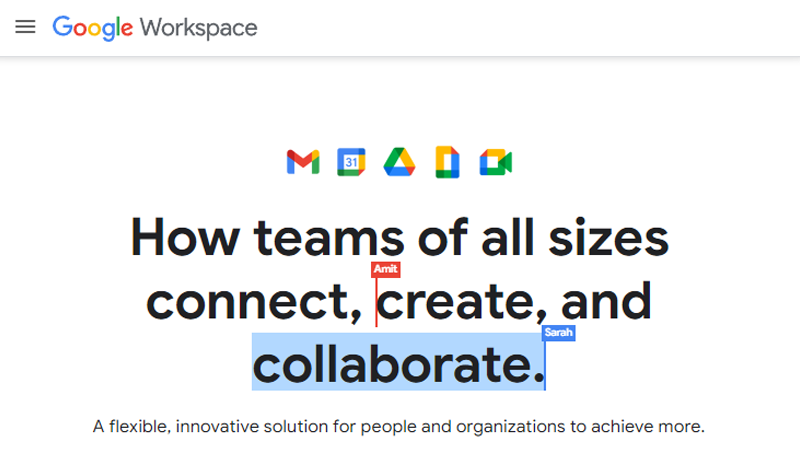 Now rebranded as Google Workspace, G-Suite is the entire package, on-point and on-target.
It's a modern-day, advanced, and feature-rich alternative to Microsoft Office with all its member applications. You might think it's not necessary to invest in G-Suite since you already get all the apps for free on your Google homepage, but those only offer small-scale allowances.
With the same smooth, colorful, and aesthetic interfaces across all apps, Google Suite is a collaboration and productivity tool that incorporates Docs, Sheets, Forms, Drive, Slides, Keep, Calendar, Meet, Gmail, and others. Google Suite adds advanced upgrades and doubles the cloud storage to these applications. It allows you to create domain-customized emails for your team members, e.g. penelope@yourdomain.com, accessible from your Gmail app. With G-Suite, you can edit MS Office files directly on Docs, Sheets, and Slides without conversion. You can get as much as 1TB of storage with the higher plans and G-Suite has incredible spam and scam detection techniques.
You'd have seamless transmission and easy communication between team members and there's no hassle with reassigning roles or getting an overview of activities at a glance.
Freshbooks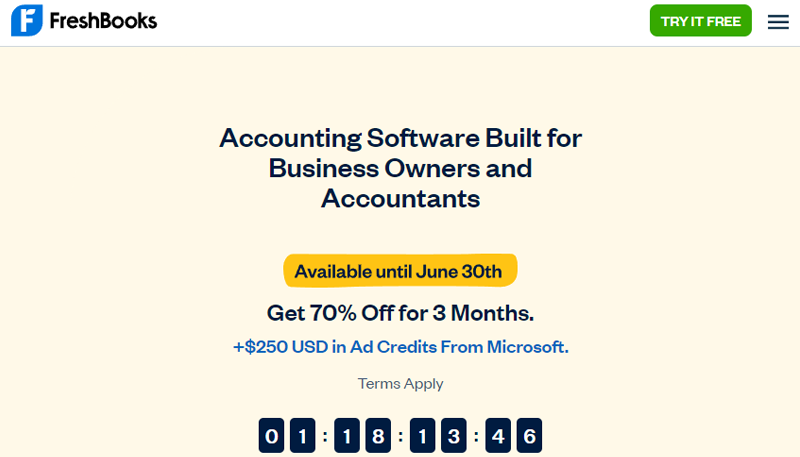 Freshbooks is an awesome book-keeping product that allows you to send unlimited invoices to clients and keep accounts of your cash flow, profits, and expenses for every contract and bill. It's a popular alternative to QuickBooks where you can create invoices in literally seconds and mail them out to your clients. It offers the full list of national currencies with customizable rows and fields for information. Freshbooks also allows you to track time and pay team members by the hour, or get paid for your own services by the hour.
This software is not merely an invoicing tool but also an accounting platform where you can keep track of cash flow statements such as profit and loss, sales tax summaries, invoice aging, and expense reports. It also comes with payment options integration and fund reception channels.
To wrap it up, it features project management tabs for collaborating with teams and organizing tasks effectively.
Stripe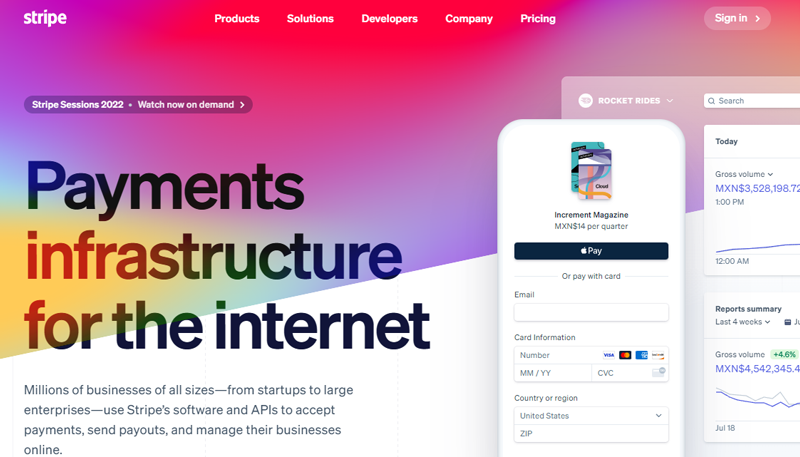 Also known as Stripe Payment, this software is one of the most popular financial services SAAS products in the market right now. It has APIs integrating with all popular and trusted payment options, across over 135 countries in multiple currencies. Stripe is an end-to-end encrypted, highly sophisticated and easy-to-use payment channel that eliminates fraud and builds quick trust between clients and service providers.
You can easily integrate this tool into your agency's website and get the full credit card processing functionality across international channels such as Visa Checkout, Apple Pay, Alipay, Google Pay, Amex Express Checkout, Microsoft Pay, Masterpass, and WeChat Pay. It also supports dozens of local and regional payment options and provides authorization and authentication for every transaction.
Stripe allows you to set your clients up on recurrent billing and subscriptions which is really useful if they have you on retainer. Your agency becomes a full-fledged subscription-based service. You can send impressive invoices in different currencies, retrieve full accounting reports and financial reviews, and set up schedule-based payouts.
Our final verdict – if we could pick only four…
We'd pick the best four then. Above, we've described a wide range of incredible tools to make your SEO business easier and improve workflow, but if we could choose the top four for guaranteed productivity and optimization success, here's our pick:
For core optimization work, we exclusively recommend On-page.ai.
Top Features:
-Natural language processing in every scan
-Google algorithm emulation for enhanced accuracy
-Category-level optimization
-Link relevancy
-Full-scale site auditing
-Powerful keyword research tool
-In-built intelligent content editor
-Internal linking
-Predictive guest posting
-Super-simple and aesthetic UI.
-Guaranteed exponential increase
-Flexible pricing options

For rank tracking, we go with Woorank.
Top features:
-Excellent keyword analysis tool
-Real-time keyword rank tracking
-Site auditing
-Content optimization
-Localized searches
-Marketing plans

For outreach, we go with PitchBox.
Top features:
-Multiple campaign options
-Campaign scheduling (preventing simultaneous blasting)
-Automatic follow-ups
-Backlink management
-Contact database
-Campaign analytics

For management, we go with Google Suite.
Top features:
-All Google apps and platforms in one single suite
-Domain-based business emails accessible from Gmail
-Massive and extended storage capabilities
-Enhanced collaboration between teams
-Edit MS Office files directly from Sheets, Docs, and Slides
-Add-on services such as Google Vault, Analytics, and Cloud Search
-Enhanced spam and malware detection
-Flexible admin management and user controls