Top Five On-Page
SEO Tools
You'll want to see number one
Presently, on-page SEO is no longer about optimizing web content, but optimizing better than your competition, because everyone is getting super SEO-savvy and only the smartest survive – or rank!
No doubt, keyword placement is an extremely important part of on-page SEO, but it constitutes just about 20% of everything you need to do to get it right. On-page SEO is the full set of activities involved in optimizing every element of a web page (not just the text) for top rankings on search engine result pages (SERPs). With the dynamic and unpredictable nature of Google's algorithm these days, it's more than just tossing about keywords yanked off the search console.
If this is all you're doing as on-page SEO, see you on Google's pages 11-20, the six-foot-deep grave compartment.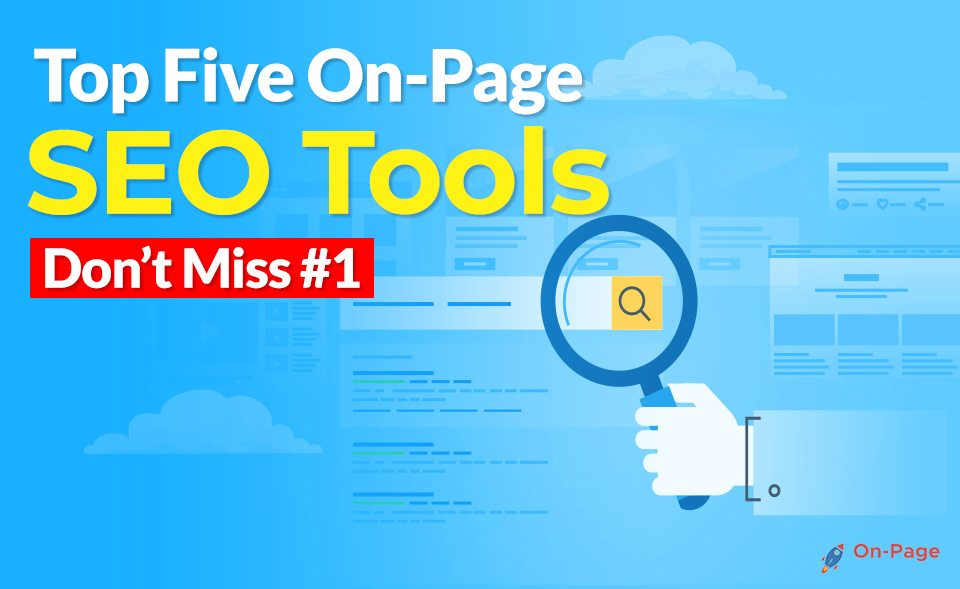 Quick brief: what is on-page SEO really about?
As mentioned before, so much more goes into the perfect page optimization process than merely sprinkling in random keywords around written content. To select the best on-page SEO tool for your website or business, you must understand the expected goals and performance insights of a well-optimized page.
Google's web crawler is one of the most sophisticated artificial intelligence systems in the world and the AI's algorithm is constantly updated, literally every few months. A website enjoying spot Number 1 on the first result page for a particular term could find itself at the bottom of the graveyard (page 2) in the next three months.
Google's AI is updated to favor content relevance relative to user experience – above anything else. You could build all the backlinks you want but if relevance and content usefulness are not where they ought to be, your backlinks become fancy-colored URLs for nothing.
The top points to check off the list with on-page SEO are stated below:
Relevance: Everything from your content, to your keywords, titles, internal and external links must be relevant in context to the most profitable terms. Google is not okay with the millions of automated websites spewing out spammy links and content every second, and the algorithm is updated to penalize orprevent such pages from ranking. Your content, including everything from the text to the keywords, titles,image alts, smaller headings, and all external links must be relevant and on-point to the user's search intent and expected experience. If relevance is low, your page literally stands no chance as of now.
Content category: One of the surest tickets to Google's no-rank prison is posting content in the wrong category. The algorithm absolutely hates this and might refuse to rank your page at all, regardless of how you nailed the keywords to perfection. Get the category right and you're sailing on a promising path.
Keyword accuracy: Of course, keywords. What's a perfectly optimized web page without good old keywords? A lot of business and SEO people have gotten the basic hang of this trick but everyone's doingthe most by over-flogging both the relevant and irrelevant phrases. Keyword optimization is popular now,but it takes a really solid on-page SEO tool to separate the gold from the crap.
Let's delve right into the tools, shall we?
Over a long time, we've used, assessed, and compared some of the coolest on-page SEO tools and consumer SAAS products out there, and while a lot of them have functions in common, some are obviously top-clear of others. We've compiled a list below of the five best on-page SEO tools you could use right now, and trust us, you'd want to see number one.
5. Cora from SEOToolLab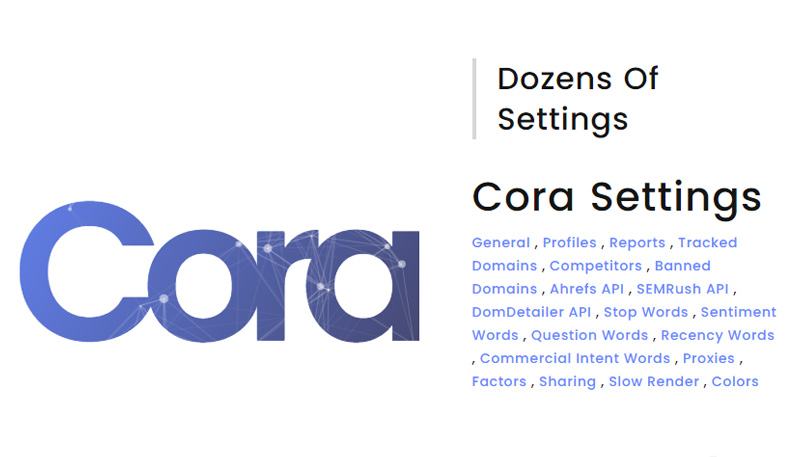 Cora is an expert-targeted SEO tool that's great for on-page diagnostics and running background checks on your top-ranking competitors. It's a non-cloud-based tool that features extensive reverse-engineering for spying on high-ranking pages, a sophisticated UI, and it provides great assistance for creating hands-on optimized content from the user's window.
What's special?
Excellent Diagnostics Tool: Cora performs a scientific web analysis using math theorems and complex algorithms to measure and identify the ranking factors in your chosen category. It can measure 500 to 880 factors per scan and come up with recommendations and strategies to get your site's pages and content in order. Some of these factors include targeted keywords in the meta description and titles, favorable content length, chosen links, image precision, and of course, general keywords.
Content optimization: If your content is un-optimized or performing poorly in certain rank-worthy criteria, especially on the landing page, Cora provides specific optimization instructions for boosting your potential. It shows the difference between brand-relevant keywords and terms that are useless to your category's direct optimization. It also features a page tool that helps you generate optimized pages for content building
Trends analysis: Cora features a great Trends tool that's useful for analyzing trends within a specific brand category. This tool works with keywords and pre-generated Cora reports. If you collate these items in a folder and specify the folder's name when the Trends tool is launched, it returns a report identifying top trends in the niche and insights on how to optimize your content to stay relevant.
What's not to like?
Cora is a great tool but it was certainly not designed with non-technical users in mind. The company proudly tagged it as an "expert-level" tool, which means beginners or mid-level SEO people can expect serious major confusion with this tool. Starting with the rather unfriendly and highly sophisticated user interface, you'd need a solid background in SEO to get the hang of Cora. It also incorporates a lot of SEO-related jargon that further complicates the entire process.
Also, it's not a cloud-based tool. You can't just sign in to an account from the web and run your activities from anywhere. Cora comes in a downloadable .exe file and when it's set up, it tosses out complex reports in Microsoft Excel.
4. Screaming Frog SEO Spider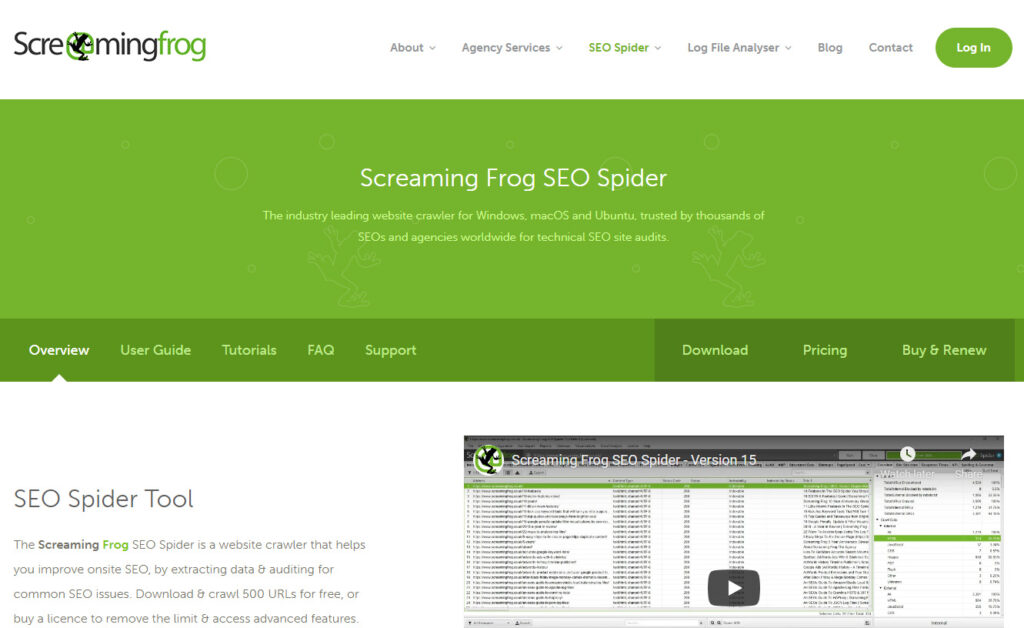 Screaming Frog SEO Spider is a popular on-page SEO tool that's famed for its ability to crawl your site and identify as many indexing issues as possible. With a simple and easy-to-navigate UI and deep linking functionalities, Screaming Frog is useful for auditing your websites and detecting issues such as crappy images, broken links, and other failed efforts preventing your page from ranking properly.
What's special?
Full-scale auditing: Screaming Frog SEO Spider crawls over your website and provides data about everything from your local, regional, and global rankings to domain rating, URL rating, keyword rankings, related domains, and a section dedicated to showing the performance of your keywords over time. It's not as intensive as some other keyword-focused tools in analyzing terms, but it does a pretty good job. This tool is especially useful for pinpointing SEO problems and insufficient actions. It scans your site and comes up with comprehensive data to help improve your on-page efforts.
Information Tabs: Screaming Frog provides you with an avalanche of information and metrics in a tabular form. It features the internal and external tabs showing unique URLs for each specific page. The internal tabs provide cumulative information about your website's pages such as the headings, titles, word length, and other useful metrics. The eternal tabs attempt to provide information about external pages linked to your website, although it may not always be comprehensive.
Google Analytics Integration: Screaming Frog features the Analytics Tabs that pull information such as user session metrics and keyword imprints from your Google Analytics page. You'd have to link your GA account and run the interface from your Screaming Frog window.
What's not to like?
Screaming Frog may have a simple user interface but it incorporates quite a lot of confusing SEO jargon. This can slow down efforts for non-experts because a lot of the time, you'd have to take the time to actually understand some of the terms and labels.
Also, this tool is not optimized for auditing larger websites. The crawling function is great for small and upcoming websites, but heavy pages would take forever to come through with reports and this can be really frustrating. It's not exactly ideal if you have goals of growing your page's reach and content volume in the long run, or running point on SEO for clients.
Finally, it's not a cloud-based tool and requires downloading and setting up before use.
3. PageOptimizer Pro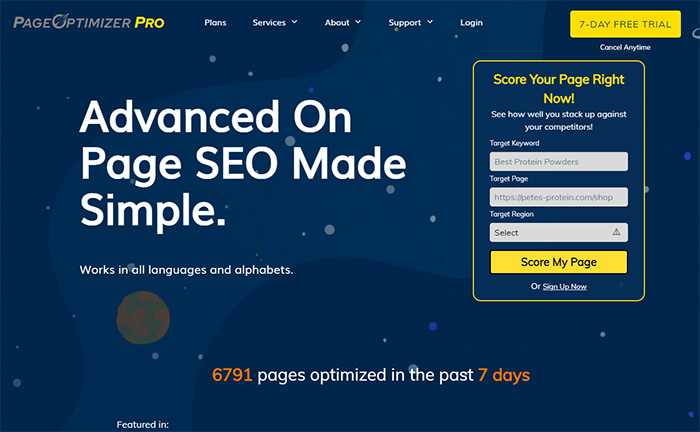 PageOptimizer Pro is an excellent on-page SEO tool for obtaining a hands-on cumulative report with relevant scores on all sections and elements of your websites. The tool was designed for the absolute SEO beginner and doesn't involve any exhausting jargon and complicated processes. It keeps SEO simple and straightforward, which is all you really need sometimes. It's also efficient for analyzing competitor efforts in your brand's category.
What's special?
Optimization Score: This is a useful metric if you want to get a head-on, calculated opinion on how nicely or poorly your on-page efforts are coming along without any graphical drama. It produces a total score for the entire website or web page and then breaks them down into relevant sections with further metrics. A red-bound score means you're under-optimized, green-bound means perfectly optimized, and yellow-bound means over-optimized. It goes further to show you simple steps on how to fix your problems.
Content editor: PageOptimizer Pro features a powerful live content editor that helps you optimize your articles and publication on the go. It throws up a live optimization score which is adjusted as you fix issues and get closer to the target result.
Full Control Setup: PageOptimizer allows you to decide how you want to analyze your competitors' SEO efforts. The tool can decide to run point on your behalf or you could choose to select which competitors you want to focus on and certain geographical locations. This comes right after you input your domain, target page, and primary keyword.
What's not to like?
Sometimes, the tool doesn't update in real-time and tosses out wrong page optimization scores. It could overestimate or under-emphasize your efforts which could be quite deceptive. It's also a super lightweight tool and doesn't have any massive and powerful functionalities for in-depth on-page optimization.
Also, it doesn't help with backlinking strategies and focuses mostly on internal links. If you are looking to build a link profile with high-ranking websites, this tool won't exactly help you come up with a workable strategy or identify the sites relevant to your most profitable terms.
2. SurferSEO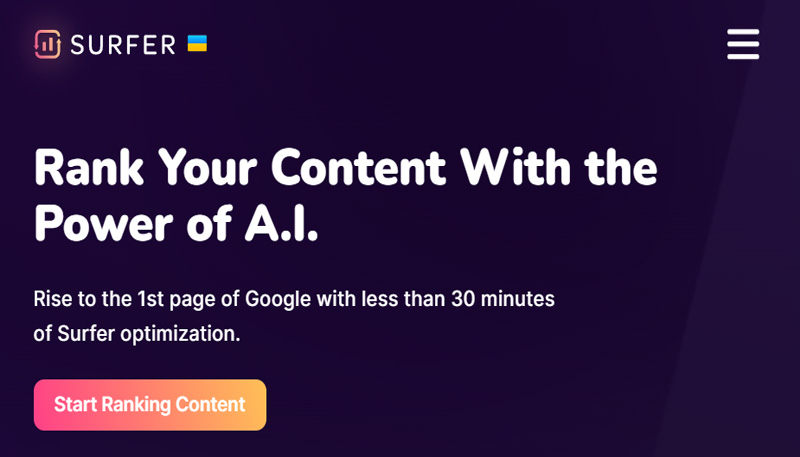 SurferSEO is a popular content-focused on-page SEO tool that analyzes data from the top-performing pages on SERPs to create a time-defined SEO strategy for you. It's heavily focused on visibility through viable content and reviews stuff such as text volume, headings, page speed, keyword densities, and meta tags.
What's special?
SERP analysis feature: SurferSEO has a unique and easy-to-understand interface where its features are boldly segmented for user exploration. Analyzing search engine result pages is one of its top services where it pulls up a table showing keyword density against page numbers of the SERPs. It then offers ideas and recommendations on how to optimize your content as part of your SEO strategy.
AI-integrated content suggestion: Surfer SEO flaunts an article builder tool within a dedicated content editor that tells you how to write content in line with ideas that work for the top-ranking pages. It has an integration with Jarvis.ai, an AI-powered tool for generating useful content in minutes. SurferSEO also offers suggestions on building article outlines to be curated into your personally preferred style.
Simplicity: Surfer SEO is super simple to navigate and doesn't often require years' worth of SEO to interpret the data. The workflow is simple and you don't have to drown in tons of incomprehensible data to get your SEO done.
What's not to like?
If you use surferSEO for keyword research which is a dedicated service on the platform, you're going to need another SEO tool as a backup. A lot of the time, SurferSEO churns out a pile of correct and irrelevant keywords, all jumbled up without a sorting filter and presented as recommendations. So you'd have to enjoy whatever the benefits are in collaboration with another tool for keyword sorting, otherwise, you'd end up optimizing with a bunch of unnecessary terms.
Surfer SEO has a major pricing problem where the plans are unfavorable for smaller agencies and freelancers. Purchasing the basic plan offers only 10 content editors in a month which could be really limiting for content creation needs. You'd have to purchase a higher plan to get the hang of it, and even then, work might still be limited for a user with a large number of clients.
Drumrolls…
As mentioned above, we've carefully reviewed, used, and compared all the on-page SEO tools described on this page and while they have all great features, for the most part, one particular tool stands out as a brand-new refreshing innovation in the dynamic SEO industry. This tool gets the number one spot and is our top recommendation for basic, professional, and enterprise-level on-page SEO, powered by Google-mirroring artificial intelligence systems that emulate Google's algorithm layers. Total value for every dollar spent.
1. On-page.ai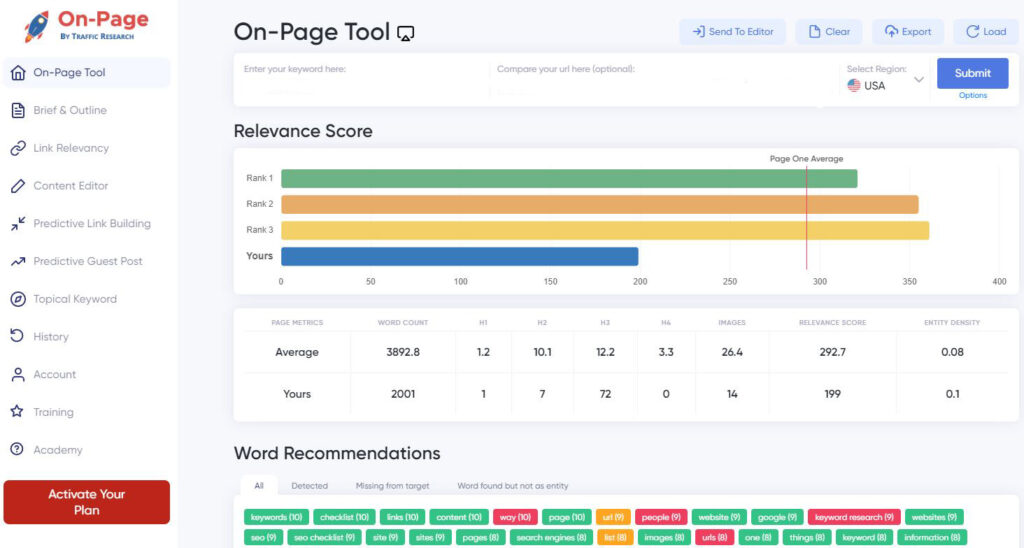 "Straight up, point-blank, and right on target."
On-page.ai is a fresh SAAS in the SEO industry that's out-performing the old soldiers by incorporating all the established, newest, and entirely relevant tools and features to give its users a solid stake on top positions on SERPs. No website or web page can claim one permanent spot on an SERP, but On-page.ai does an impressive job of giving you a long-term stake.
Featuring an incredibly simple UI with keyword relevance panels, Google categorization tool, link relevance, and Natural Language Processing available on ALL scans, On.page.ai incorporates all the requirements of on-page SEO best practices, in line with emerging trends in the industry.
This software's algorithm is deep-layered to reverse-engineer the top-ranking pages for your chosen terms and most profitable term. This is aimed at figuring out what Google rewards the most and why each of these pages is ranking at the top. While this point is extremely dynamic and different for every industry, category, and niche, On-page.ai supplies real-time and up-to-date reports on what your competitors are doing to stay at the top.
What's special?
The all-new Google Algorithm emulation: It doesn't matter if the competing pages have been thriving for 50+ years and have the highest imaginable Domain Authorities ever. They've been building links since the dawn of time and are probably nested deep into the soul of the web itself. Yes, we know they are "seniors", but do you know where the playing ground levels? The fact that the algorithm never stays the same! It's always updating and there are literally no solid fields to plant any roots, so anyone can get knocked off the top at any time – or kept there, by the right combination of features.
On-page.ai features a robust, vastly dynamic, and extremely intelligent AI system that directly emulates Google's algorithms and behavior to work from top to bottom like the web crawler itself. On-page.ai never makes the common mistake of throwing out irrelevant keywords for optimization. It scans every section of a web page (header, footer, sidebars, ads), isolates each part, and then focuses only on where the main content resides. You won't catch this tool tossing in "lawn-mowing" into your financial blog's "best-recommended keywords" because it's reading useless data from dynamic ads. It also helps you stay safe from Google's penalties and recover from such penalties if they ever occur because the system understands exactly what you need to avoid.
Standard NLP in every scan: Natural Language Processing (NLP) is a branch of AI in SEO that attempts to understand the context of the use of a keyword or search term. NLP is extremely useful in selecting relevant keywords and while it's available on most popular SEO tools, its abilities are usually very limited. Not all page scans include NLP and they're often available only on the most expensive plans. With On-page.ai, every single scan conducted, even on the test plan, includes standard NLP. It's available on all the monthly plans and certainly changes the game with accurate keyword filtering.


Powerful keyword relevance feature: There's no drama or over-fussing with keywords on On-page.ai. This tool gives it to you straight up, point-blank, and right on target. On-page.ai features a robust Google-connected keyword research panel that can directly increase revenue, traffic, and sales on your website by as much as 1000% in the long term. All you have to do is enter your keyword or chosen term, enter an optional URL for comparison, select a location, and click "submit". On-page.ai will return a precisely filtered list of the most relevant keywords for driving conversion and returning readership to your page.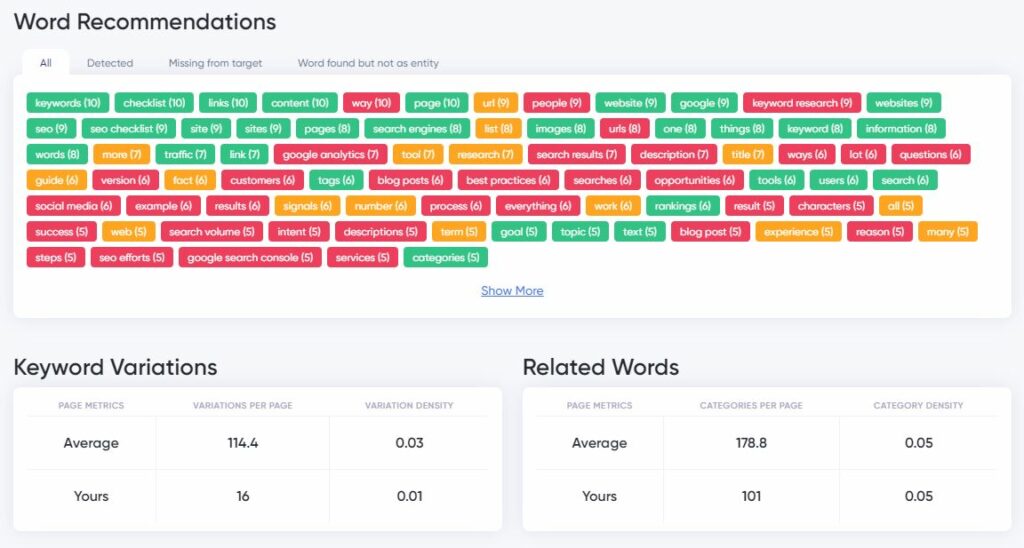 It provides an accurate relevance score panel and separates the Google entities (keywords) by color and volume used or volume necessary. Green means the keywords needed are already on your page. Red means they are necessary but absent and the accompanying number tell you how many times you need these words sprinkled. Yellow means these words are there but not recognized as entities. The keyword analyzer on this software is one of the easiest to use and still extremely powerful for boosting revenue by exponential percentages.
Google categories: On-page.ai doesn't merely provide optimization at the page level as most other tools, but it also performs category-level optimization. If your content is not optimized in the appropriate category, you risk not being ranked by Google at all, and it also gets harder to understand why you're being penalized if such cases arise.

Incredibly simple UI/UX: Despite its avalanche of robust and powerful features, On-page.ai was designed with an extremely simple and straightforward user interface that requires no special SEO knowledge to operate. You just have to understand the basics and the tool guides you the entire way. With a built-in content editor to help you develop solid articles, On-page.ai is easy to navigate, easy to set up in a couple of minutes, and super-aesthetic to the eyes.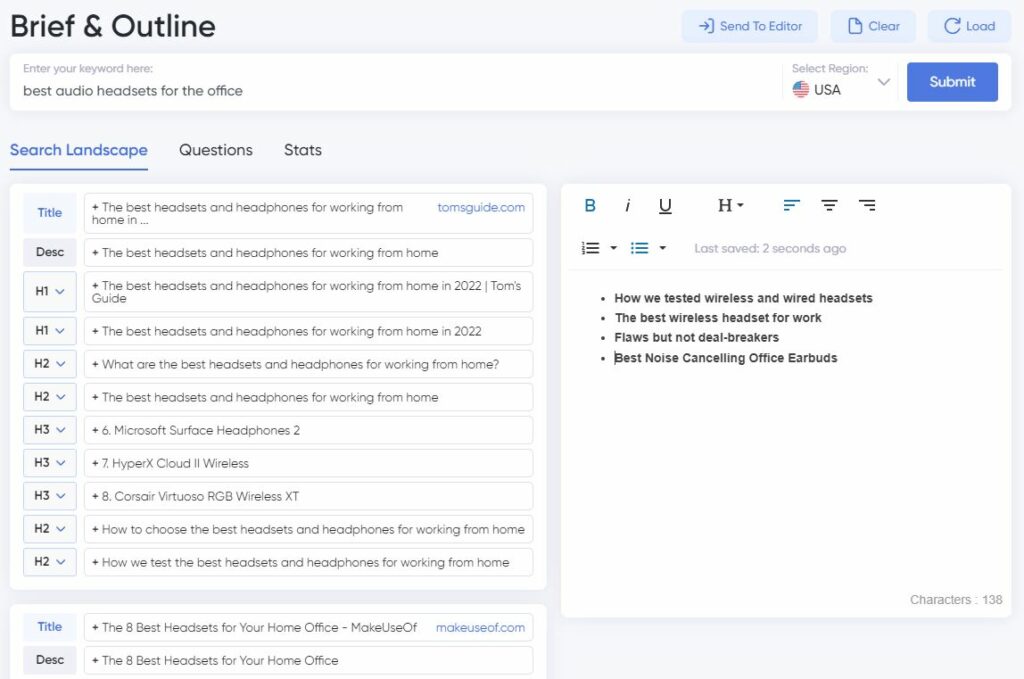 Meaningful and straightforward data: One of the major stonewalls most businesses and website owners have with SEO is the complexity of the tools performing optimization. The data they churn out is often too difficult and unnecessarily technical to understand. On-page.ai generates the most comprehensive and directly helpful results without being too technical with words and terms. What's the point of paying subscription fees for a SAAS when you'll need years of experience to understand its output? On-page.ai features simplicity at its peak.

Inter-linking: One of the most overlooked aspects of SEO is internally linking articles within your websites. Anyone who truly gets the web crawler's algorithms these days will understand how much potential there is to use internal links. On-page.ai's algorithm is intelligent enough to decide which of your internal links are best used on a specified web page to better optimize the content and chances of ranking.
All-new Predictive Guest Posting for link relevance: Link building and back-linking are still very relevant practices in on-page SEO, but until very recently, it has been impossible to determine which external links actually affect your website's chances of ranking. On-page.ai's algorithm can mimic how Google considers external links so you can build the ideal link profile.
You don't have to waste resources building 1,000 external links when only 100 will matter in the long run. This tool's robust AI works by isolating the relationship between links for further ranking potential. A source page about birds linking to a target page about feather grooming has great potential, but a source page about birds linking to a target page about automotive engines is wasted. On-page.ai sifts, filters, and determines these relationships while helping you build the perfect link profile.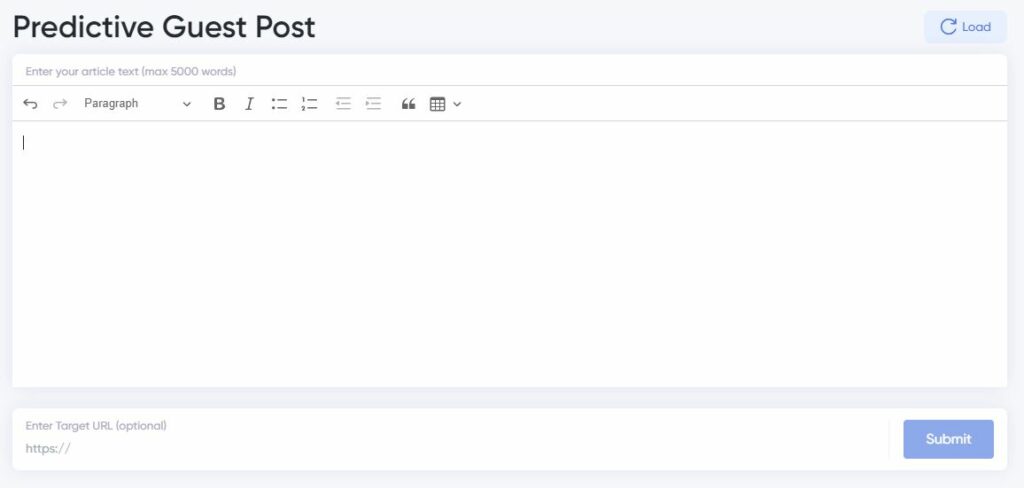 On-page.ai also features a brand new tool known as Predictive Guest Posting which allows you to correctly decide the category of your content before posting. It's nearly 100% accurate and ensures that whatever content you put out on your website stays 100% relevant to the search engines and can ensure higher ranks with fewer backlinks. PGP is an extremely valuable new addition to on-page SEO that gives you a solid upper hand against your competitors because you're doing less and gaining more.
What's not to like?
From our use and review of this technology, On-page.ai currently has no perceivable cons and functions extremely well for beginners and seasoned professionals in SEO.
Our final verdict:
On-page SEO is a long-term endeavor. There's nothing instantaneous or miraculous about the process, even though short-term goals offer a certain gratifying thrill. However, if you're looking to thrive and enjoy SEO as a whole, the long-term results are what really count. On-page.ai is our chosen technology and is currently the best on-page SEO tool you could employ. It's fast, easy to use, and provides the most reliable information with one click of a button.