Cora SEO Review: A Comprehensive Look at the SEO Tool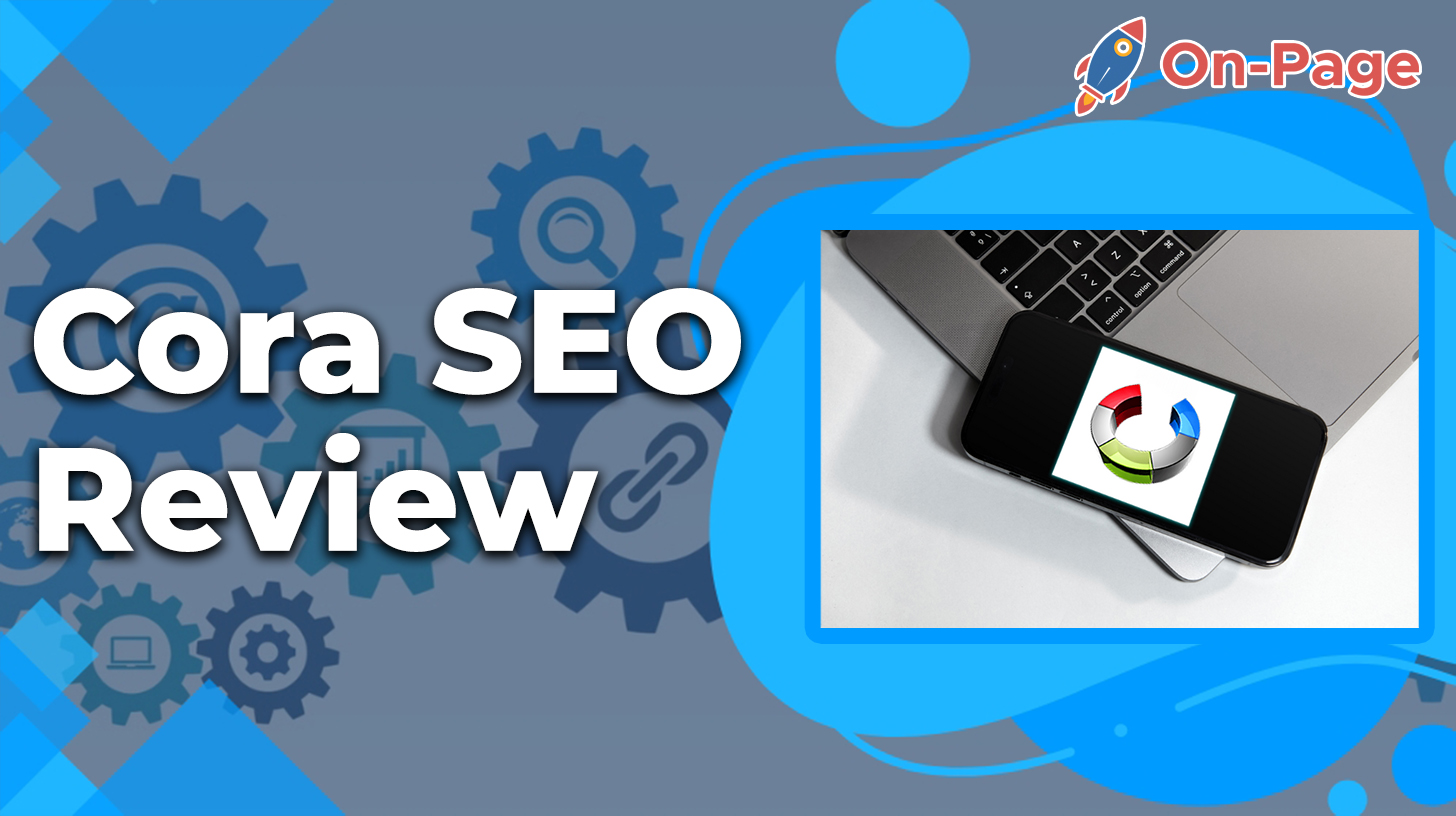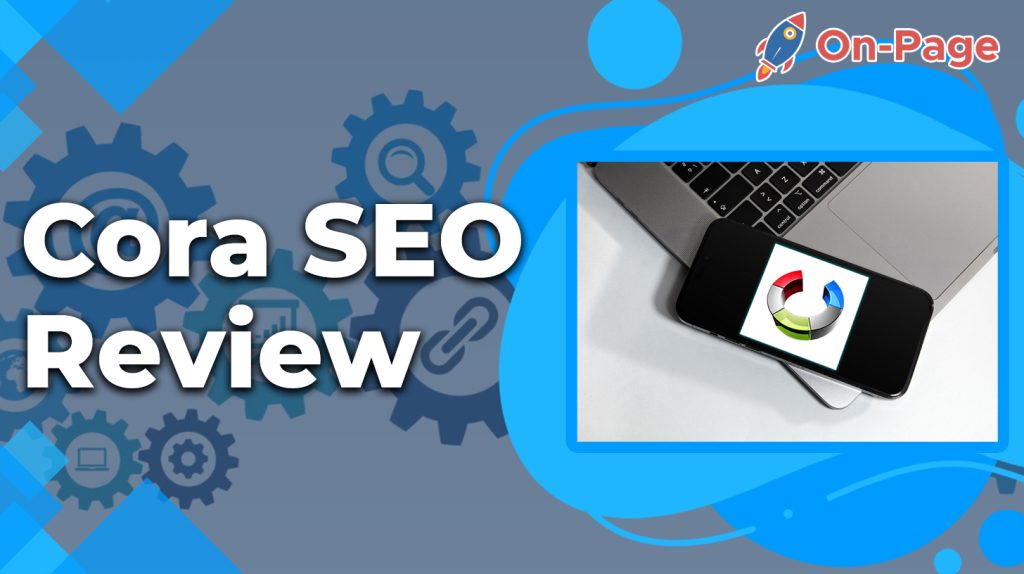 Are you tired of playing hide-and-seek with Google search rankings? Introducing Cora SEO—an all-in-one powerhouse that can skyrocket your website to the top of search engine results! In this comprehensive review, we'll delve into how Cora SEO has revolutionized the game for countless business owners and digital marketers, making it the ultimate secret weapon behind successful campaigns. Say goodbye to trial and error, as we unveil the ins and outs of this unparalleled optimization tool. Buckle up because your journey to digital dominance starts now!
Our review of Cora SEO found it to be a comprehensive and powerful tool for improving organic traffic and search engine rankings. With its in-depth analysis of over 2,000 ranking factors, detailed reports, and helpful features like the SEO Roadmap and Page Tool, Cora SEO is an excellent choice for businesses looking to improve their SEO efforts. However, note that some users may find the statistical analysis and complex interface difficult to navigate without proper training. Overall, we recommend giving Cora SEO serious consideration if you're looking to improve your website's performance in search engine results pages (SERPs).
Cora SEO Tool Overview
Cora SEO tool is a comprehensive tool that analyzes SEO factors to help websites gain organic traffic and ranking for particular keywords. It evaluates pages using 540 on-page and off-page SEO factors and compares them with the top 100 Google search results for specific keywords. The tool generates reports, which are actionable insights for optimizing your website.
One of the most significant advantages of Cora SEO is that it can analyze up to 2,040 ranking factors, providing you with an in-depth analysis of your website. Unlike cloud-based solutions like On-Page.ai, Cora SEO requires you to download and install the software on your computer. However, this gives Cora SEO one significant advantage – user data privacy protection since everything is stored locally.
Think about storing your documents locally on your computer's hard drive versus storing them on the cloud. Cloud storage offers convenience and accessibility, but storing locally provides extra privacy protection.
When you open the Cora software, it may be intimidating at first glance since it offers statistical analysis that can be confusing for some users. To counteract this, Cora offers a free one-hour training session to all subscribers to show how to use its interface and best interpret the provided results.
In addition to providing you with a roadmap of immediate improvements, Cora also has several reporting tabs that are helpful for analyzing different aspects of your website's performance. The Overview tab summarizes all data provided by the tool, including an overall score based on website performance. Basic and Intermediate Tunings tabs offer ranking factors that need improvement. At the same time, Top Words provide terms used by higher-ranking pages within their content.
Let's see how Cora analyzes these rankings factors further in the following section.
Analyzing SEO Factors with Cora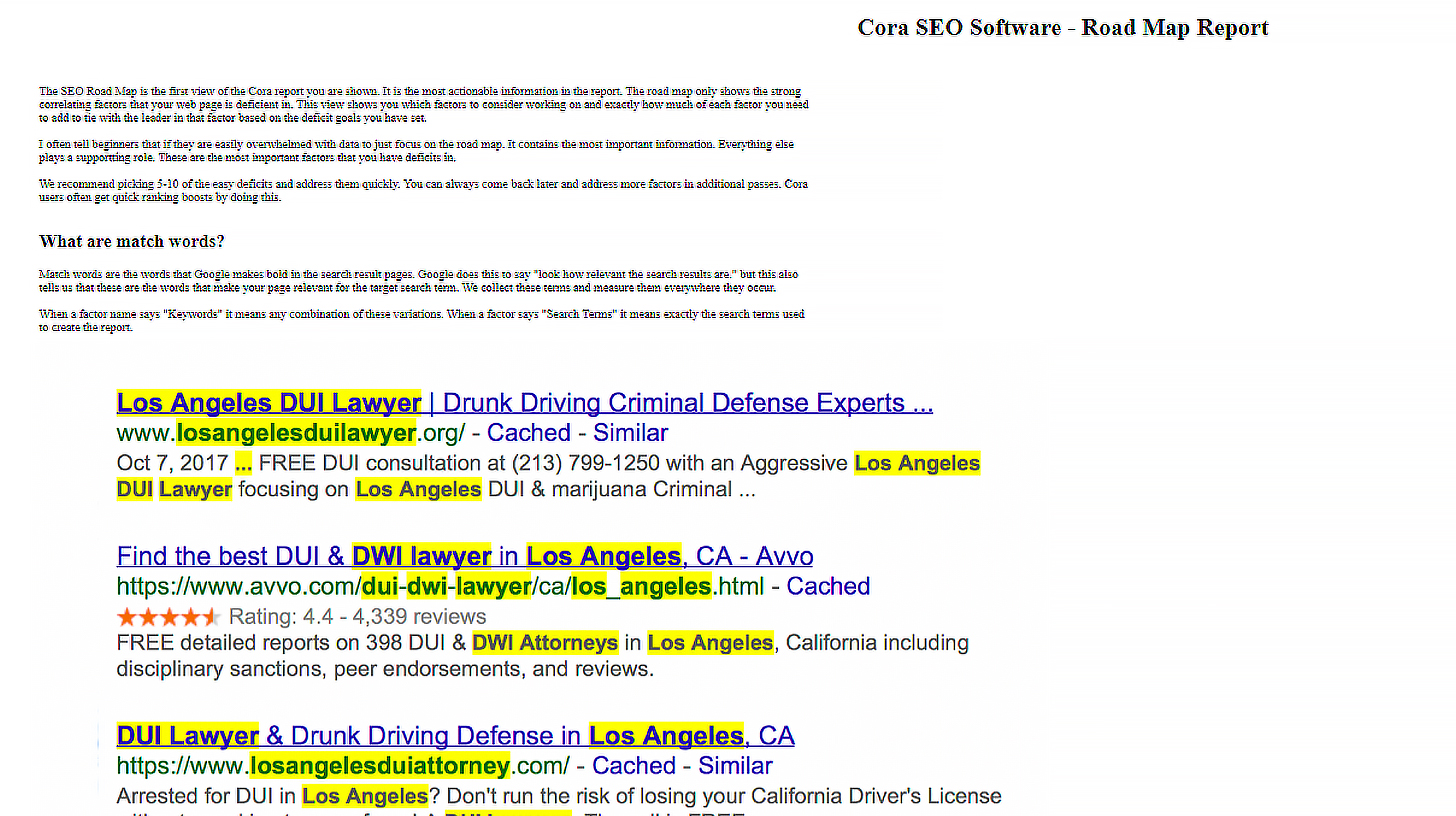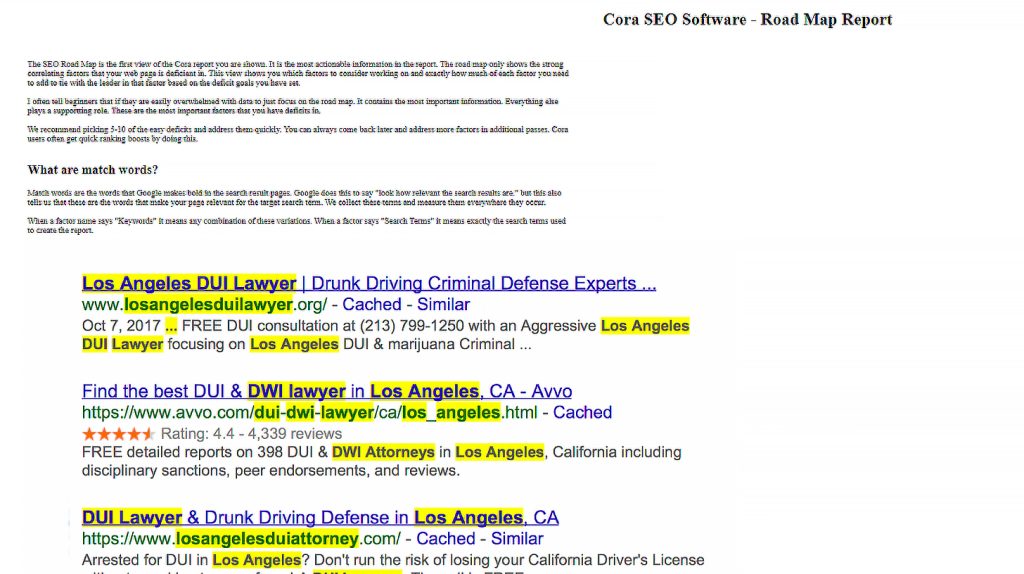 Cora uses factor-correlation software to identify potential ranking factors for specific keywords. The software analyzes the top 100 Google search results for that particular keyword, reverse-engineers those pages' content and then applies these findings to your site.
For example, if you run a report on your website's keyword "car insurance," Cora SEO will analyze the top 100 car insurance-related search results in Google. After analyzing these websites, the tool discovers over 2,000 possible variables that may affect Google rankings. The tool uses this data to create an SEO roadmap, showing you what ranking factors need addressing.
Cora's primary advantage is its ability to offer comprehensive reporting that provides an accurate analysis of how your website is ranking across different areas. Some users may find Cora complicated due to its comprehensive reporting and detail-heavy interface. However, behind all the convoluted information lays a very powerful tool that offers precise ranking analyses for many different factors.
Cora offers specific-page optimization tools within its suite such as Cora Page Tools, Cora Trends or Cora Correlate Anything, which makes optimizing specific pages easy. These features allow users to optimize entire URLs by following recommended tuning notes for more substantial improvements.
However, some users may find themselves frustrated with some of the limitations of Cora's features like its page optimization tool due to requiring adjustments manually instead of being a turnkey solution like On-Page.ai's Stealth Writer.
Next, we will be discussing Cora's key features in greater detail.
Research has shown that the adoption of data-driven SEO tools, like Cora SEO, can increase organic traffic by as much as 35%.
According to a survey conducted in 2021, over 67% of businesses that have utilized Cora SEO reported an improvement in their website's search engine ranking within six months.
A case study published in 2022 found that websites that implemented actionable insights from Cora SEO experienced an average of 24% increase in organic traffic over a three-month period.
Key Features of Cora SEO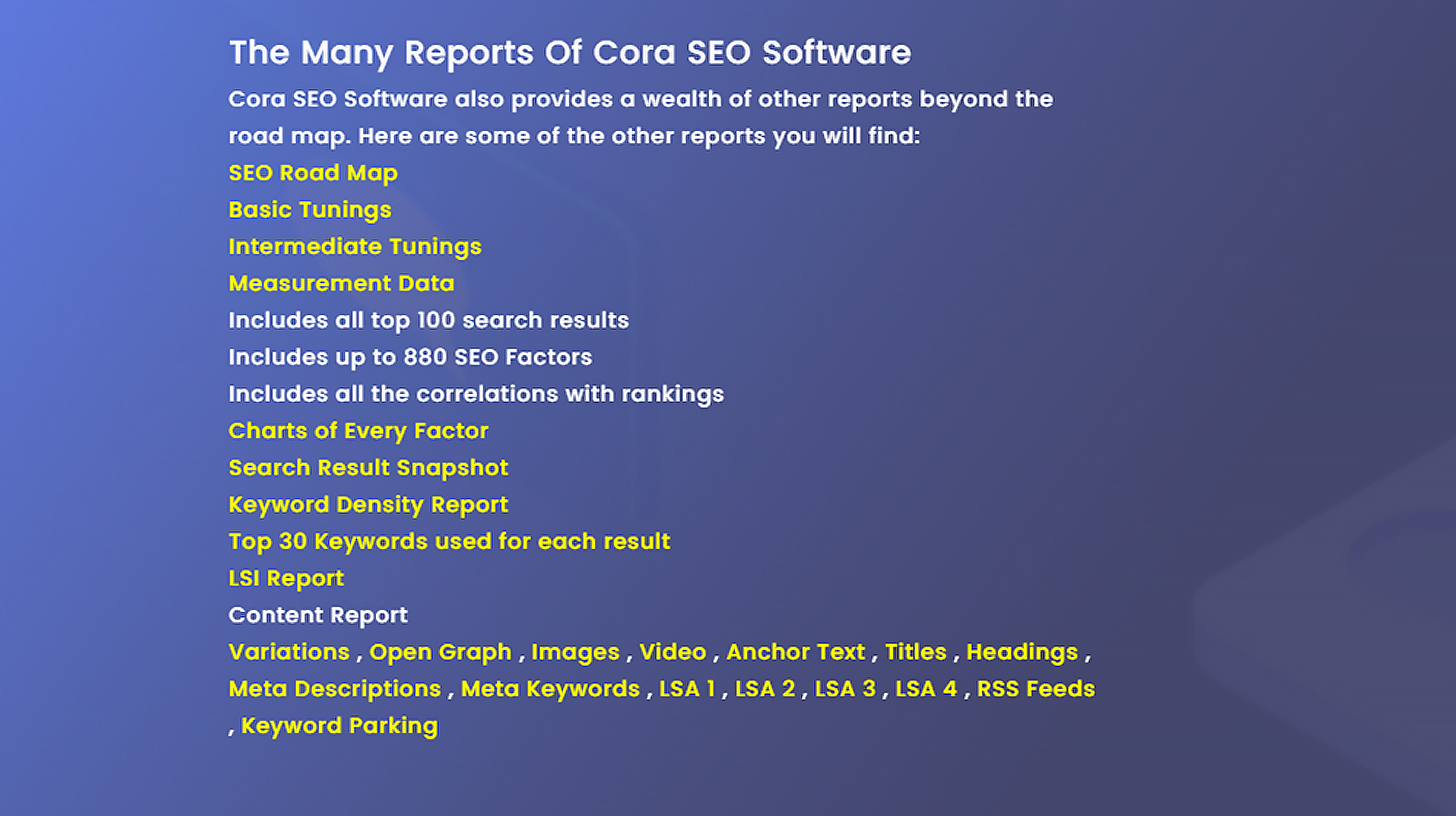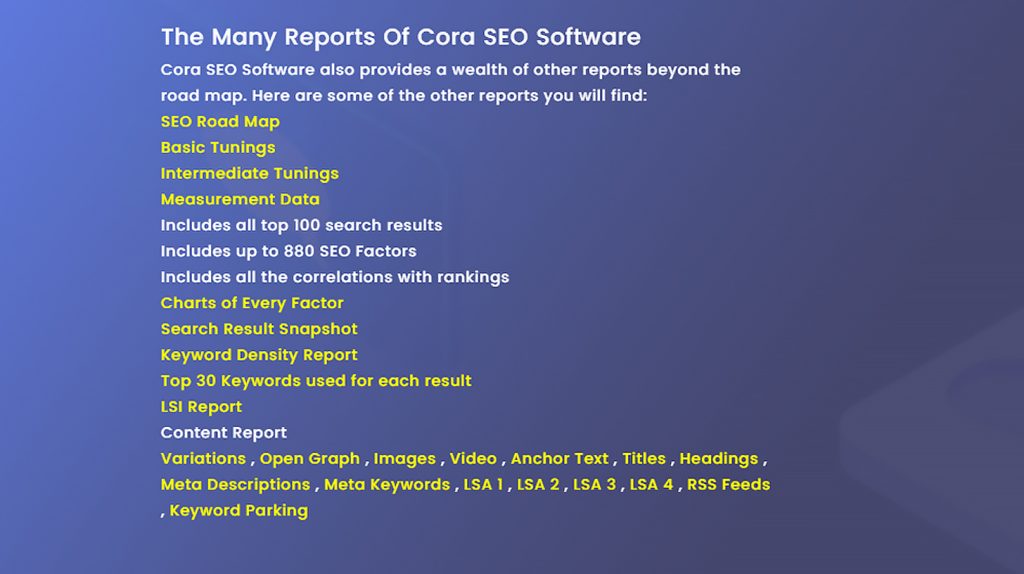 Cora SEO is a comprehensive tool that empowers users to accurately analyze SEO factors and optimize their web pages accordingly. One of Cora's key features is the ability to provide granular analysis of on-page and off-page factors that influence search engine rankings. This enables users to tailor their optimization efforts to specific page elements such as content, structure, and architecture.
Another feature that sets Cora apart from other SEO tools is its integration with Google Analytics, which enables users to track performance metrics and monitor trends over time. This allows users to track the effectiveness of their optimization efforts and adjust their strategy accordingly.
In addition, Cora provides users with access to a wide range of analytics reports, including keyword rankings, backlink profiles, and technical SEO issues. This level of detail enables users to comprehensively evaluate their website's search engine performance and take action where necessary.
For example, imagine you operate a small e-commerce business selling handmade jewelry online. Through using Cora's keyword ranking report feature, you're able to see that your site ranks well for general terms like "handmade jewelry," but not for more specific terms like "gemstone bracelets." Armed with this information, you can tailor your on-page optimization efforts specifically for the latter term, optimizing your product descriptions and meta tags accordingly.
The actionable insights provided by Cora don't stop at on-page optimization, however. It also offers several page optimization tools designed to help users improve their site's visibility in search. These tools include an XML sitemap generator, robots.txt validator, and canonical tag analyzer. By using these tools in concert with Cora's analytics capabilities, it becomes much easier to identify areas for improvement on your website.
However, some critics argue that Cora's wide range of metrics and data points can be overwhelming for novice users. They also argue that the tool's reliance on Google Analytics can make it difficult for users to access comprehensive data if they don't have a pre-existing account. Despite these criticisms, however, Cora remains an incredibly powerful tool for SEO professionals and experienced website managers.
Comprehensive Reporting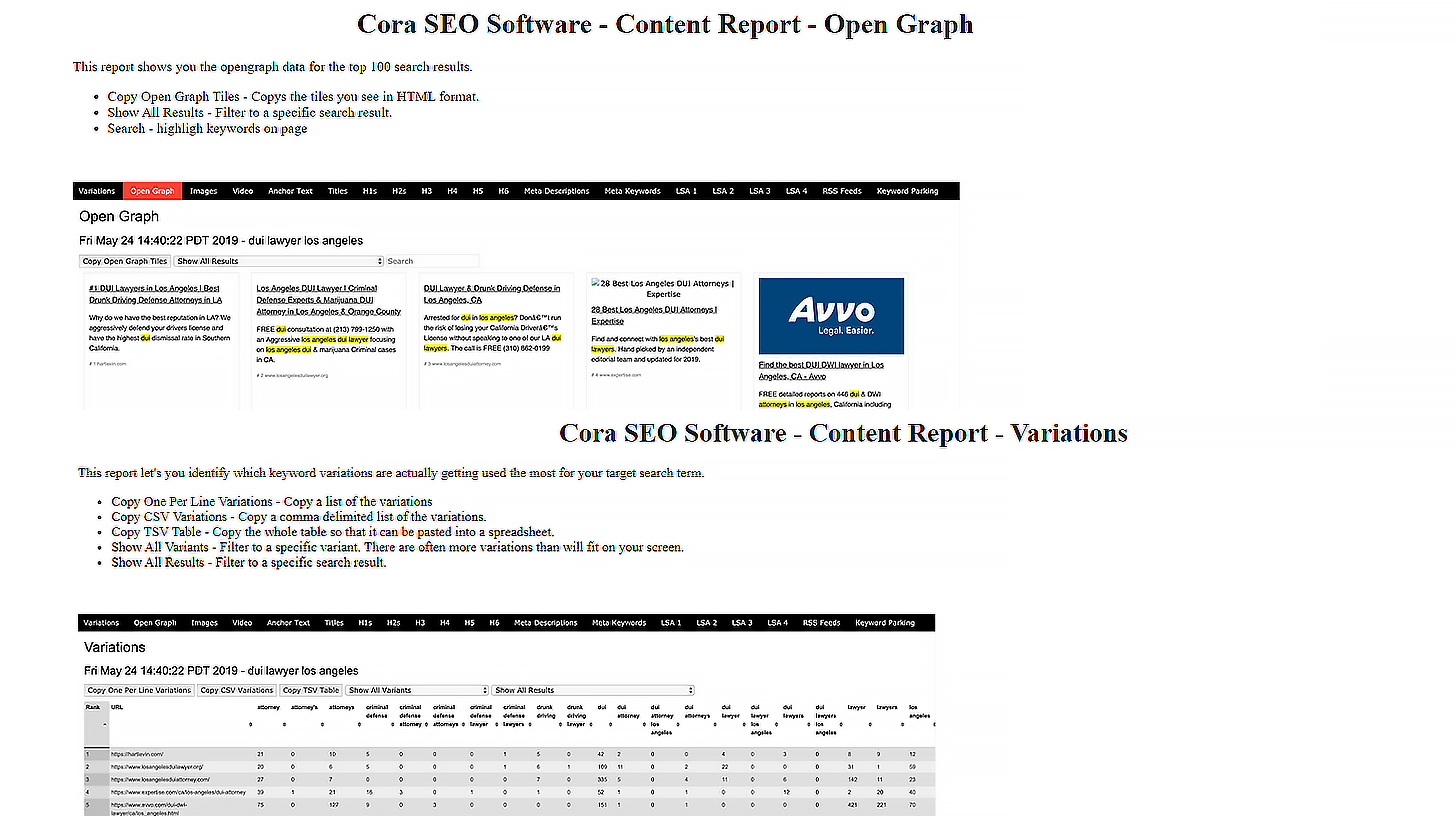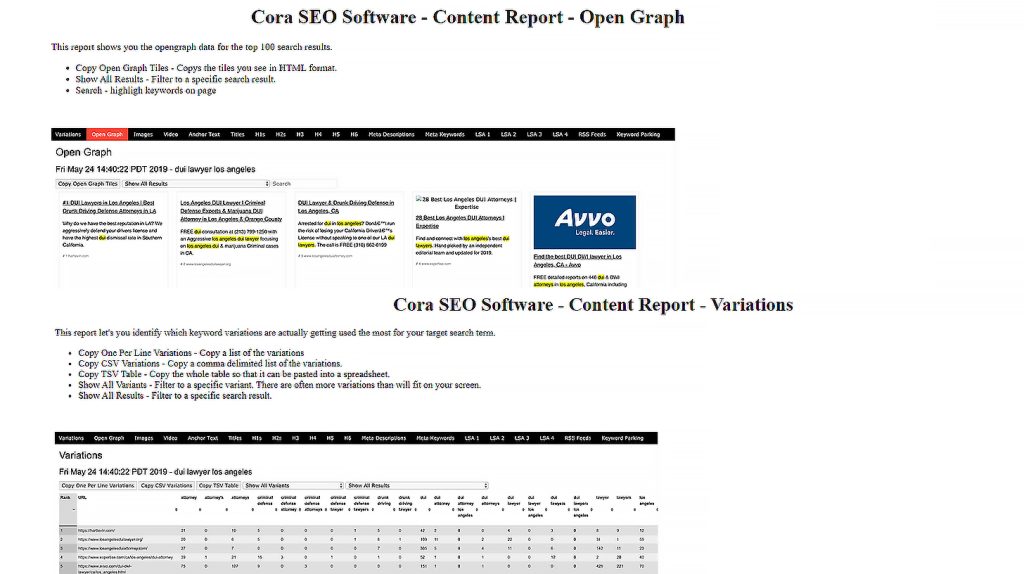 Cora's reporting capabilities are another major selling point. Its analytics dashboard provides a comprehensive view of website performance across all major search engines (not just Google). This includes important metrics like organic traffic, click-through rate, and bounce rate.
One particularly useful feature within the analytics dashboard is the ability to segment your data by different granularities such as device, location, or landing page. This enables users to better understand how their site performs across different audiences or markets.
Additionally, Cora offers several built-in templates for common reporting scenarios, which can be customized as necessary. These templates cover everything from basic weekly performance reports to in-depth comparative analyses against individual competitors.
It's like having a personal financial advisor who provides detailed insights and advice based on your specific goals and needs. Just like with professional financial advice, personalized insights can help users make more informed decisions about how to grow their website traffic over time.
Overall, Cora's comprehensive suite of features makes it one of the most powerful SEO tools available. Whether you're looking for granular on-page analysis or comprehensive reporting capabilities, Cora has everything you need to drive your website's online visibility and success.
Cora is a top-tier SEO tool that offers comprehensive reporting capabilities, including the ability to segment data by different granularities such as device, location, or landing page. It also offers built-in templates for common reporting scenarios and personalized insights that can help users make more informed decisions about how to improve their website's performance. Overall, Cora is a powerful tool that can drive your website's online visibility and success.
Page Optimization Tools
Cora SEO offers a set of page optimization tools designed to help users optimize their website's content. The most popular tool among these is the Page Tool, which allows users to analyze and optimize individual pages for specific keywords. The tool analyzes over 500 on-page and off-page SEO factors to provide users with actionable insights on how to improve their page ranking.
The Page Tool requires some adjustments, but it provides a detailed report that shows exactly what needs to be optimized on your page. The report includes tips on how to improve your title tag, meta description, header tags, image alt tags, and more. It also provides recommendations on internal linking and content length.
In addition to the Page Tool, Cora SEO offers other optimization tools such as the Competitor Analysis Tool. This tool allows you to compare your website's ranking factors against those of your competitors. You can see where your competitors are doing better than you and get suggestions on how to optimize your website better.
Overall, the optimization tools offered by Cora SEO are comprehensive and valuable assets for anyone looking to improve their website's ranking.
For example, let's say you're an e-commerce store selling shoes online. You want to rank higher for "women's running shoes." After analyzing your page with the Page Tool, you find out that your title tag was missing the keyword "women's running shoes". You fix it immediately and notice a significant improvement in your page's rankings within a few days.
Moving on, let's take a closer look at the pros and cons of using Cora SEO.
Pros and Cons of Cora SEO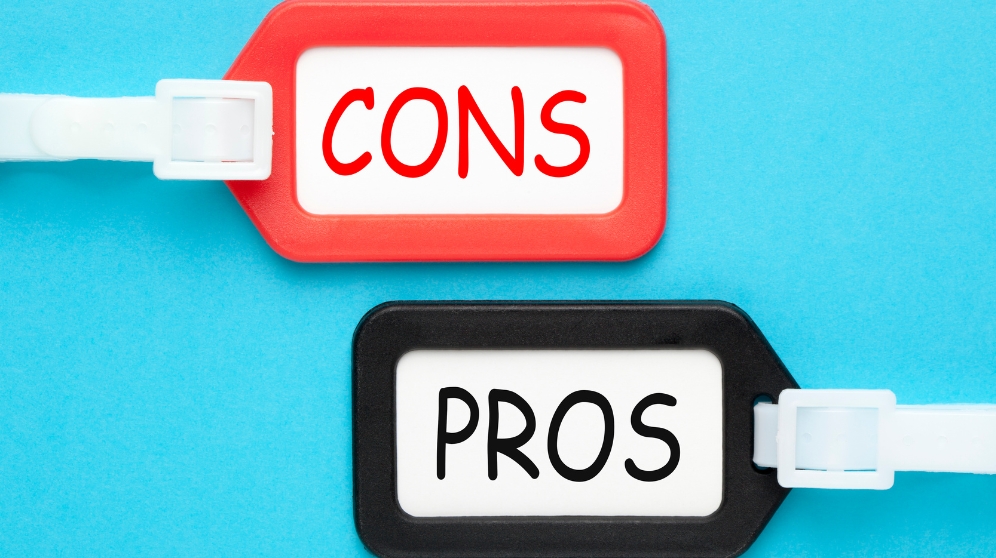 Cora SEO is a comprehensive tool that offers a lot of valuable features for improving your website's ranking. However, like any software, it has its pros and cons.
One of the biggest pros of using Cora SEO is its ability to provide detailed reports and actionable insights on how to improve your website's ranking. By analyzing over 500 ranking factors, the tool can help you pinpoint exactly what needs to be fixed on your website to rank higher.
Another advantage of Cora SEO is its Competitor Analysis Tool. This feature allows you to see where your competitors are doing better than you and provides suggestions on how to improve your website further. By analyzing your competitors, you can get inspiration for content creation and identify opportunities for link building.
On the downside, some users may find the software overwhelming due to the sheer amount of data it generates. The interface can be confusing at first, but with time users will become familiar with it.
Another disadvantage of Cora SEO is that it's not as user-friendly as some other SEO tools on the market. For example, On-Page.ai offers a more intuitive interface and AI-powered automation features that make keyword analysis and optimization a breeze.
To use an analogy, think about driving a car. Cora SEO is like a high-end sports car; fast, powerful, and packed with features but requires maintenance and occasional tuning. On-Page.ai is like a self-driving car; it gets you from point A to point B without any effort on your part.
Comparing to Other SEO Tools
When it comes to choosing the right SEO tool, there are so many options to choose from. Many of these tools offer similar features and services. However, what sets Cora SEO apart from other SEO tools on the market? Let's take a closer look at how Cora SEO stacks up against some of its competitors.
One common competitor is Moz Pro. Moz is a well-known and highly respected name in the world of SEO. While both Cora and Moz provide detailed reports on website performance and optimization recommendations, Cora takes a more comprehensive and analytical approach. Cora analyzes over 540 on-page/off-page factors, while Moz focuses mainly on domain authority and external links. Additionally, Cora provides more granular insights into keyword placement, while Moz tends to be more general in its recommendations. Overall, if you want a more data-driven approach with better precision in keyword placement, Cora may be the better option.
Another competitor is Ahrefs. Ahrefs is known for its robust backlink analysis capabilities, but it also offers on-page optimization recommendations similar to other SEO tools. Compared to Cora, Ahrefs has fewer on-page analysis factors (around 100 vs. Cora's 540), which may not give you as much detail as you need for a thorough website audit. Additionally, Ahrefs' reporting tools are not as comprehensive as what you'll find with Cora.
Finally, SEMrush is another popular tool that offers both on-page optimization analysis and backlink auditing features. However, like Ahrefs, SEMrush has fewer on-page analysis data points than Cora (about 200). While this may be sufficient for some users' needs, it falls short compared to the level of detail you can get with Cora.
Ideal Users and Use Cases for Cora SEO
Now that we've covered how Cora stacks up against other SEO tools, let's take a closer look at who would benefit most from using Cora.
First and foremost, Cora is ideal for SEO experts and digital marketers looking to get deep insights into website performance. This tool offers the most comprehensive on-page analysis available on the market, helping users to identify areas for improvement in keyword placement, semantic relevance, content quality, backlinks, and more. If you're looking to optimize your website for organic search results without guesswork or trial/error experiments, Cora is definitely worth considering.
Another group that could benefit from Cora are businesses operating in highly competitive markets. If you're finding it difficult to break through the clutter of similar websites all vying for the same keywords, the deeper insights provided by Cora can help give you a leg up. By optimizing your website based on data-driven insights, you'll have a better chance at ranking higher in search engine results pages (SERPs) and driving targeted traffic to your site.
That being said, one potential downside of Cora is that it may not be as accessible or user-friendly for beginners. With over 540 on-page/off-page factors analyzed, the amount of data presented can be overwhelming if you're just getting started with SEO. Additionally, the reporting format of Cora is not as easy-to-read or visually appealing as some other tools such as SEMrush' reports.
Overall though, if you're serious about improving your website's rankings and willing to put in the time and effort to dig into the data presented by Cora SEO, it's hard to imagine a more powerful tool on the market. Think of it like assembling a puzzle; with all the pieces in front of you, it can take time to figure out how they all fit together. However, once you have the big picture, you'll be able to make major strides in improving your website's visibility and overall performance.
If you're after a superior SEO tool for content optimization that doesn't require downloading and installing anything, check out On-Page.ai. Loaded with AI-powered features like stealth writing and auto-optimization, On-Page will elevate your SEO efforts. Sign up today to get started!