The Best SEO Tools For Improving Your Website's Ranking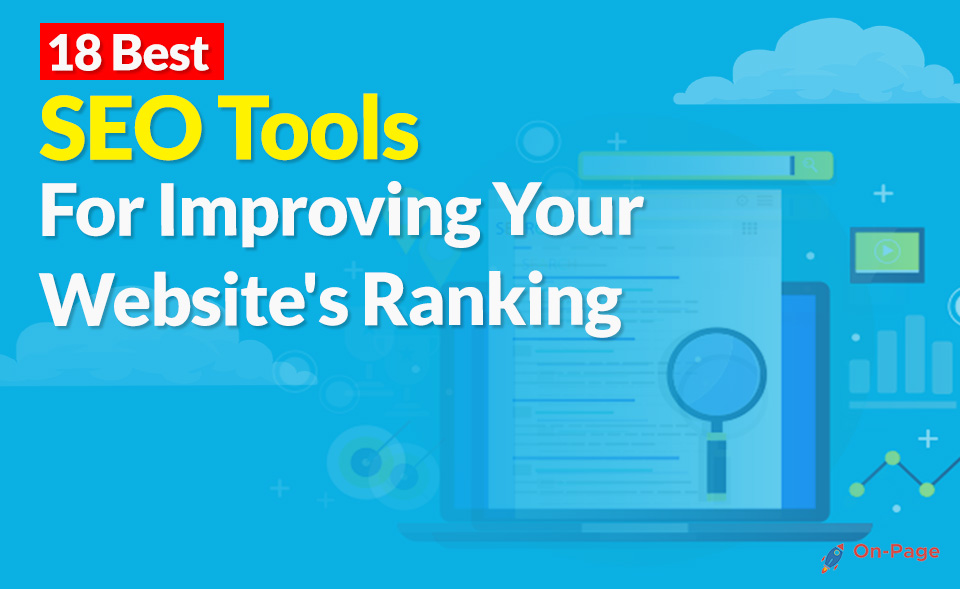 Search engine optimization is one of the most vital aspects you need to focus on while enhancing visitors to your website. Using all the SEO strategies on your website means providing your website with better visibility and search results.
These strategies are likely to attract more prospective customers to your website, thus enhancing your business. Here are some notable benefits of conducting SEO on your website:
Enhances the organic visibility to target potential customersSEO might need time to display results but ultimately offers remarkable
ROI
Boosts the credibility and trust among your customers
But, to keep up with all these benefits, you need the required tools to measure the success of your SEO strategy. The amazing thing is that many SEO tools are available that can help you grow your visibility. Such tools offer you relevant insights and data that will assist you to enhance your positions. Having them at your convenience will let you grow your business value more.
Do you want to know some of the best SEO tools that can help you prepare for the success of your website? Let's know about some of the handy SEO tools that are beneficial to enhance your place on Google:
1. Google Search Console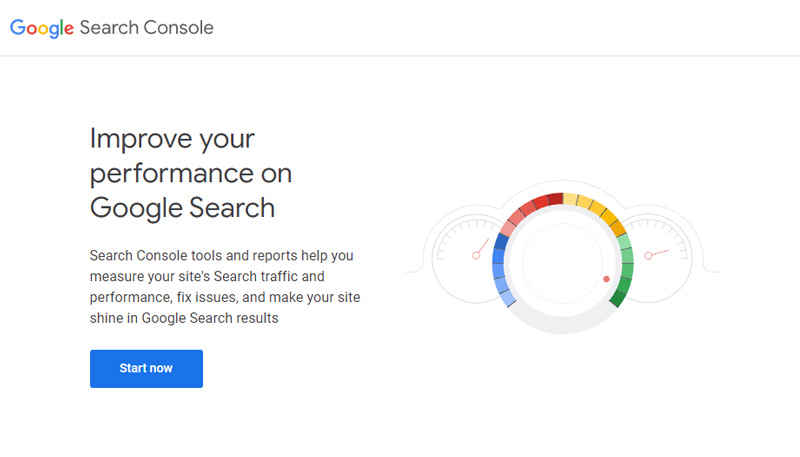 Don't know how Google assesses/sees your website? Don't worry! Here, you have the perfect SEO site analysis tool, Google Search Console, that provides you with features covering every aspect of SEO.
For instance, Google Search Console lets you review the crawl issues that have arisen on your website and take measures to correct them quickly. It can also tellyou if your site is infected with malware, which keyword phrases individuals use to discover you, how many backlinks you have, and much more.
If you're worried about your organic visibility, various characteristics of these tools make them near-essential. There's a strong emphasis on Google results here, so don't be concerned. If you can rank high on Google, odds are you'll do well on some search engines as well.
Characteristics:
Keep an eye on how Google views your site.
Keep note of the terms that visitors use to find you.
Stay updated for any crawl, meta tag, or sitemap issues.
Your robots.txt file should be updated.
Keep track of your website's backlinks.
If your website gets infected by malware, you'll receive notifications.
2. SEMrush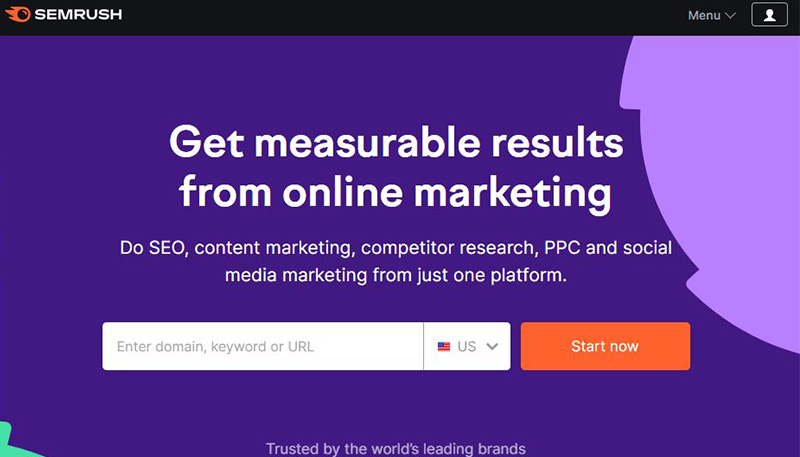 It's important to make your keywords according to what most individuals type in their search boxes. These keywords are the most essential component of what the whole of the SEO is based on. So, why miss the best keyword research tool that helps you to know how many individuals are searching for that exact term?
Most Importantly, it offers data on matching keywords, ranking, broken links, and much more.
SEMrush may provide insight into your rivals' strategies while being a helpful keyword tool. It can show you the exact number of visitors your competitors get, how many leads they get from advertisements and the number of backlinks they had.
If you love performing keyword analysis, you should have SEMrush that helps in all your SEO efforts. You'll be able to uncover which terms your competitors are performing for as well keywords will provide the maximum performance for your attempts.
Characteristics:
Examine the worth of certain questions.
Analyze which keywords your rivals rank for and how many visitors they receive.
Study the language and media adverts of your rivals.
3. BuzzStream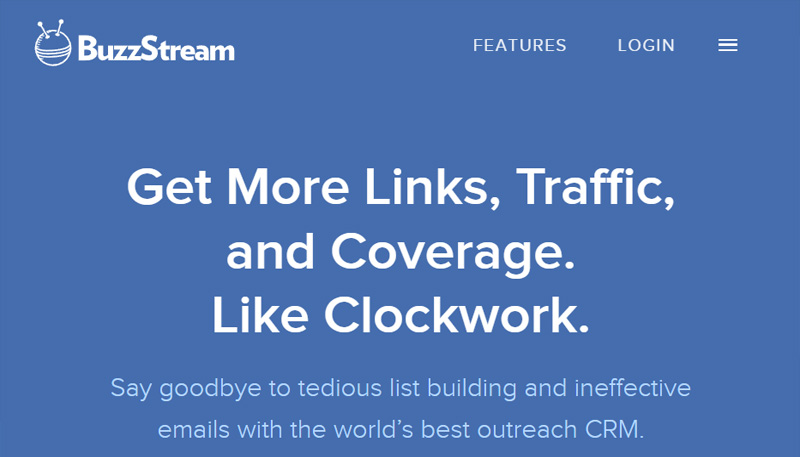 Email marketing seems to be the most ignored element in marketing.
However, combining the efforts of marketing with SEO would render businesses with various impeccable benefits.
If you know the importance of email marketing but need a tool to handle your email marketing plan? You can use the best SEO tool for email marketing, BuzzStream, which helps you in managing your email-marketing plan, project, as well as domain research.
It's a platform that does everything, and the sheer number of possibilities it offers might be overwhelming. Keeping everything that BuzzStream offers in mind, find out how it may assist you with your SEO requirements.
BuzzStream may assist you in compiling lists of outcomes for the keywords you are researching. It then gives you details on every one of those websites, such as overall rankings, associated social media accounts, domain age and authority, and so on.
In reality, you may use these tools to aid you in doing a full SEO audit, which includes investigating your rivals and the material they post. It may also assist you in creating lists of their writers and what they are doing so that you can keep a closer check on their methods.
Characteristics:
Investigate your competition using any keywords you'd like to target.
Collect information about the age and authority of specified domains.
Find out where your rivals are placed in the search engines.
Discover the social media profiles for the websites of your competitors.
Make a list of authors who contribute to competitive websites and monitor
their activities.
4. Moz Pro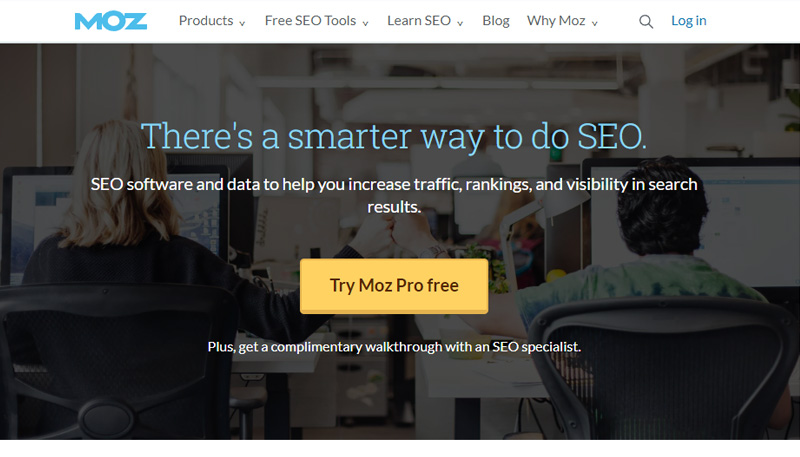 Somewhat similar to that of Semrush, Moz Pro also helps to find you the relevant keywords for your website. This SEO keyword tool helps you to focus more on optimizing your content with relevant keywords. Additionally, it helps you to identify keywords with low potential so that you can improve your ranking to stand out among your competitors.
Check out the difficulty level every time you search so that you can find the one with the highest search volume and low difficulty to let them rank on the search page. This information is very important when evaluating an SEO plan for your website.
Using this SEO tool, you will get reliable keywords that will help your website rank in much lower time. Oh! Wait! We're missing the good part in Moz Pro; it is a platform that provides a chrome extension, so you get information about any domain you visit.
Characteristics:
Investigate a keyword's competitiveness and search volume.
Get keyword ideas based on your search.
Examine your rivals' strategies, particularly the keywords they're using.
To look at additional sites without traveling to the Moz website, use a Chrome plugin.
Utilizing custom lists, compare several terms.
Get on-page optimization tips and mistake notifications.
5. DreamHost SEO Toolkit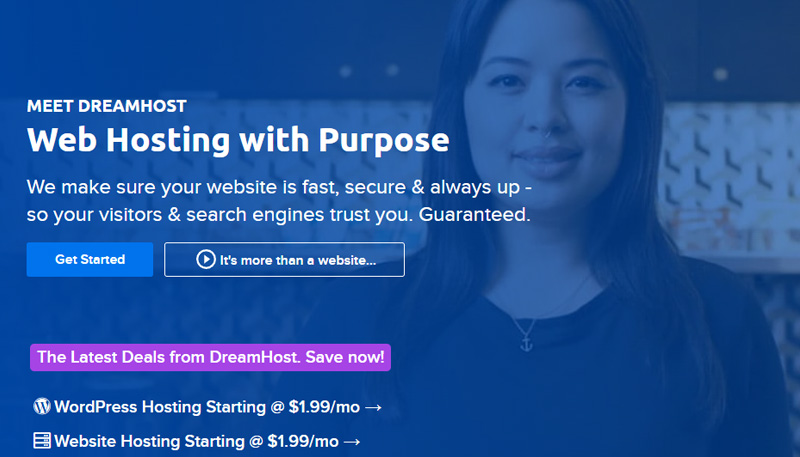 What if you get to enhance your site's visibility without even investing in those high-end enterprise-level tools or a private contractor? Don't get into hiring another party to outpace your competitors. Instead, become an SEO pro with DreamHost.
The tools and features added to this platform enables the customers to make 100 automated checks and verifications. Firstly, DreamHost will analyze your siteto find the probable errors and then makes a customized plan to tackle those errors. You get a full-fledged checklist, after which you will begin seeing the improvements in your site.
SEO Toolkit, for instance, examines your site's web pages and makes specific suggestions on where to place keywords to improve your content.
SEO Toolkit also makes it a bit easier to follow rivals – as there are various advantages of tracking your online competition — so you can fine-tune your SEO campaign and rank at the top of the SERPs.
Characteristics:
To uncover any SEO concerns, you get a full website audit.
Create a customized SEO strategy with activities to reach your possible clients.
Weekly progress updates will keep you informed.
Use the on-page optimization techniques in SEO toolkits to increase keyword positioning.
You can track numerous keywords with your competitors.
6. Linkody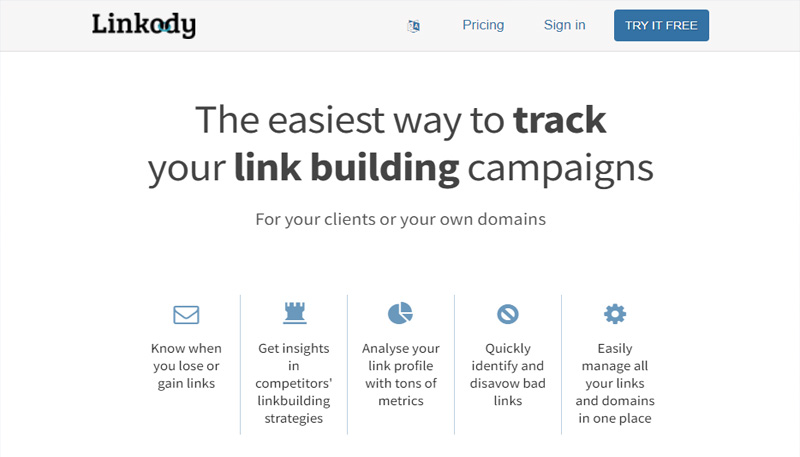 Do you hate it when your website is linked to websites with a bad reputation, as it can pull down the ranking of your website as well? Use Linkody, an SEO site analysis tool that finds out the disavow link that you don't want.
Nobody wants to link their website to any of the spam; thus, it helps in recognizing whether your website is linked to any spam or not.
While the backlink analyses are the major draw, Linkody also has a few noteworthy bonuses. It allows you to build reports to deliver to clientele, track social media interactions on your site, and link to Google Analytics, for instance.
Basically, it's a specialized product, but it's quite valuable if you need assistance with link development. It's also a lot less expensive than the enormous do-it-all providers we've discussed thus far.
Characteristics:
Disavow any links that might harm your SEO.
Make backlink reports for your customers.
Connect to Google Analytics for more details.
Keep track of all your website's social engagements.
7. Ontolo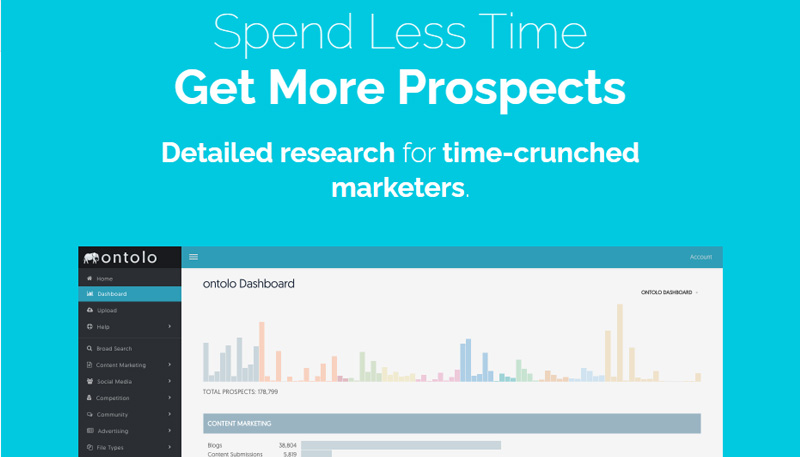 Ontolo is an online platform that may help you uncover marketing and SEO possibilities. It can also work with you to find backlinking and guest blogging opportunities, but that is anything you really shouldn't expect an automated tool to be able to do.
In addition to keyword research, Ontolo's mission is to help you discover new strategies to increase your traffic. Backlinks are necessary if you would like your website to grow more authority, but finding the appropriate possibilities may be difficult.
Ontolo finds such chances for you. All you'd have to do now is present them (which unfortunately cannot be automated). It can extract possibilities from over 80 different sources, so you'll probably discover some great possibilities no matter what keywords you're attempting to rank for.
Characteristics:
To locate the greatest possibilities, gather information from over 80 different sources.
Conduct research using easy-to-understand reports.
To share your possibilities with others, export them.
8. HubSpot's Website Grader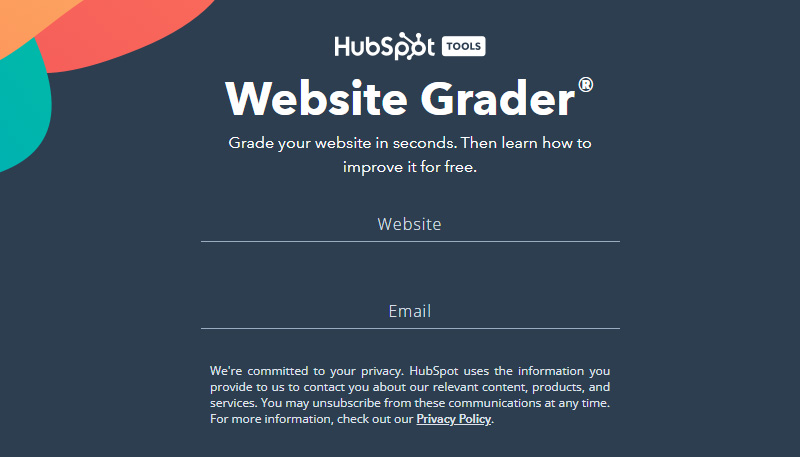 When you look for a simpler tool that helps you in your SEO efforts, then it would definitely be HubSpot's website grader. You just need to enter your domain in this platform, and you will get SEO reports in the next second. This SEO tool scores you in different niches of your website like site's friendliness, keyword optimization, security, etc.
In some ways, your actual report is one big review of how well your site is doing in terms of SEO. Even better, this tool analyzes each section of the report and offers suggestions for how to strengthen each one.
The Website Grader from HubSpot is really easy to use and may help you enhance your website rapidly. Plus, it'll cost you nothing, so this one is absolutely worth your time.
Characteristics:
Evaluate the effectiveness, mobile compatibility, security, and SEO of your website.
Each area of your website will receive its own score.
Get suggestions on how to raise each score.
9. Google AdWords Keyword Planner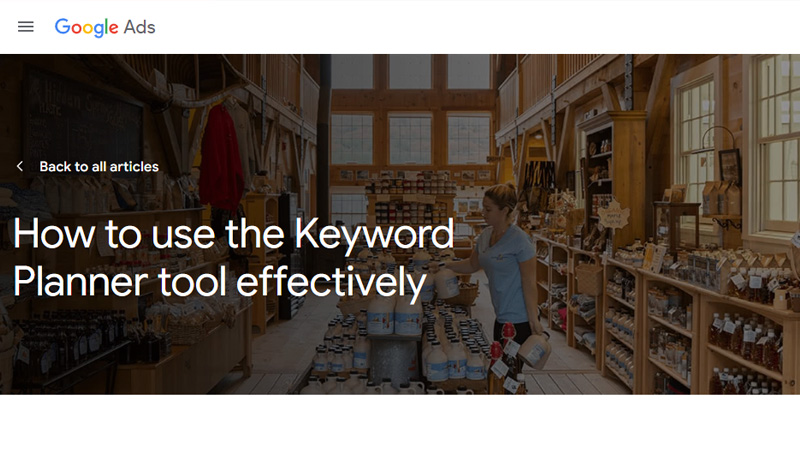 Having a comprehensive keyword research tool at your side helps you lookup for better keywords and better traffic estimates. It may also assist you in determining how popular keywords are determined on their AdWords pricing.
This tool allows you to select terms based on CPC or search volume to prevent being overwhelmed with information. You can receive reports depending only on the estimations you wish to achieve in this manner.
Generally, this Keyword Planner provides a lot of similar features as the other ones. The distinction is that this one is a Google product, and you can obtain really extensive information for free.
Characteristics
Discover the search volume of any of your relevant keyword
Check the keyword's competitiveness from its CPC.
You get a thorough analysis of the specific keywords.
10. WooRank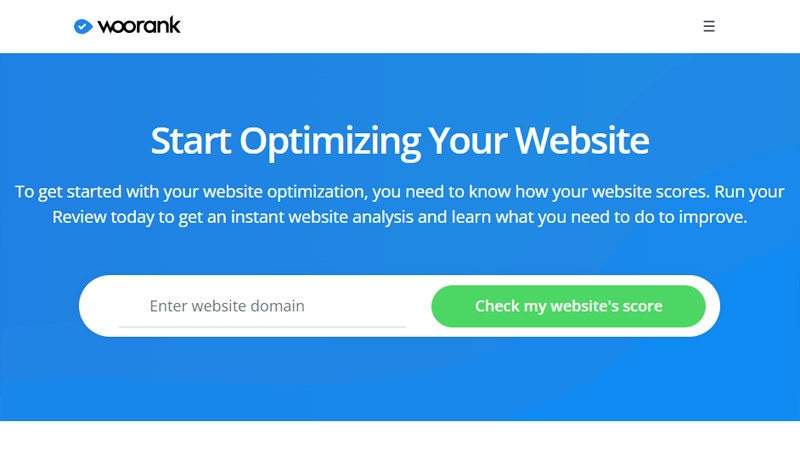 If you really want to know how your website is performing on Google, you should put your domain's link to that website to get the full analysis of your website. But the thing is, it doesn't score on every aspect. Rather it scores the performance of your entire website.
The primary selling point in this scenario is that WooRank also gives you advice on how to enhance the accessibility and speed of your website. Its proposals, in our opinion, are sound. To finish it off, you'll get thorough research on backlinks to see how well you're doing.
Overall, if you want a fast review of everything you're doing correctly and wrong on your website, even when it comes to SEO, this is an amazing tool.
Characteristics:
Examine the entire health of your website, including all the efforts of SEO.
Get instructions on how to improve the SEO of your website and deal with SEO issues.
Examine the authority of your domain.
11. Yoast SEO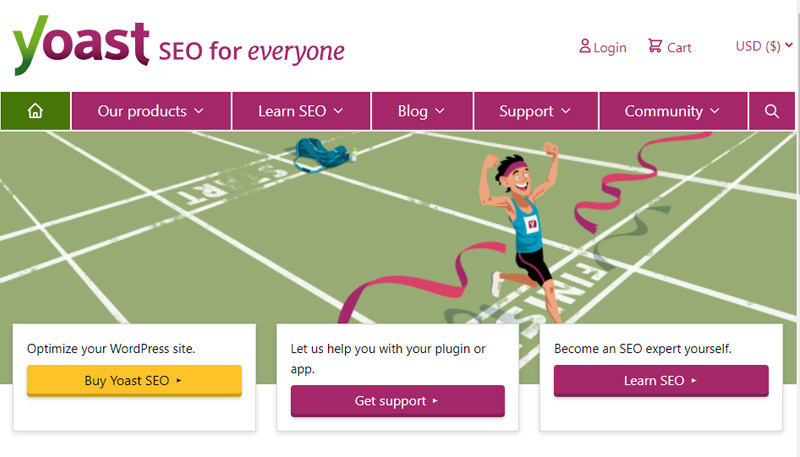 On this platform, you get a wide array of features to help your website rank well on the web page. Here, you can check the readability of your content and can specify canonical URLs as well to prevent Google from being confused by duplicate material.
Keyword optimization and the opportunity to preview sites on Google, Facebook, and Twitter are among the other features available. You'll also receive some content help with the updated version of the plugin because Yoast will recommend inbound links as you develop pages and articles.
Yoast SEO includes a large knowledge base to assist you in getting started. Furthermore, with the premium edition, you'll get a year of expert assistance from a team of experts.
Characteristics:
Make sure your content is optimized for relevant keywords.
Provide the information that search engines require to comprehend your content.
Stop matching content.
Helps in building sitemap and permalinks.
12. Ahrefs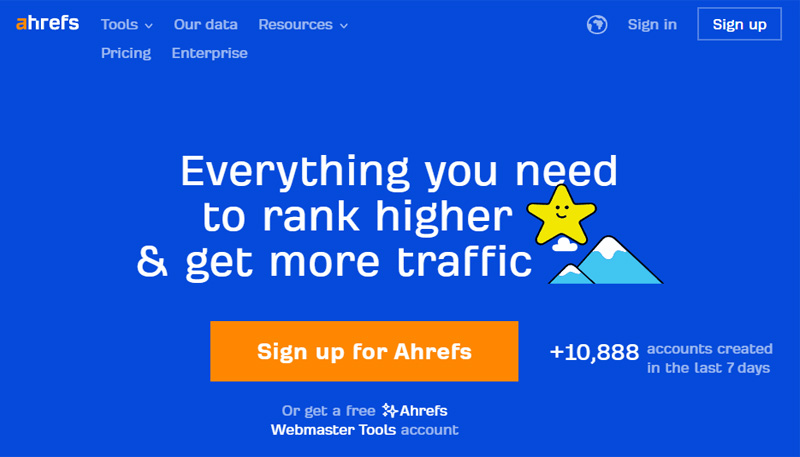 Ahrefs has a number of data optimization tools available. In reality, the same price schemes apply to all of its tools. Consequently, lets SEO professionals to not miss out on important features. You'll also gain access to the Ahrefs Academy, which is an online data source with a range of learning possibilities.
A content research tool is one of the services you'll have access to. You may utilize keywords to see which similar material has performed well on social media or in organic searches. You can keep records of all your projects with the Ahrefs platform's robust interface.
You'll also be able to uncover information that's relevant to your goal keywords and filter the results to see what's important.
Characteristics:
Examine your competitor's search rankings.
A competitive analysis tool packed with an extensive database.
Take advantage of 489 million keywords initiating from 155 keywords.
13. Screaming Frog
The SEO Spider Tool is a powerful crawler that can do a variety of optimization activities, provided by screaming frog. This covers the detection and correction of glitches and redirects.
Screaming Frog features several very useful tools if you run an online business. For instance, using CSS Path, you may utilize the crawler to collect data from the HTML pages of the website. This means you may obtain data on pricing, SKUs, and more using XPath or regex.
This tool may also be used to create XML sitemaps and link them to Google Analytics. Furthermore, Screaming Frog offers a rather full free edition, allowing you to test out the key features before committing.
Characteristics:
Examine the information and titles.
Check your website for broken links and fix them.
Find and eliminate duplicate content and pages.
14. Serpstat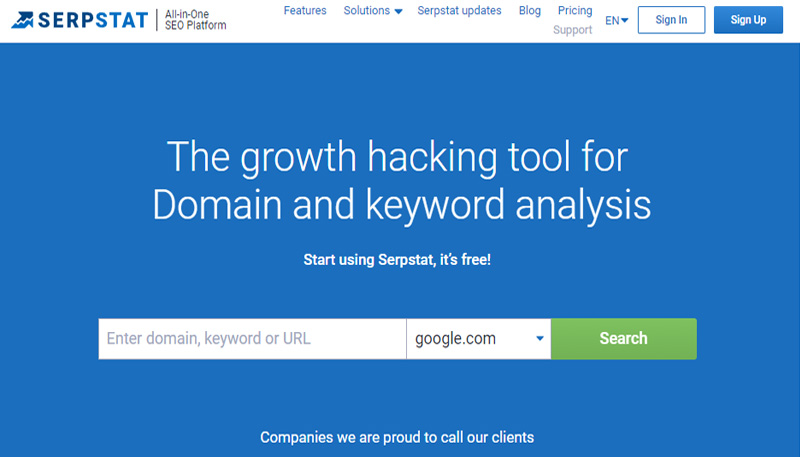 This is a relatively recent SEO program on the marketplace. It provides marketers with a set of data-driven analytical capabilities. You'll discover an SEO audit tool, a backlink analyzer, and competition tracking capabilities, among the other alternatives.
You may arrange your web pages into groups or individual projects with this project-oriented framework. All of this is then accessible via a well-planned control panel. From your task list, you may access any of Serpstat's capabilities.
When it relates to utility, Serpstat is similar to a Swiss Army knife. It may help you detect broken links on your website, figure out what's causing slow page loading times, and much more.
Characteristics:
Manges larger volumes of website analysis and monitoring
A well-built technical SEO audit tool for checking the fixing the errors.
An intelligent tool for enhancing your reach globally.
15. SEOquake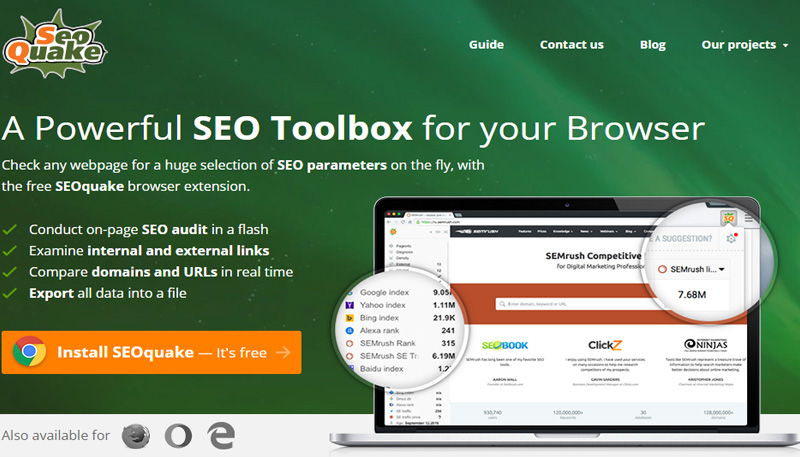 One of the best free SEO toolkits is SEOquake. This chrome extension is an SEO evaluator that performs on-page tests, assesses both internal and external links, and performs website evaluations to determine how you compare to your competitors.
Keyword density evaluation, a handy SEO panel, and an export option that helps you easily download and share information with critical members of your team are all features of this SEO analysis unit.
No tool performs technical SEO audits as fast as SEOquake in real-time. It'd diagnosis feature helps identify the issues and fix various SEO issues.
Characteristics: 
Export all your data through a downloadable format.
Make a relevant comparison of all your competitors in real-time.
Performs technical SEO audit in seconds.
Check the internal and external links.
16. Siteliner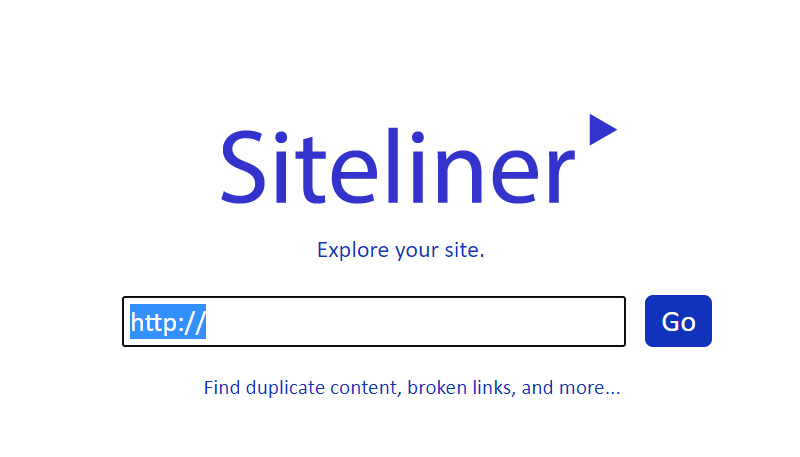 Siteliner checks your whole website for duplicate content, broken links, average page speed and size, and the number of inbound links per page, among other things. It also analyses your website with others so you can check where you lack.
On this platform, you can run the site checkup to find out the possible errors of your site and thereby take measures to rectify them.
The Duplicate Content table is the significant aspect here that Siteliner outperforms any other you've seen. It displays URLs, match terms, statistics, and pages in a simple and intuitive manner. Since it is intelligent enough to ignore
sites with no-index labels, it's safe to assume that the bulk of pages with a high number of no-index labels will require attention.
Characteristics:
Site analysis of broken links, duplicate content, and much more.
Provides a detailed report with percentages.
A simple and easy-to-use dashboard.
17. On-Page Writing Assistant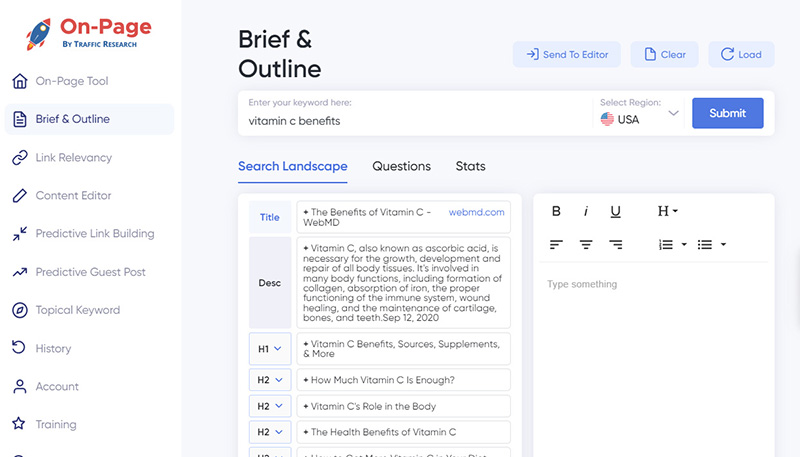 If you need one of the best writing assistant tools that help to optimize your content with better keywords, then you shouldn't miss the On-Page. This is the perfect alternative to SEO surfer that helps your content to rank your website on the top page of the search results.
Here, you will get the word recommendations relevant to your content to increase page ranking. First, put the topic on which you're starting to write, then you can get the average word count of the top-ranking pages so that you can overtake them easily.
While focusing on writing the maximum word length, you can use the recommended keywords given on the tool. With this easy-to-use platform, writers get a chance to enhance the quality of their content to derive the best outcomes in highly competitive markets.
Some of the tools suggest keywords that can reduce the ranking of your page, but our topical keywords research tool gives you keywords that focus on authority & relevancy for your actual content.
Characteristics:
100% money-back guarantee.
Identify the authority and relevance of the keywords you are using.
Predictive guest post feature to give your website maximum boost.
Identify the relevant & the disavow links made on your website.
Compare the pages of your website to that of others that are already
18. On-Page SEO Toolkit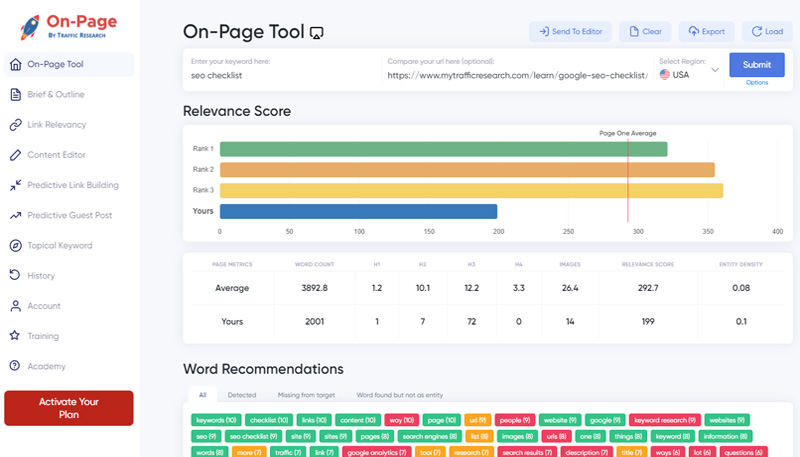 The features available on this platform cater to all the needs of an SEO pro by giving relevant insights on the number of impressions, clicks, etc. Not only does it help in conducting SEO analysis for the project, but it also helps you to optimize your content with more relevant keywords.
Furthermore, you can even compare your page to other competitors. This will help you find the flaws that your website might have and even gives tips or wayshow to remove such flaws. With such a good platform that keeps up with all Google's algorithms, you can surely get to the top within no time.
In this platform, you get so many features that you don't need to waste your money by buying any extra SEO tools. This is your go-to tool when you want to make a permanent ranking difference on your site.
Furthermore, the professionals who used our best SEO tool have seen outstanding results using this automated tool. They were able to take the website from Google's graveyard to the first place in the search engine. What more do you look out for in the tool? This gives you the benefits of everything from predictive guest posts scan to finding good topical keywords.
Characteristics:
Check out your link's relevancy.
Get a predictive link-building strategy for your website.
Compatible with every kind of website, including WordPress, Shopify, etc.
You can compare pages with that of others ranking on Google.
Why Use SEO Tools?
SEO tools eliminate the need for time-consuming keyword research and data analysis. Such tools enable you to find out what's functioning and what needs to be fixed in your SEO strategy. The best SEO tools will tell you how to heap up against your rivals and where your finest prospects are. You may also monitor search results across countries, locations, and languages.
Things will improve your website's ranking. If you administer many websites, SEO experts can let you assess their efficacy on the fly. Many businessmen who manage many websites end up painstakingly inputting a lot of data into files and analyzing it. This, meanwhile, rapidly becomes burdensome, raising the risk of
fraudulent disclosure. SEO tools, on the other hand, might just save you days of work and offer exact statistics with a single tap.
Conclusion
Everyone wants their website to rank at the top. But, to perform that, you need varied tools that help you to get to the top. Here, we have stated many helpful SEO tools that make your work easier. From finding the relevant keyword for your website to looking for errors that your website might have, these SEO tools help in all your SEO tools.
When it pertains to maintaining a website, SEO is only one portion of the whole process. Nevertheless, if you would like your website to obtain the traffic it deserves, you must pay close attention to this section. And besides, if your blog articles and material aren't structured, search engines simply do not care how much time you spend on them.
So, are you willing to increase your website's results?
To boost your Google rankings, you may use a variety of tools. Every tool given in our list offers a variety of free SEO tools for determining how search engines perceive your website, while some permit you to conduct specialized keyword analysis.
We propose the On-Page SEO Toolkit and writing assistant for beginners since it is one of the simplest and most economical solutions to increase your site's rankings. If managing SEO on your own seems daunting, consider using On-Page, a go-to SEO tool to level up your SEO game. With this platform, you can make sure that you're using the relevant keywords for your website, that your content is fully optimized with the relevant keywords, etc. You will not lack in any of the niches of SEO and will be left with the only opportunity of taking your website to the top.