Copy.ai Alternatives for Automated Content Creation
Picture this: it's 3 am, you're on your fifth cup of coffee, facing a blinking cursor that's almost as tired as you are, and your content deadline is mere hours away. The pressure is intense but fear not! As we continue to traverse the brave new world of AI-driven content solutions, you don't have to face these nail-biting moments alone. We bring you these amazing Copy.ai alternatives that will take your automated content creation game several notches higher – say goodbye to writer's block and hello to boundless creativity!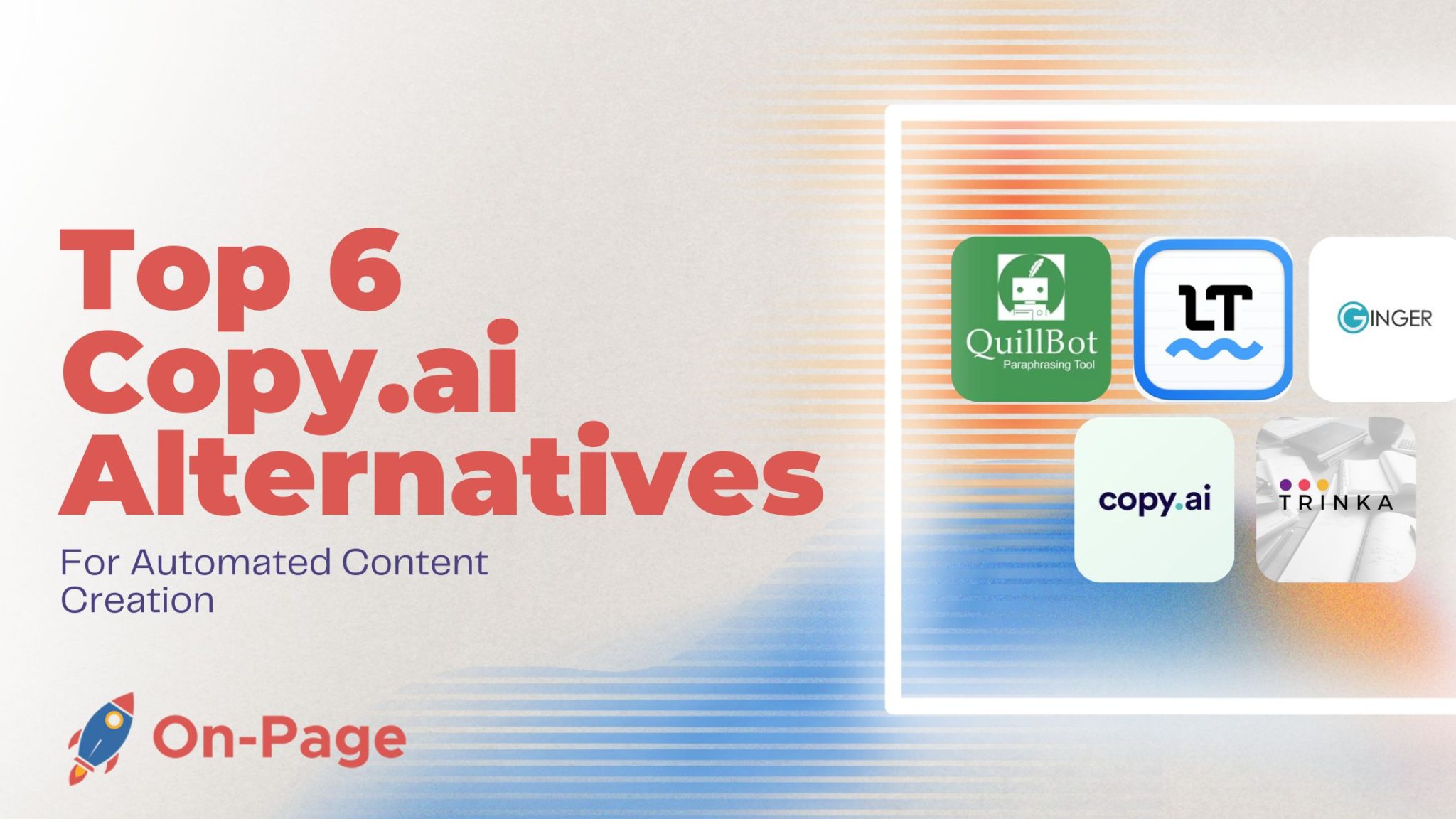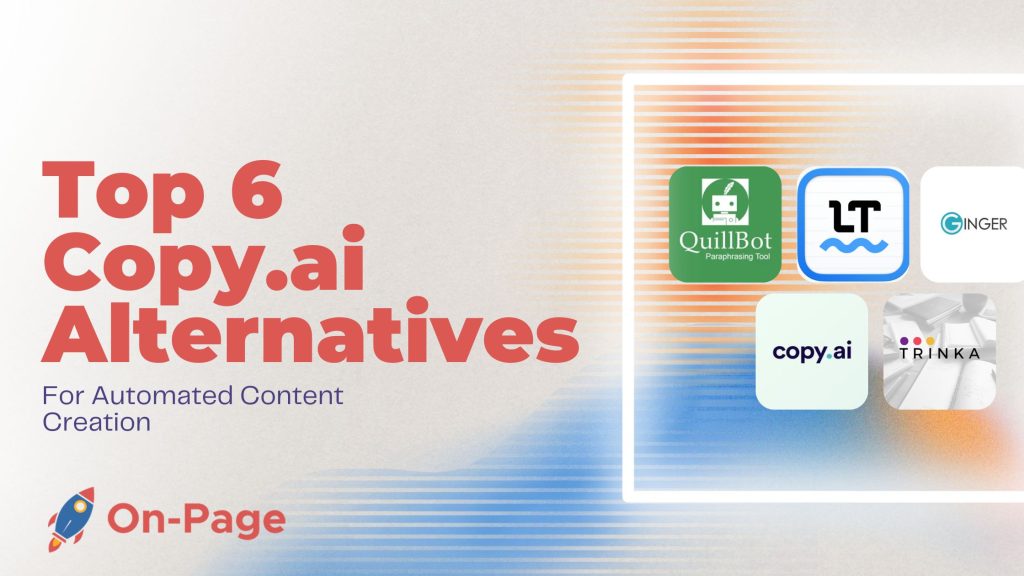 Our website provides an updated list and review of the top Copy.ai alternatives available on the market. This includes Ginger, QuillBot, LanguageTool, Linguix, Trinka, Jasper.ai, Copysmith.ai, Writesonic, Rytr, NeuralText and other options that can be compared side-by-side based on features, pricing and user reviews. By exploring these alternative writing assistants, businesses can find the one best suited for their specific automated content creation needs.
Top-notch Copy.ai Alternatives
Copy.ai has been known as one of the leading AI-powered writing assistant software for automated content creation. However, many other alternatives compete in the market, providing various features and services to consider.
Just right off the bat, Stealth AI Writer is an unbeatable option when it comes to creating all sorts of content–from blog articles, product descriptions, landing page copies, and more. Every piece of content is guaranteed 100% unique, useful, and optimized to get traffic.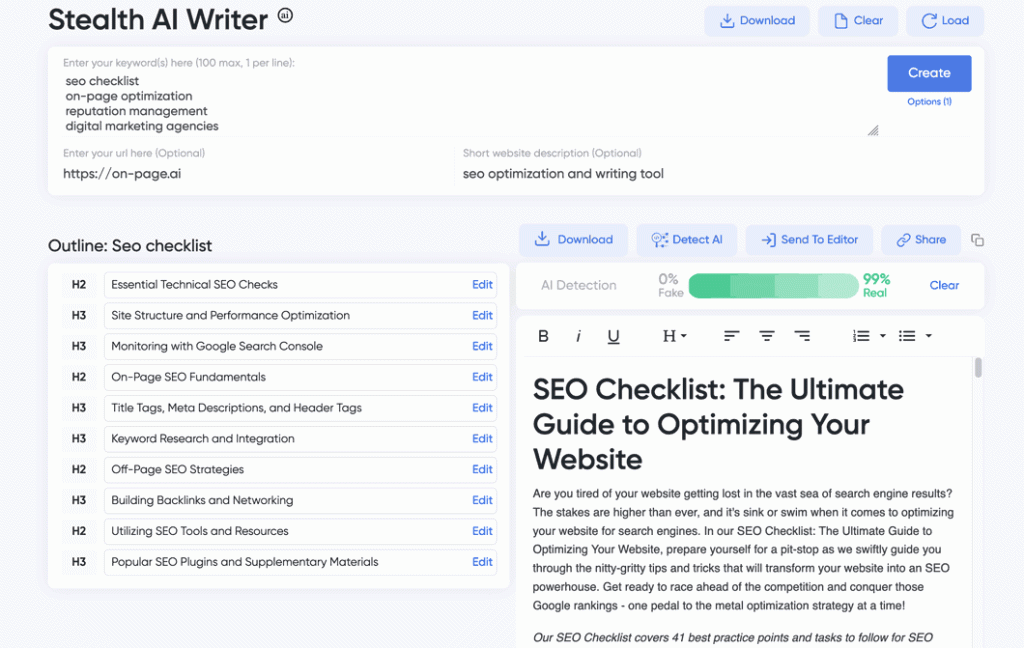 But here are some top-notch Copy.ai alternatives that can make a difference in your content creation process.
This alternative offers a comprehensive set of content creation tools powered by GPT-3. Writesonic promises to help users create unique, high-quality, and SEO-friendly content without putting too much effort into it. What sets Writesonic apart is their focus on long-form content creation, which is often a time-consuming process for marketers and businesses. With Writesonic, users can easily generate blog posts, product descriptions, ad copies, landing pages, and more with just a few clicks.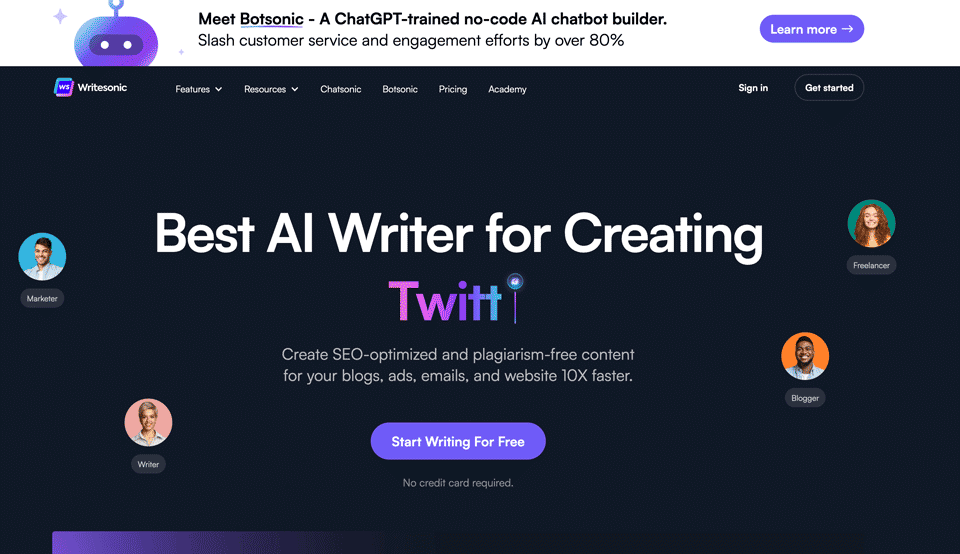 Rytr also leverages GPT-3 to provide an AI-powered writing assistant for content creation and marketing teams. However, what makes Rytr different from other competitors is its emphasis on conversational AI. Rytr allows users to generate chatbot scripts, email templates, and social media messages with ease. Rytr also provides numerous customization options to adjust the tone and style of your copy based on your brand's voice.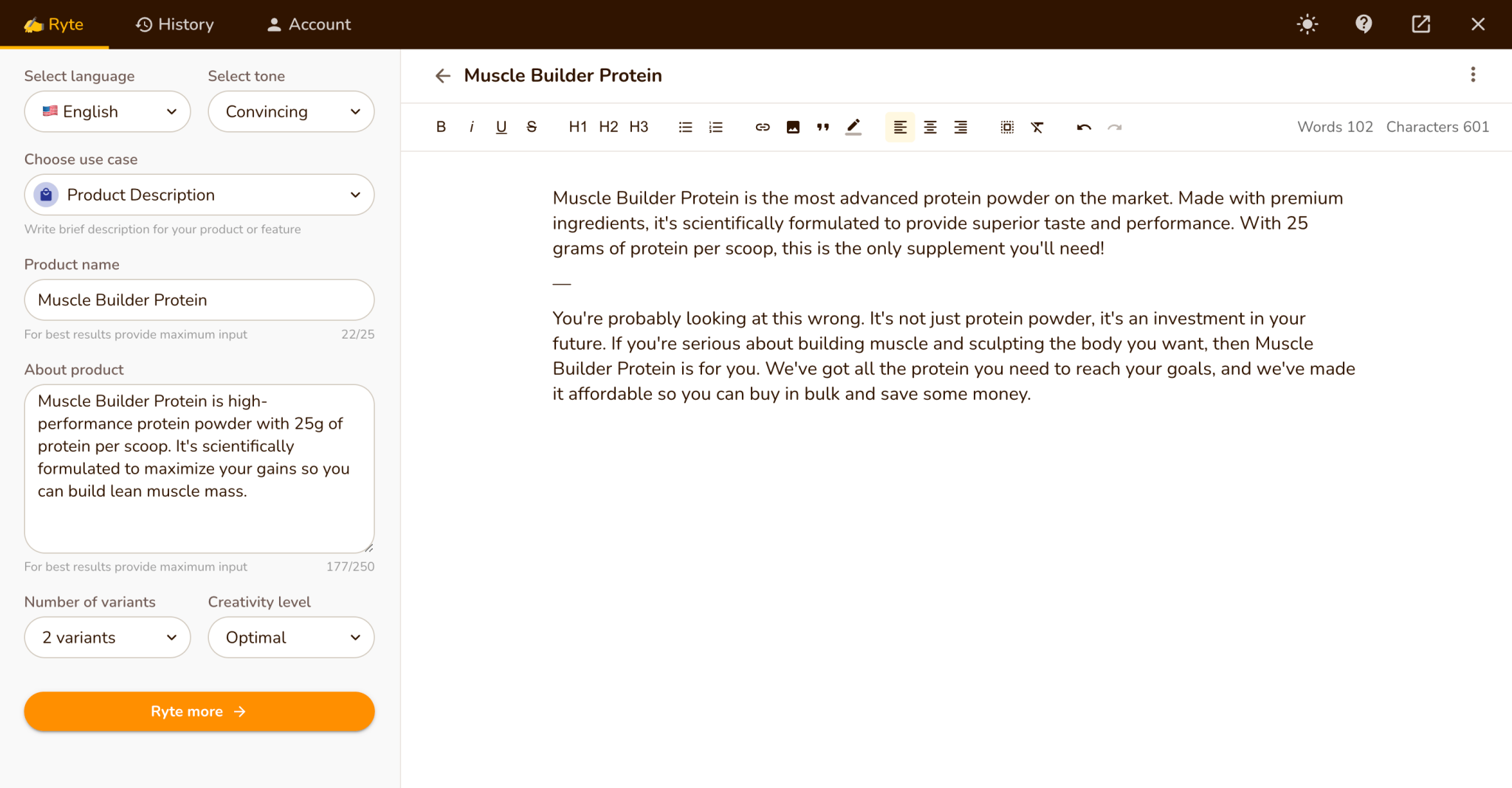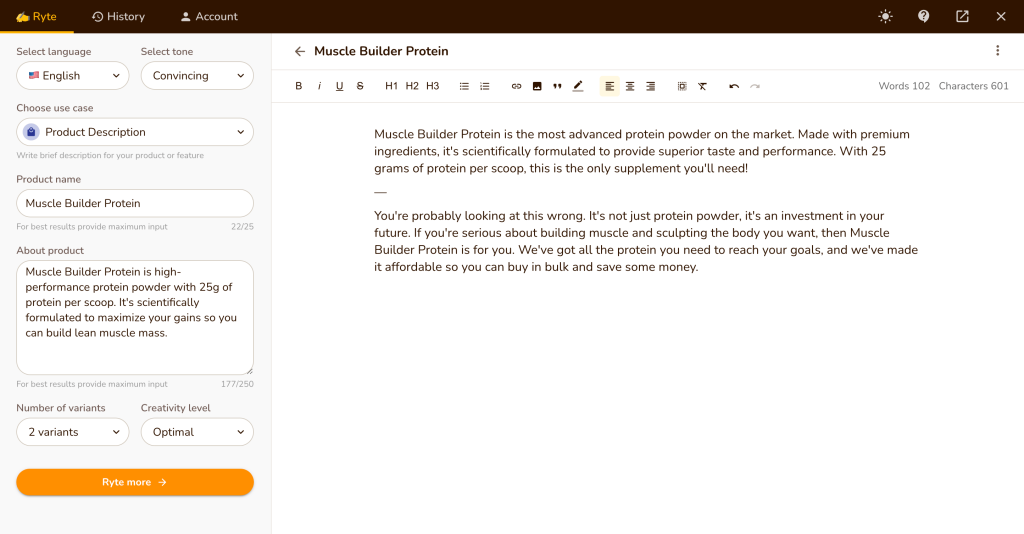 While Jarvis.ai (formerly Conversion.ai) may share some similarities with Copy.ai in terms of features and functions, there are striking differences between the two. Firstly, Jarvis.ai focuses more on copywriting tasks that require creativity rather than automation such as ad copy or social media posts. Although it is still capable of generating blog articles, it's not its strongest point compared to the other Copy.ai alternatives.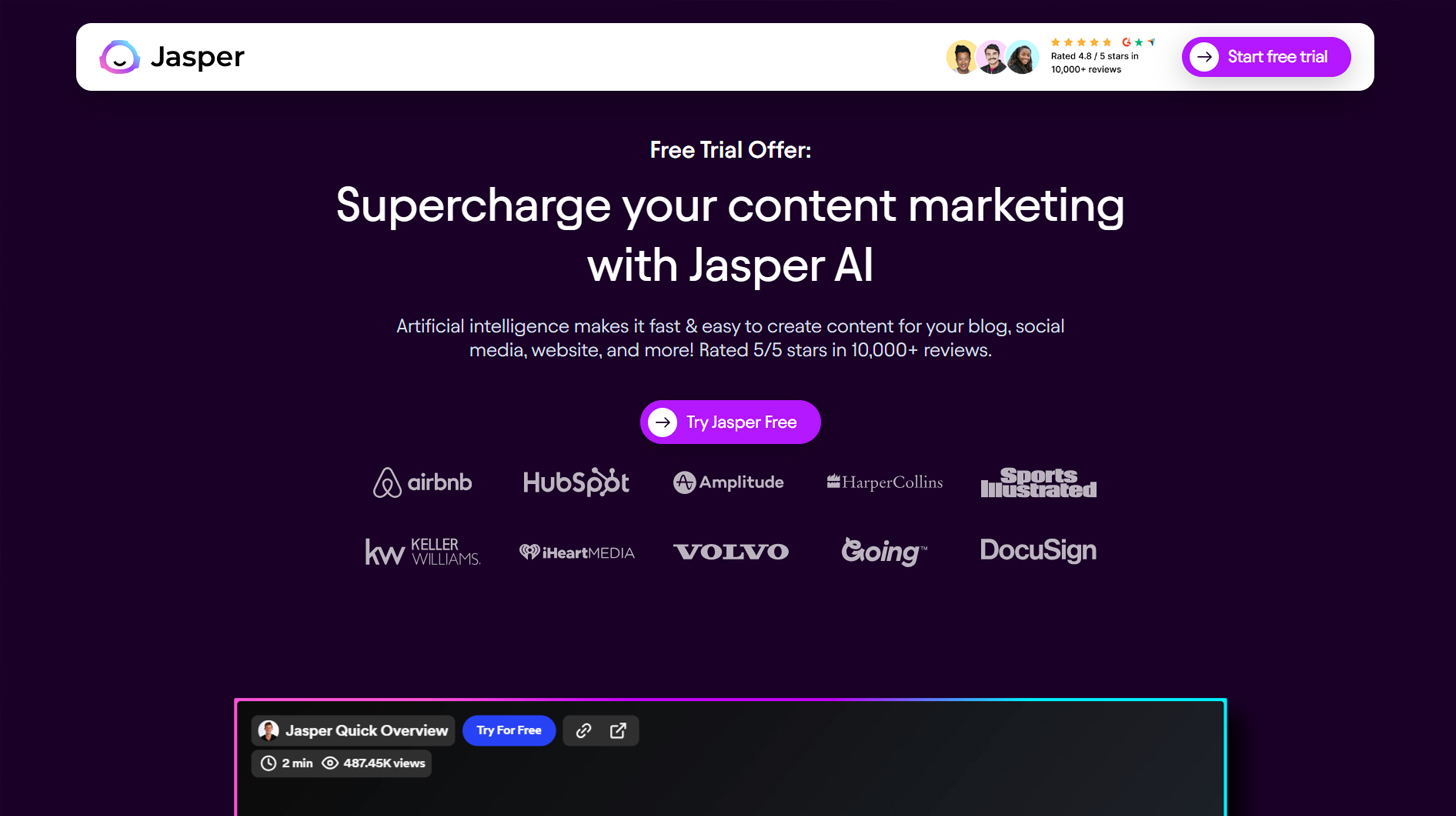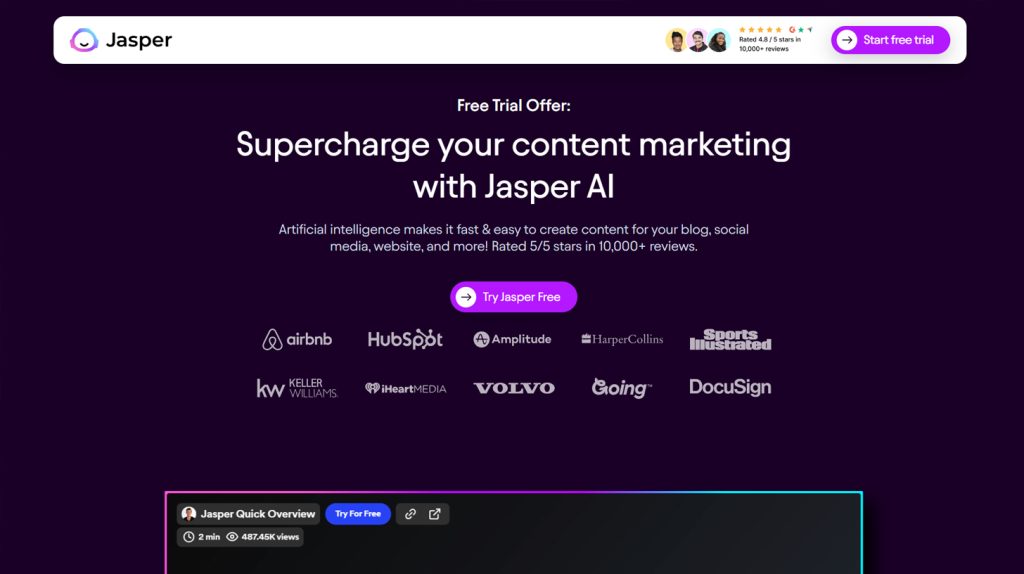 For those who seek a more specialized solution for e-commerce businesses, Copysmith.ai would be an excellent alternative choice. Copysmith.ai offers features such as a product description generator, automatic landing page creation, and eCommerce email templates. With its narrow focus on specific writing tasks, Copysmith.ai's AI-powered writing assistant can save more time in generating quality content suitable for e-commerce purposes.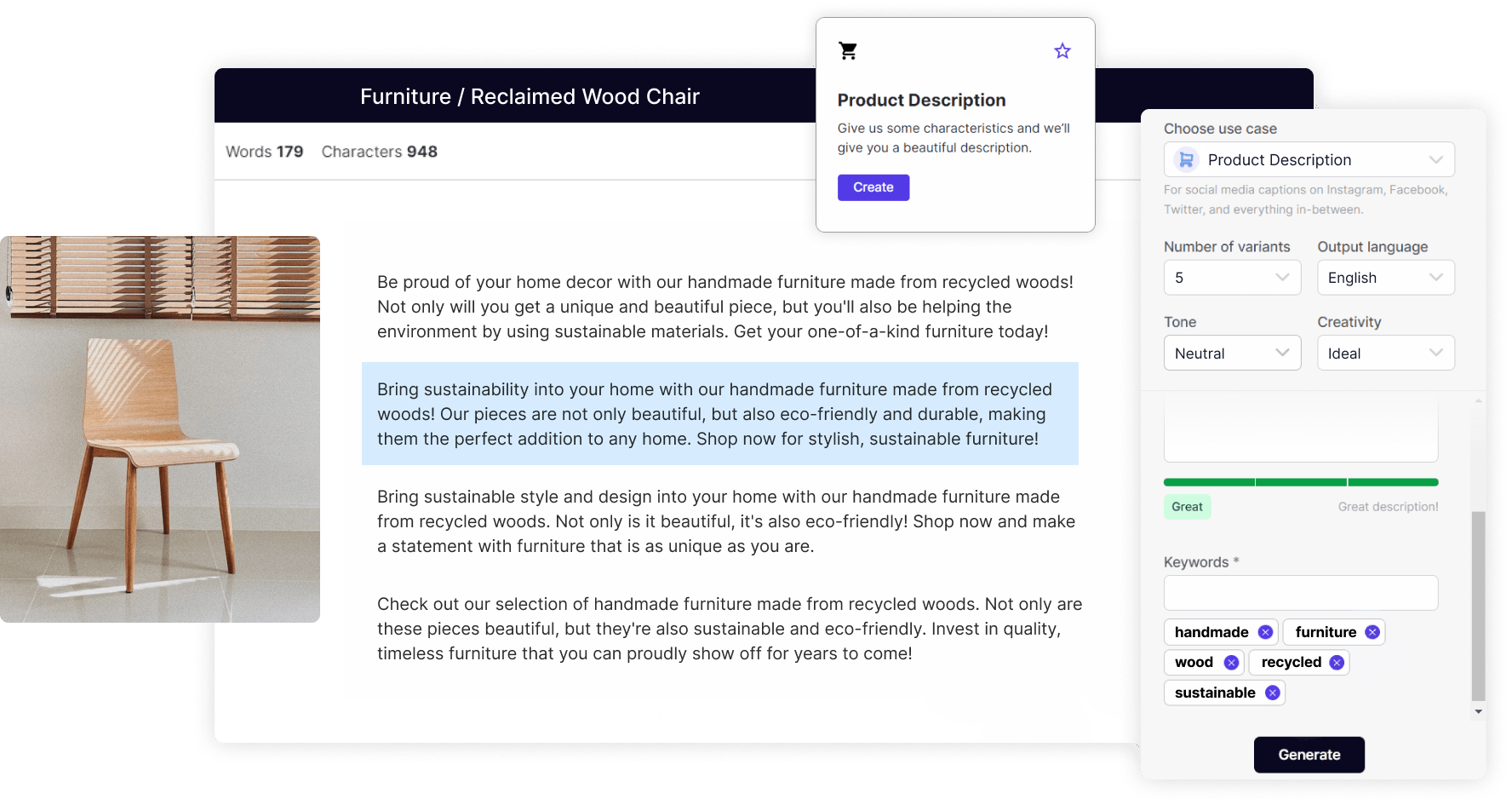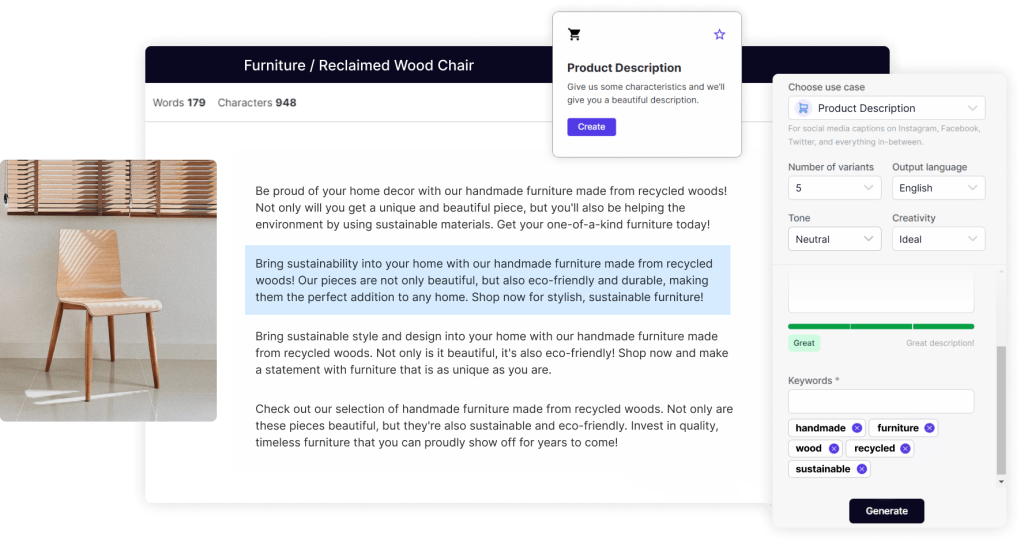 Regarded as one of the most affordable writing assistants, Linguix corrects sentences and makes them clearer. It also uses Natural Language Techniques to understand the context of your copy. One of its standout features is the tone detector, which analyzes your text and suggests changes to make it sound friendlier or more professional based on user input. With its user-friendly interface and easy-to-use features, Linguix is an excellent Copy.ai alternative for businesses looking for a budget-friendly option.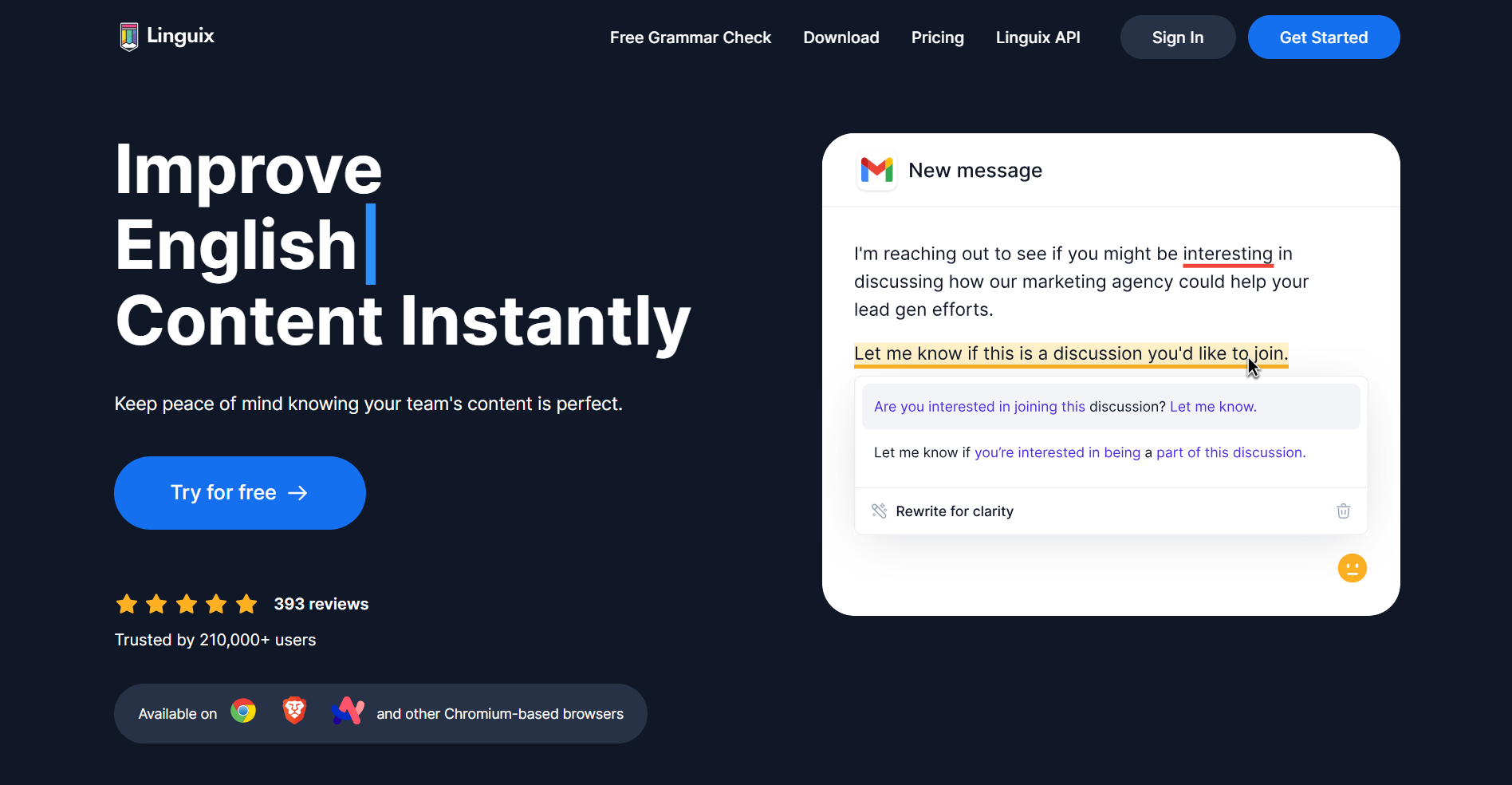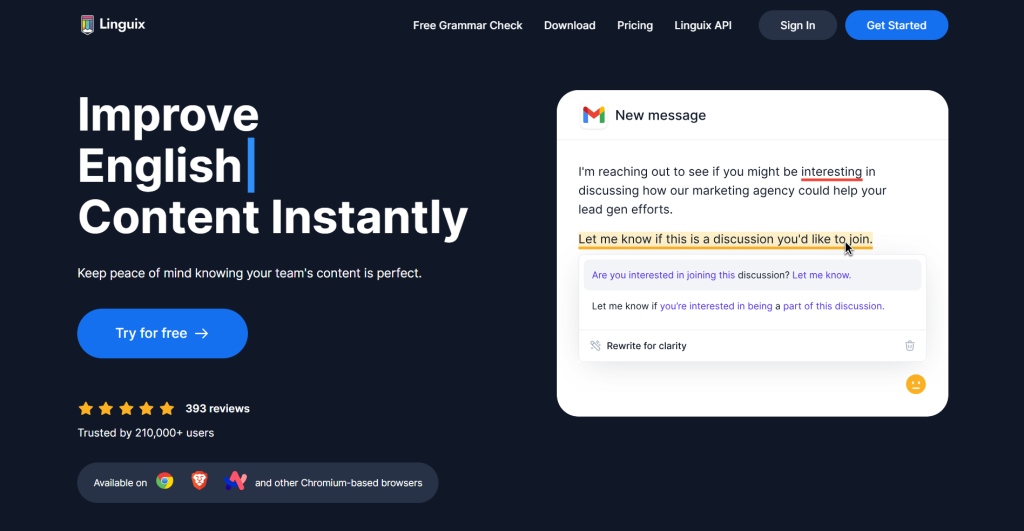 Like Copy.ai, Ginger offers online proofreading services with suggestions for changes in grammar, style, spelling, and includes a personal dictionary and quality scoring facility. While Ginger provides similar features compared to other competitors in the market, what sets it apart is the focus on contextual spelling correction.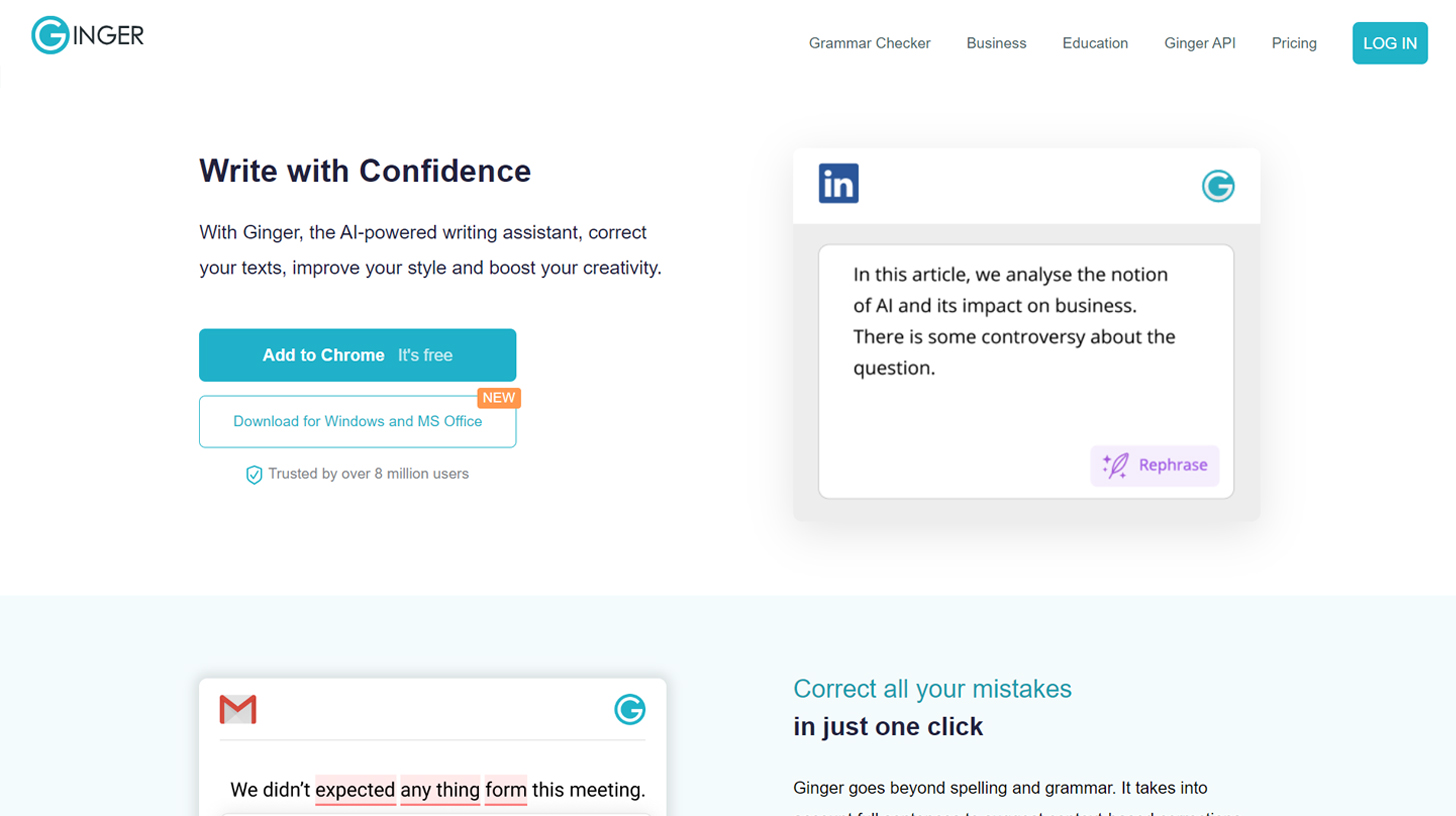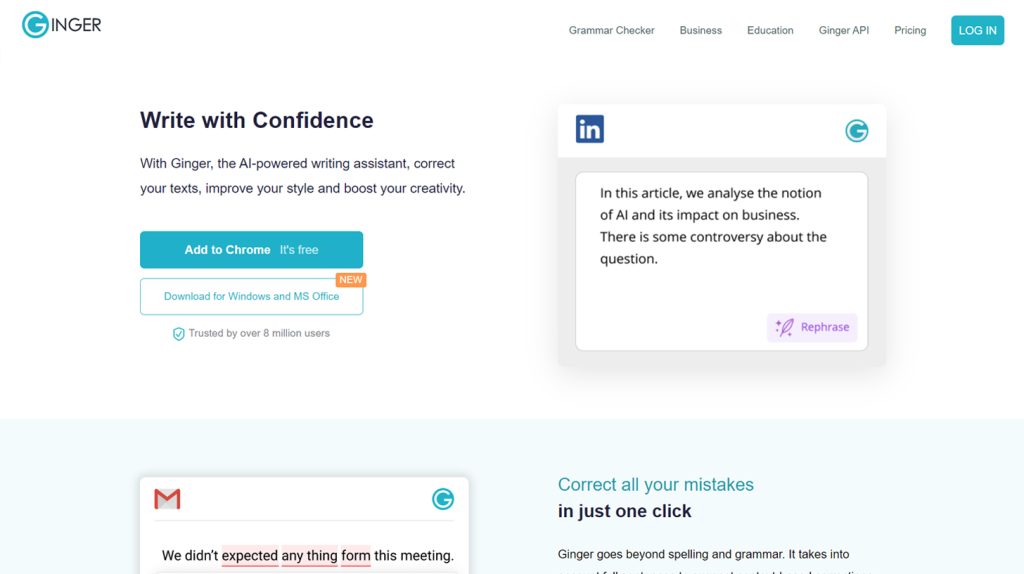 Ginger's strength lies in its ability to detect and correct errors based on context better than other competitors like Grammarly or LanguageTool. This feature enables users to reduce embarrassing typos or mistakes while still maintaining the original meaning of their content. Another standout feature is its vast database of synonyms and expressions that can help users find more compelling words without compromising their intent.
However, one drawback of Ginger is that it doesn't offer a free version, unlike competitors like Grammarly and LanguageTool. Other alternatives such as QuillBot and Copy.ai offer features like automatic paraphrasing and more affordable plans with similar capabilities to Ginger.
In the realm of AI-powered writing tools, QuillBot is recognized for its paraphrasing capabilities. With this tool, you can rewrite sentences, paragraphs or entire articles while maintaining the meaning and tone of the original text. This feature makes QuillBot an excellent choice for anyone who needs to create new content from old material.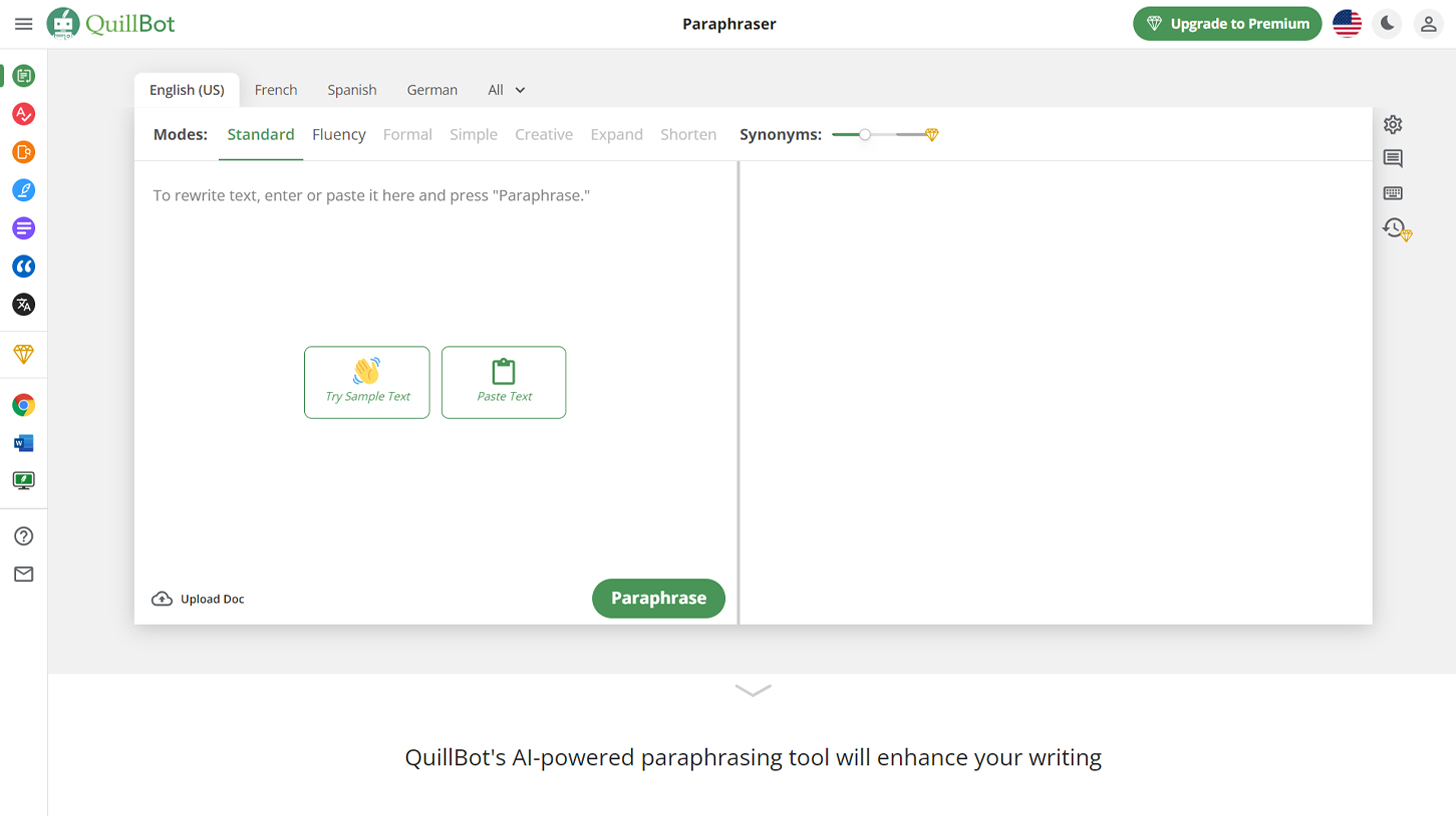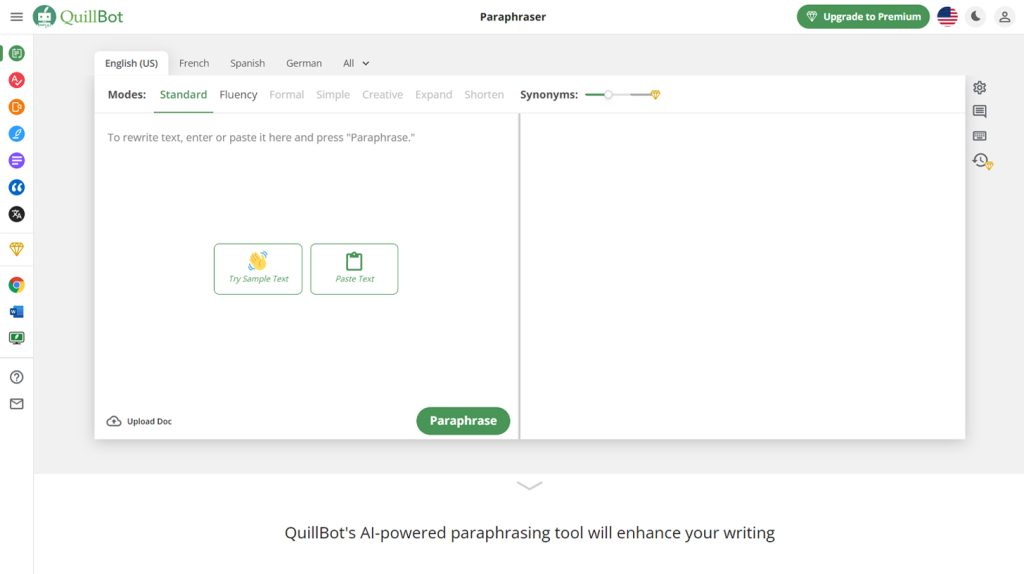 For instance, let's suppose that you have an article that discusses a particular topic in great detail but includes a lot of technical jargon that may be confusing to your target audience. QuillBot can help you rephrase the content so that it becomes more approachable and easy-to-read, without sacrificing the accuracy of the information.
Furthermore, QuillBot offers vocabulary enhancements and error alerts to improve the quality of your writing with each algorithm run. The application uses AI technology to scan hundreds of thousands of documents online. It learns from them by tracking how people use language and then applies those learned principles to enhance your writing.
Although QuillBot is highly effective at rewriting text, some people have expressed concern about the accuracy of the automatic paraphrasing feature. Like all software that relies on AI technology, QuillBot isn't perfect, and there may be some errors in its output.
On the other hand, an excellent paraphraser and rewriter alternative that you should check out is StealthRewriter. This AI-powered rewriting tool not only makes your content unique and a lot better than the original but also makes it undetectable by other AI tool detectors.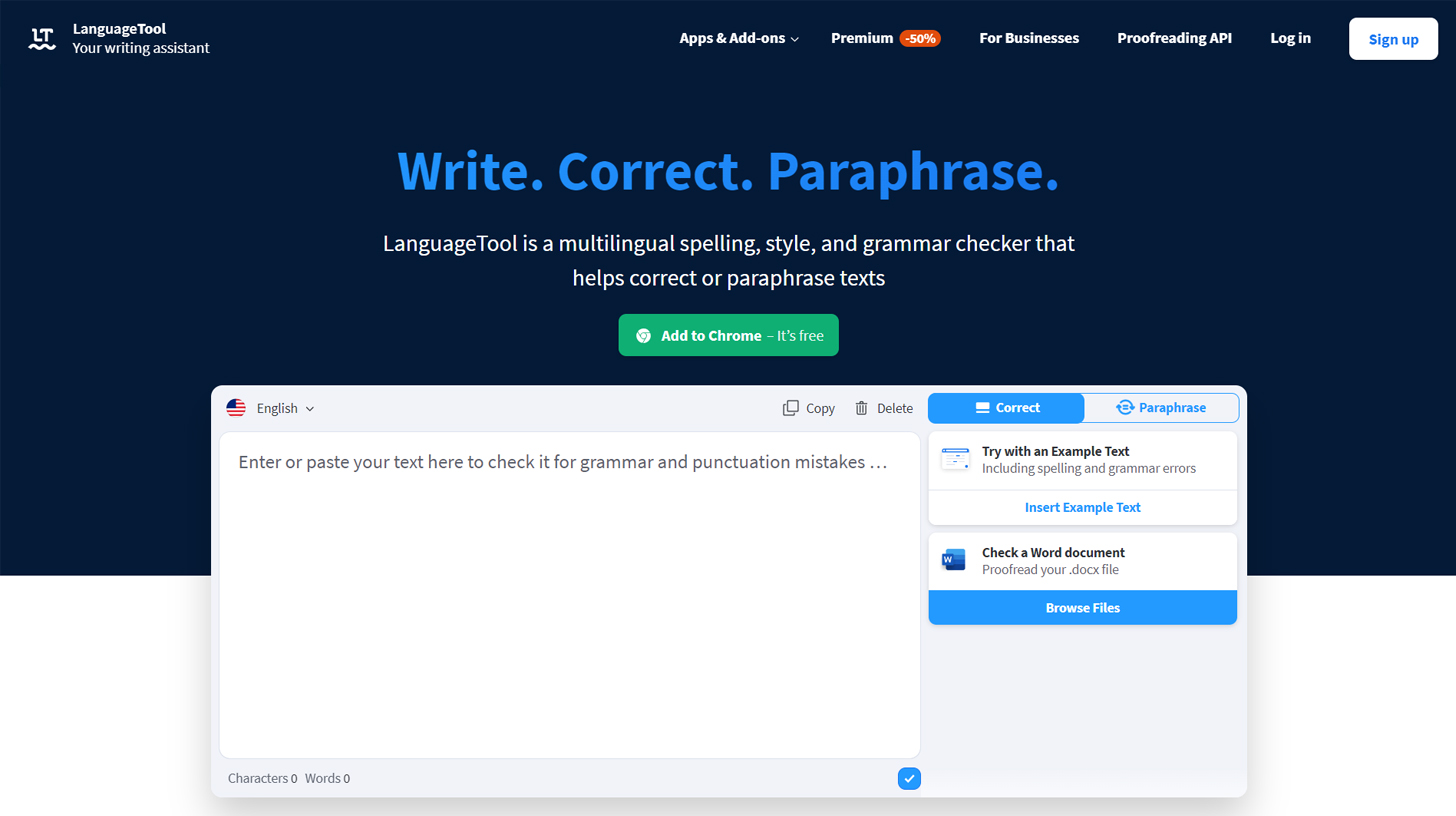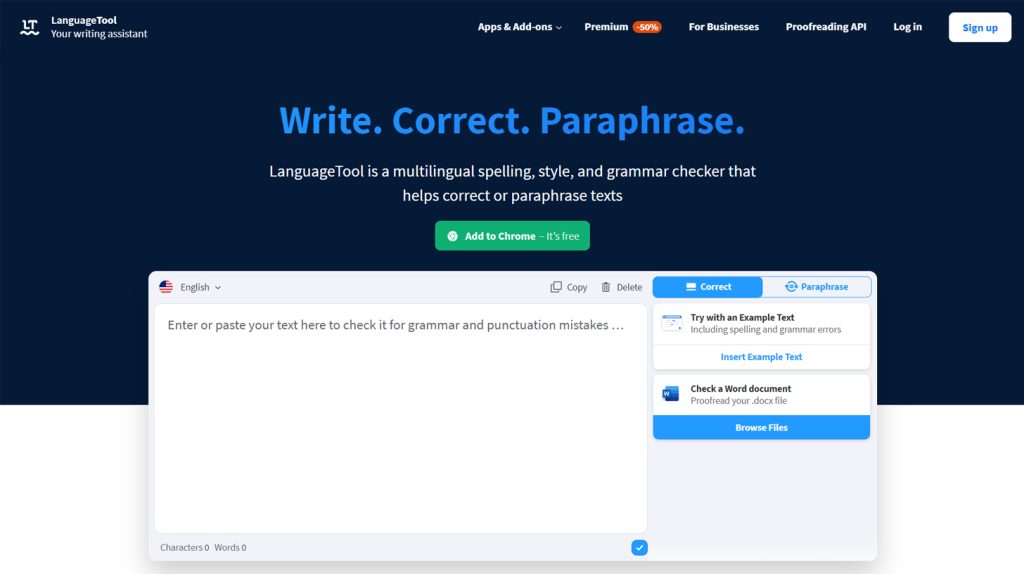 If you're looking for an online proofreading tool that can help you identify grammar, spelling, and stylistic mistakes in your writing, LanguageTool is an excellent choice. It's been developed by a team of professional linguists and software engineers who have worked tirelessly to ensure that the software matches the high standards expected by both individuals and businesses alike.
For example, LanguageTool doesn't just check for general spelling errors. It also checks for contextual errors like misplaced commas or incorrect tenses. This ensures that your final content is concise and grammatically correct.
Furthermore, unlike other proofreading tools that only offer basic support for common languages, LanguageTool supports more than 20 languages! This means that non-native English speakers who would like to create content in their native language do not need to worry about minor grammatical errors. With LanguageTool's advanced algorithms detecting errors has never been easier.
In many ways relying on a proofreading software is similar to having a backup plan while operating in our day-to-day lives – it protects us against unforeseen circumstances. Opting to use a reliable tool such as LanguageTool saves you time and money from manual proofreading, brings convenience to your work processes all whilst ensuring a final polished product with proper grammar.
If you're looking for a Copy.ai alternative with a built-in grammar and spelling checker + search engine optimizer, then On-Page.ai is your best bet. This content optimization tool can effortlessly and effectively generate articles and other content pieces about your business or niche with just a few clicks. All you need to do next is watch your ranking increase tremendously.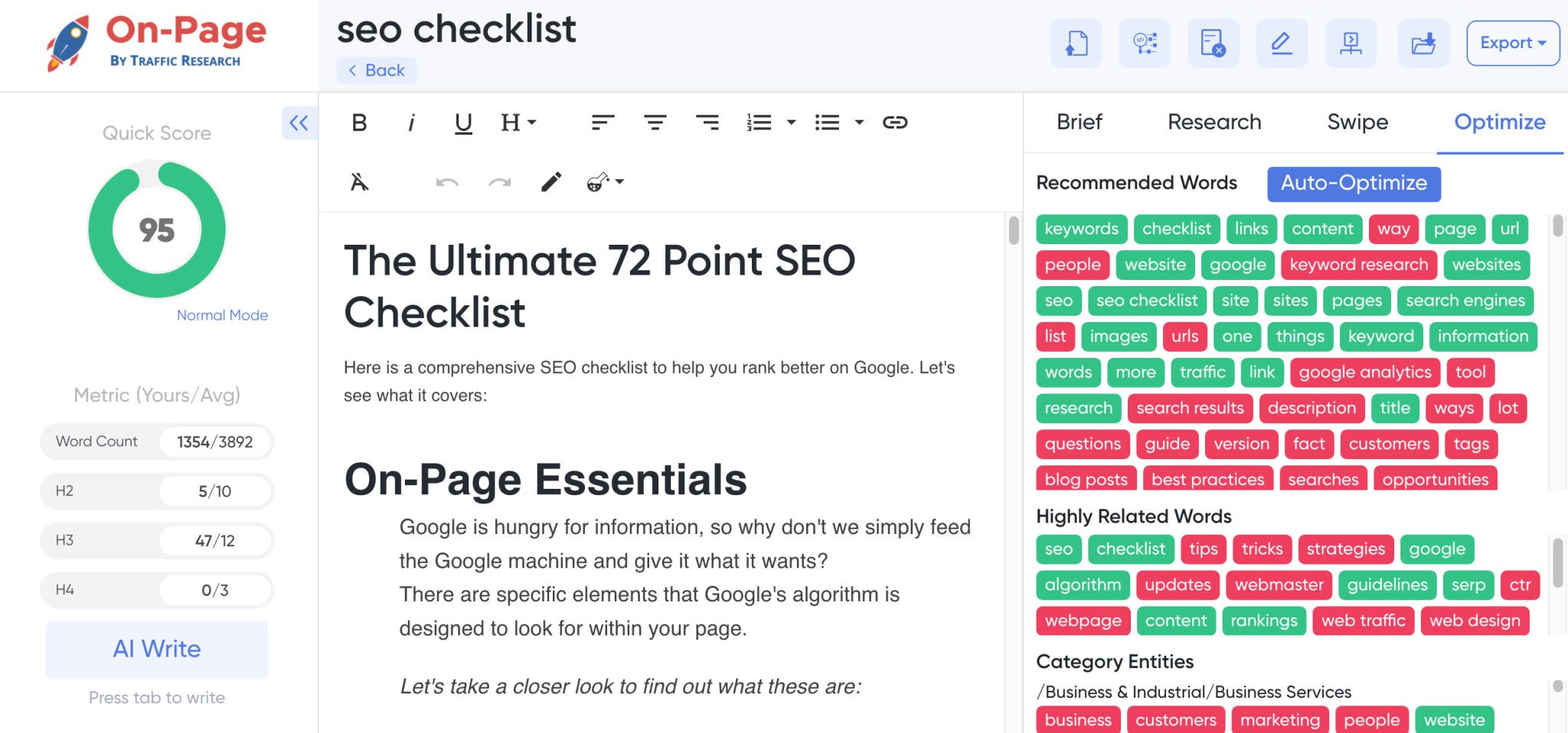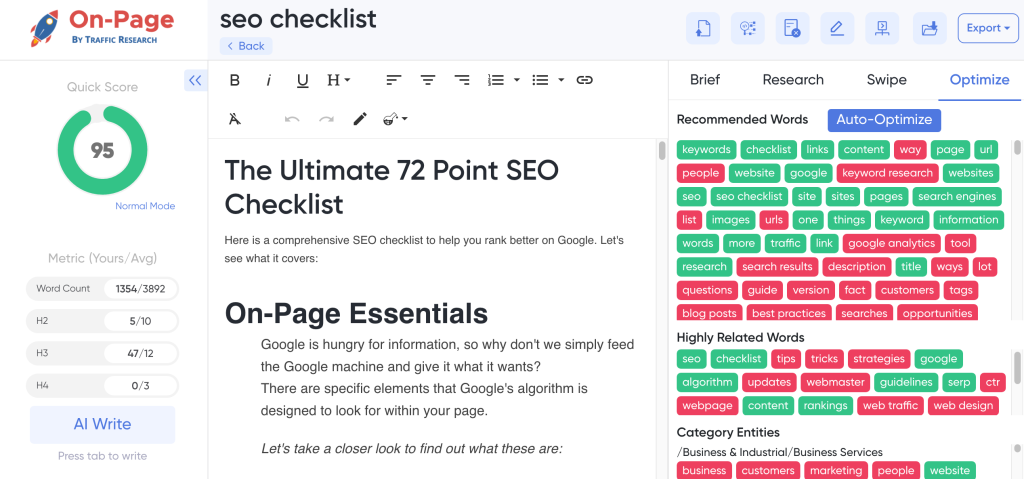 In a survey conducted by SaaS Reviews in 2022, it was found that 65% of respondents who considered AI writing tools had explored at least one alternative to Copy.ai for their content generation needs.
According to a 2023 market analysis report, the top five alternatives to Copy.ai, based on user satisfaction and feature offerings, were Jasper.ai, Copysmith.ai, Writesonic, Rytr, and NeuralText.
A study published in an e-marketing journal in 2023 estimated that AI-powered writing assistant tools like these alternatives can increase content creation efficiency by up to 45%, allowing marketing teams to allocate more time and resources for strategic initiatives.
Content Creation Features Comparison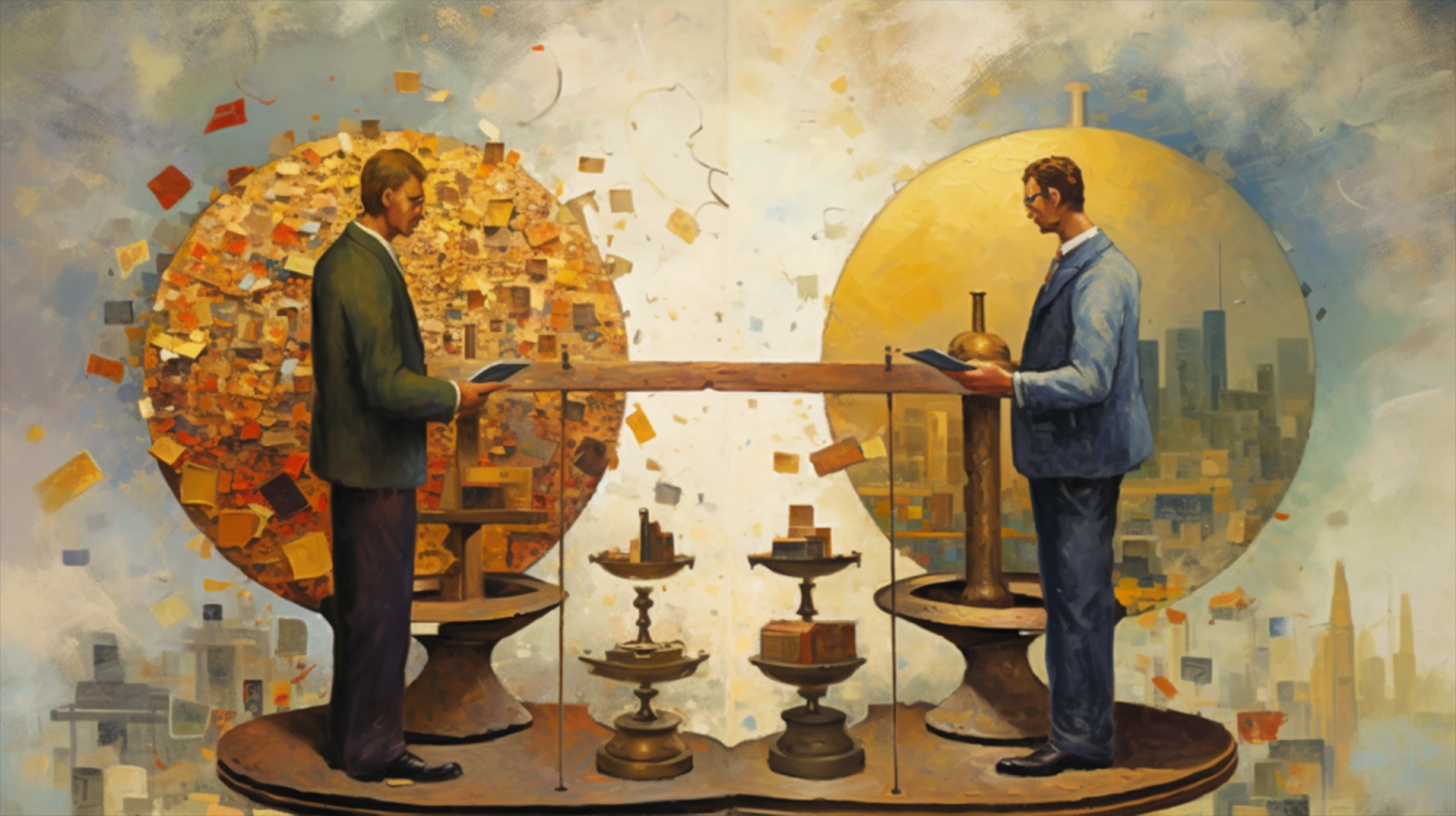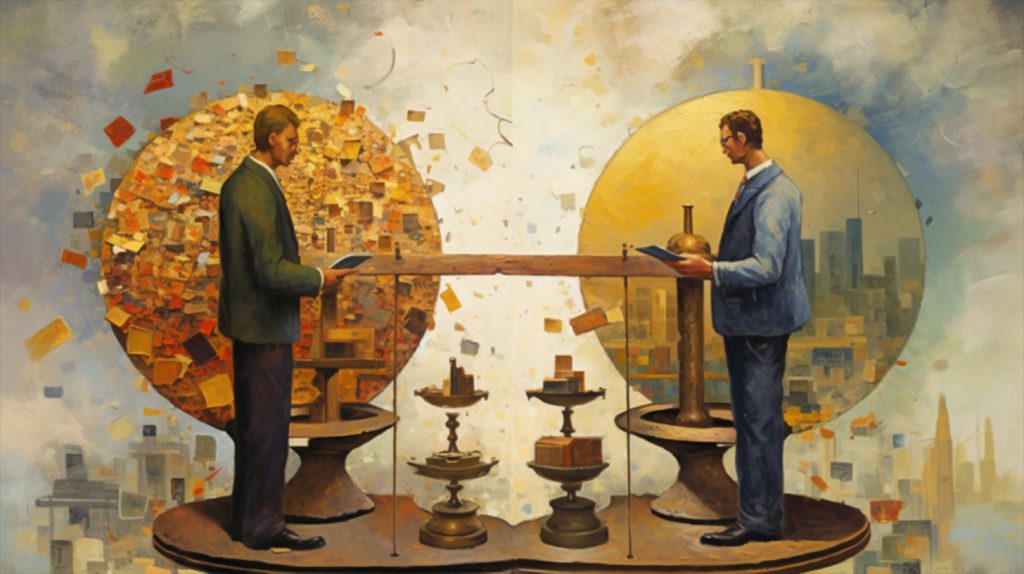 When it comes to content creation, Copy.ai and its alternatives are designed to make things easier for writers who want to streamline their writing process. Each of these tools comes with unique features that can help users create high-quality content quickly. In this section, we'll look at the key content creation features offered by these AI-powered writing assistants.
Ginger: Ginger's advanced AI algorithms and language modeling technology enable it to offer various content creation features such as text enrichment and rephrasing, making it an excellent choice if you're looking for a tool that can help you improve your writing.
QuillBot: QuillBot is a paraphrasing tool that uses AI to rephrase sentences while still maintaining the original meaning. This feature is incredibly helpful when you want to avoid plagiarism or when you need to rewrite existing content without losing the context.
LanguageTool: LanguageTool offers suggestions for changes in grammar, style, vocabulary, and spelling. Its advanced algorithms can also detect errors based on the context of your content.
Linguix: Linguix provides sentence-level grammatical corrections and real-time suggestions for improvement. It also analyzes writing habits and provides insights on how users can improve their style, tone, and usage.
Trinka: Trinka's AI-powered assistance provides sophisticated language checks, plagiarism detection, and writing analytics that identify areas where users may need improvement in their writing skills.
For example, say you run a travel blog that receives thousands of visitors each month but struggle with generating new ideas for posts that engage your readers. You may utilize one of these tools to generate new ideas in seconds instead of taking hours studying your competitors' websites or reading through social media feeds. With the right keywords inputted into these powerful software tools, you will receive numerous options of different article topics within minutes.
The main benefit of using any of the Copy.ai alternatives is that they can help automate some of the tedious parts of writing, like grammar correction. These tools have a range of features that make them ideal for use in different types of content creation. Now, if you want automatic optimization for your content, don't miss out on On-Page.ai's Auto-Optimize functionality, which further makes your content SEO-friendly.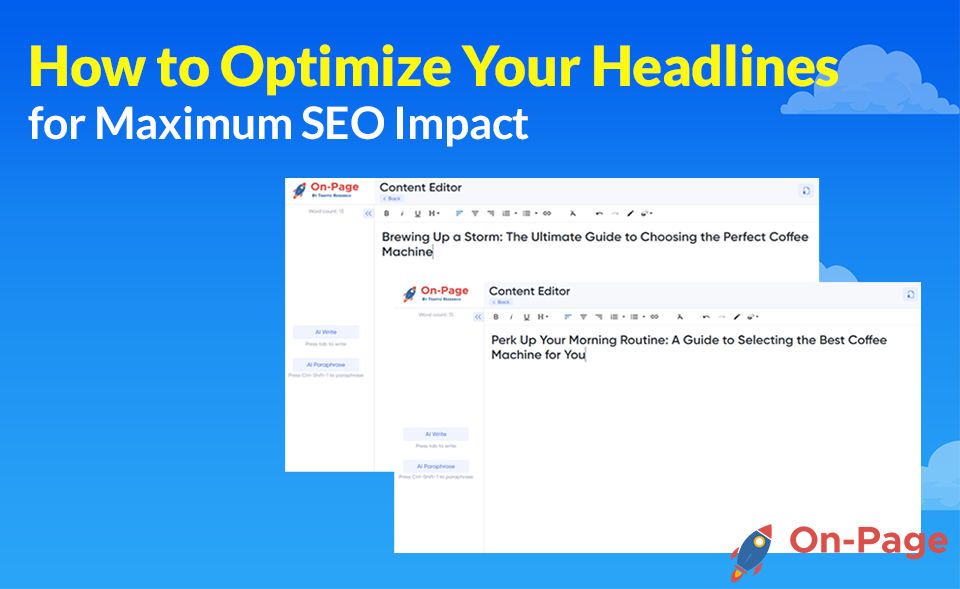 Some people argue that AI-powered writing tools such as Copy.ai's alternatives offer too much automation that may lead to poorly written content. However, others believe the tools can be very helpful for writers who want to cut down on their workload or take on additional writing projects.
It's like having a personal assistant that takes care of the little things so you can focus more on creating excellent content. This means less time and effort spent on fixing grammar errors or rephrasing sentences, giving you more time to research and develop exciting new topics for your site.
Proofreading and Grammar Check
Proofreading and grammar checks are essential for any writer who wants to ensure that their content is flawless. Grammatical mistakes and misspelled words can distract readers from the message you're trying to convey and even affect your website's search engine rankings.
Copy.ai: Copy.ai does not offer direct proofreading or grammar check feature. However, it utilizes advanced language models that enable users to generate coherent passages without grammatical errors.
Ginger: Ginger provides comprehensive proofreading services, including error alerts, sentence rephrasing suggestions, synonyms suggestions, and even translation into various languages.
QuillBot: QuillBot also provides abundant options for free proofreading services, making it easier than ever before to ensure your text is easy for people to read without any mistakes.
LanguageTool: LanguageTool offers online proofreading services designed specifically for businesses looking to improve their written communication. LanguageTool provides real-time feedback on grammar, style, and spelling errors.
Linguix: Linguix provides context-based corrections that are so precise you might think it was a real human editor. It flags squinting modifiers, dangling participles, and all the other common grammar issues writers deal with.
Trinka: Trinka offers various language checks, including basic English language writing checks for readability, grammar detection software for proofreading, and more advanced plagiarism checkers.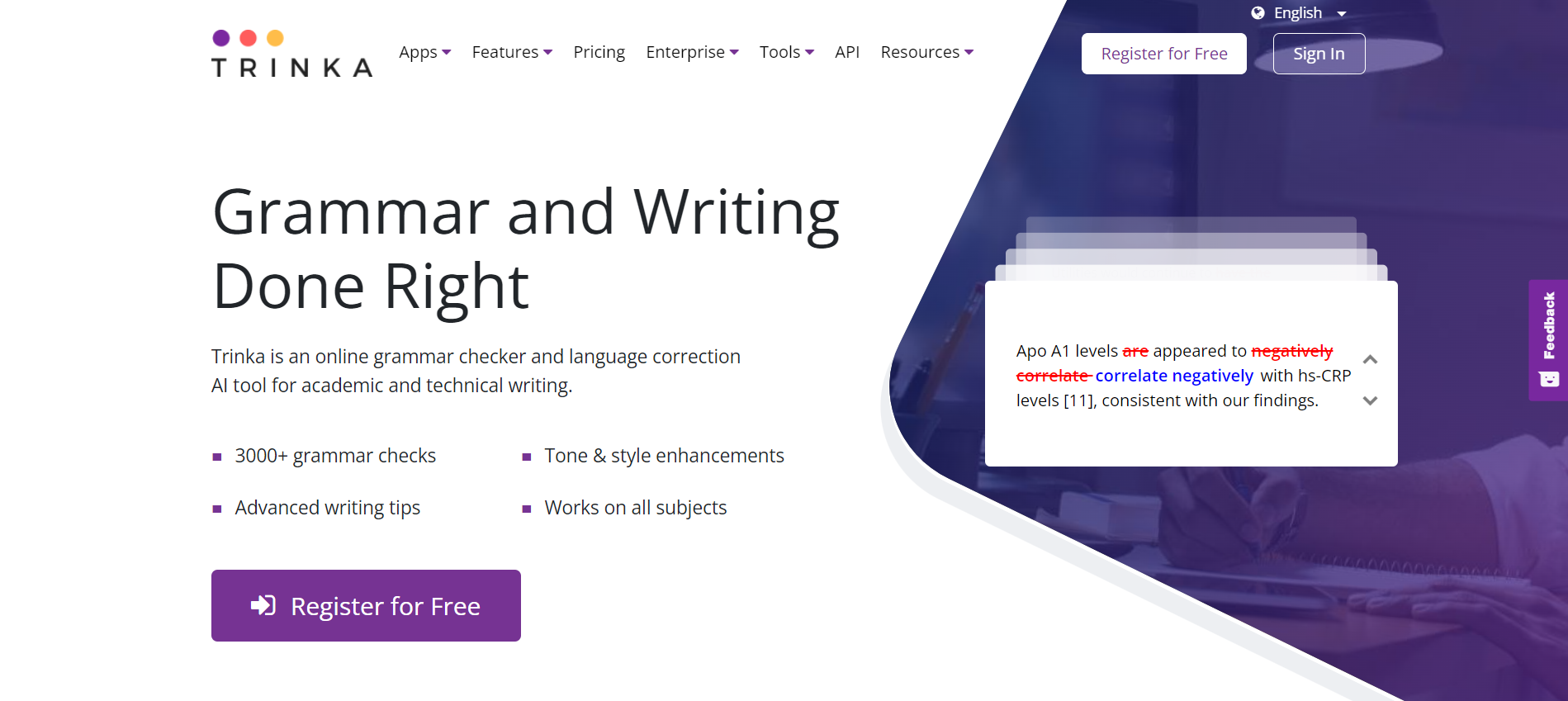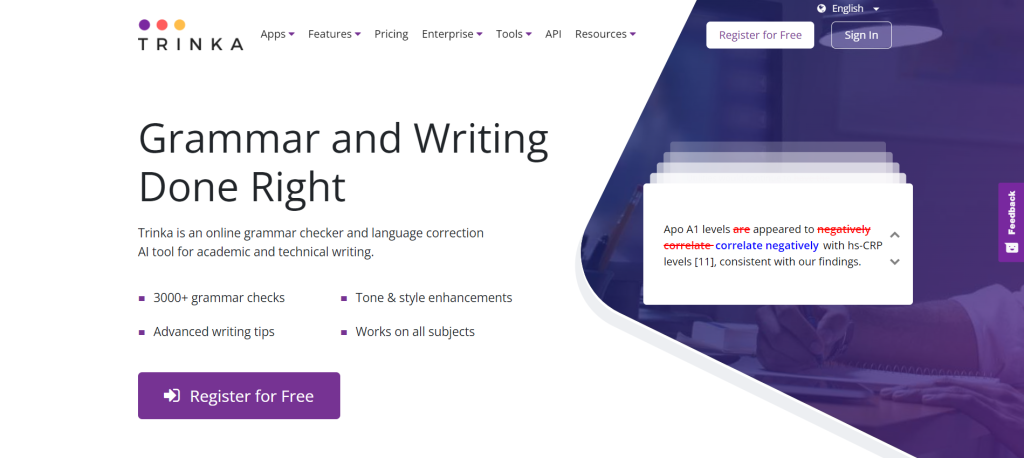 Let's not forget Stealth AI Writer. This powerful AI-writing platform ensures you'll not have any embarrassing grammar and spelling blunders, keeping you safe from the grammar police!
Imagine if you created a blog post about your brand or product that had several grammatical errors such as punctuation mistakes or wrong word usage. You could lose credibility in the eyes of your audience. Luckily, these AI-powered assistants like those provided by Copy.ai alternatives can help correct even the tiniest grammatical and punctuation mistakes that may slip past our eyes.
These tools' automated proofreading features have proven to be helpful since they save time and ensure that content is free of basic grammatical errors.
It's like having an experienced editor at your fingertips. With these automated proofreading features, you can edit your content quickly without worrying about missing crucial grammatical errors or spelling mistakes.
Paraphrasing and Vocabulary Enhancement
When it comes to content creation, paraphrasing and vocabulary enhancement are crucial aspects to consider. These tools can help create unique and engaging content, especially when you're dealing with repetitive tasks, like product descriptions or meta tags.
One of the top alternatives to Copy.ai is QuillBot. This tool offers highly advanced paraphrasing features that can rewrite text in any given style. QuillBot also includes vocabulary enhancements options to improve the wording of your content. With its AI-powered technology, this tool identifies any repetitive sentences and suggests synonyms to make your writing more diverse.
Another excellent option is Linguix, which uses AI algorithms to assist with grammar and style corrections. It also has a paraphrasing feature that helps rephrase your text while preserving the original meaning. Linguix's advanced language model enables the system to understand context and make recommendations for improvements based on word choice.
Similarly, Ginger Software is a popular grammar checker tool that provides a paraphrasing feature. Besides correcting errors, Ginger Software includes a wealth of synonyms and expressions to enrich your content further. The tool analyzes the sentence structure as well as the tone of the surrounding paragraph to ensure cohesive rephrased texts.
Imagine language interpretation like assembling pieces of Lego; you need to construct them so they all fit together perfectly creating one cohesive whole communicating exactly what you want to say. When constructing text online, paraphrasing acts in much the same way. You take an existing work or idea and rearrange it forming textual building blocks until it communicates what you intended originally but better.
Another great paraphraser and rewriter tool is the Stealth ReWriter by On-Page.ai. This nifty tool instantly rewrites your content to make it brand new and 100% unique. And yes, it passes plagiarism checkers, too!
With these alternative tools' powerful paraphrasing features, your writing will not only be clear but engaging too. Nonetheless, keep in mind that although these systems use powerful algorithms, only professional writers can decide whether their changes match their intent or degrade it.
Integrations and Compatibility
When it comes to integrating new writing tools into your workflow, seamless compatibility is essential. With that in mind, here are the top 4 Copy.ai alternatives.
Jasper.ai
Jasper.ai offers useful integrations with Surfer SEO, Grammarly, and Copyscape making it a competitive alternative. Integration with Surfer SEO means you can optimize your content with relevant and target keywords without worrying about the issue of overoptimization while simultaneously checking for plagiarism through its integration with Copyscape.
Copysmith.ai
Copysmith.ai may not have an extensive set of writing templates, but it offers robust integration possibilities to e-commerce businesses. Besides working with Instagram and Facebook ads and product descriptions, it also offers collaboration tools useful for teams. Moreover, Copysmith.ai is compatible with numerous platforms like Shopify and Magento.
LanguageTool
Only a handful of alternatives offer integration between writing tools and AI rephrasing or grammar checkers to refine texts before publication. One such tool is LanguageTool which integrates well with WordPress, Google Docs, MS Office, and others.
On-Page.ai
On-Page.ai stands out from other alternatives due to its advanced compatibility options. Since the tool lives inside a Google Doc as an add-on; its interface makes it super lightweight reducing computational complexity significantly; it requires no further software installation apart from opening a new tab on your browser window giving you the freedom of editing away from platform boundaries like WordPress or Google Drive.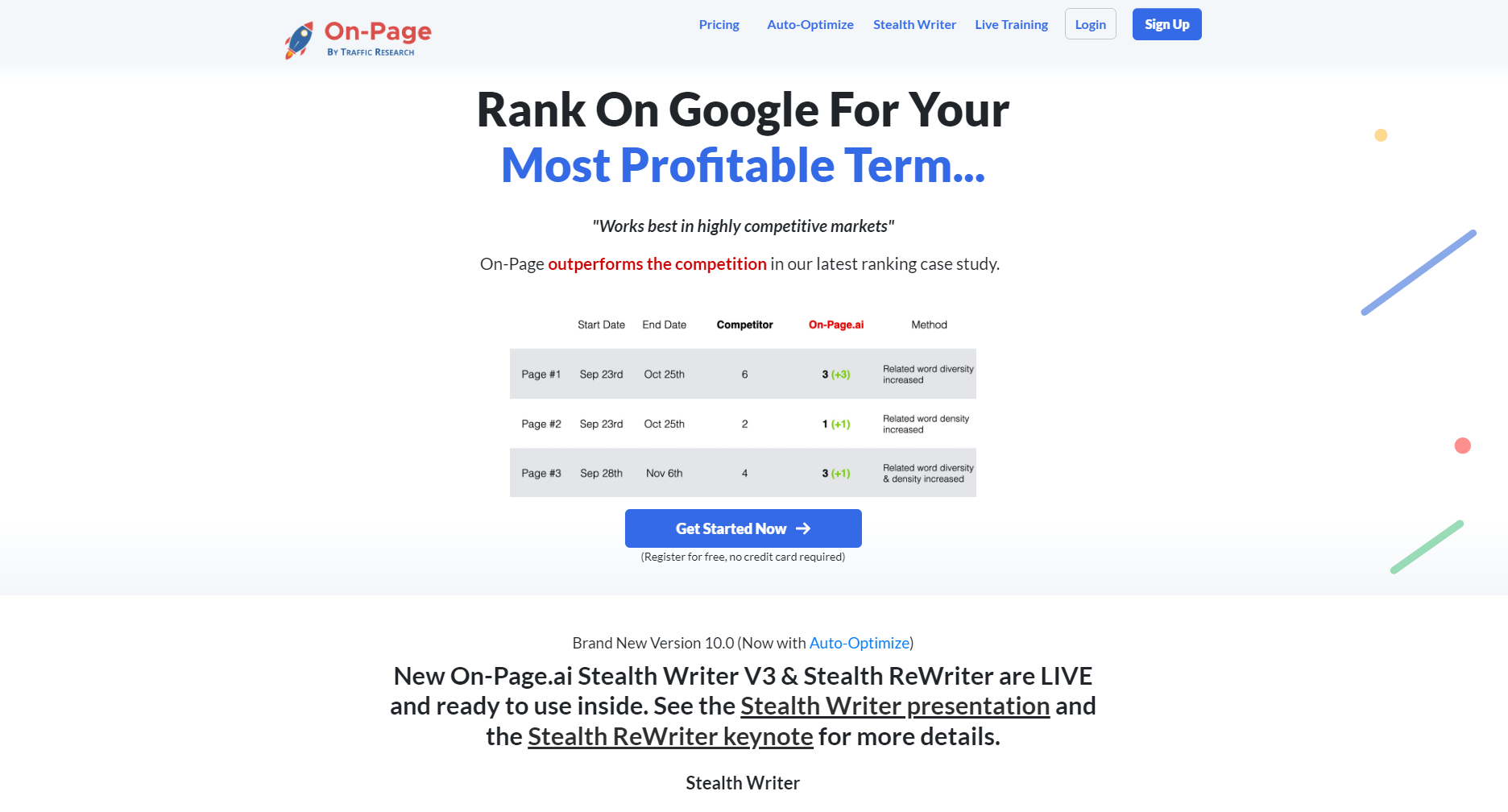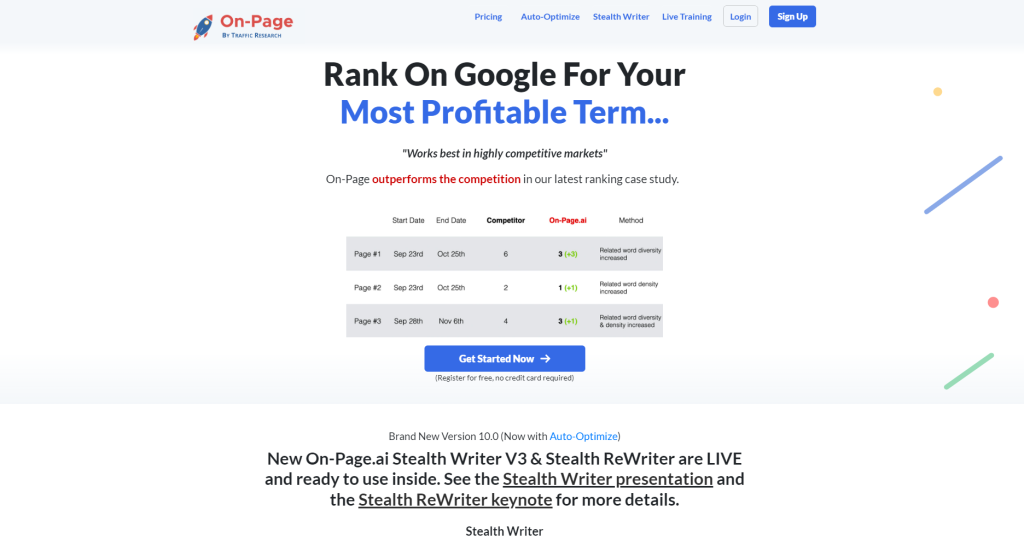 These days integrative tools regardless of their type are incredibly valuable because they reduce time and effort invested in individual tasks subsequently increasing productivity exponentially; choosing the right tool according to your requirements gives your business an edge over others – make sure to explore each possibility carefully before settling down on any option.
Pricing and Plan Options
When it comes to automated content creation tools like Copy.ai, pricing and plan options are important factors to consider. It's no secret that businesses need to prioritize cost-effectiveness while maintaining the quality of their work. So, let's take a look at some of the pricing and plan options offered by the top 5 Copy.ai alternatives.
First off, Ginger offers a free version with limited features such as grammar checking and synonym suggestions, along with paid plans starting from $13.99/month for the Basic plan. Their Premium and Business plans offer more advanced features such as sentence rephrasing, text-to-speech conversion, and translation services.
QuillBot also provides a free version with limited features such as basic paraphrasing and sentence reordering, along with paid plans starting from $4.95/month for the Starter plan. The Premium and Business plans include more advanced features such as multi-language support, plagiarism detection, and full article rewriting capabilities.
LanguageTool has a free online tool for proofreading with basic grammar checking services but also offers premium versions starting from $2.91/month (paid annually) for personal use or $5.53/month for business use. Their premium versions come equipped with various features including style checking, no ads policy on desktop version, and browser add-ons.
Linguix provides users with personalized grammar and spell checkers through browser add-ons along with a free version providing these basic features. Linguix PRO charges $15/month for additional functionalities like style checking, vocabulary enhancement, and personalized goals.
Finally, Trinka offers three different plans including Basic (free) and Premium ($20/month). Their paid plan includes automated grammar checking, text style improvement, plagiarism checking, and unlimited document uploads.
As you can see from these options, pricing and plan options vary significantly among these tools. Some like On-Page.ai's Stealth Writer offer affordable all-in-one subscription models without word limits while others like LanguageTool have tiered plans for individual versus business use. It's important to look closely at what features you need and which plans will suit your specific needs the best.
At the end of the day, it is important to weigh the cost of each tool with its effectiveness in achieving your business objectives. In many cases, paying a bit more may be worth it if the tool provides more advanced features or leads to increased productivity. However, there are also cases where a cheaper option may work just as well.
It is also important to note that some alternatives like On-Page.ai have an edge over others since they offer a full SEO suite with content optimization and rank tracking solutions along with their AI writer solution which gives you more value for the investment.
While there are so many Copy.ai alternatives out there offering a range of features and pricing options, On-Page.ai's Stealth Writer comes as a clear recommendation due to its limitless content creation capabilities.
Get started today so you can fully experience On-Page.ai's content optimization potential–and see your ranking and authority grow exponentially in no time!