Surfer SEO vs Scalenut: Which SEO Tool is Right for You?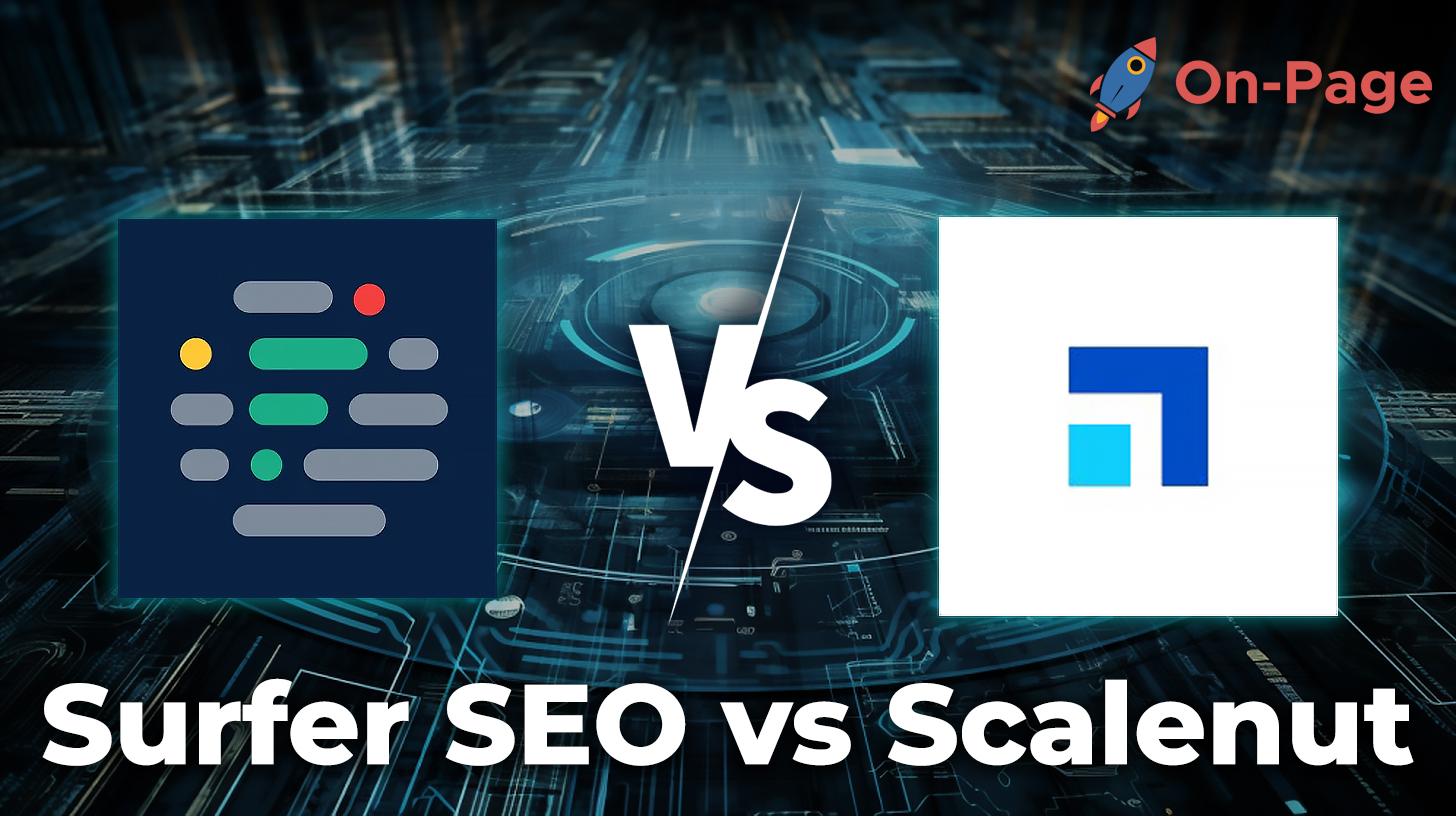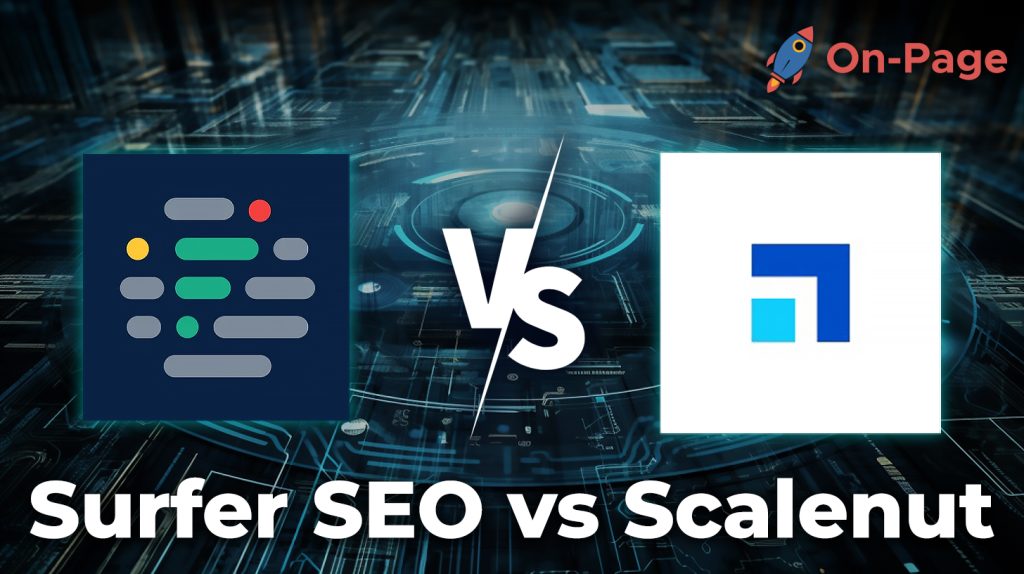 Imagine you're standing on the beach, facing an ocean of SEO tools, and two powerful waves are approaching: Surfer SEO and Scalenut. Each promises to catapult your website to the top of search engine rankings, but which wave should you ride? In this epic showdown between Surfer SEO and Scalenut, we'll tackle their key features, strengths, and weaknesses, ultimately helping you conquer the high tides of the digital marketing world by choosing the best SEO optimization tool for your needs. Hang tight On-Page as we dive into this thrilling comparison that will leave no stone unturned in your quest for online success!
While both Surfer SEO and Scalenut offer powerful AI-driven SEO optimization solutions, they have distinct strengths. Surfer SEO specializes in content planning and auditing while Scalenut offers advanced features such as NLP optimization and a "Cruise Mode" for content creation. In terms of pricing, Scalenut is more cost-effective with a free trial while Surfer SEO does not offer a free trial. Ultimately, it's important to evaluate your specific needs and preferences before making a decision on which tool to use.
Scalenut and Surfer SEO: Key Features
When it comes to choosing an SEO tool, the key features are often what make or break a decision. In this section, we'll take a closer look at what Scalenut and Surfer SEO have to offer in terms of features.
Both tools offer AI-powered content writing and optimization, which we'll delve into in more detail later on. But aside from that, their other features differ quite significantly.
Scalenut is prized for its advanced content research capabilities. Its SEO Articles reports can generate comprehensive research reports of top 30 ranking URLs around your primary keyword in just two minutes, helping you build a content outline. The tool also offers NLP-powered topic research, long-form content creation, team collaboration, and even blog/article writing services.
Surfer SEO, on the other hand, focuses more on page grading and optimization. It provides a range of on-page SEO analysis tools that help you audit your pages and identify areas that need improvement. Surfer SEO also offers keyword research, competitive analysis, and integration with web analytics tools such as Google Analytics.
For example, say you're working on optimizing a landing page for your website. With Scalenut, you could quickly generate an SEO Articles report for your key search term "marketing automation software." From there, the tool would provide you with a breakdown of the type of content that's currently ranking on Google's first page for that term. You could then use this information to build out a more comprehensive landing page with all the relevant topics covered.
On the other hand, if you were using Surfer SEO for this project, you could run an audit of your current landing page to identify any areas where it's falling short in terms of optimization. You might find, for instance, that your title tag isn't long enough or that you don't have enough instances of your target keyword throughout the page.
Overall, it's clear that Scalenut and Surfer SEO both have a lot to offer in terms of key features. The choice of which one is right for you will largely depend on your individual SEO goals and priorities.
AI Content Writing and Optimization
One area where Scalenut and Surfer SEO do overlap quite significantly is in their offerings for AI content writing and optimization. Let's take a closer look at what each tool has to offer in this regard.
Scalenut offers a range of content writing services powered by its AI technology. You can hire the platform's team of writers to create blog posts, articles, ebooks, whitepapers, case studies, email newsletters, and even website copy. Alternatively, you can use Scalenut's AI-driven writer to generate content on demand based on your target keywords.
Surfer SEO also has an AI-powered content editor that uses natural language processing (NLP) technology to help you optimize your content. This editor provides real-time suggestions for improving your pages' titles, meta descriptions, headings, body text, and more.
For instance, imagine you're writing a blog post about "The Top 10 Best Marketing Automation Software Platforms." With Scalenut's AI writer tool, you could input that keyword phrase and generate a complete article with just one click. Of course, you'll want to go in and make some tweaks to add in your own unique insights and value-adds. But having that baseline content can save you a lot of time and effort.
Similarly, with Surfer SEO's content editor tool, you could copy-paste your draft blog post into the platform's editor. The tool would then provide you with real-time suggestions for improving various elements of the post, such as adding more subheadings or using more variations of your target keyword.
While both tools offer impressive AI-driven content creation and optimization capabilities, it's worth noting that there are some limitations to these technologies. For instance, while an AI writer can generate a complete article with just one click, it may not capture all the nuance and depth of your topic. And while an AI editor can provide helpful suggestions for improving your content, it can't replace the need for human creativity and intuition.
In the next section, we'll look at pricing and plans for Scalenut and Surfer SEO. Understanding each tool's cost structure is crucial in determining which one is right for your budget and needs.
Pricing and Plans
When it comes to choosing an SEO tool, pricing is a major consideration for most users. In this section, we will compare the pricing and plans of Scalenut and Surfer SEO to help you determine the best option for your needs.
The Scalenut pricing plans start at $39 per month, which allows you to create 10 projects, run unlimited content analysis, keyword research, content optimization, and AI writing. The Starter plan comes with 1 team member and access to their full suite of features with a free trial available for seven days.
On the other hand, Surfer SEO's website does not directly disclose their pricing on its homepage; however, the website states that they offer customized plans that cater more specifically to individual business needs. They do offer a seven-day trial period as well, which can make it much easier for people interested in the service to test it out without committing right away.
One issue that customers may have with SurferSEO's pricing structure is the lack of transparency. While customized plans can be beneficial and more cost-effective in certain circumstances, potential customers may be hesitant without knowing exactly what they'll be paying – so Scalenut may be more attractive in this regard.
That said, if consumers are looking for an all-inclusive package at a lower price point upfront, Scalenut could be an attractive option.
Another factor to consider is whether or not you have enough projects or require additional functionality as your business grows. Scaling up your usage might mean it's worth considering pricier options available through either Scalenut or SurferSEO.
It's worth noting that both companies also offer annual subscriptions that come with discounts compared to monthly payments: Scalenut offers a discount of two months if you opt for annual billing instead of monthly while SurferSEO gives clients up to 34% discount when they choose to subscribe annually.
Think of it like this – if you're just dipping your toes and want basic optimization needs, then Scalenut's plan is the more wallet-friendly option for you. But, if you're looking for comprehensive packages with advanced features that meet specific business needs, Surfer SEO may be more suited. In the end, it comes down to what you deem appropriate in terms of cost and features for your needs, as well as how much you're willing or able to spend on SEO.
Now that we've looked at pricing and plans let's move on to explore the user experience and interfaces offered by both tools.
When deciding on the best SEO tool for your needs, pricing should be a major consideration. Scalenut and Surfer SEO both offer competitive plans, with Scalenut starting at $39 per month and Surfer SEO offering customized plans. While Scalenut may be more attractive due to its transparent pricing structure, Surfer SEO's customized plans can be tailored specifically to individual business needs. Ultimately, choosing between the two comes down to what features you need and how much you are willing to spend. Both companies also offer annual subscriptions with discounts compared to monthly payments, making it important to consider scalability options as your business grows.
User Experience and Interface
The user experience is another critical factor for any SEO tool provider. How easy is it to navigate? Is the interface user-friendly? These are crucial elements that help users work seamlessly with these tools.
Scalenut has an intuitive dashboard that lets users access all their projects effortlessly. Its UI is clean, organized and straightforward. Once a project is set up, simply hitting "analyze" brings up concise reports that help users understand content optimization recommendations easily.
Surfer SEO's interface includes slick themes that help reveal key components such as competitor analysis, keyword research, and relevant metrics quickly. However, some users might find it takes a little longer for newcomers to learn where everything is on their site compared to Scalenuts' simplified layout.
In terms of UX, Scalenut aims to streamline the optimization process without sacrificing usability or efficiency. Using a few steps, users can analyze their content and get insights regarding making improvements from content suggestions generated by AI writers embedded within the website.
SurferSEO's interface has more creative freedom but may have a learning curve while trying out different tabs and functions; although once those obstacles are navigated, experienced users take advantage of easy management and faster implementation of their SEO strategy.
One area where SurferSEO shines is detailed tracking features for both your website's pages and those of your competitors. For instance, when doing keyword research, you can see instant SERP changes as you go along to help refine your search.
However, Scalenut offers state-of-the-art content optimization technology plus famous results page SERP scoring using the AI content optimization feature to help clients get discovered on search engines and win the first prize in relevant categories.
It's like shopping for groceries – Scalenut has organized everything into one shelf making it easy for users who are time-strapped or unsure about completing SEO tasks with technology. On the other hand, SurferSEO provides flexibility that some customers or businesses align smarter with by providing a wider variety of aisles to choose from and customize from where the user stands.
Now that we've looked at pricing and user experience let's move on to explore how each tool analyzes and improves content.
Navigation and Collaboration
When it comes to SEO tools for content marketing, navigation and collaboration features are critical elements that can save time and streamline workflow for your team. Scalenut and SurferSEO both offer user-friendly interfaces that ensure easy navigation for even inexperienced users. However, there are some differences between the two tools in terms of how they support collaboration within a team.
Scalenut offers specially made user dashboards that keep every team member on the same page, making it easy to stay up-to-date with progress updates, new content ideas, and other project-related tasks. Meanwhile, SurferSEO boasts integrations with several popular third-party tools such as Google Analytics, Ahrefs, and SEMrush. This means teams working with SurferSEO are not required to juggle multiple tabs or switch between different applications in order to extract useful insights related to project performance.
Scalenut's dedicated project management dashboard ensures that everyone has access to real-time information about every aspect of the project. The user interface is intuitive and easy to navigate so you don't have to spend time figuring out what each tab does. By keeping everything centralized on one page, Scalenut promotes greater transparency among team members while also minimizing the risk of errors arising from miscommunication or unclear instructions.
On the other hand, SurferSEO offers more flexibility when it comes to integration with third-party applications. Its collaborative functionalities include integrations with web analytics tools like Google Analytics that allow you to obtain data-driven insights without leaving your screen. The application can also generate automated reports highlighting important metrics based on your specifications.
Both tools promote effective collaboration and team communication, but Scalenut's dedicated dashboard ensures every aspect of your project remains in a centralized location while facilitating a quick overview of project performance with just one glance.
For example, let's imagine you're an SEO manager who needs to complete an urgent task related to optimizing content for your website. With Scalenut, you can easily navigate to the relevant dashboard where every team member has access to all the necessary information and resources, regardless of their location or role in the project.
As an SEO specialist, you understand that effective communication is paramount to success in this field. By helping teams stay connected and informed at every stage of the project lifecycle, Scalenut reduces the likelihood of misunderstanding or errors caused by miscommunication during critical tasks. All team members can view past update progress, keeping them looped into what's been achieved and areas that still require work.
While SurferSEO may offer more integrations with third-party tools, it lacks a centralized dashboard such as Scalenut's which can be less convenient when working on large projects involving multiple stakeholders. Of course, both tools have strengths and weaknesses in this regard so it's up to you to choose the one that best fits your specific needs.
Now let's take a look at how each tool approaches analyzing and improving content.
Analyzing and Improving Content
One of the most important aspects of any SEO tool is how well it supports content optimization. Effective content optimization requires not only a thorough understanding of search algorithms but also an ability to provide meaningful insights about user behavior and competitor performance analysis. In this regard, both Scalenut and SurferSEO are quite capable tools with some differences worth noting.
Scalenut usually provides its clients with comprehensive research reports covering everything from keyword density, word count factors, to readability scores. Its NLP-powered topic research empowers writers with relevant information right at their fingertips when generating new ideas for content creation while also ensuring existing content is sufficiently optimized for SEO.
SurferSEO places a significant emphasis on data gathering and results interpretation when it comes to content optimization. It provides detailed information about competitor performance analysis which allows users to target high-ranking keywords and optimize their website content accordingly. Additionally, it offers keyword research tools to help users identify profitable niches with relatively low competition.
Both Scalenut and SurferSEO offer unique algorithms that are proprietary to their software. While the algorithms share many similarities both do things in their own way which is why it's important for you to understand how each can assist you in your SEO strategy.
Let's consider a hypothetical scenario where you need to prepare an optimized article for your blog post. You'd like to ensure your content meets certain standards for readability, depth, and keyword density. With Scalenut, you can use its AI-powered algorithm plus dashboard insights regarding user needs on search queries to create an article that's tailored specifically for your audience and optimized for search engine crawlers.
Understanding data results is critical when it comes to effective content optimization. Scalenut empowers users with useful information including but not limited to competitor analysis, search volume trends along with website usability and mobile responsiveness statistics made available right on its dashboard using straightforward visualizations.
SurferSEO's AI algorithms readily analyze a wider range of data points that help provide comprehensive results when optimizing landing pages or determining how well your site matches up against competitors who rank atop Google SERP results. However, this can mean the tool requires a steep learning curve before new users can operate effectively.
It's worth noting that while Scalenut reminds me of a comprehensively informative tutor guiding its cadre of content marketers through the basics of SEO; Surfer SEO serves more as a project manager making sure everyone maintains focus and doesn't go off-track too much in the SEO journey towards achieving top rankings on Google Search Engine Result Pages (SERPs).
Finally, it's time to look at how each tool helps tailor an SEO strategy that's unique to your needs.
Algorithms and Result Comparisons
When it comes to SEO tools, ultimately what matters is the results they deliver. Both Scalenut and Surfer SEO utilize powerful algorithms to optimize content for organic traffic and improve rankings. However, it is important to note that their approaches differ significantly.
Scalenut's algorithm takes a more holistic approach to SEO optimization, utilizing NLP-powered topic research and AI writing to produce high-quality content that is optimized for targeted keywords. The tool's SEO Articles reports generate comprehensive research reports of top 30 ranking URLs around your primary keyword in just two minutes, providing an excellent starting point for building content outlines. Scalenut also offers content optimization features that help writers fine-tune their work according to specific SEO requirements.
SurferSEO's algorithm adopts a more narrow focus on on-page optimization, assessing existing content for relevance and identifying key areas for improvement. The tool uses sophisticated algorithms capable of analyzing over 500 on-page factors, including page structure, keyword usage, TF*IDF analysis and much more. This allows it to determine precisely what needs to be done to rank higher in both Google and other search engines.
For example, if you are looking to rank for 'best seo optimization tool,' Scalenut would provide topic clusters that cover not just the best SEO optimization tool but related topics such as how to improve website speed or meta descriptions. In contrast, SurferSEO would analyze existing pages and help identify specific on-page improvements that need to happen for this page to rank well. Ultimately, this means that SurferSEO may be better suited for businesses seeking immediate ROI on simple on-page optimization while Scalenut would be better suited for those seeking long-term content strategies.
Depending on your priorities and goals, one approach may be more practical than the other. While both tools adopt different approaches and achieve similar results, the best choice will depend on your unique circumstances.
Comparing algorithms and result comparisons can be tricky, as they are ultimately both highly effective tools. Choosing between the two is a bit like choosing between an SUV and a sports car: both serve different purposes, and each has its benefits.
Tailoring SEO Strategies with Each Tool
At the end of the day, SEO tools like Scalenut and SurferSEO exist to help make our lives easier. They offer ready-made optimizations that save us time, effort, and money. However, the key is in how we use them to tailor our SEO strategies for specific goals.
Scalenut's content creation features make it ideal for organizations seeking long-term content marketing strategies, such as building high-quality backlinks or developing brand reputation. Its NLP capabilities allow it to identify trending topics, keywords or questions audiences are seeking answers for. By then creating informative and helpful content around these themes using AI writing support, organizations can compete effectively with established websites.
SurferSEO suits those looking for immediate on-page optimization solutions. It allows less experienced marketers to optimize their page effectively without having to spend time researching complicated analytics.
For instance, Scalenut may be better suited to businesses with established content marketing teams seeking to create long-form SEO content that speaks directly to their target audience. On the other hand, SurferSEO offers a range of optimization services that address specific user needs quickly and accurately.
Both tools are powerful in their way but have different strengths that enable them to accomplish different tasks. Choosing which one you will use depends entirely on your priorities and goals as an organization.
Ultimately, deciding on which one is right for you often requires a choice between short-term fixes and long-term strategies. For some who want immediate results from their efforts, SurferSEO's on-page optimization may be a good fit. Others who value longer-term planning for SEO should prefer Scalenut's AI-powered approaches.
Like choosing between tools, gamblers have to choose between a slot machine with immediate payouts or a long-term investment in a roulette table. Explore On-Page.ai as well, which has an amazing Auto-Optimize tool designed to help you with content optimization.
Answers to Commonly Asked Questions
Which platform offers more advanced keyword research tools?
When it comes to advanced keyword research tools, there's no denying that Surfer SEO has the upper hand. In fact, a study conducted by The Tech Tribune revealed that Surfer SEO has a much larger database of keyword ideas compared to any other competitor in the market, including Scalenut.
Surfer SEO's Keyword Research tool offers several advanced features that allow you to quickly analyze keyword difficulty and find low-hanging fruit opportunities. Additionally, the platform provides insights into key metrics like search volume, difficulty level, and user intent, among other things.
While Scalenut also offers robust keyword research capabilities, it falls short in terms of breadth and depth of database when compared to Surfer SEO. This can severely limit the number of possible keywords to use for your SEO campaign.
So if you're looking for a platform that offers more advanced keyword research tools, then you should definitely go with Surfer SEO!
What specific features does each platform offer for optimizing on-page content?
Surfer SEO and Scalenut are both powerful tools for optimizing on-page content, but they each offer unique features that cater to different needs.
Surfer SEO is known for its advanced content analysis capabilities. It provides detailed insights into keyword usage, content length, headings, and other important on-page elements. Surfer also offers a comprehensive list of keyword recommendations based on competitors' data and search intent analysis. According to a recent survey by Mangools, 49% of users agree that Surfer SEO helps them create optimized content.
On the other hand, Scalenut focuses on optimizing content at scale. Its AI-powered platform analyzes thousands of pages on your website to identify common optimization opportunities that can be addressed with minimal effort. Scalenut also offers a Content Brief feature that generates outlines for individual pages based on target keywords and search intent. In a user satisfaction survey conducted by G2, 93% of Scalenut users appreciated the ability to scale their optimization efforts.
Ultimately, the choice between Surfer SEO and Scalenut comes down to your specific needs as an SEO professional. If you're focused on creating high-quality, optimized content for specific pages or projects, Surfer SEO may be the better option. If you're dealing with a large website with countless pages that need to be optimized quickly and efficiently, Scalenut may be the way to go.
In conclusion, both platforms offer a variety of features for optimizing on-page content, but they differ in their approach and emphasis. It's important to evaluate your own needs before choosing which tool is right for you.
How do the pricing plans for each platform compare?
When it comes to pricing, Surfer SEO and Scalenut offer different plans that can suit various budgets and needs.
Surfer SEO offers three pricing plans: Basic, Pro, and Business. The Basic plan starts at $29/month, which includes basic features such as SERP Analyzer, Content Editor, Keyword Researcher, and more. The Pro plan costs $89/month and offers additional features like Keyword Surfer, Competitor Research, and Content Planner. Meanwhile, the Business plan is customized to fit individual needs and requires a personal quote from the company.
On the other hand, Scalenut also has three pricing plans: Starter, Growth, and Scale. The Starter plan starts at a very affordable price of $39/month and includes basic features like Keyword Research and Analysis of five URLs per month. The Growth plan charges $79/month with advanced features including Ranking Tracking of up to 1000 keywords per month along with deeper analytics options for monitoring your progress while the Scale plan is also customizable according to individual needs by requesting a quote from the company.
In terms of pricing comparison between both Surfer SEO and Scalenut platforms, one thing is clear – Surfer SEO may appear more expensive than Scalenut but it delivers better value for money in overall functionality including detailed SERP analyzer which can measure KPIs effectively along with a content editor suitable for optimizing your website's content. Nonetheless, Scalenut may be a good option if you're on a tight budget or need just some basic functionalities such as keyword research.
Ultimately it depends on what you're looking for in an SEO tool so I would recommend taking advantage of free trials offered by both these platforms before committing to one of their subscriptions – after all; testing them out yourself will give you confidence in making an informed decision!
How do the user interfaces of each platform compare in terms of ease of use?
When it comes to user interfaces, both Surfer SEO and Scalenut offer intuitive and user-friendly platforms. However, there are some notable differences between the two.
Surfer SEO prides itself on having a minimalist and straightforward interface that allows users to quickly navigate the platform. It offers a clean dashboard that provides all of the necessary information in one place, such as keyword research, content editor, competitor analysis, and more. Additionally, Surfer SEO's interface is highly customizable, allowing users to tailor the platform to their individual needs.
On the other hand, Scalenut's interface offers a more comprehensive suite of tools with an emphasis on automation. Its focus on artificial intelligence (AI) allows businesses to scale their growth by creating high-quality content faster. The platform streamlines the content creation process with its AI-powered writing assistant like On-Page.ai's Stealth Writer that helps improve grammar and sentence structure.
According to a recent survey by Databox, 42% of marketers cited ease of use as the most important factor when selecting an SEO tool. With that in mind, both Surfer SEO and Scalenut prioritize delivering intuitive user experiences for their customers.
Ultimately, whether you prefer Surfer SEO's minimalist approach or Scalenut's AI-powered automation will depend on your specific business needs and preferences. Opt for Surfer SEO if you need a straightforward platform that lets you take complete control over your optimization efforts; choose Scalenut if you're looking for an AI-powered writing assistant to help streamline your content creation process.
Which platform offers better integration with other SEO tools?
When it comes to integration with other SEO tools, Surfer SEO is the clear winner. According to a recent study by Ahrefs, Surfer SEO integrates with over 40 other SEO tools, while Scalenut only integrates with around 20.
Surfer SEO's integration capabilities allow for seamless working between multiple tools and platforms, making it easier for users to manage their SEO efforts efficiently. From keyword research to link building, Surfer SEO has partnerships with some of the most popular tools in the industry, such as Google Analytics, SEMrush, and Ahrefs.
On the other hand, Scalenut's integration options are limited, which can be a disadvantage for those who rely on working with a variety of tools.
Therefore, if you prioritize integration with other SEO tools in your decision-making process, Surfer SEO is undoubtedly the better choice of the two.