Zimmwriter Review: A Comprehensive Guide to Writing and Editing Services
Imagine writing an impeccable article in record time or finally having that secret weapon to help you make your content stand out from the competition! Luckily, there's a tool that makes these dreams a reality. In this comprehensive guide to Zimmwriter, we'll unveil the key features of this powerful writing and editing tool that has skyrocketed in popularity among SEO professionals and content creators alike. Say hello to faster, higher quality articles tailored to best SEO practices—your game changer is here!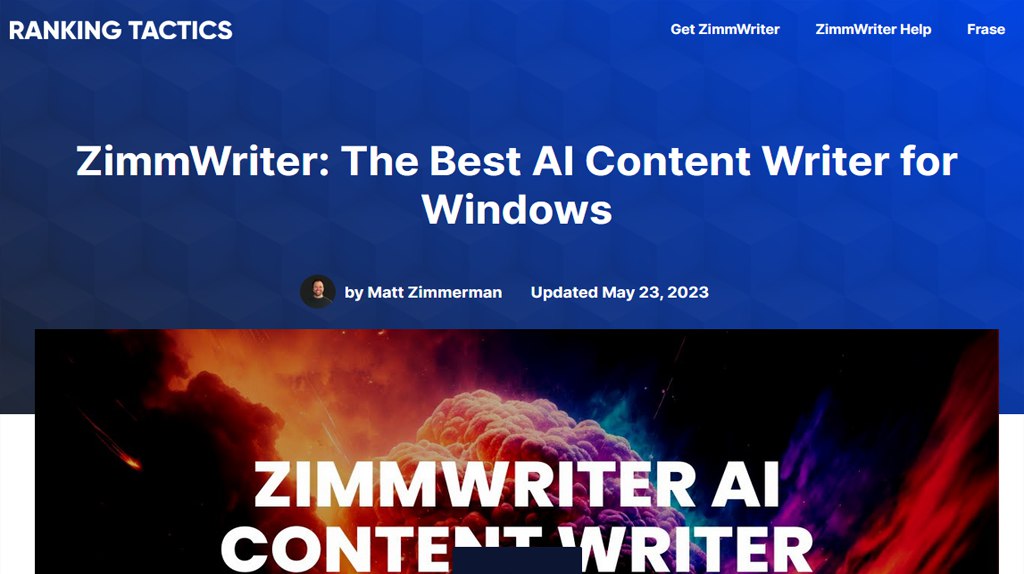 Our ZimmWriter review provides an in-depth analysis and performance evaluation of each feature over a course of four months, including 1-Click Blog Writer, SEO Blog Writer, Bulk Blog Writer, and Local SEO Buffet. We also discuss the tool's ability to generate high-quality, long-form content that ranks well in search engines, as well as its user-friendly interface and competitive pricing model.
What is ZimmWriter?
ZimmWriter is an AI-powered content generation tool that provides writing and editing services. It was created by Matt Zimmerman, the founder of Ranking Tactics, and has rapidly gained popularity in the AI community for its ability to produce user-friendly quality content in a shorter amount of time.
ZimmWriter differentiates itself from other AI writing tools by offering speed and accuracy, coupled with its advanced features. For example, with ZimmWriter's 1-Click Blog Writer feature, businesses who want to increase their online presence can have a high-quality blog written in just one click. This feature is not only incredibly efficient, but it saves businesses time and resources that could go into other parts of the company.
Additionally, ZimmWriter offers a unique Local SEO Buffet tool that allows companies to create geo location pages without having to spend too much time researching or putting together data manually. The tool streamlines this process by making recommendations based on existing market research.
While ZimmWriter has received some criticism for producing content that can be overly templated or superficial, this issue can be easily addressed by taking the necessary steps to customize the output so it meets the business's desired standard. That being said, users should also keep in mind that the final product produced will only be as impressive as the input data used to generate it.
Overall, ZimmWriter's AI-powered writing tools are a great resource for businesses who want to streamline their content creation process while still maintaining high-quality output.
AI-Powered Writing and Editing Services
ZimmWriter's AI technology harnesses Open AI's most advanced GPT-4 model. It can process large amounts of data and use previous information to make intelligent decisions when generating content. Alongside writing features such as its 1-Click Blog Writer, SEO Blog Writer, and Bulk Blog Writer options, ZimmWriter also assists in editing already existing pieces of writing.
Through the use of AI technology, users can save significant amounts of time on content generation tasks while also ensuring that their website stays up-to-date with trending topics by offering suggestions for blog ideas based on current trends.
Additionally, through the use of machine learning, ZimmWriter's editors can better analyze and understand customer behavior to personalize messaging accordingly. The editor can take input data from various sources to generate a more comprehensive understanding of the customer.
Some have questioned whether AI-powered writing is ethical or not. While it is true that there may be some concerns about using technology like this to automate parts of job traditionally done by humans, it doesn't mean that there aren't any benefits to automating content creation. Not only does it create efficiencies for businesses but it helps get content out there without having to spend copious amounts of time or budget on editorial staff.
Consider how musicians use synthesizers to make music quicker and cheaper than hiring session players. Just because a synthesizer is used does not mean that the final product produced lacks quality or creativity. Instead, musicians can layer sounds together in ways they couldn't before. In much the same way, AI-powered writing has enabled businesses to produce content that wouldn't have been possible otherwise.
Overall, ZimmWriter's AI-powered writing process is a highly effective solution for businesses looking to produce high-quality written output efficiently and effectively.
ZimmWriter Features
ZimmWriter is packed with features to help businesses create high-quality, optimized content quickly and easily. Its various packages offer different options to fit the user's needs and budget. Below are some of ZimmWriter's most notable features.
One of ZimmWriter's best features is their ability to generate SEO-optimized article titles or headlines with only a few clicks. Users can input their focus keyword and the tool will generate an eye-catching headline that contains the keyword, powers up engagement, and still conveys information about the article. These SEO blog writers offer a blend of creativity and strategy to help users appear on top of Google search results pages (SERPs).
Another great feature is the Bulk Blog Writer, which allows users to create up to 70,000 words of long-form content in one go. Users can edit many of the features found in the SEO Blog Writer, such as tone, style, voice, and other core traits in writing while creating more lengthy material. This feature is ideal for businesses that need high quantities of optimized articles for their websites.
However, some users might find that the 1-Click Blog Writer produces lower quality articles than they would prefer. While it creates a long-form blog post in one click, taking only a couple of minutes to complete, this feature is not always perfect at maintaining coherent narratives or delivering meaningful information for every type of business or brand.
Think of ZimmWriter as an AI-powered writing assistant that holds your hand through all types of writing endeavors – from short social media captions to lengthy articles. It allows businesses to scale content creation efforts with smart content-centric tools that introduce automation but do not sacrifice quality.
Now let's explore some more about ZimmWriter's AI-powered blog writing services – 1-Click Blog Writer, SEO Blog Writer, and Bulk Blog Writer.
1-Click Blog Writer, SEO Blog Writer, and Bulk Blog Writer
ZimmWriter's AI-powered blog writing services are some of the best in the industry. Below are some key features of each writing service.
The 1-Click Blog Writer is quick and efficient at creating a blog post that is both engaging and optimized for SEO. It uses Open AI's most advanced GPT-4 model to generate content. While users need to input a focus keyword, type of tone they prefer (friendly, informative), and specific keywords or phrases they would like to include in the output. Users can focus on their brand message as well as traffic generation tactics all with one click.
The SEO Blog Writer, on the other hand, is designed to save businesses time by generating high-quality long-form articles that are optimized for up to two focus keywords but which follow content rules such as branding guidelines, target audience reach outs, engagement metrics, etc. This feature is great for those who want quality content without spending hours researching and putting together blog posts.
However, it's important to note that ZimmWriter's functionality occasionally produces weaker paragraphs or even contradictory statements if the user instructions overlap or contradict each other. While these issues occur less frequently in the SEO Blog Writer than the Bulk Blog Writer feature.
These features are like having an all-in-one writing assistant who not only helps with grammar but also suggests relevant topics with minimal supervision while meeting critical search engine ranking criteria.
Finally, the Bulk Blog Writer feature enables businesses and individuals to create longer pieces of content quickly. With this feature, users can write up to 70,000 words in one go! All your copywriting problems solved in one-click. Despite its scale, your content will be still optimized for SEO if you pay attention to inputs and comply with guidelines.
Overall, ZimmWriter's powerful AI-powered writing capabilities make it the best tool for businesses that want to increase their content output without sacrificing quality.
In a comprehensive review conducted over four months, it was found that the SEO Blog Writer feature in combination with tools like Page Optimization Pro (POP) has effectively ranked articles on Google, with some even claiming the top spot.
While results vary, some articles generated using ZimmWriter were not indexed by Google, indicating that the efficacy of AI-generated content can be inconsistent.
Despite its variable results, ZimmWriter's AI content tool successfully passed an AI detection test, proving its ability to generate content capable of achieving fantastic results on Google.
Local SEO Buffet and Additional Tools
ZimmWriter's Local SEO Buffet is an essential tool for businesses looking to target their local audience. With this feature, users can build city geo location pages that allow them to rank higher on search engines for specific keywords related to their business.
The Local SEO Buffet is easy to use and requires no coding or technical knowledge. Users simply input their business information and select the location they want to target. ZimmWriter then creates a high-quality page optimized for the chosen location with relevant keywords and high-quality content.
In addition to the Local SEO Buffet, ZimmWriter offers a range of other helpful tools to improve users' content creation workflow. The tool's Bulk Blog Writer feature enables users to create up to 70,000 words of content in just one go, making it an ideal solution for businesses that need high-quality content written quickly.
For instance, imagine a business selling products centered around sports equipment that wants to target customers in Austin, Texas. This tool would be valuable as the customer would click on the website after typing "Sports Equipment + Austin, Texas," and it shows up as there are relevant keywords regarding sports equipment that have been embedded in the website during its creation.
Additionally, there are specific features like Page Optimization Pro (POP), that combine well with the SEO Blog Writer feature helping websites achieve higher ranking and even secure top spots on Google.
Pros and Cons of ZimmWriter
ZimmWriter offers several features that make it one of the best AI writing tools currently available. Firstly, it is user-friendly with an intuitive interface making it accessible for novice and experienced users alike. The tool also provides multiple languages such as German, French, Spanish and Portuguese which means that language barriers are eliminated for marketers who plan on venturing into those specific countries.
The AI content it produces has achieved fantastic results on Google. In several tests and reviews, ZimmWriter's content was able to rank well on search engines, allowing businesses to attract more organic traffic to their websites. Furthermore, ZimmWriter is cost-effective compared to other AI writing tools of its category.
However, with so many pros to ZimmWriter, there are some downsides to note. Firstly, it can be challenging at times when ZimmWriter struggles while generating the text using the chosen keywords. Secondly, because it relies on GPT-4 model from OpenAI for the generation of its text data will require an internet connection all the time, making it almost impossible for users who work in remote areas or places with weak Internet connectivity.
Compare this tool with a smartphone; no technology is perfect as they all have their flaws and advantages that come along. Just like how battery drain might be a downside to owning a phone or not having the latest version OS updates might make your device slower but at the end of the day what matters are all of its unique capabilities that add value to our lives and improves our daily routine.
With that being said, ZimmWriter's features far outweighed its cons. It is still regarded as one of the best SEO writing tools for businesses and individuals alike looking for cost-effective solutions without compromising quality content.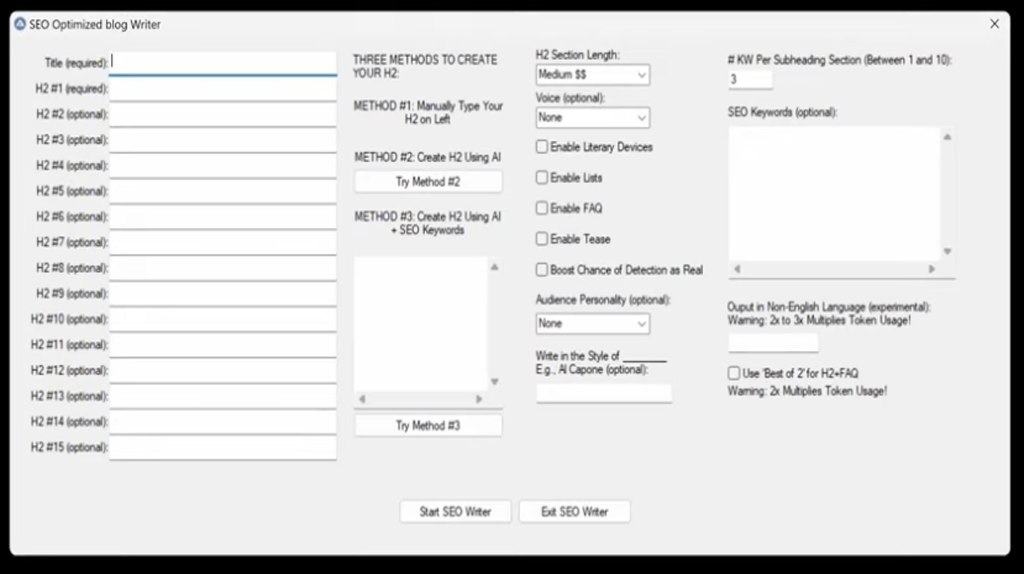 Comparing to Other AI Writing Tools
ZimmWriter is not the only tool in the market that offers AI-powered writing and editing services. However, it is essential to look into how it compares to other AI tools and what sets it apart from its competitors.
One of ZimmWriter's main competitors is Jarvis AI. Both tools use AI to generate articles, but there are several differences between them. For instance, Jarvis AI offers more templates than ZimmWriter, which can be useful for those who want a wide variety of writing options. However, when it comes to quality, ZimmWriter surpasses Jarvis AI as it offers beautiful and well-constructed articles.
Another competitor of ZimmWriter is Copy.ai. This tool focuses on copywriting, which means that it aims to craft compelling copies for ads or social media posts rather than long-form content. It also has a plagiarism checker feature that detects duplicate contents, which is an excellent feature for ensuring unique content. However, this tool cannot replace ZimmWriter when it comes to generating high-quality and SEO-friendly long-form content.
In comparison with other AI writing tools like Writesonic or Article Forge, ZimmWriter's capabilities exceed their limitations significantly. Writesonic generates content using GPT-3 technology, resulting in higher pricing models than ZimmWriter while Article Forge is primarily focused on auto-generating articles at scale without much user input.
In terms of price points, some may argue that ZimmWriter is more expensive compared to its competitors. However, its features make up for its price tag; A website owner who employs Zimmwriter can freely create an infinite number of SEO articles and rank higher in Google search results pages with the certainty that the content they receive will be top-notch.
On-page optimizations available with On-page.ai optimize all metadata effectively and conduct essential checks such as readability scores, header formations (H1/H2), content length, and keyword density checks.
Additionally, On-page.ai offers the Stealth Writer, an AI article writer that generates quality articles in just one click. This feature makes creating articles much faster than manually writing one. After inputting a keyword and clicking the button, you can have an informative piece of content within seconds. The technology behind Stealth Writer saves users time and money while making sure that shoddy-quality writing littering the internet is eliminated.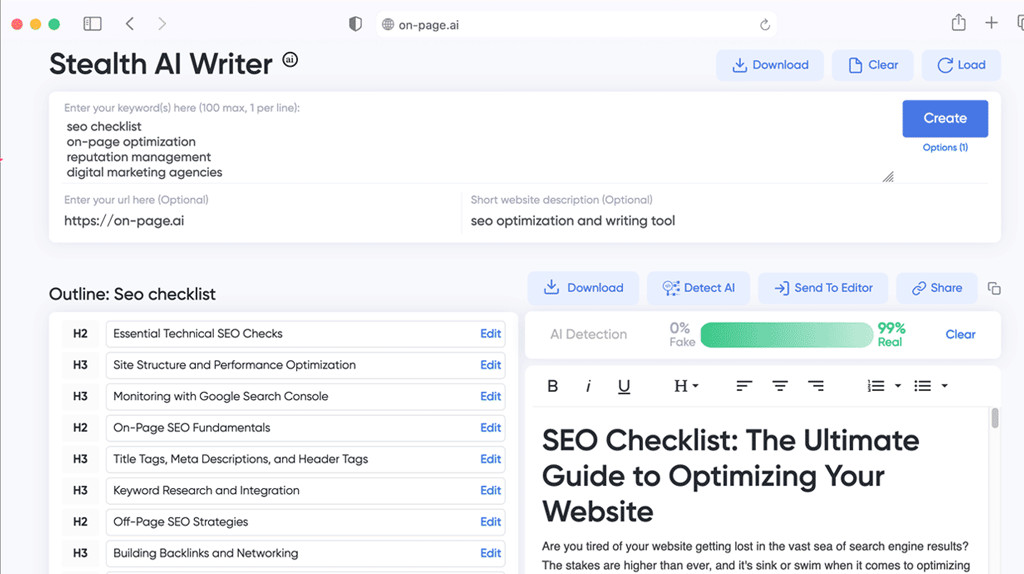 In terms of SEO impact on your business, ZimmWriter is like a silver bullet when it comes to generating high-quality content fast for ranking higher on search engine result pages. Much like hiring a great copywriter is crucial to crafting successful messaging for marketing campaigns that engage customers and incite action, utilizing ZimmWriter can give you an edge in producing high-performance content that ranks higher online.
ZimmWriter User Experience and Success Stories
The user interface of ZimmWriter is user-friendly and intuitive. As soon as users log in to their accounts, they'll instantly understand how to work with this tool effortlessly. Users can easily navigate through their preferred options such as "SEO Blog Writer," "1-Click Blog Writer," "Bulk Blog Writer," and "Local SEO Buffet" menus offered by ZimmWriter.
As proof of ZimmWriter's success in generating high-quality content for SEO purposes, it has many positive reviews from satisfied clients. One client mentions that using ZimmWriter has saved them massive amounts of time while ensuring that they get high-performing content, which was ranking on the top of Google search result pages. Another satisfied user shared how they appreciate the feature-rich platform of ZimmWriter and how it outperformed their expectations.
The AI-powered writing and editing services offered by ZimmWriter have been utilized by various companies and businesses worldwide. It is evident from their testimonials that this tool provides real benefits beyond what other AI-driven writing tools offer. For website owners wishing to increase the standing of their particular web pages in Google's eyes, ZimmWriter is the clear winner.
Overall, ZimmWriter offers many features that set it apart from its competitors. Its advanced technology generates high-quality SEO-friendly articles quickly and easily for any marketer wishing to create a relevant buzz online with unique content without worrying about quality or plagiarism issues.
It's not just spinning text together but crafting something that will prove useful to readers looking for specific answers to queries or breaking down a complex topic into something digestible, informative and easy-to-understand. With several raving reviews from companies all over the world, there's no question that ZimmWriter lives up to its promises.
However, it's essential to put every factor into context when making business decisions. In this case, given the detailed aspects in optimizing search rankings alone, On-page's Stealth Writer provides a better alternative for generating high-quality content at scale.