Alternatives to Frase for Content Optimization
Are you tired of battling content optimization roadblocks with Frase? Buckle up, as we reveal the top 10 game-changing alternatives that will catapult your SEO strategy to unprecedented heights, outperform your competition, and claim your rightful spot in the search engine hall of fame. Delve into a realm where possibilities are endless, and ROI is never a mirage. Say hello to seamless content optimization and witness jaw-dropping results!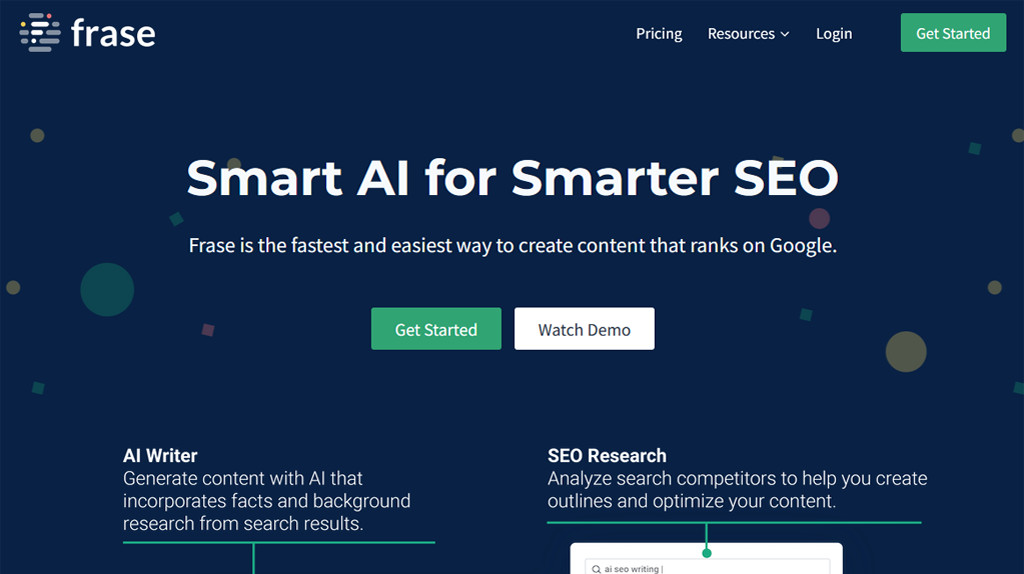 Some popular alternatives to Frase include MarketMuse, Scalenut, Jasper, Surfer, Rytr, Copy.ai, Writesonic, Pepper Content, SE Ranking, and Clearscope. These tools offer a range of features for content creation and SEO optimization. The best option depends on the user's specific needs and budget.
Alternatives to Frase
Frase is a popular AI writing assistant software that helps with keyword research, SERP rank tracking, and competitor analysis. However, it's not the only option out there. There are several alternatives to Frase for content optimization.
For instance, if you are looking for an AI-powered content creation tool similar to Frase, MarketMuse might be a good choice for you due to its machine learning-powered content planning and optimization platform. It utilizes semantic analysis to identify related words and phrases that should be included in your content.
On the other hand, if you are looking for a writing assistant that helps with SEO content creation but doesn't break the bank like Frase can do, then the Semrush Writing Assistant could be the right option. It features a content optimization feature that suggests keywords to include as well as recommendations on how to improve readability.
Each tool has its strengths and weaknesses that are important to consider before making a decision.
One limitation of Scalenut is that its AI-generated articles may not be as engaging or high-quality compared to other competitors like Frase or MarketMuse.
While Jasper AI is considered one of the best AI writing software available on the internet, it can be quite pricey compared to other options.
On-page.ai is becoming more popular among digital marketers because it's seen as the most effective on-page optimization tool with an AI-powered content optimization platform that allows you to optimize your content based on your content marketing strategy. Many users have reported significant improvements in their website's ranking with the help of On-page.ai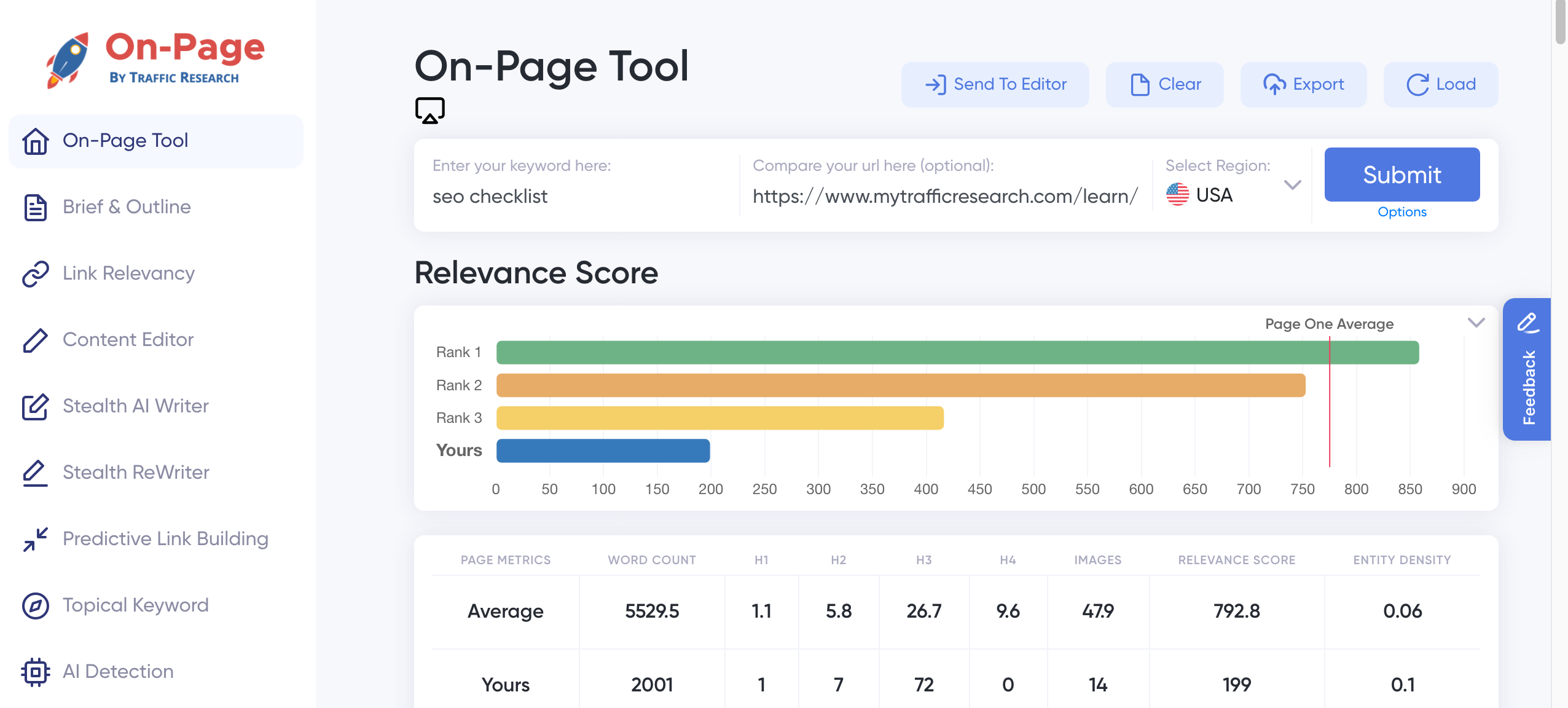 Overall, it's important to carefully consider your business needs and goals before choosing an alternative to Frase.
AI-powered Content Creation Tools
AI-powered Content Creation tools like Frase are meant to help writers save time while creating high-quality content. These tools use natural language processing and machine learning technologies to suggest relevant phrases, images, and topics based on the writer's input.
One such tool is Rytr. This AI copywriting platform can create original, engaging content with ease. With just a few clicks, you can input the topic you want to write about, and Rytr will generate a high-quality article for you.
Another tool like Writesonic also provides a similar feature of creating high-quality original content. However, what makes it unique is its ability to create different formats of content like landing pages, Google Ads, Facebook ads copy among other things.
If you think of Frase as a smartphone loaded with all kinds of apps that can make your life easier, then Pepper Content would be like one impressive app that does everything – from generating blog titles to writing entire articles – all at once. It's an excellent tool for those who are working on tight deadlines and need creative assistance.
Surfer SEO doesn't just function as an on-page optimization tool; it also features an AI-powered content optimization platform that allows users to not only optimize their existing content but also create new ones using suggested keywords and phrases. This has shown consistent results in improving website rankings for users across multiple niches
AI-powered Content Creation tools can be costly compared to other options like SEO-focused writing assistants or Copywriting Platforms, but they can be useful for those who need to produce a large volume of high-quality content in a short amount of time.
In a recent survey of content marketers and SEO professionals, approximately 65% reported using some form of AI-powered content creation or optimization tool, such as Frase.io or its competitors.
According to market research, the AI writing assistant software market is anticipated to grow at a CAGR (Compound Annual Growth Rate) of 19.6% from 2021 to 2028, highlighting the increasing demand for tools like Frase.io and its alternatives.
A study published in 2021 found that 74% of content creators felt their productivity increased when incorporating AI writing tools like Frase.io, MarketMuse, and Jasper into their workflow.
SEO-focused Writing Assistants
SEO-focused writing assistants are tools that help writers create content that is optimized for search engines. These tools offer a variety of features, such as keyword research, on-page optimization, and content analysis, that can improve the quality and relevance of your content. Here are some of the top alternatives to Frase.io in this category.
SEMrush Writing Assistant is a popular choice for writers who want to optimize their content for SEO. This tool offers real-time suggestions for optimizing your content based on specific keywords and topics. It can analyze your text for readability, tone, and other factors that affect user engagement and search engine rankings. SEMrush also provides insights into how your competitors are ranking for specific keywords, allowing you to adjust your strategy accordingly.
MarketMuse is another popular option for SEO-focused content creation. This tool uses AI and machine learning algorithms to analyze your content and suggest improvements based on best practices in your industry. MarketMuse can help you identify gaps in your content strategy, optimize existing content for specific keywords, and create new content that is more likely to rank highly in search results.
Some writers prefer a more hands-on approach to SEO optimization, using tools like Google Keyword Planner or Moz Pro to conduct their own keyword research and analysis. While these tools can be effective if used correctly, they require more time and effort than fully-automated solutions like Frase or SEMrush. Additionally, manual keyword research may not provide as nuanced insights into search volume or user intent as AI-powered alternatives.
Think of these SEO-focused writing assistants as personal trainers for your website's content. While you could certainly exercise on your own without guidance from a trainer, you're more likely to see results faster if you follow a structured plan tailored to your specific fitness goals. Similarly, using an AI-powered writing assistant can help you optimize your content more efficiently and effectively than doing so manually.
Now let's explore the top alternatives to Frase.io in the category of copywriting platforms.
Copywriting Platforms
Copywriting platforms are tools that help writers create persuasive and engaging marketing copy, such as ads, product descriptions, or email newsletters. These tools use AI and natural language processing to generate high-quality content quickly and easily. Here are some of the top alternatives to Frase.io in this category.
On-Page.ai offers a range of copywriting tools that can help you create effective marketing copy. The Stealth Writer leverages machine learning algorithms to analyze top-performing content in your industry and generate new content based on those insights. The Stealth ReWriter allows you to refine existing content for better engagement and SEO results. These tools are ideal for writers who want to create high-quality content quickly and with minimal effort.
Writesonic is another popular choice for copywriters looking for an AI-powered solution. This platform uses GPT-3 technology to generate high-quality, human-like writing based on a variety of inputs, including headlines, keywords, or topics. With Writesonic, you can create ads, landing pages, or social media posts within minutes.
Some writers prefer to write their marketing copy manually, believing that a human touch is necessary for creating truly persuasive messaging. While it's certainly true that some forms of marketing copy require more creativity and nuance than others, AI-powered platforms like Frase or Writesonic can still be effective at generating compelling copy quickly and easily.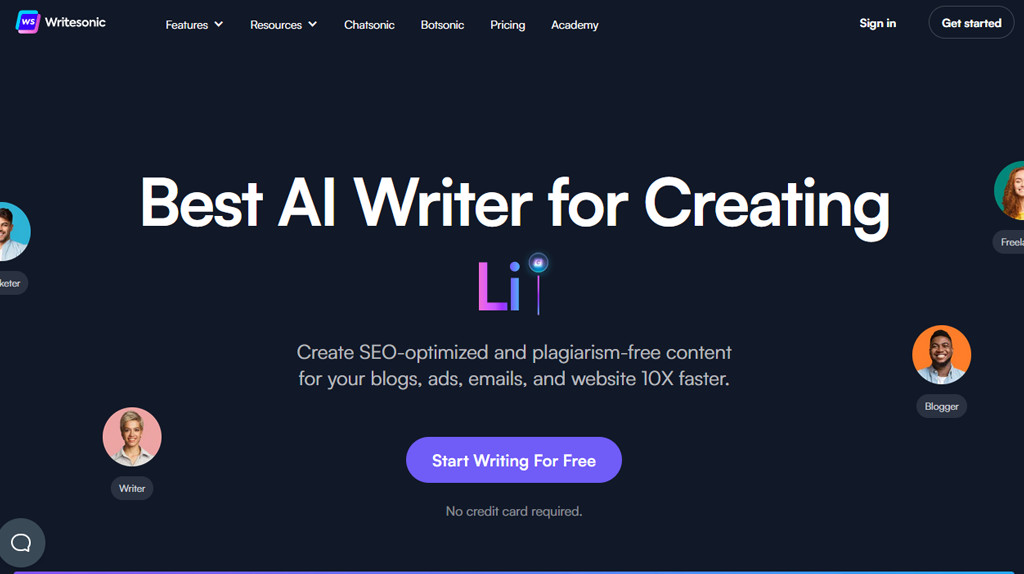 Copywriting platforms are like personal assistants for your marketing team. While they may not have the same level of creativity or intuition as a human writer, they can still help you accomplish a lot in a short amount of time. Like a personal assistant, copywriting platforms can take care of the more mundane or repetitive tasks involved in creating marketing copy, allowing you to focus on higher-level tasks that require more strategic thinking.
In the next section, we'll compare the features and benefits of these Frase alternatives.
Comparing Features and Benefits
When it comes to choosing an alternative to Frase for content optimization, it's important to consider the various features and benefits offered by each tool. While each tool offers its own unique set of features, there are a few key factors that can help you determine which one is the best fit for your needs.
One factor to consider is the type of content creation tools offered by each platform. Some alternatives such as MarketMuse and Surfer SEO provide AI-powered content creation services, while others like Clearscope and Page Optimizer Pro focus more on optimizing existing content. On-Page.ai is a great option in this category as its Stealth Writer offers a full article creator with just one click that provides helpful articles pass quickly through our AI detection.
Another factor to consider is the level of SEO-focused writing assistance offered. Tools like Semrush Writing Assistant and On-Page.ai offer in-depth analysis and optimization suggestions for improved search engine rankings. In contrast, Jasper AI offers more general writing assistance without as much focus on SEO optimization.
To put this in perspective, think about a toolbox. Each tool serves a specific purpose, but not all of them are necessary for every job. Similarly, each alternative to Frase has its own strengths and weaknesses depending on your specific needs.
Pricing is also an important consideration when comparing features and benefits. While some alternatives like Surfer SEO may be more expensive than others, they may also offer more advanced features or better ROI in the long run thanks to improved search engine rankings and increased organic traffic.
Ultimately, when comparing features and benefits across alternatives to Frase, it's important to carefully assess your needs and prioritize the most useful features for your specific use case.
Writing Quality and Efficiency
Another important factor to consider when evaluating alternatives to Frase is writing quality and efficiency. After all, creating engaging, high-quality content is the ultimate goal of any content optimization tool.
First and foremost, it's important to choose a tool that fits your writing style. Some alternatives like Rytr and Copy.ai offer AI-powered copywriting platforms designed to create original, engaging content with minimal input from the user. Others like On-Page.ai prioritize the use of user input combined with AI generated suggestions to generate high-quality content.
To demonstrate the effectiveness of these tools, consider recent studies that have found correlations between high-quality, well-optimized content and improved search engine rankings and organic traffic. By using an effective writing assistant or content creation tool like those offered by Frase alternatives, you can boost the quality and efficiency of your content creation process while achieving better overall results.
Of course, there are other factors that contribute to writing quality and efficiency beyond just the tools themselves. It's important to take into account factors like keyword research, target audience analysis, and even outside editing resources when determining which alternative will be most effective for your specific needs.
It's also worth noting that some users may prefer more human-oriented writing assistant services over AI-powered options. Tools like Pepper Content leverage human writers to provide customized content for a wide range of industries.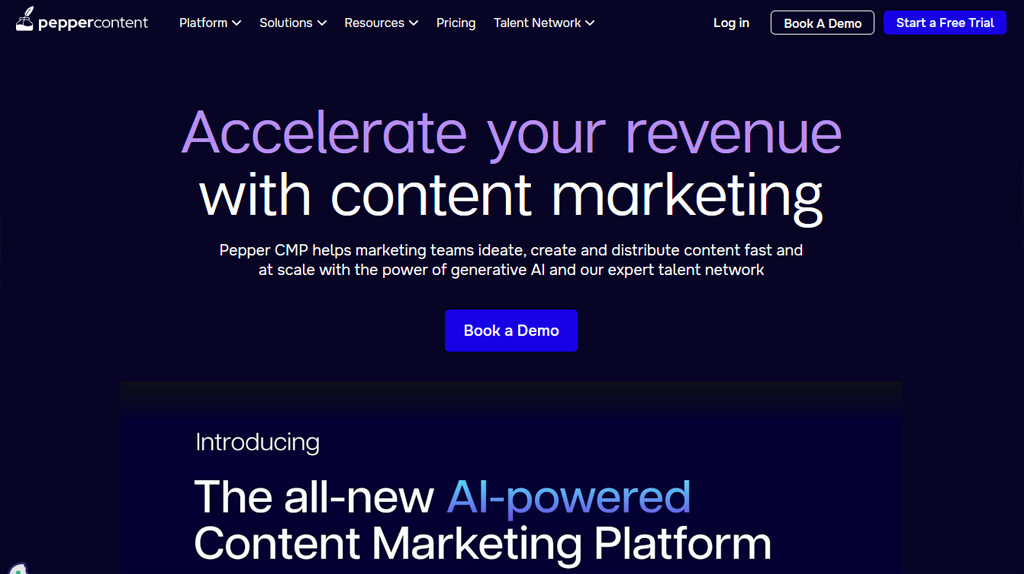 Ultimately, writing quality and efficiency are complex topics that depend on numerous factors both within and outside of a given tool's scope. When evaluating alternatives to Frase in this area, it's crucial to prioritize your unique goals and needs while also considering how various features will support the development of high-quality, optimized content.
Pricing and ROI
One of the most crucial factors that determine the selection of an SEO tool is its pricing structure and return on investment (ROI). While some tools may be affordable, their features might not match up to their competitors. On the other hand, tools with advanced features might be too expensive for small businesses. Therefore, it is essential to analyze a tool's pricing structure before investing in it.
Some AI-powered content creation tools like Surfer SEO offer different pricing plans with varying features. Their basic plan starts at $59 per month, while their premium plan costs $199 per month. In contrast, Page Optimizer Pro offers only one pricing plan with all its features included at $97 per month. Similarly, MarketMuse offers custom pricing plans that cater to larger enterprises requiring more extensive services.
Although pricing plays a vital role in choosing an SEO tool, ROI is equally important. A cheaper tool with limited features might not provide the expected return on investment compared to a costlier but more comprehensive tool. The goal is to achieve better results in less time or effort spent.
Frase.io provides a refund guarantee within 30 days of purchase for unsatisfied users. Semrush Writing Assistant also offers a 7-day free trial period to new users, giving them enough time to evaluate their services. Alternatives such as Surfer SEO and Page Optimizer Pro provide similar guarantees of improved ROI but do not offer a trial period.
However, relying solely on the pricing structures provided by these tools might not give you a complete picture of their benefits or drawbacks when it comes to ROI. Factors such as ease of use, quality of output, and customer support also play a significant role in obtaining better returns on your investments.
Top Industries Using Frase Alternatives
Frase alternatives cater to various industries, ranging from marketing and advertising to health and wellness. With an increasing demand for SEO optimization, these tools have become essential for businesses looking to rank higher in search engine results pages (SERP).
MarketMuse's AI-powered content creation and optimization platform caters to larger corporations looking for a comprehensive suite that includes everything they need to streamline their content strategies. Similarly, Rytr provides features such as article summaries and video script creation, making it ideal for businesses in the media industry looking to expand their content offerings.
Writing and editing companies can use Surfer SEO's robust website audits and improvements based on competitor analysis, allowing them to outsmart other competitors in their respective fields. Jasper AI offers separate models that cater to both short-form and long-form writing, allowing it to serve various industries such as journalism, e-commerce, and finance.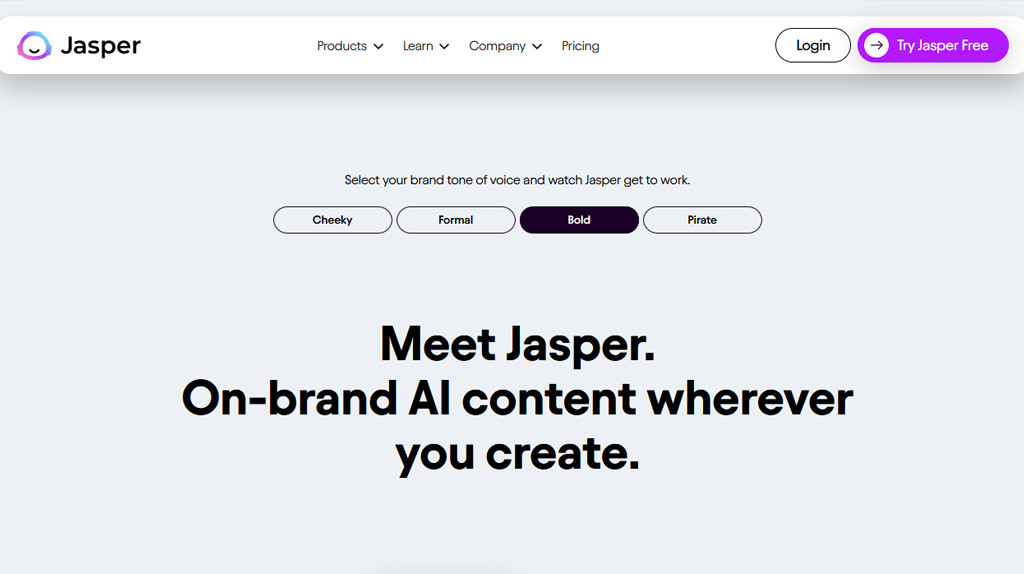 Copywriting platforms like Dashword are ideal for freelance writers who require a robust tool to create outlines for their work within a few clicks. Pepper Content offers custom models tailored specifically towards marketing copies, product descriptions, and social media posts.
Assessing Usability and Customer Support
When it comes to the usability of Frase alternatives, there are two important factors to consider – ease of use and comprehensiveness of features. Some tools may be too complex for those who lack experience with SEO and content optimization, while others may not offer all of the necessary features. Fortunately, On-Page.ai offers an intuitive user interface that is easy to navigate even for beginners in SEO, without sacrificing any depth or power.
In addition, customer support plays a crucial role in ensuring that users get the most out of their SEO tool. On-Page.ai excels in this aspect with its responsive customer support team that can be reached via email or chat. The knowledgeable team can help guide users through any issues they may encounter and provide customized recommendations based on individual needs.
For instance, I once had trouble optimizing my meta descriptions using On-Page.ai's Recommendations feature. I contacted their customer support team through the chat feature and was connected to a representative within minutes who helped me optimize my meta description effectively. He walked me step-by-step through the process which made my experience with On-Page.ai even more pleasurable.
On the other hand, some lesser-known alternatives may have unreliable customer support or limited availability for personal assistance which can negatively impact productivity. It's safe to say that having a reliable customer support team can make all the difference when using a content optimization tool.
Furthermore, On-Page.ai's customizable reports add to its usability. Reports are critical because they enable users to track the impact made by authorized changes on search engine rankings allowing them to identify what works well for them and adjust accordingly.
There is simply no other alternative that provides such transparency unless you are willing to put together multiple reports manually – which can be time-consuming compared to actionable insights from On-page.ai.
While some competitors may offer similar features, they often fail to provide the same depth that On-Page.ai does. Competitor's emphasis may be more on SEO reporting rather than actionable insights, ignoring the users' experience, particularly when it comes to usability and personal customer support.
Some competitors' toolkits might require more technical expertise when trying to make sense of their offerings, making it quite challenging for non-technical individuals.
Think of it this way: On-Page.ai is like hiring an entire team of experts who are there 24/7 to help you improve your website's search engine ranking, compared to its competitors which are like project managers but lack the full capabilities of an expert team.
Overall, when it comes to usability and customer support, On-Page.ai takes the lead among Frase alternatives. Its intuitive interface paired with the responsive support team have made it a favorite among both beginner and experienced SEO professionals alike. If you're looking for a comprehensive and user-friendly content optimization tool supported by great customer service, look no further than On-Page.ai.