5 Alternatives to NeuronWriter for Writing and Editing
Imagine crafting the perfect piece of content only to discover that it's underperforming in the virtual battle for online visibility. It's a writer and editor's worst nightmare, isn't it? Before you descend into despair, let's explore five remarkable alternatives to NeuronWriter that will not just refine your writing and editing skills but propel your content to the top of the search engine rankings. Say goodbye to obscurity and hello to unprecedented exposure with these powerful tools at your disposal. The future of SEO-optimized writing is just a click away!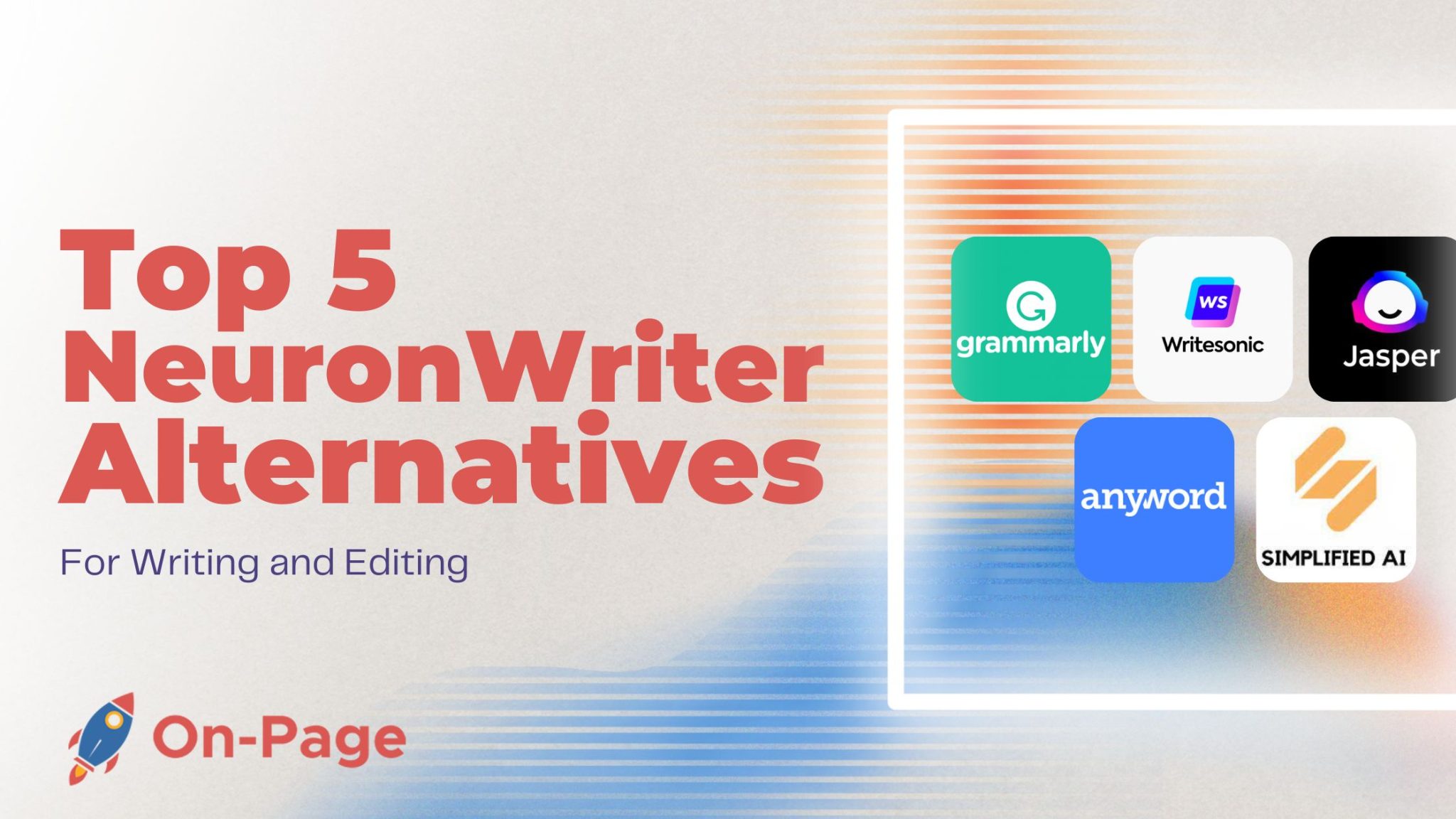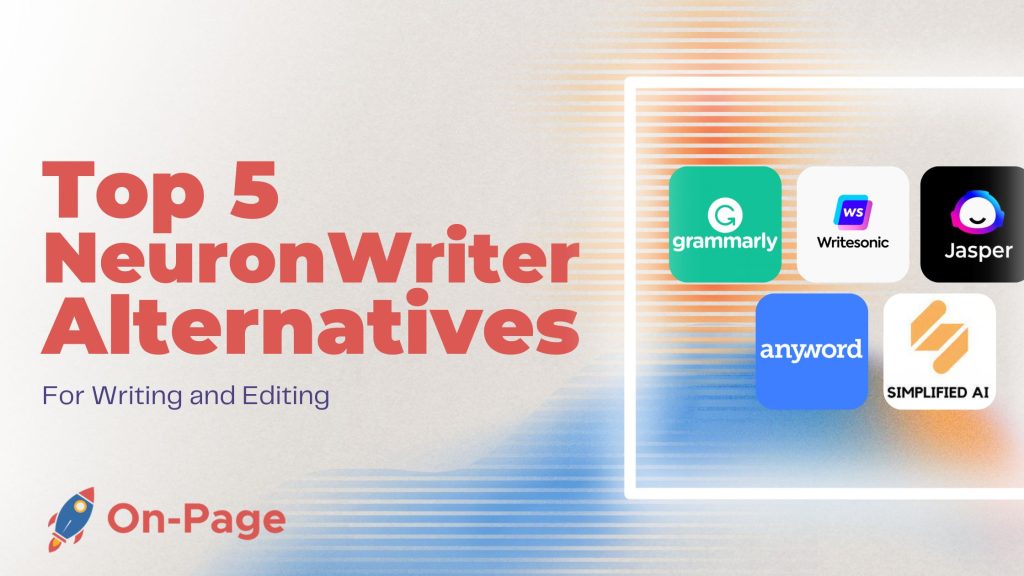 While NeuronWriter is a great tool, there are several other AI-powered writing assistants available in the market. Some notable alternatives include Grammarly Business, Writesonic, Jasper, and Anyword. Each of these tools comes with its own key features and capabilities at varying price points. It is important to compare the features and pricing models of each alternative before making a final decision.
Top Five Alternatives to NeuronWriter
When it comes to writing and editing, there are several alternatives to NeuronWriter that businesses can choose from. Here are the top five options that users can consider:
1. Grammarly Business: Grammarly Business is a popular grammar and spell-checking tool that offers AI-powered writing assistance. The platform can help improve the quality of writing by detecting and correcting common grammatical and spelling errors. Its intuitive user interface allows users to get real-time suggestions, synonyms, and other helpful information while typing.
For instance, imagine you're drafting an email to a client, but you're unsure if your text has any spelling errors or grammar issues. With Grammarly, you can quickly copy-paste the entire text into the editor, and within seconds, you'll see underlined sections highlighting potential mistakes. You can then go through these highlighted areas one-by-one and make changes conveniently.
2. Simplified: Simplified is an all-in-one design and AI writing tool that enables users to create stunning designs, videos, and copy. Users can write their content using Simplified's AI-driven editor and access millions of images from Unsplash for free.
Simplified is an outstanding alternative to NeuronWriter due to its unique features such as auto-generated videos along with templates for creating engaging presentations in just a few clicks. And because it uses advanced AI algorithms that understand modern language concepts like sentiment analysis and tone recognition, making it intuitive for businesses working on social media promotions or long-form content.
3. Writesonic: Writesonic is another AI-powered writing tool that specializes in creating landing pages, product descriptions, ads, and blog posts. It uses machine learning models to generate human-like language that saves time on research boring topics.
Writesonic's user interface feels like having your virtual copywriter assistant who helps you write SEO-favored content in minutes. Writing a captivating product description or an ad for your e-commerce business has never been easier.
4. Jasper: Jasper is an AI writing assistant that caters to businesses' creative copywriting needs quickly and efficiently. It provides ready-to-use templates along with the ability to create custom ones, allowing businesses to wrap branded content in a few clicks of their mouse.
The platform might have an incredibly user-friendly dashboard, but what makes it stand out from competitors is its machine learning algorithms built around state-of-the-art NLP technology that construct mindful text development.
5. Anyword: Anyword is a natural language generation platform that uses machine learning models to help businesses tailor their messages to their target audience, creating persuasive copy. From headline suggestions to social media titles and email subject lines, this AI tool can help drive results via engaging marketing texts.
Using Anyword for creating social media posts or email campaigns based on a specific target audience is effortless. Simply enter the keywords related to your text, and you'll see several options with interesting twists on how to use them.
Bonus: Stealth AI Writer is an amazing AI writing platform for writers and business owners looking for that elusive balance of creativity and productivity. With our content optimization tool, it's quick and easy to generate informative and interesting blog articles, social posts, and landing pages (and more) that your target market will truly enjoy. Not to mention, Google will love and rank them high!
Now that we've looked at five alternatives to NeuronWriter let's delve into Grammarly Business, another writing tool worth considering as an alternative.
In a survey of businesses using AI writing tools conducted in 2022, it was found that 56% of respondents utilized more than one AI writing assistant in their content creation process.
A recent data analysis report showed that the global AI writing tool market is projected to grow at a CAGR of 8.5% from 2021 to 2026.
According to G2 Crowd, a business software review site, Grammarly Business remains one of the highest-rated AI writing tools with an average user rating of 4.5 out of 5 stars.
In the world of writing and editing, NeuronWriter isn't the only option available. Users can choose from several excellent alternatives, such as Grammarly Business, Simplified, Writesonic, Jasper, and Anyword. Each of these platforms offers unique features and benefits that businesses can leverage to improve their writing quality and save time in content creation. For instance, Grammarly is perfect for spotting errors and offering real-time suggestions, whereas Simplified helps with designing and writing. So users should evaluate their needs carefully before selecting one of these tools as an alternative to NeuronWriter.
Grammarly Business provides grammar checks, spell checks, punctuation checks, and corrective suggestions for both English and other languages worldwide. As such, it helps companies write professional emails, error-free essays, proposals, and messages.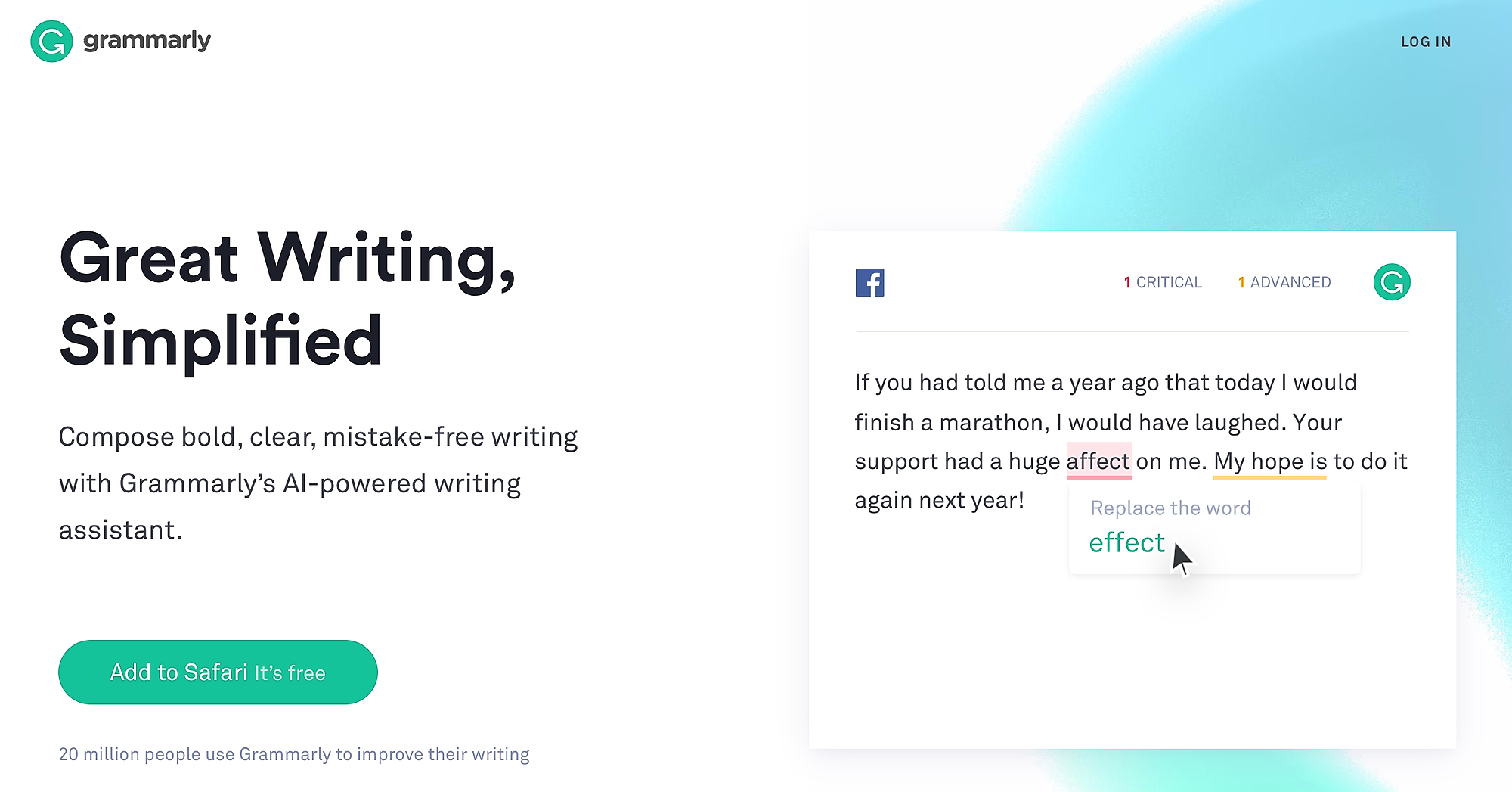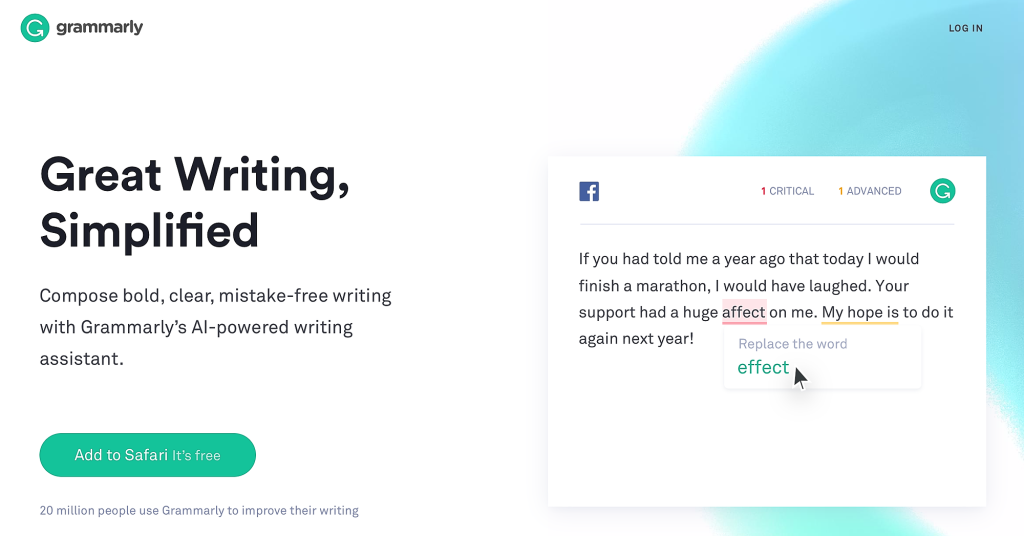 Businesses can use this tool confidently knowing that all text created via this software will be free from grammatical errors. Contextual information such as tone detection and intent analysis ensures that the message is delivered correctly.
Over 20 million individuals worldwide use Grammarly Business daily because of its effortless integration with other office tools, making its users more productive. Although it is mainly popular for its intricately designed grammar checkers, it can also detect plagiarism.
The Grammarly keyboard app has a reputation for integrating well with most mobile devices. This means that professionals who are frequently on the go can access the tool at any time as long as they have their smartphone in hand.
A marketing manager could be conducting a final check erring on the safety side before clicking send on their latest campaign newsletter to customers worldwide quickly. They copy-paste it into Grammarly Business to run in-depth checks catching accidental mistakes they may miss otherwise.
With various pricing plans available, Grammarly Business can fit within the marketing budgets of businesses of all sizes easily.
Simplified is an all-in-one design and writing tool that might be the perfect fit for businesses that require fast content creation without having to deal with difficult and time-consuming software. Simplified's AI-powered writing technology is a switch from other similar tools because it allows writers to create marketing content and produce exceptional designs in minutes.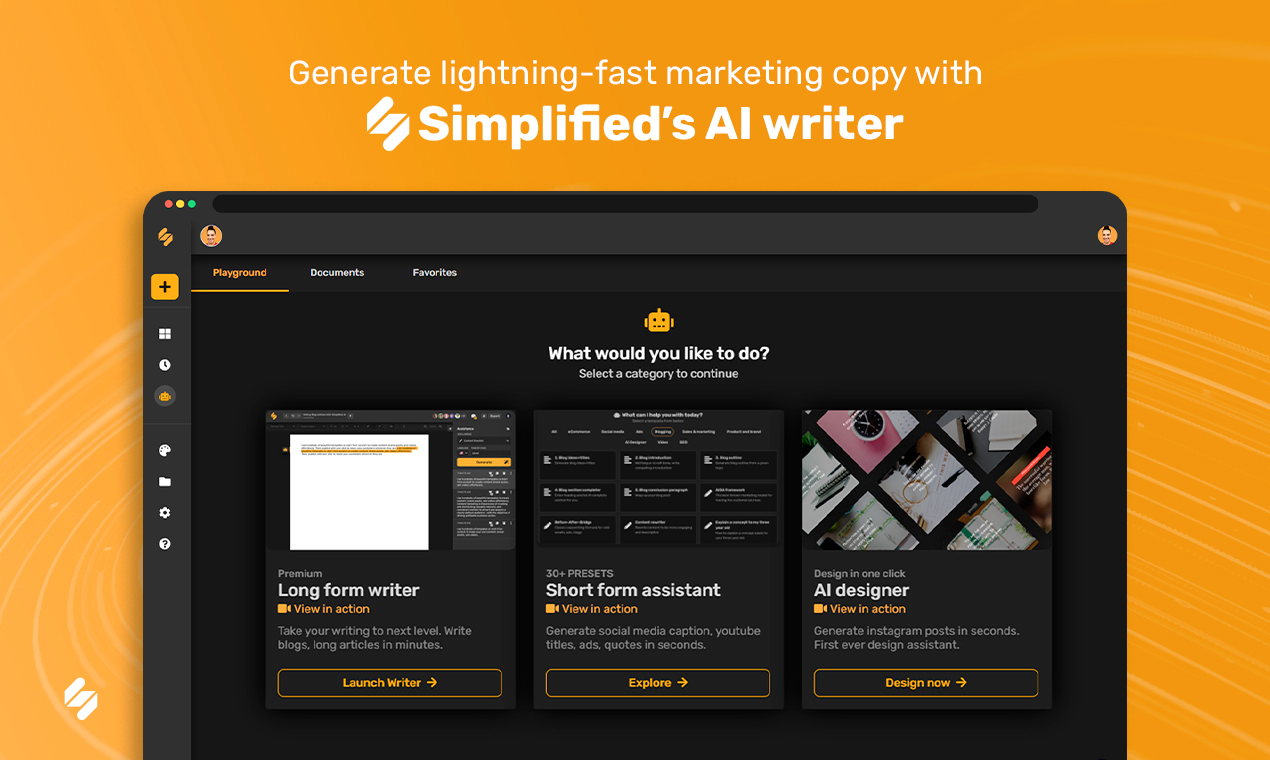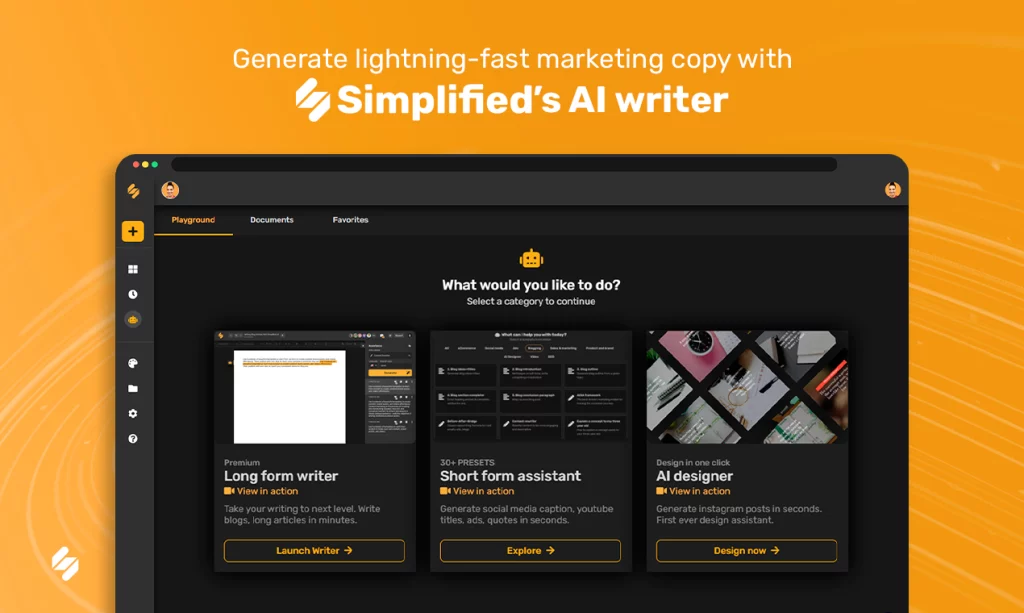 Simplified's unique position as both an AI-powered writing tool and an intuitive graphic design software means content creators can write articles while also designing images, infographics, and videos without needing expertise in either of those fields. In addition, the program utilizes natural language generation to make writing simple for anyone.
For example, a real estate business might use Simplified to quickly create marketing material for a new property on the market. After inputting key information such as location, features, and pricing, Simplified would generate a marketing package including social media posts, blog articles, and flyers advertising the property details. One of the most outstanding things about this tool is its speed. It takes only minutes for the program to generate top-quality materials that would have taken hours to create manually.
Aside from powerful AI-optimized writing capabilities, Simplified also offers exceptional design abilities thanks to its drag-and-drop interface that makes it easy for non-designers to create professional-looking graphics quickly. From simple Instagram graphics to more detailed infographics or videos, Simplified has got you covered.
Besides usability, this all-in-one tool also takes into consideration the fact that targeted prospects often choose not to read whole articles but rather skim over them or go straight to the visuals. Simplified offers templates for all visual content needs while keeping simplicity at its core.
Finally, Simplified has numerous templates designed specifically for various marketing materials such as social media ads or email newsletters which makes it easy to find something suitable quickly and modify it to your liking.
To further provide you with versatile writing applications in this review, let's now explore another top alternative to NeuronWriter known as Writesonic.
Writesonic is another AI-powered writing tool that's a great fit for marketers and content creators who just want results without any complications. This platform utilizes GPT-3 technology to generate marketing copy including social media posts, ad campaigns, landing pages, emails, blog posts, and even complete articles.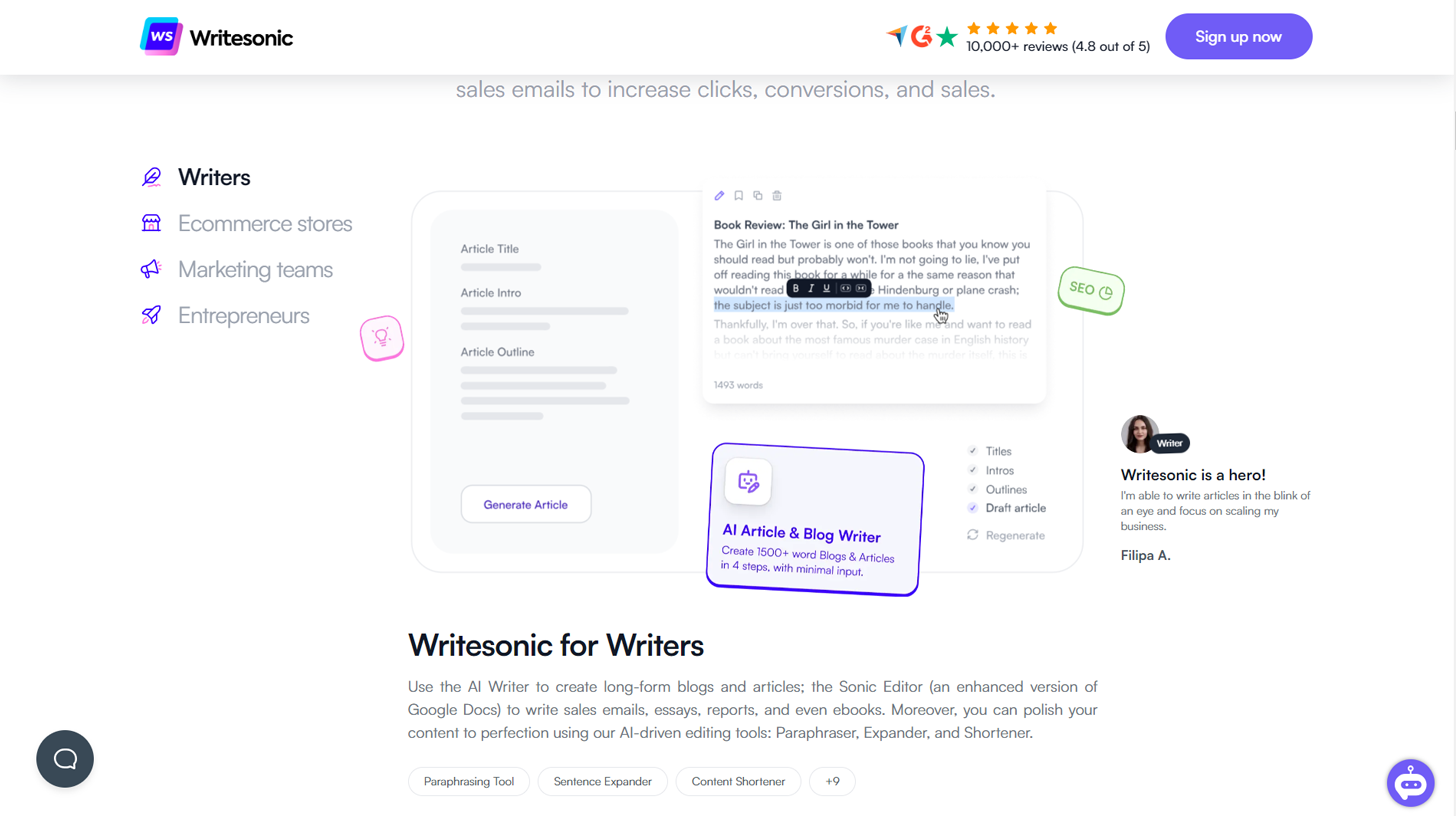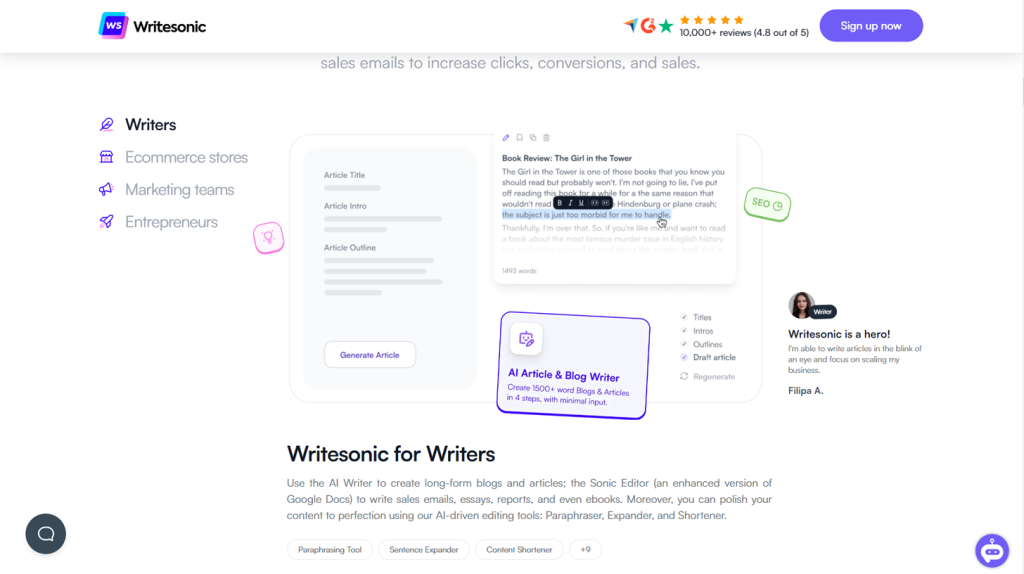 The tool can save users time since it can generate copy faster than a human writer while ensuring high-quality content by having every text checked by their editors before being returned. It also means that writers do not have to be experts in each field they write for; the program does all the research for them.
These features make Writesonic an essential tool for small businesses or busy marketing departments where employees may work on multiple projects at once and desire quick turnarounds. The program takes care of finding accurate information based on targeted data and writing optimized copy explicitly tailored to meet specified goals.
Additionally, Writesonic has a unique feature called the "Content Improver" which allows content creators to input already written content that they would like improved. The program will then scan the article to identify weak points such as dull headlines or overused phrases before offering solutions or suggestions for improvements.
However, what separates Writesonic from some competitor platforms is its pricing model: the software bills per word rather than a subscription-based model like what most writers find useful. The pricing plan might prove costly when needing to generate large or multiple documents at once while still draining budget costs significantly for small businesses or freelancers.
Key Features to Look for in Writing and Editing Tools
When looking for a writing and editing tool, it's important to consider the key features that will make a difference in your writing process. Here are some of the most essential features to look for:
Ease of Use
It's important to choose a tool that has an intuitive interface and is easy to navigate. A clunky or overly complex tool can actually hinder your workflow rather than enhance it.
Collaboration Tools
Many writers work with others, whether they're editors, colleagues, or clients. Choose a tool that has good collaboration tools, such as team accounts or shared editing access.
Customization
Look for a tool that allows you to customize settings if needed, such as font size or formatting options.
Grammar and Spelling Checkers
Most writing tools have built-in grammar and spelling checkers. However, not all checkers are created equal. Look for an option with advanced grammar checks and personalized suggestions.
SEO Optimization
SEO optimization is a crucial feature in any modern writing tool. Look for one that offers SEO analysis, keyword suggestions, and content briefs that allow you to optimize expeditiously. This is where the Stealth Writer trumps most AI-writing and optimization tools out there, as it can perform deep research about your business or niche and produces content that will crush your competition in terms of search traffic and ranking.
Integration
If you already use other writing or productivity tools, it's important to choose a tool that integrates well with these other services for a seamless experience.
Customer Support
It may not be top-of-mind when choosing the right writing tool, but customer support can make a big difference if you ever encounter an issue while using the software. Consider the level of customer service provided before selecting your preferred service.
Overall User Experience
While some may look simply at features, there is also something to be said about having an enjoyable user experience while using a product. Be sure the aesthetic and functionality of the program match up with your personal needs.
Now that we've covered key features to look for in writing and editing tools, let's move on to the importance of AI-powered assistance.
AI-Powered Assistance
AI-powered assistance can be a game-changer when it comes to writing and editing. Here are just a few ways that AI can enhance your work: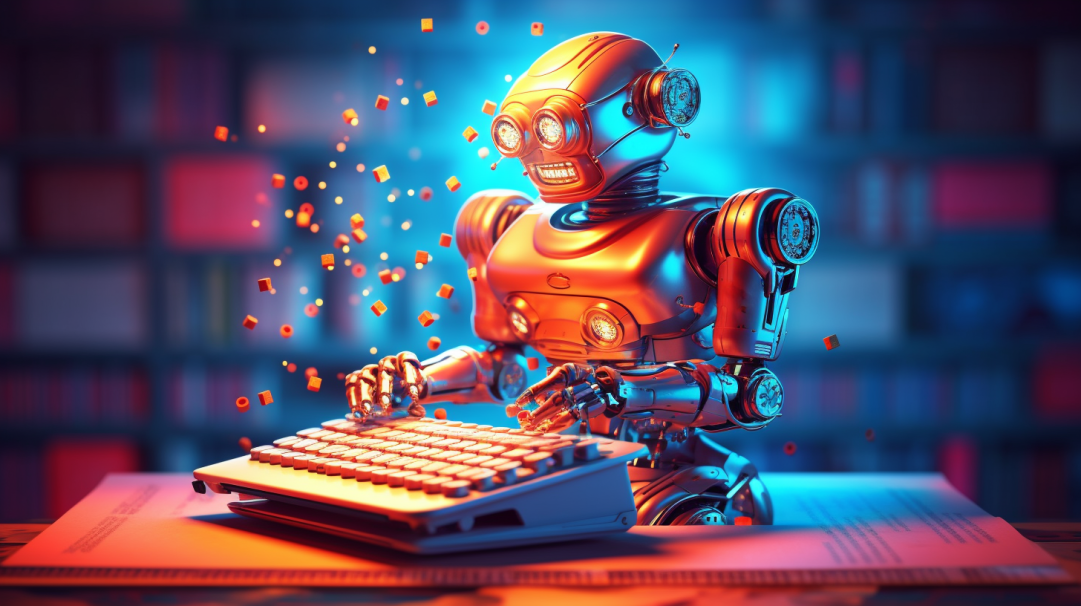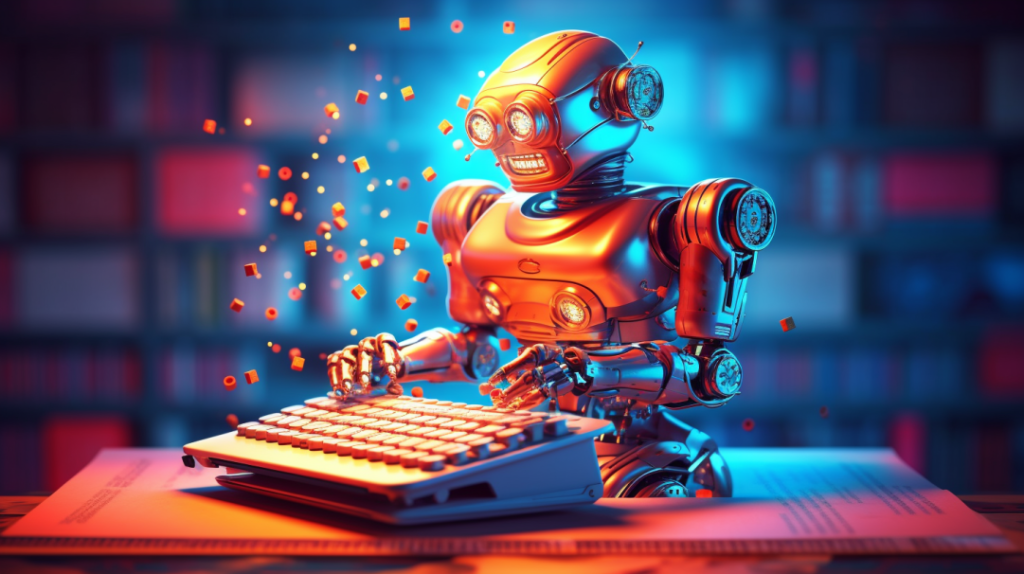 Consistency
AI-powered systems can consistently correct grammar and spelling, ensuring cohesive and error-free content throughout.
Faster Editing
AI has the capability to analyze and evaluate a significant amount of information, meaning it can offer quicker suggestions for optimization, including SEO analysis.
Plagiarism Detection
Plagiarism is detrimental to any piece of content – no matter who you are. With training in machine learning, these technologies can quickly flag copied content before it makes its way into any documentation. If you want plagiarism-free and AI-undetectable writing, Stealth Writer and Stealth ReWriter are great to have. Don't sleep on it!
Lead Generation
In addition to improving existing content, modern AI literacy generates new captivating pieces based on audience research and SEO analysis. New leads could come from these optimized pages defining you as the go-to resource in your field.
More Efficient Workflows
The functionality of AI streamlined with writing tooling reduces time spent editing while also ensuring a quality final product.
Accuracy
While powerful, not all AI language systems are created equal. Accuracy may vary between services which can impact their overall value to clients. Be sure to vet potential products before making your selection.
Over-reliance concerns
Relying solely on technology for every aspect of your work process leaves little room for artistic and personal interpretation of expanding on ideas or "brainstorming."
Not One-Size-Fits-All
Sometimes writing styles shift depending on what your audience is seeking out at the time. Whether techy, conversational, or scholarly – examples are sometimes based on past patterns rather than adapting to current instructions giving cookie-cutter-like results.
Now that we have covered the importance of both Key Features and AI-Powered Assistance, it's important to assess your potential options based on your needs and comfortability with each product.
Versatile Writing Applications
When it comes to versatile writing applications, there are several factors that come into play. First and foremost, a good writing tool should be able to accommodate multiple styles of writing. Whether you're creating content for your blog, social media, or business emails, the tool should have features that suit each use case.
For example, On-Page.ai is an SEO optimization tool that allows users to generate high-quality content quickly and efficiently. Our Stealth Writer is a full article creator where you can input a keyword and with just one click, it will write an article for you that is helpful and passes our AI detection. This feature works great for website owners who want to optimize their pages by adding keyword-rich content without spending too much time on manual research and writing.
On the other hand, tools like Writesonic offer more specialized services that cater specifically to certain types of content, such as ads and landing pages. If you're in the e-commerce industry and need help with product descriptions or ad copy, Writesonic could be a better option for you.
Furthermore, versatile writing applications should also be easy enough to use so that anyone can jump in without having to spend hours learning how to use the tool. Features such as drag-and-drop editors and customizable templates can go a long way in streamlining your workflow.
For instance, Frase offers an easy-to-use interface that allows users to create content briefs and research and write long-form content at scale. Its Document Analysis feature helps writers evaluate and optimize their content for better search engine rankings. The platform's streamlined approach is also perfect for startups and small businesses that don't have large teams or large budgets.
Finally, versatile writing tools should be flexible enough so that they can integrate with other software systems that you may already be using. For example, Grammarly Business integrates with Microsoft Office, Google Docs, Slack, LinkedIn, and many other tools to help ensure that your emails, documents, and social media posts are written professionally and free of grammatical errors.
In the next section, we're going to take a closer look at how pricing models compare for writing and editing tools.
Comparing Pricing Models
When it comes to comparing pricing models for writing and editing tools, it's important to keep in mind that cost should not be the only factor you consider. Some low-cost options may lack certain features that are critical for your business, while higher-priced options may have everything you need but could bust your budget. Ultimately, the right tool depends on your requirements and budget.
For instance, Grammarly Business starts at $25 per user per month, making it an affordable option for small businesses and individuals. However, its basic plan includes limited features compared to its Premium and Business plans.
On the other hand, MarketMuse is a more expensive option with a starting price of $149 per month. But the platform offers more advanced AI features such as topic modeling, content gap analysis, and in-depth competitive research capabilities that go beyond simple writing assistance. These features are particularly useful if you're creating high-quality content in competitive markets.
Frase is another mid-tier SEO tool that's priced lower than MarketMuse but higher than Grammarly Business. Its Basic plan starts at $44.99 per month and includes features such as Document Analysis and Content Briefs. The Team plan costs $114.99 per month, which unlocks more advanced features like Content Optimization, Website Content Audit, and more.
An alternative like On-Page.ai compares favorably in terms of pricing because it has several competitive advantages: On-Page offers on-page optimization, Stealth Writer, and ReWriter, which Marketmuse does not offer. On-Page pricing varies depending on the features you need but it can be a more cost-effective solution in the long run.
With these pricing and feature comparisons in mind, the next section will help guide you in picking the right tool for your needs.
Picking the Right Tool for Your Needs
Selecting the right writing and editing tool is essential to the success of your online content efforts. With so many options to choose from, it can be hard to determine which one will serve you best. To help you make an informed decision, we have laid out some key criteria that you should consider.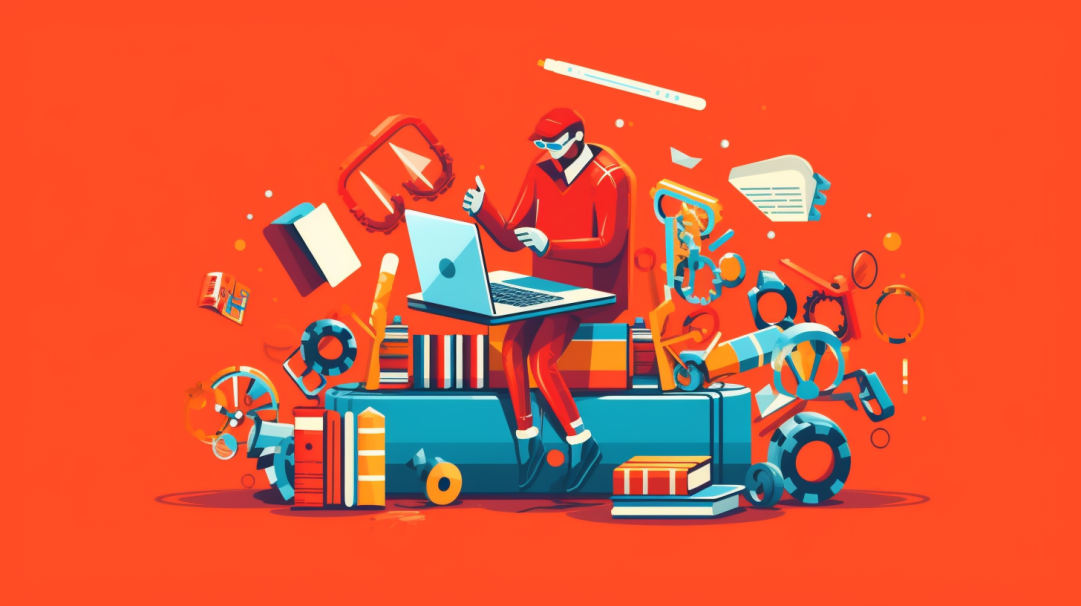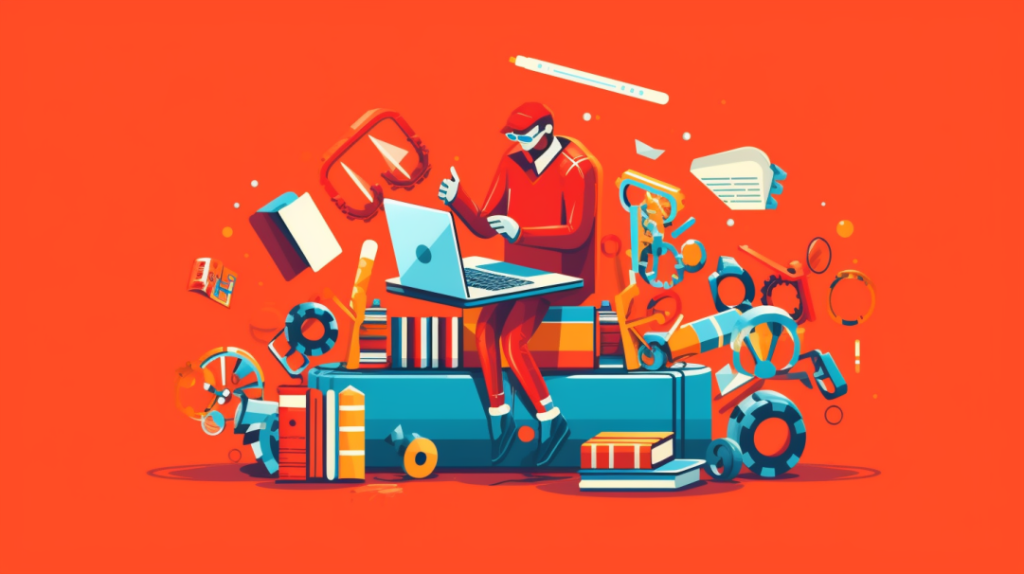 For example, if you're in the early stages of building a blog or website, you may want to prioritize a tool that has a broad range of features and is budget-friendly. These tools usually offer basic writing and editing assistance along with SEO optimization support.
On the other end of the spectrum, if you are an experienced content producer seeking ways to save time and streamline your workflow, then investing in a more premium tool may be your best bet. With advanced features like AI-powered assistance, comprehensive data analytics, image and multimedia integration, and access to specialist advice; these all-in-one platforms can help turn your content creation into a streamlined process.
Of course, there is always a debate when it comes down to picking the right writing and editing tool. For some writers and editors, the creative process involves going back and forth between different applications that they've become accustomed to using. Others advocate sticking with one tried-and-true solution as a means of avoiding potential compatibility issues or integration challenges.
In many ways, identifying the sweet spot for writing and editing tools is like trying out different exercise regimes. Some people prefer multi-faceted routines that provide comprehensive wellness support while others adhere closely to meditative practices or mind-body approaches that deliver a deeper focus on individual areas of health improvement.
Whatever your preferred approach may be, it's important that you assess each potential AI writing and editing tool based on its capacity to meet your specific requirements.
Assessing Your Requirements and Budget
When considering which writing and editing tool to use, you should first take into account your specific needs. This includes determining whether you're writing for a personal blog or website, are part of a team producing content for a larger company, or both. Other considerations include how frequently you produce content, the type of content you create, and what level of customization is required.
For instance, if you're a blogger or small business owner with limited resources, choosing an affordable tool with basic features would be an intelligent decision. Alternatively, if you lead a larger team and seek comprehensive solutions that can handle multiple sites at once, investing in more premium software may be worthwhile.
In addition to need-based criteria, it's important to factor in the budget when choosing the right AI writing and editing platform. Some tools offer free plans but may have limitations on features or usage while others may charge an annual subscription fee that could potentially replace the salaries of staff members.
It's important to note that selecting a writing and editing tool isn't solely dependent on those two factors; in many instances, it's about determining what is the biggest priority at any given time. Depending on your goals and desires, it makes sense to sometimes forego certain features and settle for less expensive options as long as they work within your timeline and workflow.
Regardless of what requirements factor into your decision-making process or where your priorities lie – whether it's feature set, ease of use or something else – our guide has provided you with valuable information to help you make the best possible choice for your needs.
These NeuronWriter alternatives are great, sure. But nothing comes close to On-Page when it comes to advanced features in AI and content optimization. Sign up today and let's get you right in front of your toughest competitors!